Coffee Shop Brownie Mix Biscotti
Coffee Shop Brownie Mix Biscotti | This semi homemade version of a classic biscotti is amazing!  It's like have the crispy edge with every piece.  Traditionally biscotti is known as a biscuit but I would put it more in the cookie category.  This twice baked oblong shaped treat is perfect on it's own or dipped in your coffee.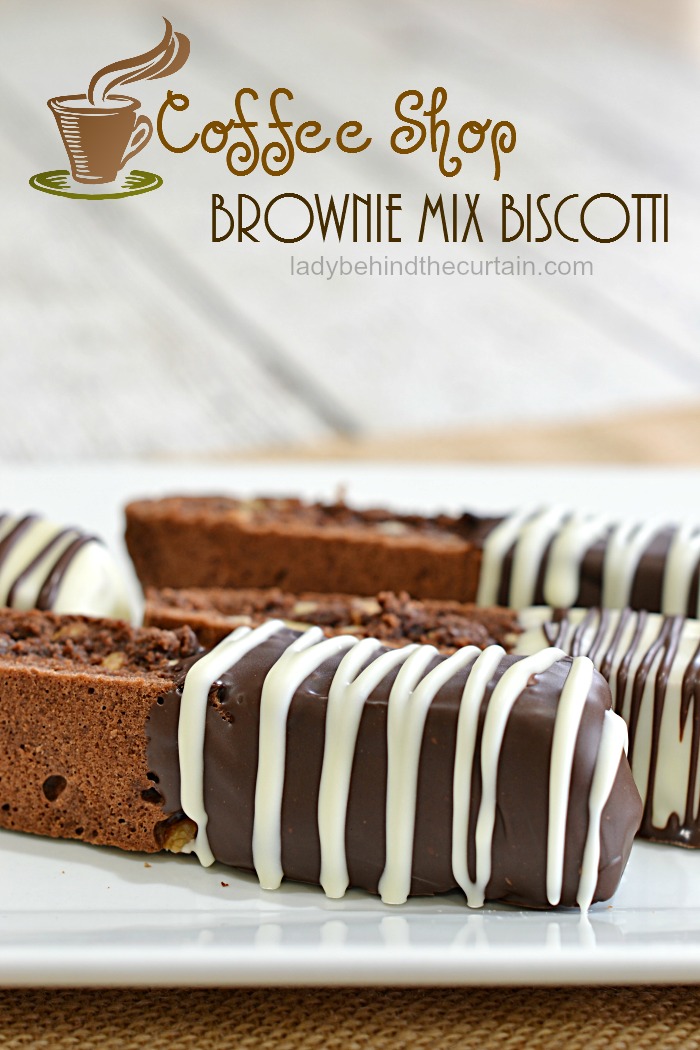 Do you find yourself trying to hold back from purchasing biscotti at your local coffee shop?  You know the kind I'm talking about….it's wrapped in cellophane and is so dry that within the first bite you've cut the roof of your mouth.  Well….no more my friend!  Gone are the days of wishing you had something yummy to dip in your coffee.  Now you can make your own incredible dipping snack and it all starts with your favorite brownie mix!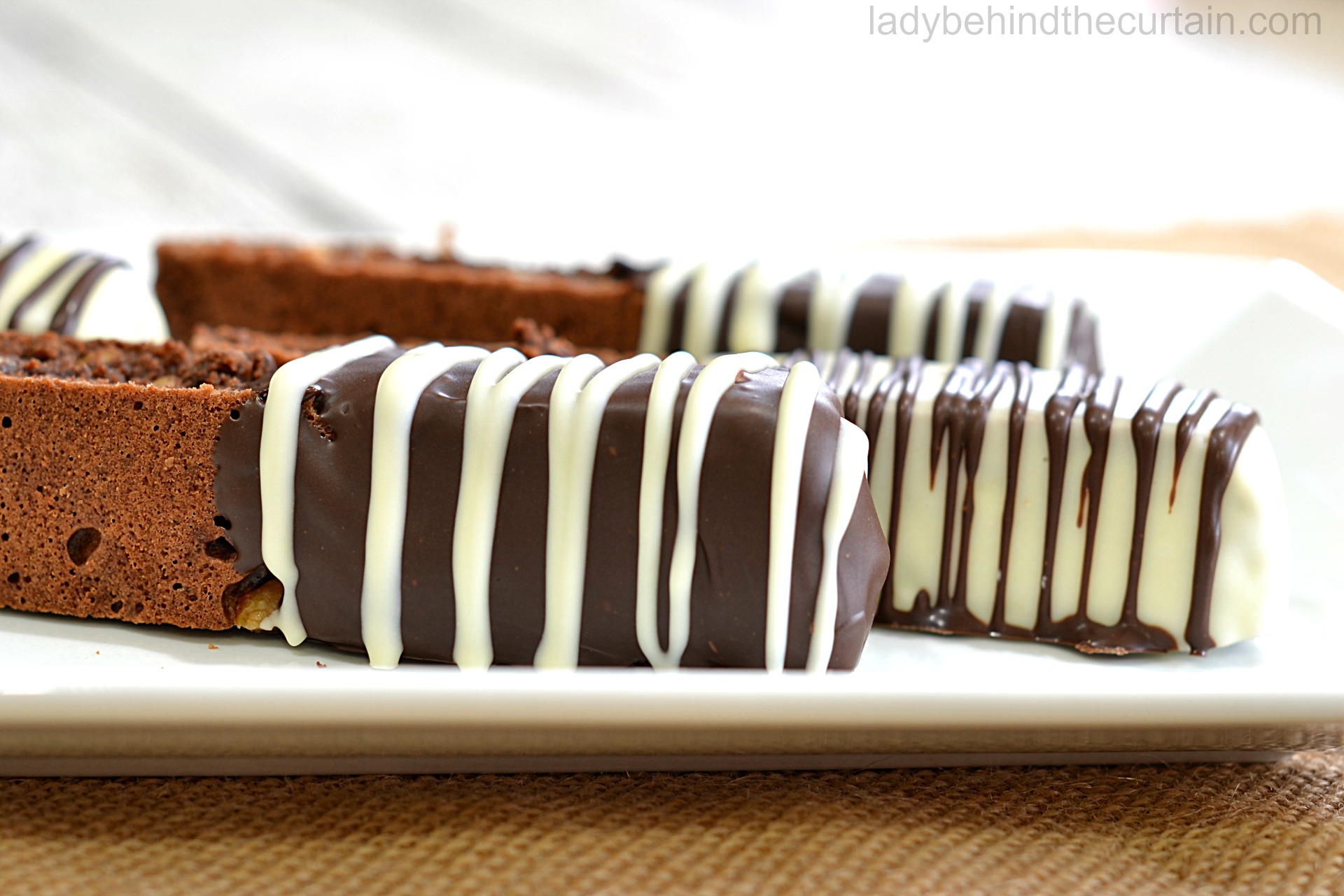 You can make these plain or dress them up with a drizzle of dark or white chocolate, sprinkles, nuts….the choices are endless.  My choice was to simply dip them into chocolate and add a drizzle of the dark and white chocolate.  WAIT!  You can freeze these too!  If you do… DON"T add the chocolate.  For best results freeze the biscotti in a sealed container and when you're ready to serve, then dip the biscotti in chocolate and add a drizzle.  This is for the BEST results, the biscotti will still be wonderful if you choose to freeze them with the chocolate already on them.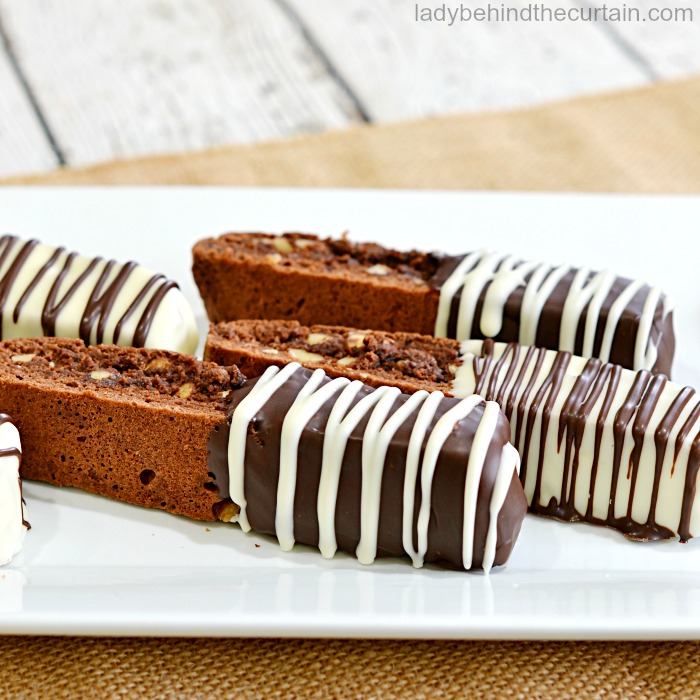 Coffee Shop Brownie Mix Biscotti
Ingredients
1 (18 ounce) brownie mix
1/2 cup chocolate chips
1/3 cup vegetable oil
3 large eggs
1 1/2 cups all-purpose flour
1 cup walnuts, chopped
Optional Topping:
white, milk or dark chocolate melted (candy melts are perfect for this)
Instructions
Preheat oven to 350°; line a cookie sheet with parchment paper.
Pour dough out onto parchment paper and form into a 4x13-inch log.
Bake 25 minutes.
Take out of the oven, reduce heat to 300°, slide the parchment paper and biscotti onto the counter or cutting board.
Slice into 15 pieces.
Place another piece of parchment onto the cookie sheet; lay the biscotti cut side up.
Bake 12 minutes.
Let cool completely.
For the Optional Topping:
Leave as is or dip in melted chocolate (white, milk or dark) and for more of a decorative look add a drizzle of the opposite chocolate.

MORE COOKIE RECIPES

CHOCOLATE PISTACHIO BISCOTTI  2. COPYCAT DISNEYLAND MATTERHORN MACAROONS  3. CARROT CAKE

NEVER MISS A POST!
Sign up for my newsletter (two per month) and receive my recipes in your inbox. Easy to see anytime and saved for safe keeping. Click Here and sign up today! —->>>>CURTAIN CALL NEWSLETTER