Welcome Spring with these fresh Carrot Cake Cookies.  Serve these warm and inviting Carrot Cake Cookies for Easter!  Easter is all about egg hunts, ham and carrot cake!  If time is not on your side and you need an easy homemade dessert, I would recommend making these Carrot Cake Cookies.  ♥ From Grandmothers to mothers to daughters, this is a recipe that can be passed down from generation to generation.  ♥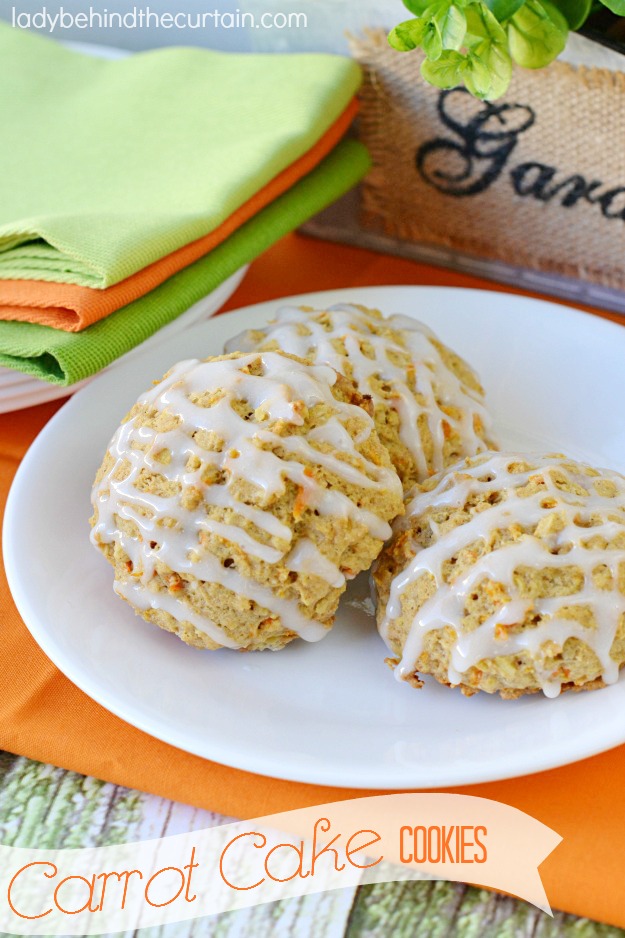 These giant soft and chewy cookies are not only perfect as a dessert but also brunch.  With fresh carrots and tons of oatmeal you could almost consider this cookie a breakfast cookie.  I plan on serving these at my Garden Party.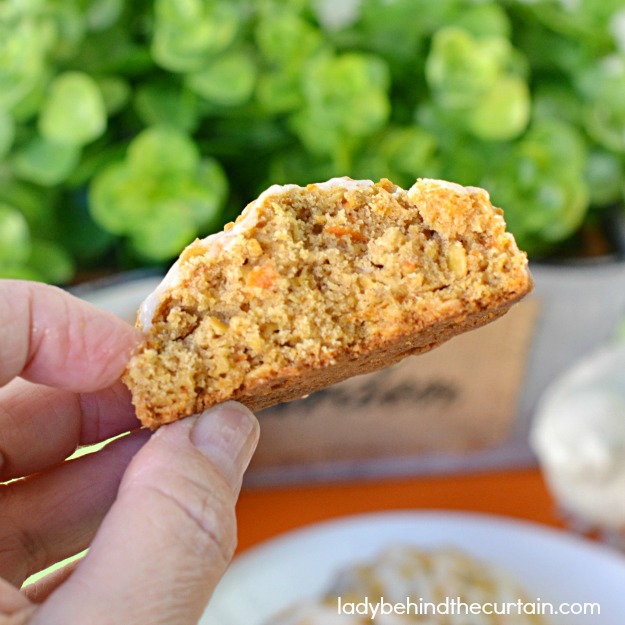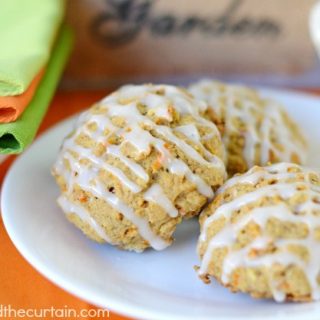 Carrot Cake Cookies
Yield:
Makes 26 Large Cookies
Ingredients
For the Carrot Cake Cookies:
1 cup unsalted butter, room temperature
1 1/2 cups light brown sugar, packed
2 large eggs
2 teaspoons vanilla extract
3 1/2 cup all-purpose flour
2 teaspoons ground cinnamon
1 teaspoon baking soda
1/2 teaspoon salt
2 cups old-fashioned rolled oats
2 cups finely grated carrot
For the Glaze:
2 cups confectioners' sugar
1/2 cup sour cream
Instructions
For the Carrol Cake Cookies:
Preheat oven to 350 degrees.
Line two cookie sheets with parchment paper.
In a large mixing bowl whip together the butter, brown sugar, eggs and vanilla until light and creamy.
In a medium bowl stir together the flour, cinnamon baking soda and salt.
Gradually add flour mixture to butter mixture, beating until combined.
Mix in the oats and carrots.
Use an ice cream scoop and drop mounds of cookie dough on prepared pans.
Bake 20 to 25 minutes.
Slide parchment paper with cookies onto the counter to cool.
Drizzle Carrot Cake Glaze over cooled cookies.
For the Glaze:
In a small bowl combine the sugar and sour cream.
Stir until sugar has dissolved and is smooth.
MORE CARROT CAKE RECIPES

1. SUPER MOIST CARROT CAKE RECIPE  2. CARROT CAKE CHEESECAKE  3. CARROT CAKE CINNAMON ROLLS