Instant Pot Chinese Barbecue Beef
Instant Pot Chinese Barbecue Beef | A wonderful rich and thick sweet barbecue sauce with all the flavors you love in a Chinese dish.  The main ingredient for this sauce is one of my favorite flavors….Hoisin sauce.  It only takes 12 minutes for you to be enjoying a bowl of tender delicious Chinese Barbecue Beef when you use your Instant Pot.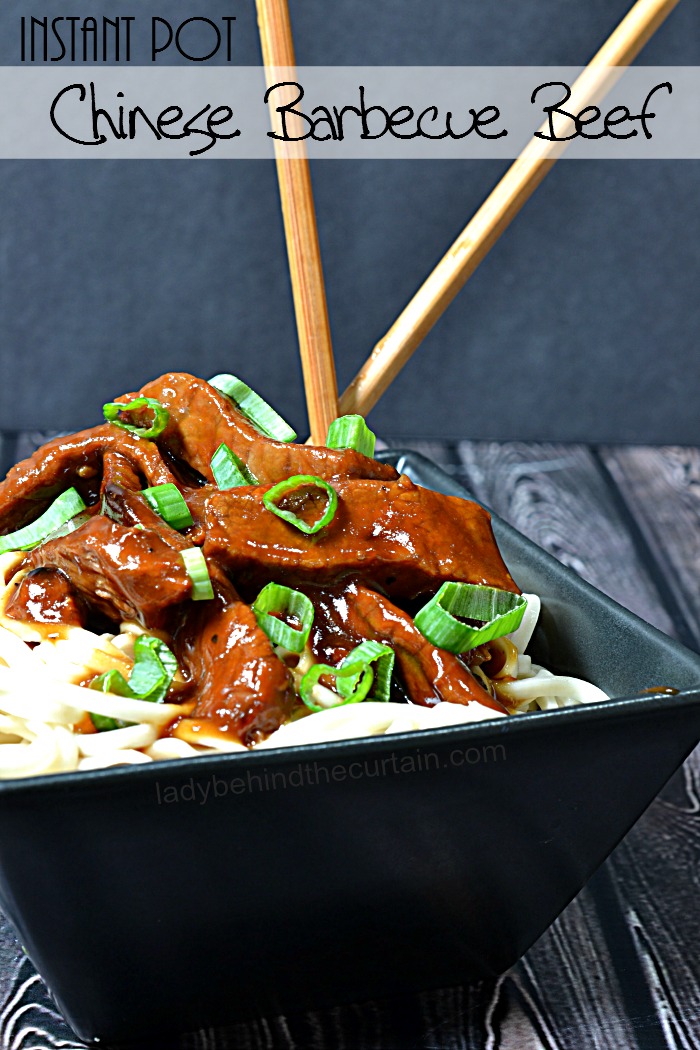 I love serving Udon Noodles with this recipe.  They only take 4 minutes to make and are a perfect tool for soaking up all the wonderful sauce.  I found mine at Cost Plus International Market.  If you are having trouble finding these noodles then brown rice is a great option.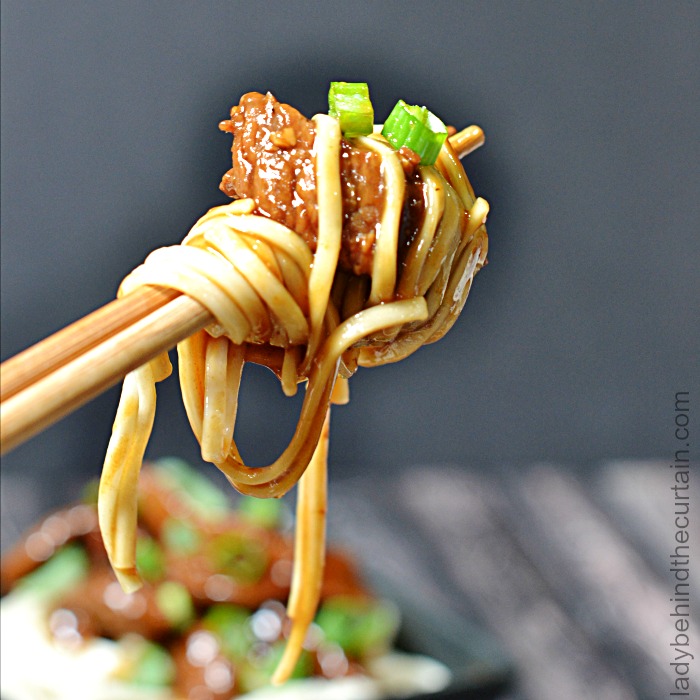 Like ketchup in an American barbecue sauce, Chinese cuisine uses Hoisin sauce.  I love the thick rich flavor of the sauce and use it often in my stir fry recipes.  Switch up the typical American barbecue beef sandwich and add this Chinese Barbecue Beef instead!  To really change it up add big slices of fresh crisp cucumber and green onion.
Here's how to make this delicious dish!
Set the Instant Pot to Sauté.  Separate meat into 3 portions.  Sauté each portion a few minutes.
Remove all meat from the Instant Pot; pour any remaining marinade into the pot and simmer 2 minutes.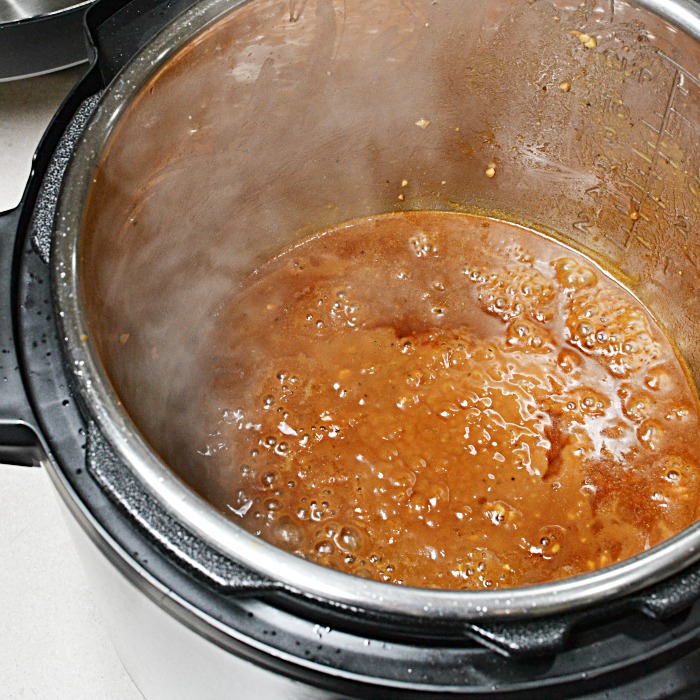 Return meat to the pot with sauce; tightly close lid; press manual and set to 12 minutes.
Once the timer goes off quick release steam; set back to sauté, pour slurry over beef, cook one minute or until the sauce is thick.  Serve over noodles or rice.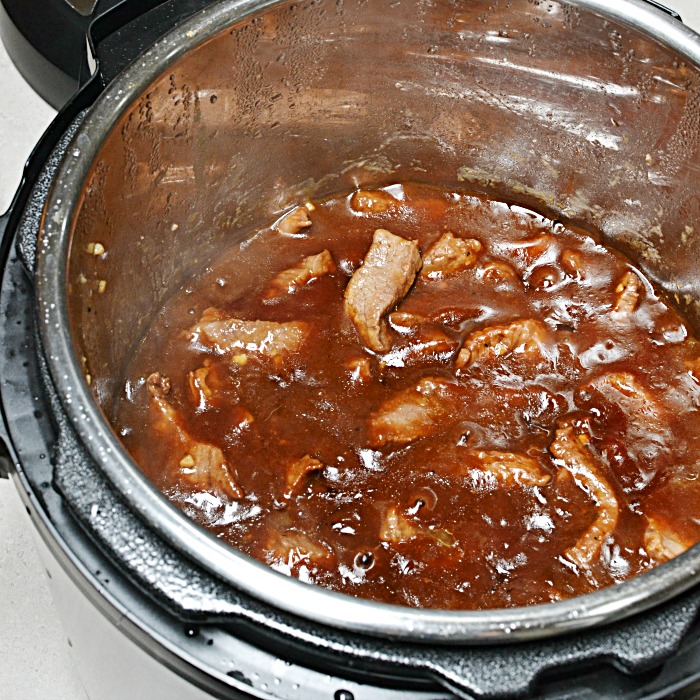 Instant Pot Chinese Barbecue Beef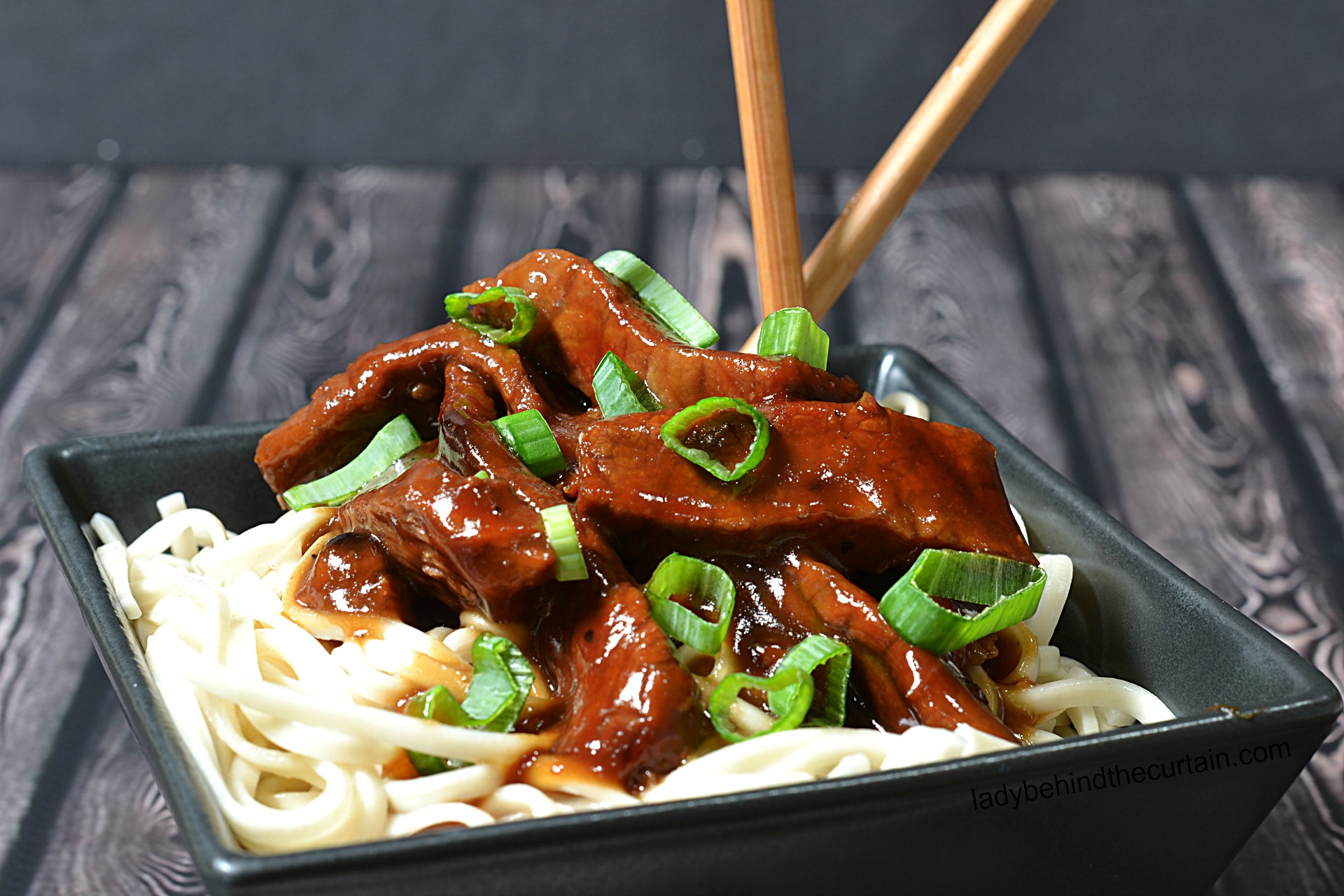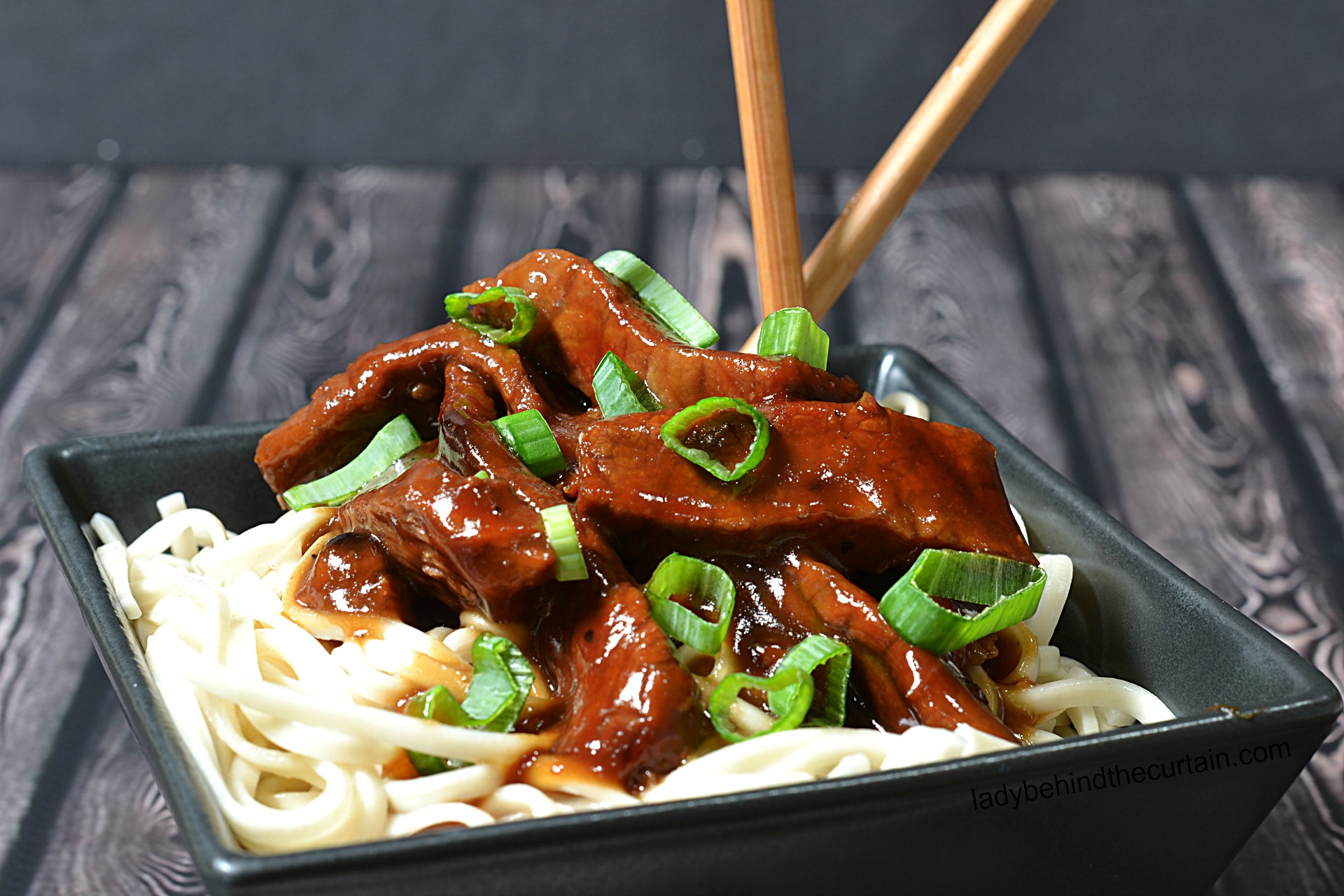 Ingredients
For the Marinade
3

ounces rice vinegar

6

tablespoons hoisin sauce

4

garlic cloves, minced

2

tablespoons soy sauce

1

teaspoon salt

1/2

teaspoon black pepper

2

pounds beef, thinly sliced
For the Sauce
1/2

cup soy sauce

1/2

cup dark brown sugar, packed
For the Slurry
3

tablespoons cornstarch

3

tablespoons cold water

3

green onions, sliced
Instructions
For the Marinade:
In a gallon zip top bag add the vinegar, hoisin sauce, garlic, soy sauce, salt, pepper and sliced beef.
Press all the air out of the bag; close and squeeze with hands to mix.
Place in a bowl in the refrigerator for 2 hours.
For the Sauce:
In a medium bowl, whisk together the soy sauce and dark brown sugar; set aside.
For the Slurry:
In a small jar mix together the cornstarch and water; set aside.
How To Cook:
Turn instant Pot to Saute add

1 tablespoon oil

.
When the oil starts to sizzle, add the beef (leaving as much sauce in the bag as you can) in three separate batches (you don't want to crowd the beef).
Place cooked beef on a plate; continue until all the beef has been browned or cooked.
Pour any marinade that is left in the bag into the pot along with the soy sauce mixture; whisk together and return beef into the pot along with any accumulated juices.
Place lid on tightly, press the manual button (which should go to pressure high), press in time, 12 minutes. The display should read "on" until the pot reaches temperature then it will start a count down.
Once timer beeps, release pressure according to the manual directions.
When it is safe remove lid.
Turn the pot back into saute mode; pour cornstarch slurry over beef, stir to combine.
Let the sauce simmer 1 minute; turn unit off.
Sprinkle green onions over the top of sauce and beef.
MORE EASY MAIN DISH RECIPES

EASY SAUCY MEATBALL SANDWICH  2. SEMI HOMEMADE CREAMY CHICKEN SOUP  3. PICADILLO POCKETS

NEVER MISS A POST!
Sign up for my newsletter (two per month) and receive my recipes in your inbox.  Easy to see anytime and saved for safe keeping.  Click Here and sign up today! —->>>>CURTAIN CALL NEWSLETTER