Cream Cheese Pumpkin Squares
Cream Cheese Pumpkin Squares: These amazing pumpkin bars offer a wonderful nutty crust, creamy pumpkin and cream cheese filling ,and an oat and pecan crunchy topping. Not the traditional pumpkin square recipe but definitely at the top of the holiday dessert list. Perfect for Holiday Parties and potlucks!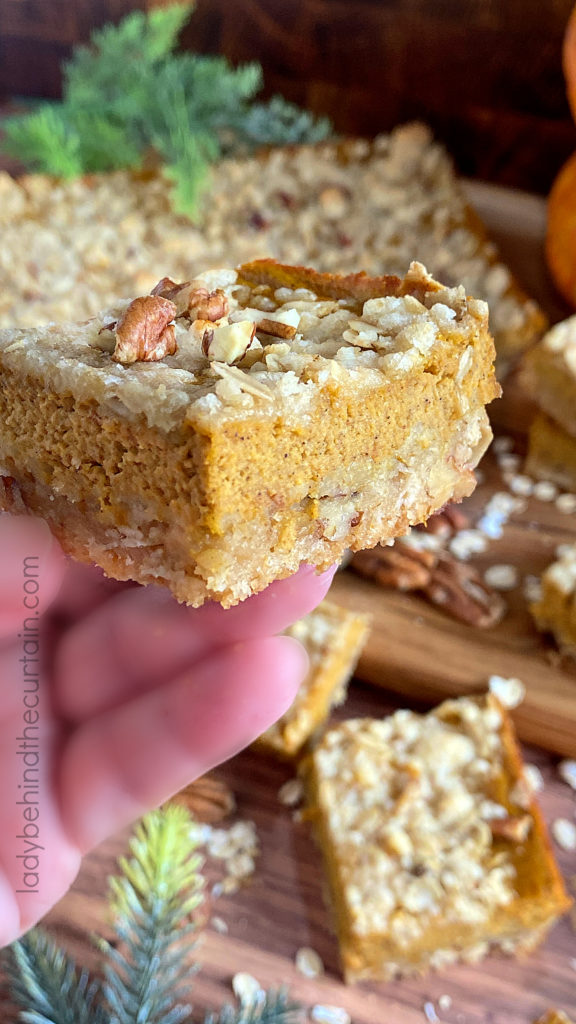 Tips for How to Get Unbeatable Cream Cheese Pumpkin Bars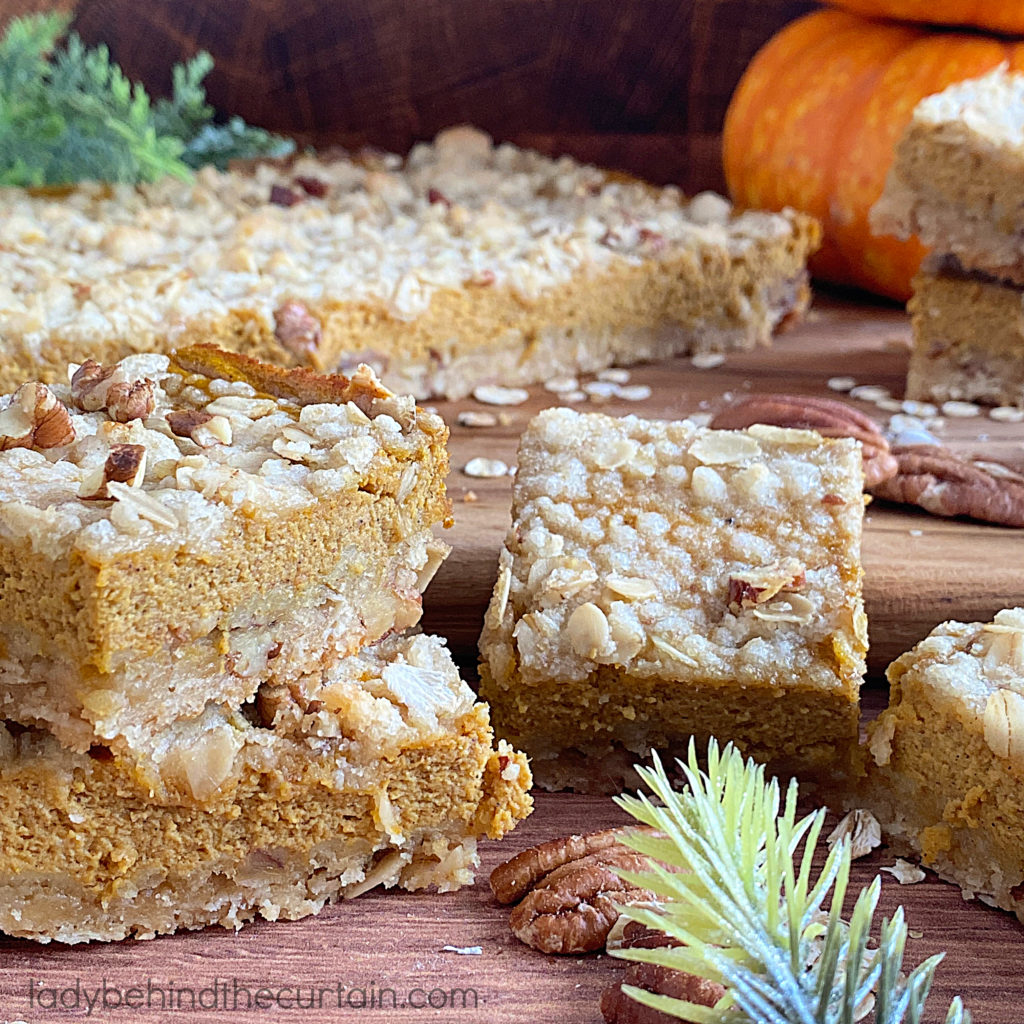 FOIL LINER
The answer to getting perfectly cut squares is foil. Line the pan with foil making sure you have enough to hang over the ends. This will allow you to lift the whole pan of Cream Cheese Pumpkin Squares out and makes cutting them super easy.
CUT COLD
Want crisp cut lines? Cut the bars when the filling is cold.
BEST TOOL FOR CUTTING
This may surprise you, but my favorite tool for cutting any bars including brownies is a plastic knife. The reason? The filling doesn't stick to the plastic.
COLD BUTTER
If you're looking for flakiness, cold butter is the way to go. You want the butter to be as solid as possible before working with it in the dough, so that it will keep its shape in layers rather than seeping into the dough and tenderizing it.
How to Freeze Pumpkin Bars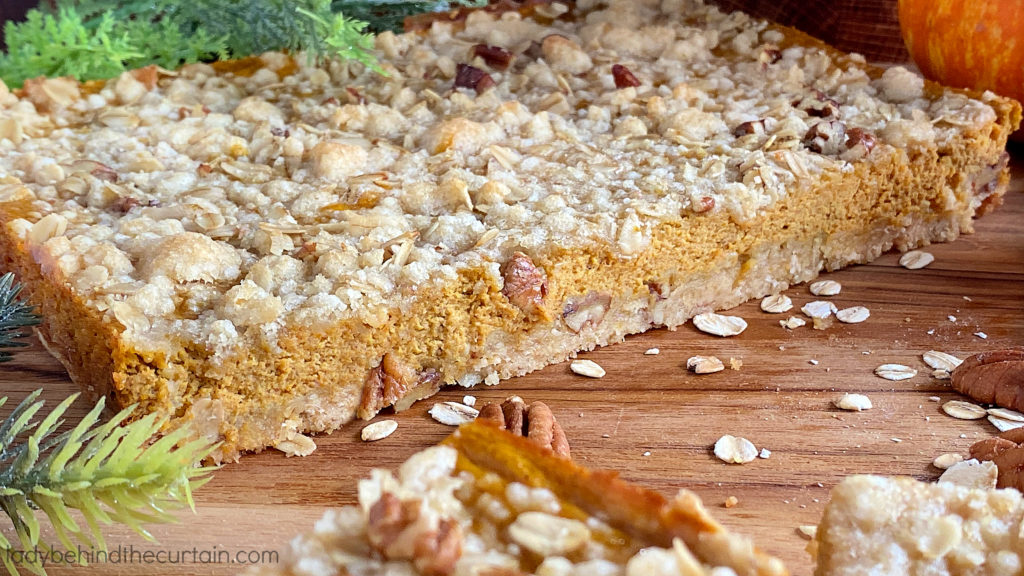 Once the pumpkin bars have cooled completely, cut them into squares.
TWO WAYS OF STORING:

THANKSGIVING OR CHRISTMAS DESSERT: Place cut pumpkin bars into a freezer safe container with a tight fitting lid.
INDIVIDUAL DESSERT: Wrap each bar in plastic wrap, place in a freezer safe container with a tight fitting lid.
DATE: Don't forget to date your containers.
FRESHNESS: The cream cheese pumpkin bars will stay fresh in the freezer up to 3 months
DEFROST: To defrost, place frozen bars in the refrigerator the night before.
How Long Will Cream Cheese Pumpkin Squares Stay Fresh In The Refrigerator?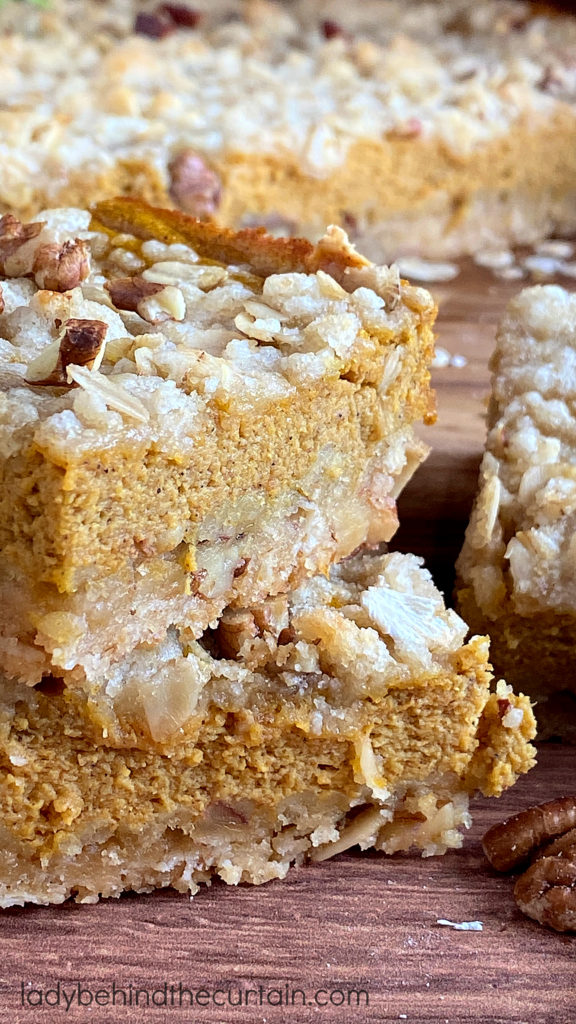 Cream Cheese Pumpkin Squares (ingredients)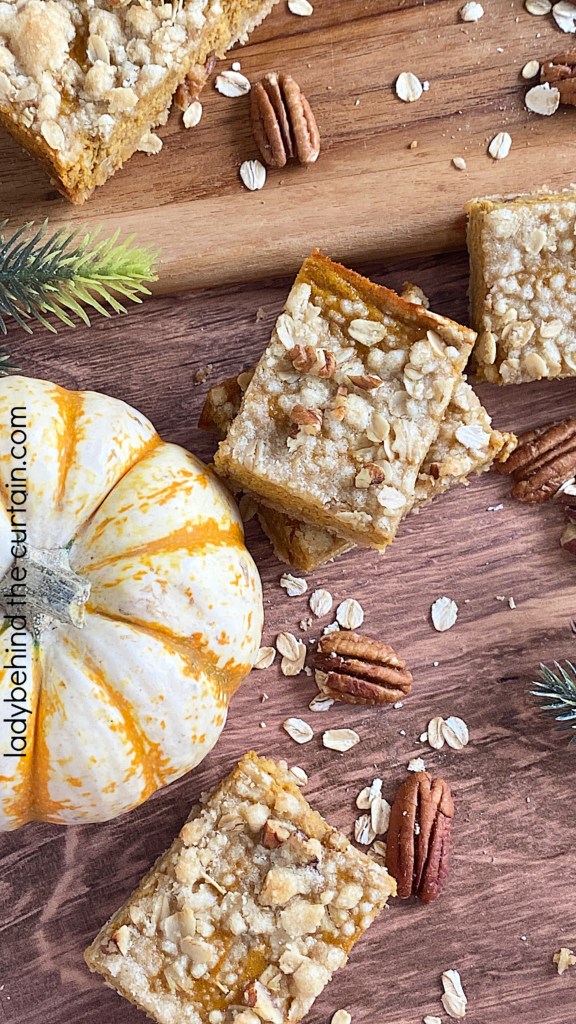 INGREDIENTS FOR THE CRUST AND TOPPING (full printable recipe below)

all -purpose flour
granulated sugar
cold butter
old fashioned oats
chopped pecans

INGREDIENTS FOR THE FILLING

cream cheese
ground cinnamon
ground allspice
ground cardamom
solid pack pumpkin
vanilla extract
large eggs
Why I Love These Cream Cheese Pumpkin Bars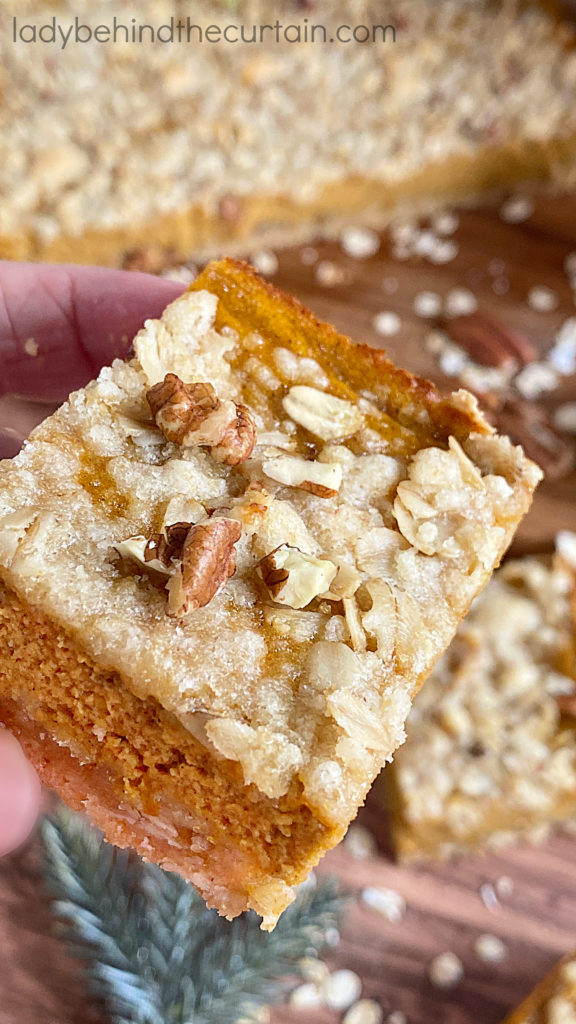 TOPPING: I love the addition of brown sugar, old fashioned oats and chopped pecans. They add a delicious flavor and a wonderful crunch.
PUMPKIN FILLING: Creamy and delicious. Tastes just like pumpkin pie only light and airy!
CRUST: The crust ingredients is divided with the topping. You get the same flavor with a cookie like texture.
BRINGING THE FLAVOR ALL TOGETHER: Whether you're planning on taking these bars to a potluck or serving them with a holiday meal. I'm confident these Cream Cheese Pumpkin Bars will be a hit.
MORE RECIPES WITH PUMPKIN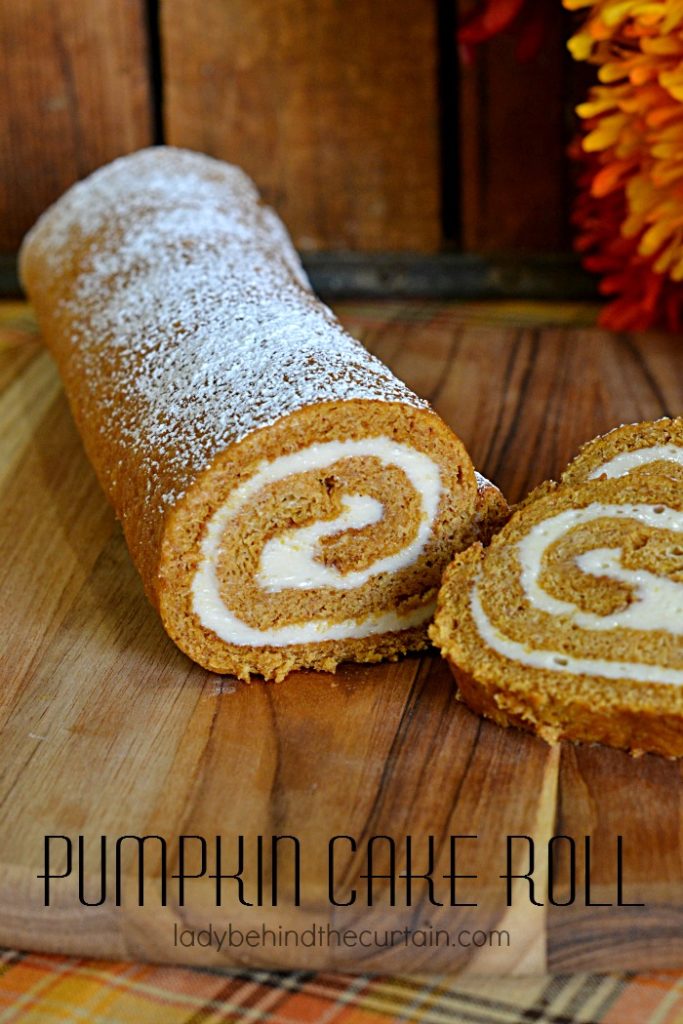 PUMPKIN CAKE ROLL 2. PUMPKIN CHEESECAKE 3. CARAMEL PUMPKIN TORTE 4. PUMPKIN PANCAKES WTH BROWN BUTTER AND APPLE CIDER SYRUP 5. MORE → PUMPKIN RECIPES
SIGN UP FOR THE LADY BEHIND THE CURTAIN NEWSLETTER AND FOLLOW THE LADY BEHIND THE PARTY ETSY SHOP
THANKS FOR VISITING♥