Double Chocolate Brownie Cookies
Double Chocolate Brownie Cookies | Like brownies, these double chocolate brownie cookies are dense and fudge like.  The combination of semisweet and unsweetened chocolate creates the perfect chocolate balance.  Not too sweet, just a rich chocolate flavor to satisfy all your chocolate cravings.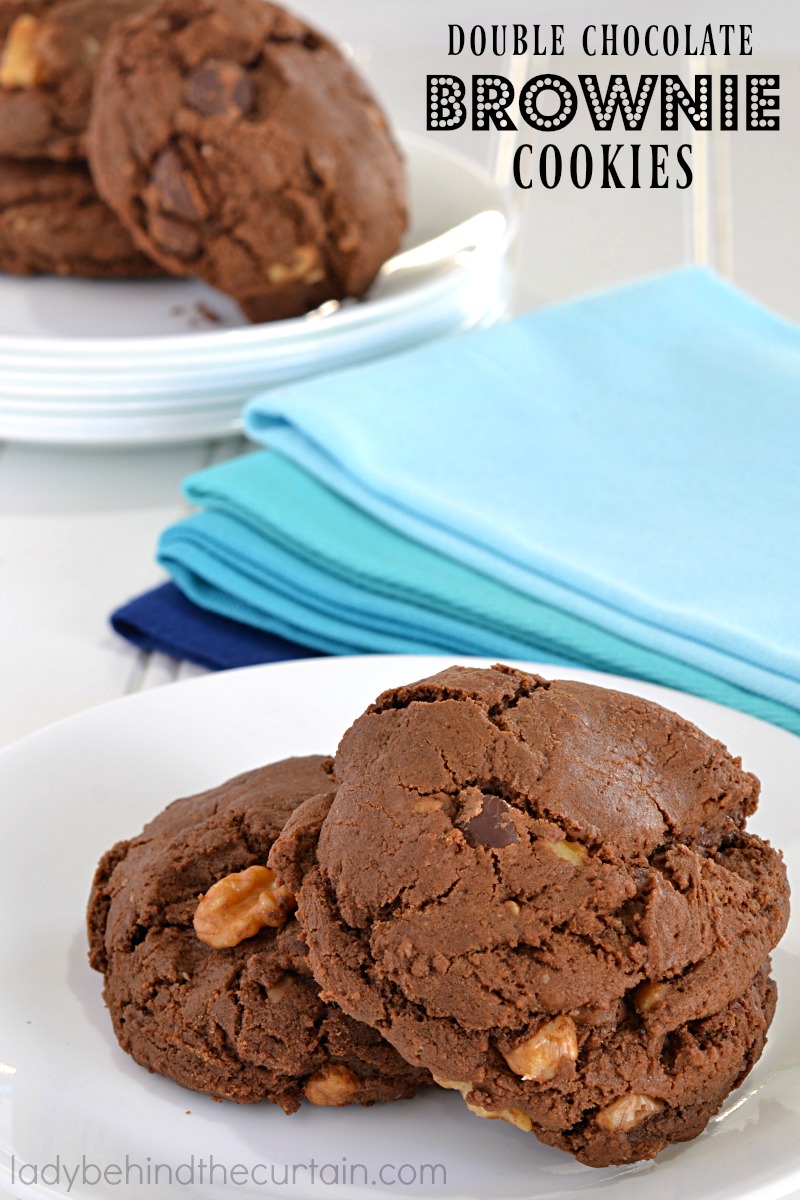 Summertime is the time for ice cream!  These cookies are stable enough and large enough to make the perfect ice cream sandwich.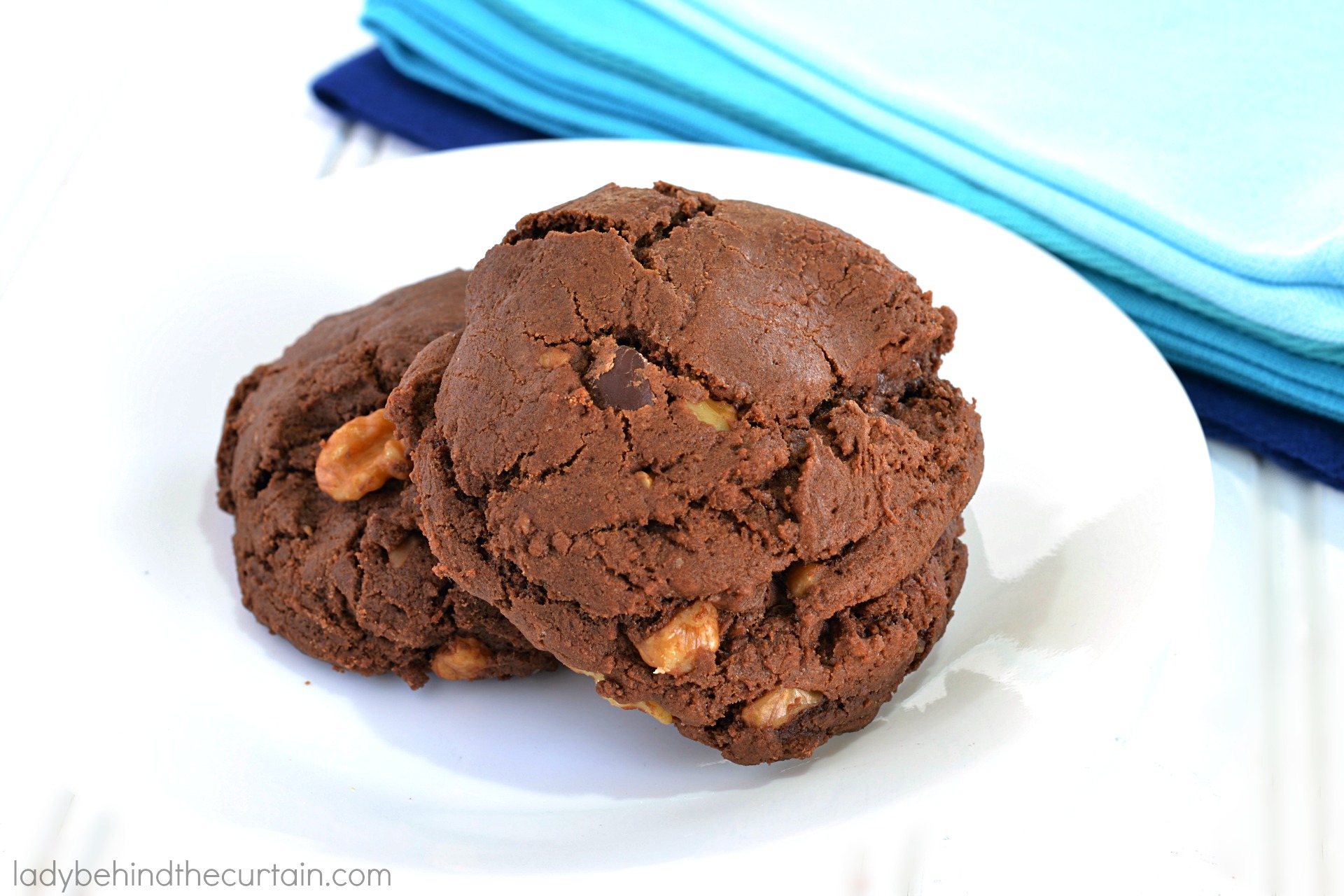 When it comes to packing the perfect lunch, that always includes a large cookie!  Big enough to share or make into two desserts.  Half for lunch and the other half mid day!  Or….OFFICE PARTY!  Make lots of points and treat everyone in the office to the whole batch!  Lunch just got a whole lot better!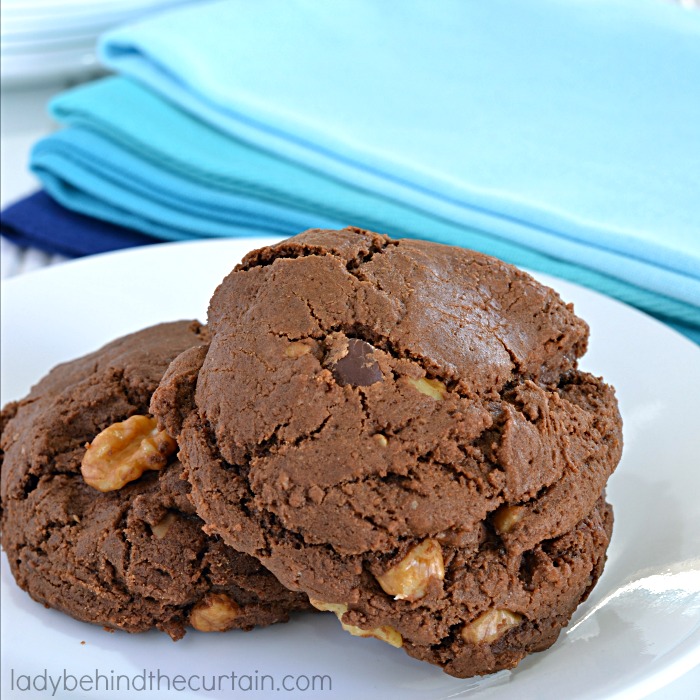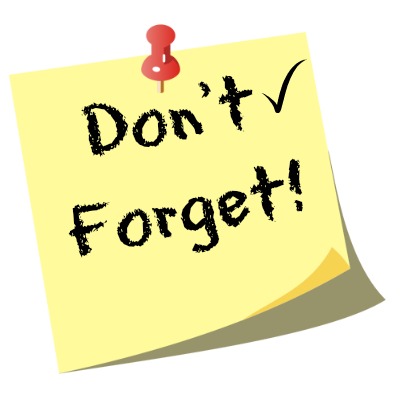 To…add this recipe to your Cookie Pinterest Board!  Don't have a cookie board?  Let me help you build one.  Click here for over 5600 cookie recipe pins—->>>>COOKIES AND BARS FROM AROUND THE WORLD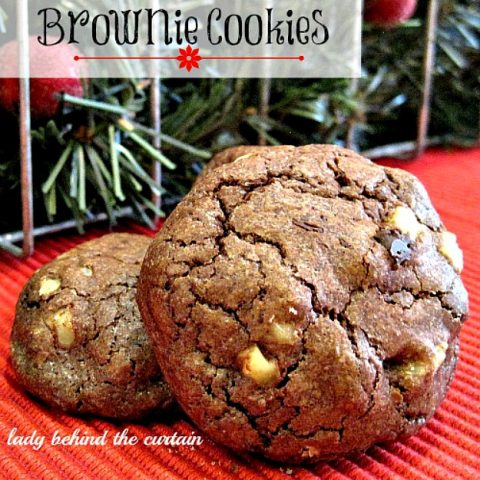 Double-Chocolate Brownie Cookies
Ingredients
9 ounces semisweet chocolate, chopped into chunks
3 ounces unsweetened chocolate, coarsely chopped
6 tablespoons butter
1 cup granulated sugar
3 eggs
1/2 teaspoon vanilla extract
1 cup all-purpose flour
1/4 teaspoon salt
3/4 cup walnuts, chopped
Instructions
Preheat oven to 375 degrees.
Line cookie sheets with parchment paper.
In a heatproof bowl set over (but not touching) simmering water, melt 5 ounces semisweet chocolate, the unsweetened chocolate, and the butter.
Stir until smooth.
Set mixture aside to cool slightly, about 5 minutes.
Beat chocolate mixture and sugar on medium until well combined, about 3 minutes.
Add eggs, and mix until completely combined.
Beat in vanilla.
Add the flour and salt, and beat until just incorporated.
Stir in the remaining 4 ounces semisweet chocolate and the nuts.
Shape 2 tablespoons of dough at a time into 1-1/2-inch ball and place about 1-1/2-inches apart . Bake 9 to 11 minutes.
Transfer parchment and cookies to cool completely on wire rack.
Notes
This recipe is from the Martha Stewart Baking Cookbook 2005.

MORE COOKIE RECIPES
OATMEAL TRASH COOKIES 2. BROWN BUTTER GLAZED PECAN CRESCENT COOKIES  3. COFFEE SHOP BROWNIE MIX BISCOTTI
NEVER MISS A POST!
Sign up for my newsletter and receive my recipes in your inbox. Easy to see anytime and saved for safe keeping. Click Here and sign up today! —->>>>CURTAIN CALL NEWSLETTER