Oatmeal Trash Cookies | You may wonder what that means. Well……it means you can add any leftover treats you have in the pantry. These Oatmeal Trash Cookies have a little bit of everything in them and are super flavorful. Like, pretzels, dried cranberries, white chocolate chips, dark chocolate chips, toffee bits and nuts! Perfect for a bake sale, take along to a potluck or barbecue! Don't forget about game day!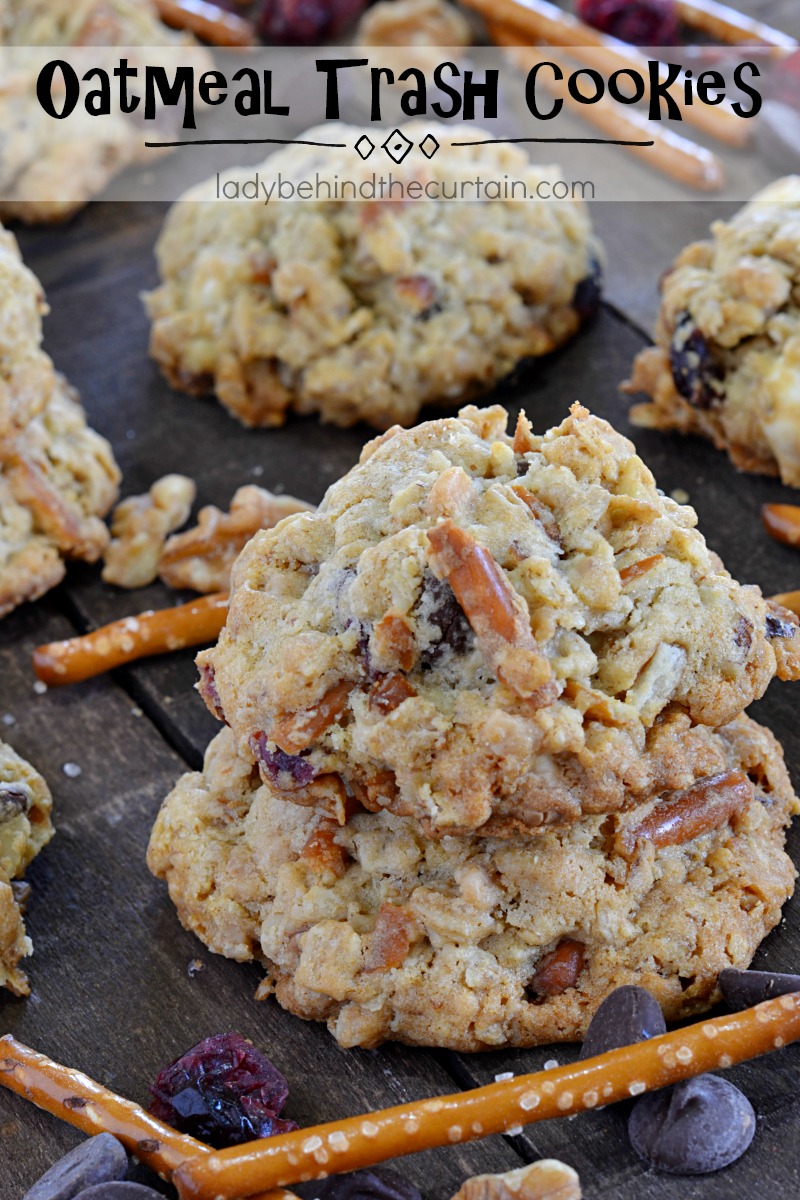 I named these cookies, oatmeal trash cookies because I used up all my leftover chips, nuts, toffee bits and dried cranberries. Don't know what to do with that last 1/2 cup? Now you do!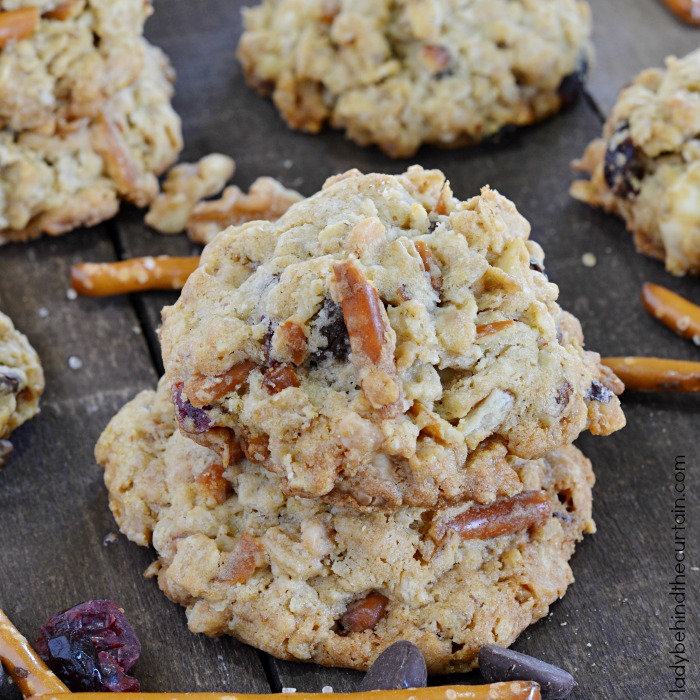 These oatmeal trash cookies are moist and full of flavor. I love sweet and salty together and that's what these Oatmeal Trash Cookies deliver. Don't have the same leftovers? Use what you have….just keep the measurement down to 1/2 cup per ingredient. If you don't have pretzels, another great way to add a salty touch is with coarsely smashed potato chips. Any dried fruit will add a touch of chewy sweetness. Nuts will add another layer of crunch along with the toffee bits.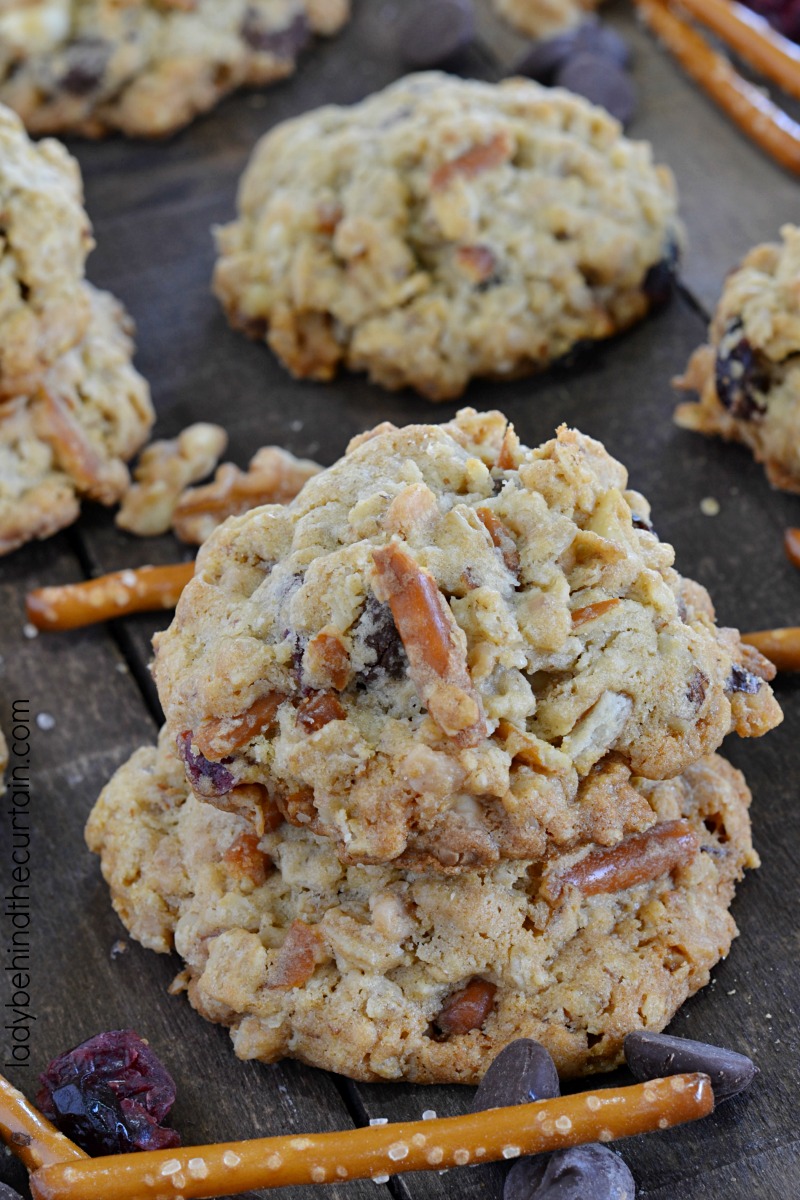 There's nothing like a delicious cookie. They're so special we even hand them out as gifts during the holiday season.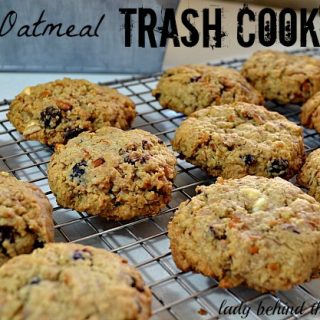 Oatmeal Trash Cookies
Yield:
Makes 26 large cookies
Ingredients
1-1/4 cups butter, softened
3/4 cup light brown sugar, packed
1/2 cup granulated sugar
1 egg
1 teaspoons vanilla
1-1/2 cups all-purpose flour
1 teaspoon baking soda
1 teaspoon salt
3 cups oats
1 cup pretzel sticks, crushed
1/2 cup white chocolate chips
1/2 cup dark chocolate chips
1/2 cup toffee bits
1/2 cup dried cranberries
1/2 cup walnuts, chopped
Instructions
Preheat oven to 350 degrees.
In a mixer combine the butter, brown sugar, sugar, egg and vanilla.
Mix until fluffy.
In another bowl combine the flour baking soda and salt.
Add to the butter mixer, mix until well combined.
Add oats, pretzels, white chocolate chips, dark chocolate chips, toffee bits, dried cranberries and walnuts.
Mix until well combined.
Using a ice cream scoop place 6 cookies per cookie sheet and bake 15 minutes.
Cool on wire rack.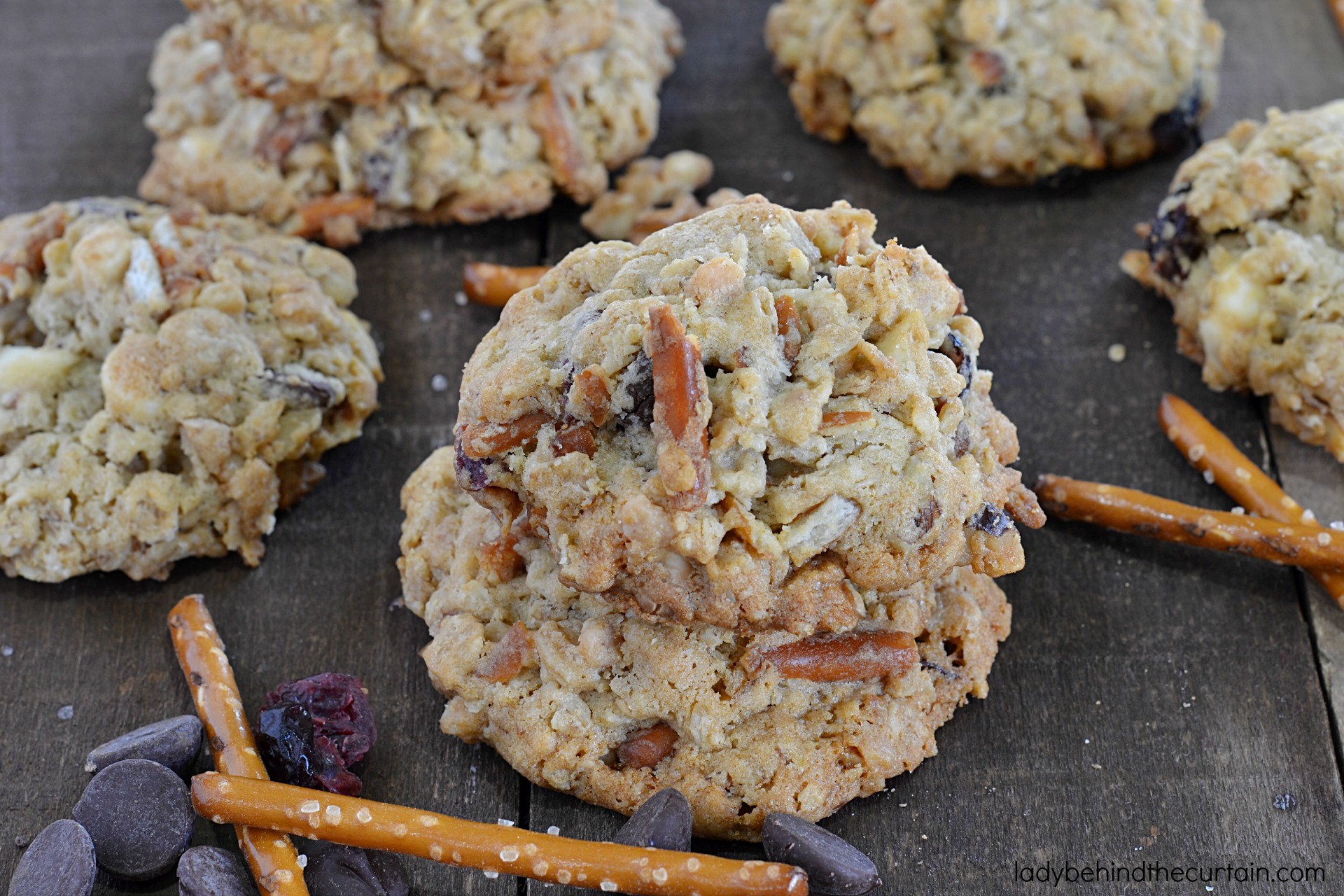 MORE OATMEAL COOKIE RECIPES

TOASTED COCONUT AND CHOCOLATE CHIP OATMEAL COOKIES 2. TRAIL MIX OATMEAL COOKIES 3. CRANBERRY BLISS OATMEAL COOKIES
NEVER MISS A POST!
Sign up for my newsletter and receive my recipes and Etsy store updates in your inbox. Easy to see anytime and saved for safe keeping. Click here and sign up today—->>>>CURTAIN CALL NEWSLETTER
MORE COOKIE RECIPES
Peanut Butter Blossoms Cookie Recipe and Brown Sugar Butter Cookies