Easy No Fail Chocolate Cream Pie
Easy No Fail Chocolate Cream Pie |  A rich, thick, decadent and creamy chocolate pie that comes out perfect every time.  Topped with fresh whipped cream and a swirl of chocolate fudge topping!  Way better than instant pudding and just as easy.  This Easy No Fail Chocolate Cream Pie will be the talk of the party.  Scroll below for more ideas of how to make this party pleasing pie.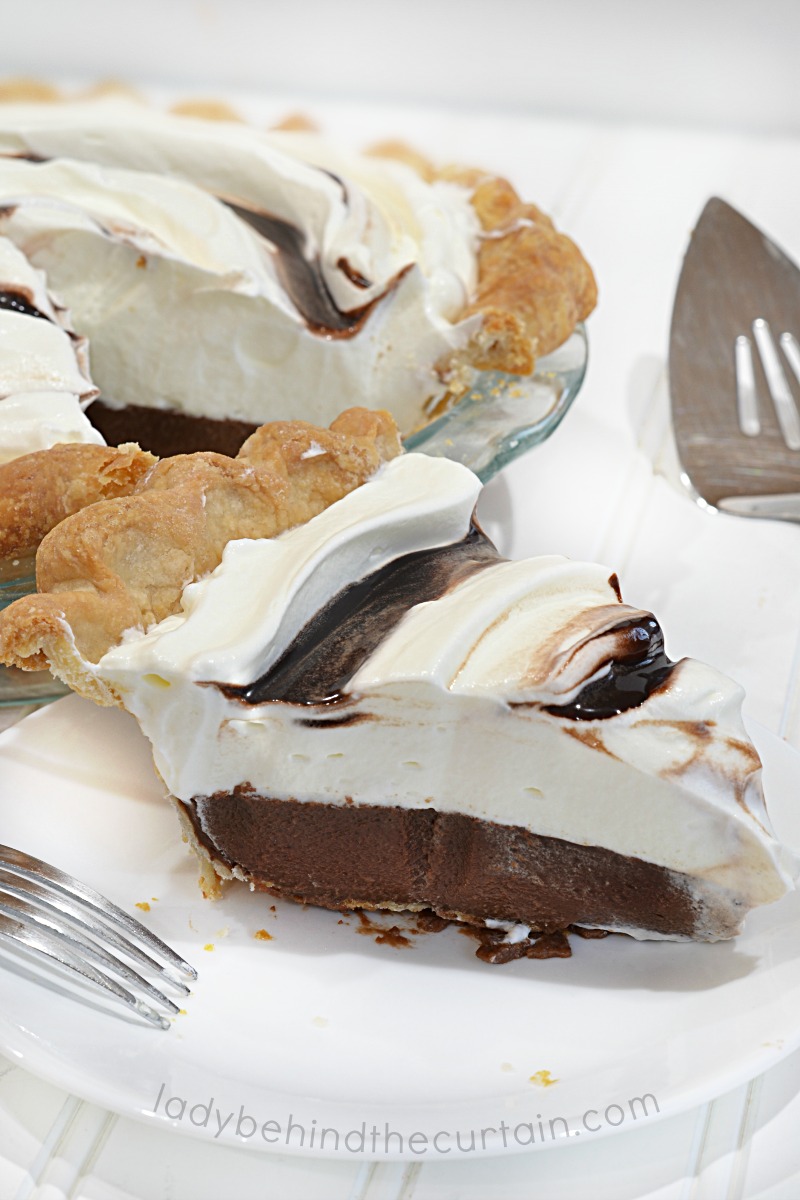 For more of a chocolate kick skip the traditional pie crust and make or buy an Oreo cookie crust.  Or make my Chocolate Pie Crust Recipe!  Usually I make fruit pies or cobbler.  Like Triple Berry Cobbler, Peach Slab Pie and Cinnamon Roll Apple Pie Pops.  But this time I decided to make a traditional family favorite.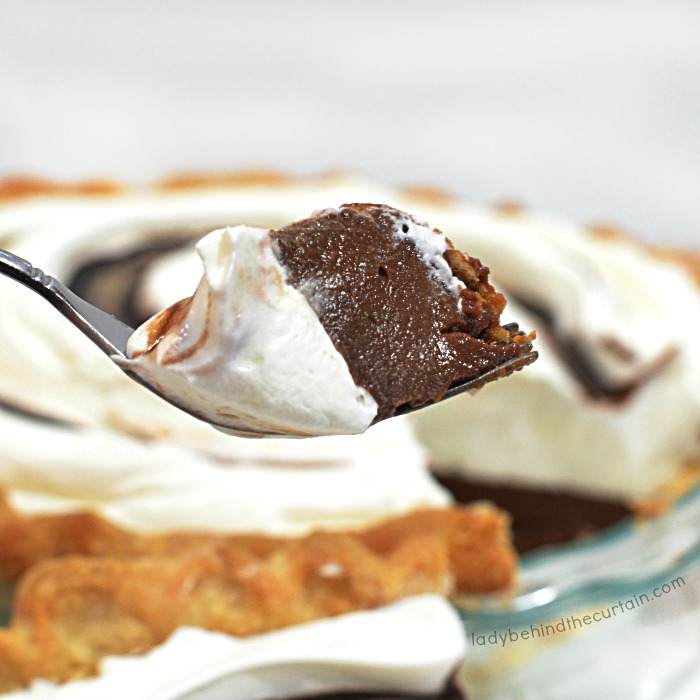 Add something fun to your dessert table and make a smaller version of this pie in mason jar lids (sorry no picture)!  I took this recipe and made small pies for a Surprise Birthday Party.  One full size pie recipe makes 35 regular size mason jar lid pies.  For more information on how to make a pie in a mason jar like click here—->>>>MASON JAR LID CHERRY PIES.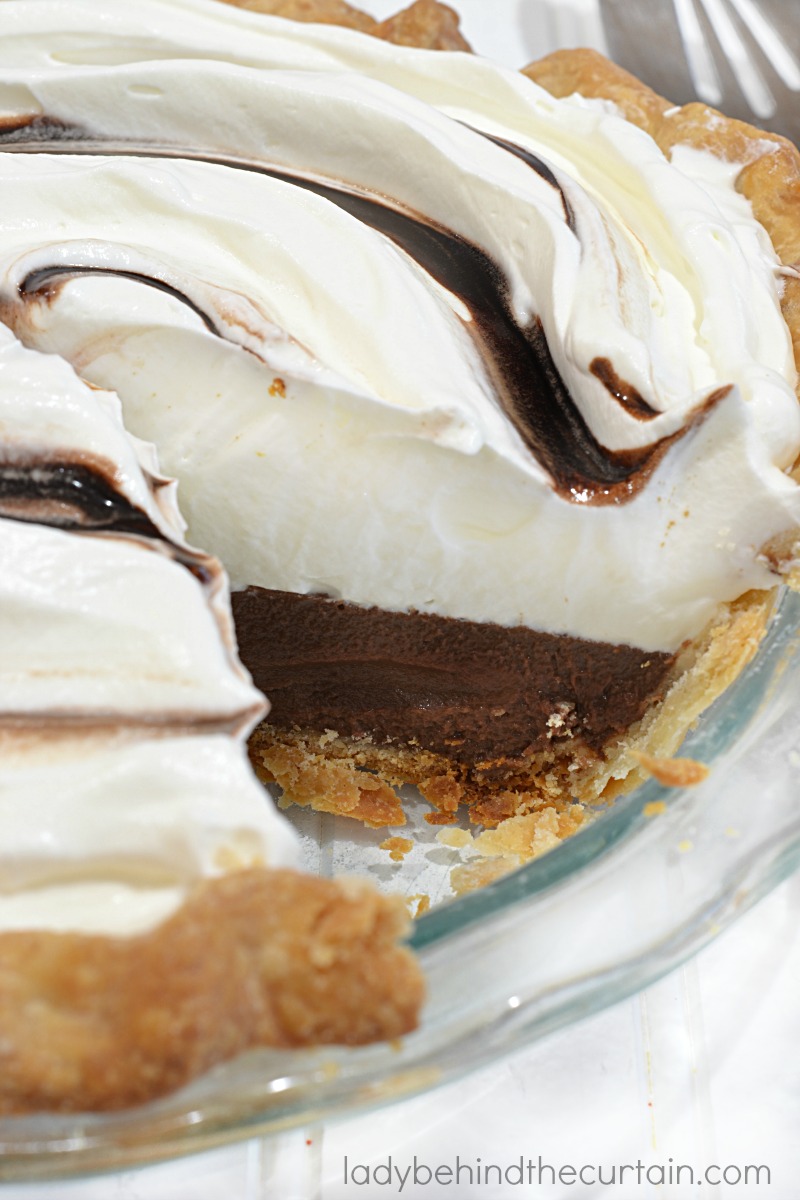 Easy No Fail Chocolate Cream Pie
Ingredients
For the Pie Crust
1/2 (14.1 ounce) package refrigerated piecrusts (1 sheet) or homemade (link below)
For the Chocolate Filling
1/2 cup granulated sugar
3 tablespoons cornstarch
1/8 teaspoon salt
2 1/2 cups whole milk
5 large egg yolks
4 tablespoons unsalted butter
1 (4 ounce) bar semi sweet chocolate, chopped
1 (1 ounce) square unsweetened baking chocolate , chopped
2 teaspoons vanilla extract
For the Whipped Cream Topping
2 cups heavy whipping cream
1/3 cup granulated sugar
For the Topping
chocolate fudge ice cream topping
Instructions
For the Pie Crust:
For the store bought version:  Preheat oven to 425°.  In a lightly floured surface unroll one of the circles.  Roll into a 12-inch circle.  Transfer to a 9-inch pie place, pressing into the bottom and up the sides.  Crimp edges.  Add a piece of parchment paper on top of the dough larger then the pie.  Add pie weights or dried beans.  Bake until golden brown (about 25 minutes).  Click here for the Homemade Version---->>>>PERFECT EVERY TIME 10 MINUTE PIE CRUST.  Bake with pie weights or dried beans.
For the Chocolate Filling:
In a medium saucepan, whisk together the sugar, cornstarch and salt.  Add milk and egg yolks; whisk to combine.  Bring to a boil over medium heat, stirring constantly,  Cook until thickened and bubbly (about 2 minutes).  Reduce to low; stir in butter 1 tablespoon at a time, until combined.  Add chocolate, stirring until melted.  Remove from heat, stir in vanilla.  Spoon filling into prepared piecrust..  Let cool 10 minutes.  Place a piece of plastic wrap directly on the surface of the filling.  Refrigerate until firm (at least 3 hours).
For the Whipped Cream Topping:
In a cold metal bowl, beat cream and sugar at high speed until stiff peaks form.  Top pie with whipped cream
For the Topping:
Drop teaspoonfuls of chocolate fudge sauce over whipped cream.  Using the back of a spoon, swirl into whipped cream.
Nutrition Information
Amount Per Serving
Calories

0
Total Fat

0g
Saturated Fat

0g
Cholesterol

0mg
Sodium

0mg
Fiber

0g
Sugar

0g
Protein

0g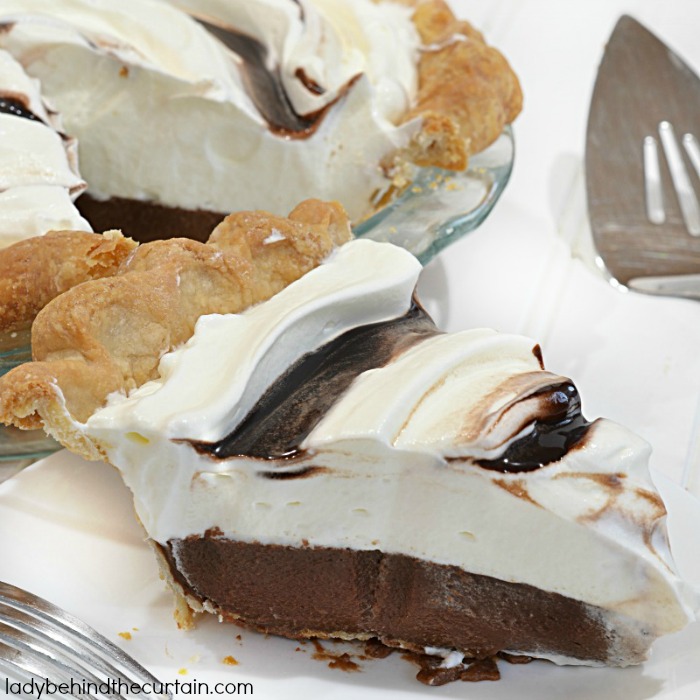 NEVER MISS A POST!
Sign up for my newsletter and receive my recipes in your inbox. Easy to see anytime and saved for safe keeping. Click Here and sign up today! —->>>>CURTAIN CALL NEWSLETTER