Easy Cucumber Salad
| This low calorie summer salad is perfect as a side dish or snack.  Crunchy fresh cucumber with fresh dill.  Even if you're not a cucumber fan you will like this easy cucumber salad!  With virtually no calories, feel free to eat as much as you want!  BONUS!  Since there's no mayonnaise in this salad you can be comfortable taking it to a picnic or barbecue.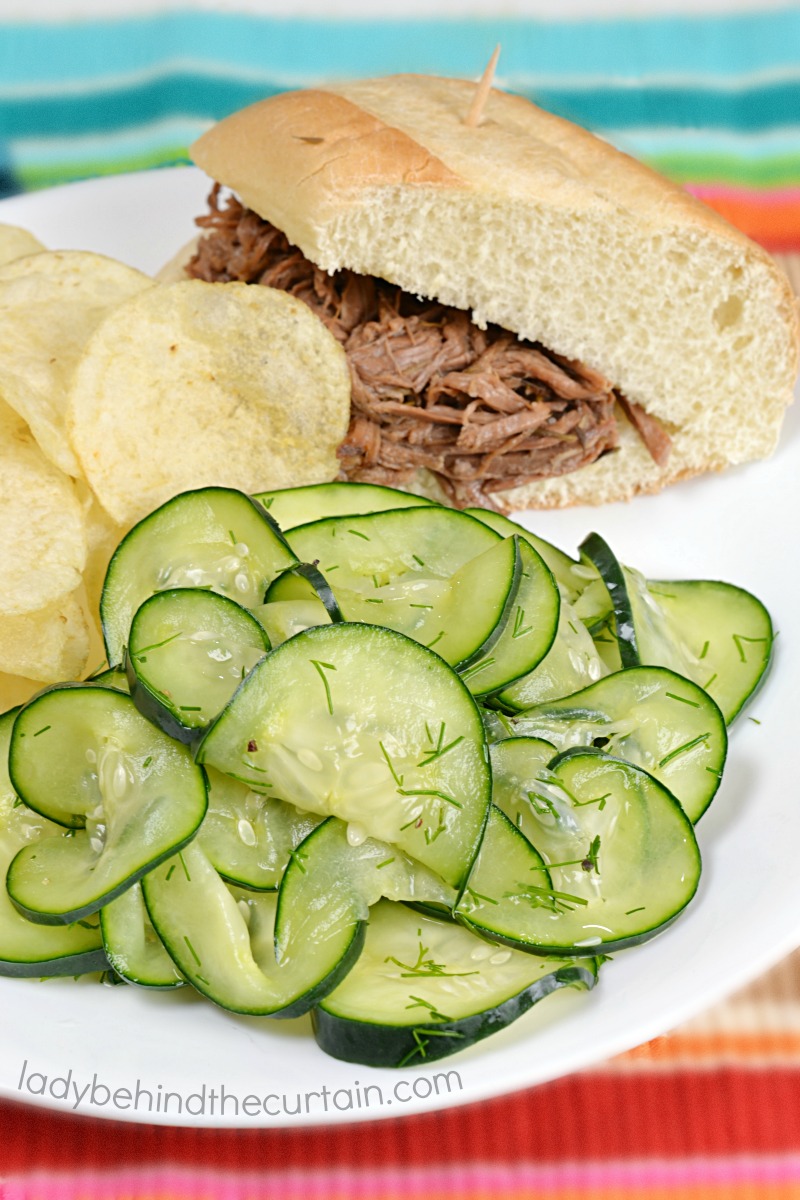 When it's hot outside sometimes a cool refreshing salad is all you want.  Instead of serving coleslaw, choose to serve a cucumber salad.  This salad pairs perfectly with a nice juicy burger or smoked beef sandwich.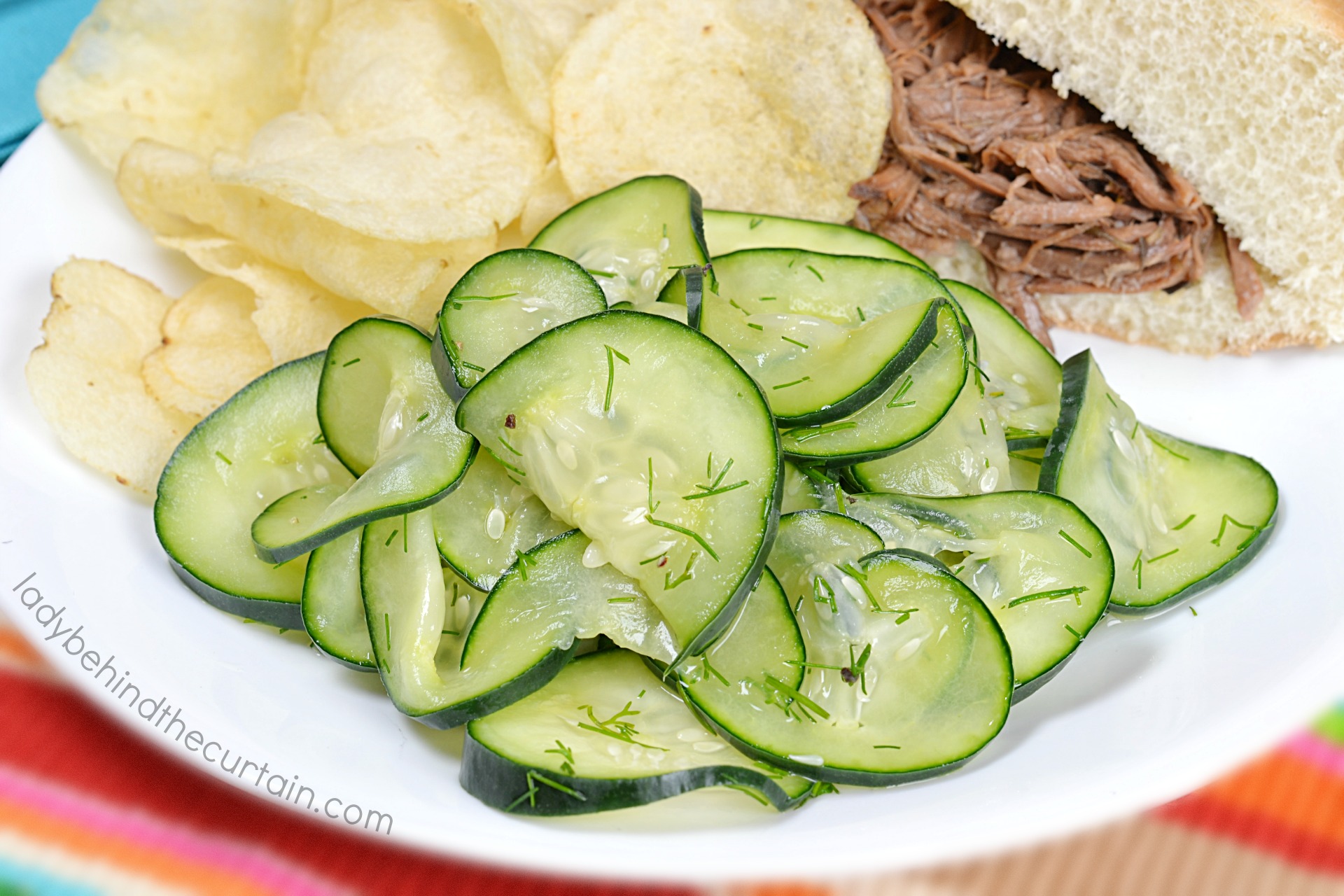 While growing cucumbers is super easy that also means the crop is plentiful.  Here are some other recipes using cucumbers.  Cucumber Dill Vegetable Dip, Light Greek Cucumber Yogurt Spread and Cucumber Water.

Burgers…..for such little effort the flavor rewards are incredible!  Pile on all your favorite toppings and you have created a masterpiece. Some of my favorites are* LOADED CHILI CHEESEBURGERS, JALAPENO POPPER BURGERS AND STEAKHOUSE BURGERS.  Click here for more burger recipes—->>>>BURGER RECIPES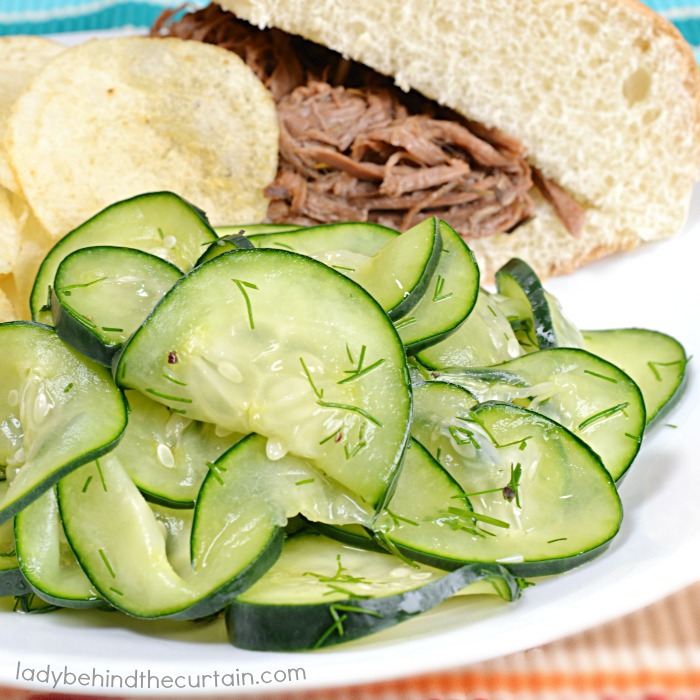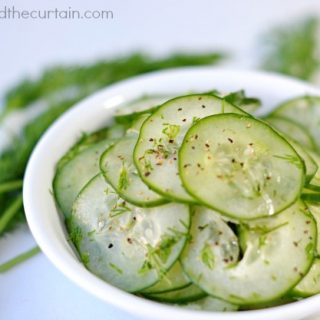 Cucumber Salad
Ingredients
4 cucumbers, thinly sliced
2 teaspoons salt
1/2 cup apple cider vinegar
1/4 cup Splenda
2 tablespoons fresh dill, chopped
1/4 teaspoon black pepper
Instructions
Cut cucumbers into thin slices.
Toss with 2 teaspoons of salt.
Marinate at room temperature for 1 hour.
Drain liquid from cucumbers, add the vinegar, Splenda, dill and pepper.
Stir, cover and refrigerate 3 hours before serving.
Notes
This recipe is from [Lady Behind The Curtain}https://www.ladybehindthecurtain.com]
MORE FRESH SALAD RECIPES
1. FRESH BROCCOLI SALAD  2. SOUTHWESTERN SALAD  3.
WATERCRESS STEAK SALAD
NEVER MISS A POST!
Sign up for my newsletter and receive my recipes in your inbox. Easy to see anytime and saved for safe keeping. Click Here and sign up today! —->>>>CURTAIN CALL NEWSLETTER