Grandma's Coconut Cream Pie
Grandma's Coconut Cream Pie. Sweet coconut surrounded by a delicious creamy custard and topped with homemade whipped cream. This Grandma's Coconut Cream Pie truly is the BEST! A cool and creamy pie perfect for summer entertaining.
How to make Grandma's Coconut Cream Pie
FOR THE CRUST
Add the flour and salt to a medium bowl; stir to combine.
Using a pastry cutter of a fork and knife cut in the shortening until the pieces are the size of small peas.
Sprinkle water over flour mixture; starting with 6 tablespoons.
Work the water into the dough.
Add more water a tablespoon at a time until the dough is moist.
Divide dough into two balls.
On a lightly floured surface roll dough into desired size.
Blind bake the crust (scroll down for more info.)
FOR THE FILLING
In a mixer combine eggs, sugar and cornstarch.
Using a whisk attachment beat on medium 5 minutes.
While the egg mixture is beating, add the milk and butter to a large saucepan and bring to a boil.
While the mixer is still moving pour hot milk mixture into the egg mixture in thirds.
Return all the ingredients to the saucepan.
Reduce heat to medium low and cook, stirring occasionally, until mixture thickens (about 10 minutes).
Remove from heat, stir in vanilla.
Transfer to a bowl, cover and refrigerate until until cooled (at least 2 hours).
Prepare pie crust as directed and bake using pie weights (I used dried beans)—cool completely.
When custard mixture has cooled and thickened, add coconut and stir to combine.
FOR THE HOMEMADE WHIP CREAM
In a cold metal bowl, beat cream and sugar at high speed until stiff peaks form.
PUTTING IT ALL TOGETHER
Spoon custard into cooled pie crust.
Add the delicious light and fluffy homemade whipped cream.
Top with toasted coconut.
Store in the refrigerator until ready to serve.
What is "blind" baking?
Blind baking is a process of baking a pie crust without filling. The "pie weights" help keep the pie dough flat.
Can I freeze this Coconut Cream Pie
How to Freeze Homemade Coconut Cream Pie
HOW TO TOAST COCONUT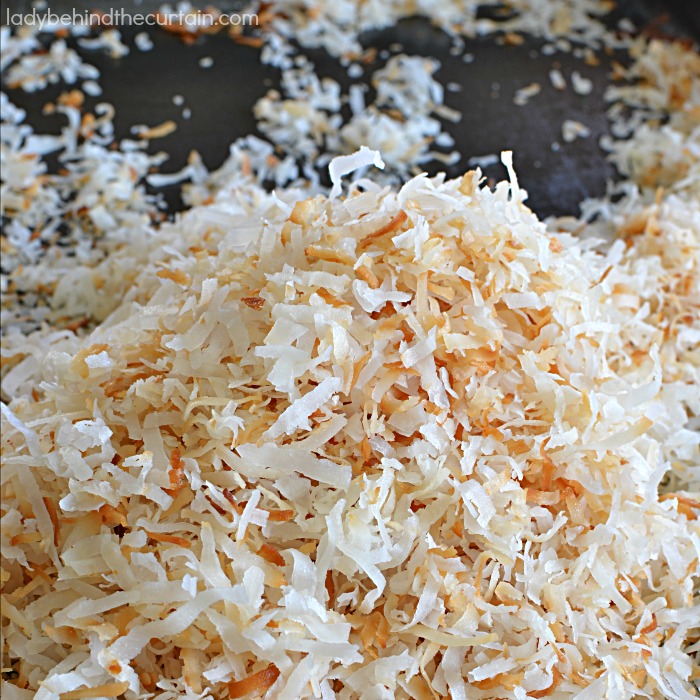 MORE HOLIDAY PIE RECIPES
NEVER MISS A POST