Homemade Fresh Strawberry Ice Cream
Homemade Fresh Strawberry Ice Cream: There's nothing like a bowl of homemade ice cream. This Old Fashioned Fresh Strawberry Ice Cream is perfection in a bowl. With a creamy strawberry base and chunks of fresh strawberries this ice cream will be the hit at the backyard barbecue or family reunion. The fresh strawberry ice cream base is super easy to make. The delicious ice cream is creamy without the fuss of making an egg custard the night before.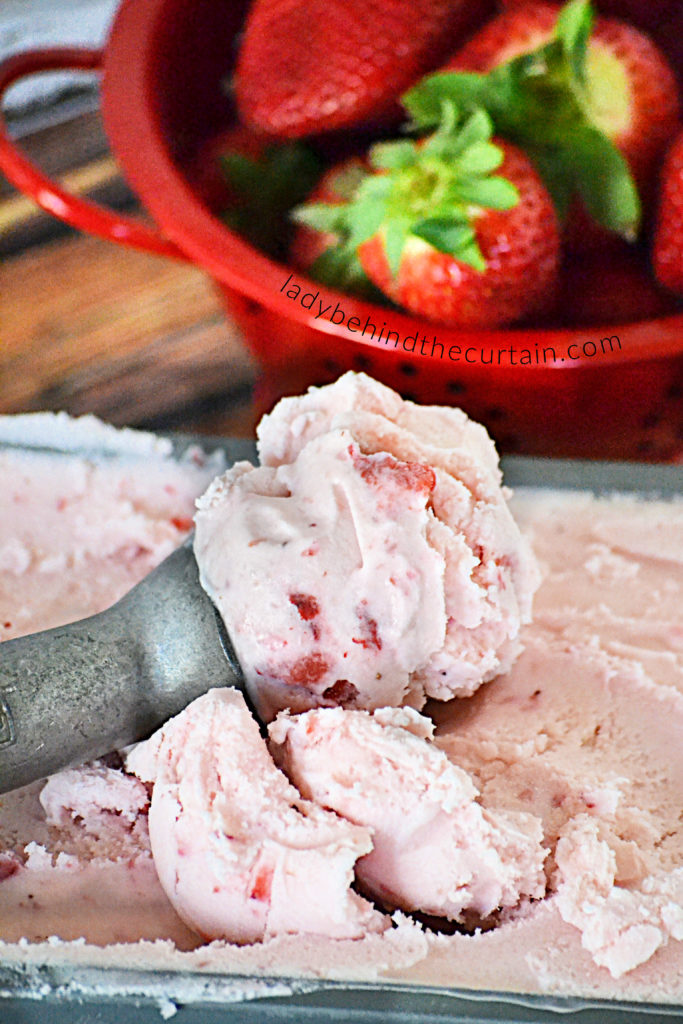 Change it Up!
Want to change up this recipe? Make two batches—one, the traditional Homemade Fresh Strawberry Ice Cream and the second batch….ADD CHOCOLATE! There are a several ways to go about this. Use chocolate dipped strawberries, add chunks of chocolate, chocolate chips or mini chocolate chips. Use one or several. Whatever chocolate addition you use, make sure it's a good chocolate. If you don't want to fool with adding chocolate chips or chocolate dipped strawberries, how about considering giving your guests the option of a scoop of chocolate ice cream or gelato?
Frequently Asked Questions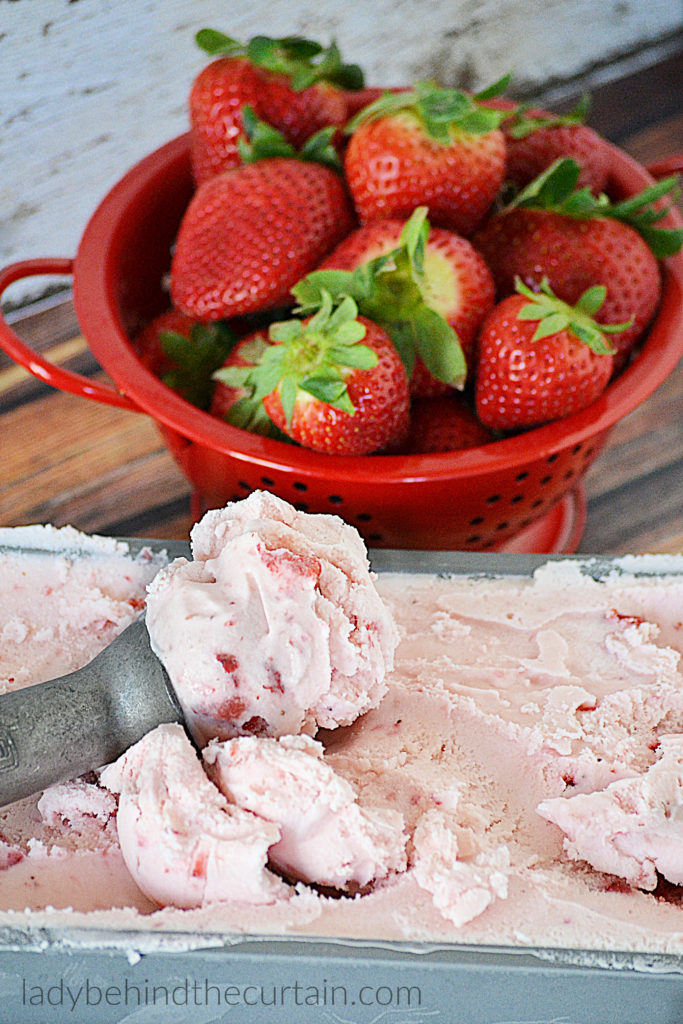 Can I use frozen strawberries? Yes, you can use frozen strawberries, you'll want to let them thaw first, then chop them up if they're very large before macerating them in the sugar.
Do I need an ice cream maker? Yes, you need a 2QT ice cream machine to make this recipe. There are several ways to make ice cream with out a machine, so you can attempt one of those with the strawberry cream mixture, but I haven't tested it out to know how it works.
Can I use blueberries instead of strawberries? Yes, you should be able to use a variety of fruit, whatever your favorite is – different fruits may need a little more sugar depending on how sweet they already are. Some fruit flavors are also not as strong, but berries should be fine!
How much ice cream does this make? This recipe makes about 2 quarts of ice cream, or about 16 half cup servings.
HOW TO MAKE HOMEMADE FRESH STRAWBERRY ICE CREAM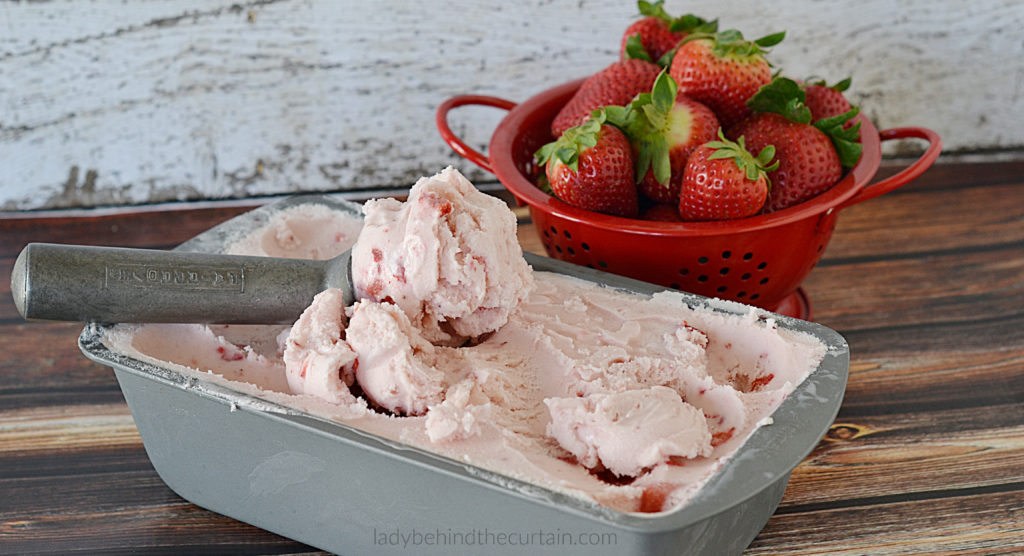 INGREDIENTS (full printable recipe below)

3 cups fresh strawberries, stemmed and sliced
4 tablespoons water
1½ cups granulated sugar
1½ cups whole milk
2¾ cups heavy cream
1½ teaspoons vanilla extract

DIRECTRIONS

In a medium bowl combine the strawberries, water and sugar.
Stir and allow the strawberries to macerate for 2 hours.
Separate the berries in half leaving as much juice in the bowl as possible.
Mash or puree the berries that were left in the juice.
In a large bowl mix together the milk, heavy cream, mashed strawberries in juice and vanilla.
Turn the machine on; pour the mixture into the freezer bowl, and let mix until thickened, about 20 to 25 minutes.
Five minutes before mixing is completed, add the reserved strawberries and let mix in completely.
The ice cream will be soft, for a firmer ice cream, transfer to an air tight container and freeze an additional 2 hours.
MORE HOMEMADE ICE CREAM RECIPES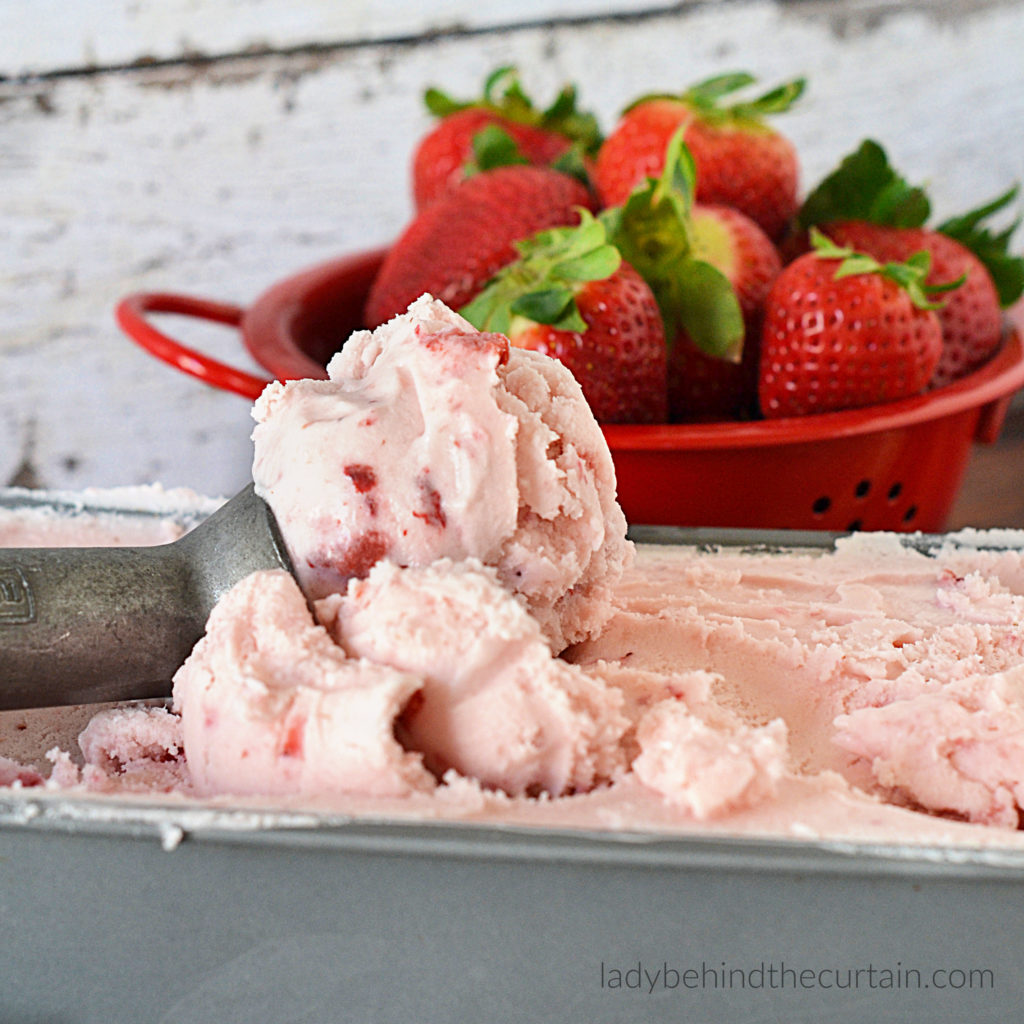 NEVER MISS A POST