BRING THE COOL BREEZES OF THE TROPICS TO DINNER TONIGHT!
This island salsa is sweet and savory at the same time.
PERFECT for a salsa bar or served on fish, chicken or pork.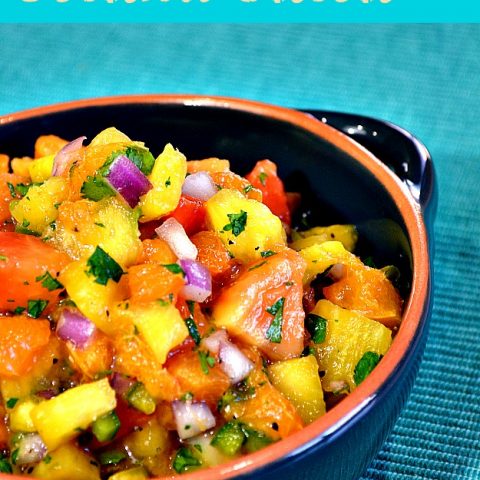 Island Salsa
Ingredients
1 cup fresh apricots, peeled and chopped into chunks
1 cup fresh pineapple, chopped into chunks
1 cup fresh papaya, chopped into chunks
1 lime, juice and zest
1 jalapeno, seeded, deveined, finely diced
1/3 cup red onion, finely diced
1/4 cup fresh cilantro, chopped
1/2 teaspoon salt
1/4 teaspoon pepper
Instructions
Combine all ingredients and store in the refrigerator at least an hour before serving.
HINT: This is a mild salsa if you want more heat leave the veins, if you want even more heat also leave in the seeds.
GREAT served on pork chops!

I SHARED THIS IDEA/RECIPE AT THESE PARTIES