Kung Pao Chicken:  Bring your restaurant favorite Chinese dish to your table with this simple delicious chicken dish with a kick.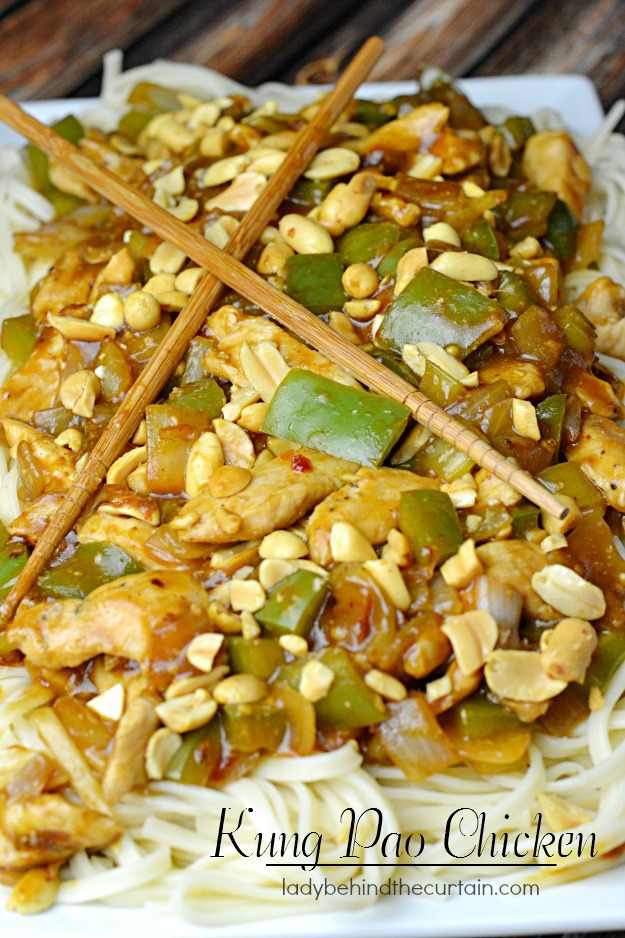 BETTER THAN TAKE OUT!  Eating out Chinese can get a little pricey.  So next time you get a craving for your favorite Chinese dish make it at home!  I promise you your family will love it!  Perfect for a weeknight meal.  All the prep work can be done the night before or even on Saturday for a quick and delicious Monday night dinner.  I served my Kung Pao Chicken with Japanese Udon Noodles I found at my grocery store.  White rice would be great too.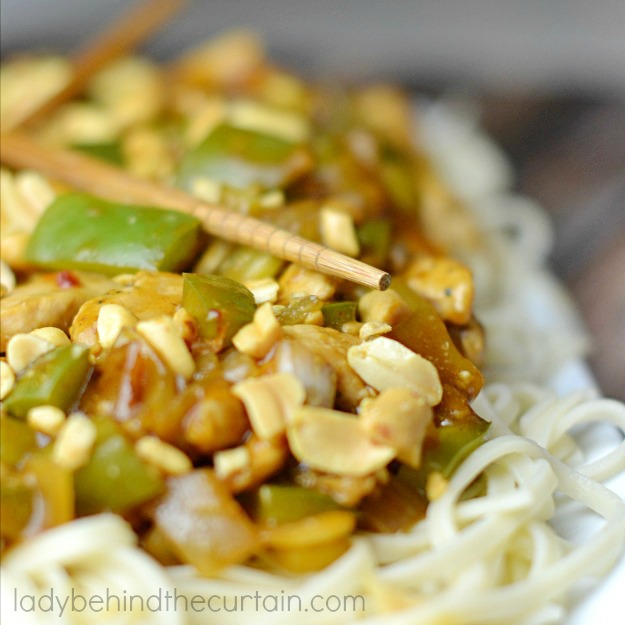 TIP:  Having a hard time peeling the ginger?  Scrap the skin with a spoon and it comes right off.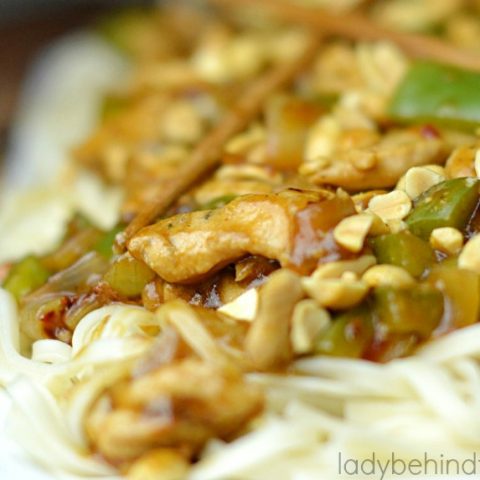 Kung Pao Chicken
Ingredients
For the Chicken and Marinade:
1 pound boneless skinless chicken breast cut into bit size strips
1 egg white
1 teaspoon cornstarch
1 teaspoon soy sauce
1/2 teaspoon salt
dash of black pepper
For the Stir Fry:
1 large green bell pepper, cut into 3/4-inch pieces
2 celery stalks, chopped
1 medium onion, chopped
2 tablespoons vegetable oil
1 garlic clove, minced
1 teaspoon fresh ginger, finely chopped
For the Kung Pao Sauce:
1 tablespoon cornstarch
1 tablespoon cold water
1 tablespoon white wine
1/2 teaspoon sugar
1/4 teaspoon sesame oil
2 tablespoons Hoisin sauce
1 teaspoon chili paste
1/2 cup chicken broth
Garnish:
Instructions
For the Chicken and Marinade:
Mix egg white, cornstarch, soy sauce, salt and pepper in medium glass or plastic bowl; stir in chicken; cover and refrigerate 30 minutes.
For the Stir Fry:
Heat wok or skillet until very hot.
Add vegetable oil; rotate to coat side.
Add chicken and cook until all pink is gone and the chicken is brown.
Transfer chicken to a bowl.
To the same skillet add the onion, garlic and ginger root; stir-fry about 1 minute or until onion is light brown.
Transfer chicken back to the skillet with the vegetables.
Add bell pepper; cook 2 minutes.
Add sauce; heat until thickened.
Garnish with peanuts.
NOTE: If you don't have peanuts you can also use pecans or walnuts.
For the Kung Pao Sauce:
In a jar combine the cornstarch, water, wine, sugar, sesame oil Hoisin sauce, chili paste and chicken broth.
Shake and set aside.
TIP: For more sauce I double the recipe except for the chili paste.
Optional: Cook noodles as directed on the package.
MORE CHINESE RECIPES
1. BEEF POTSTICKERS  2. PORK CHOP SUEY  3. CHICKEN PAD THAI