Lemon Poppy Seed Cake Mix Quick Bread
Lemon Poppy Seed Cake Mix Quick Bread: This easy to make breakfast bread is filled with bright lemon flavor, topped with a lemon glaze. The perfect morning treat to serve at an Easter Brunch, Mother's Day Brunch or out of town guests. No one will know the bread starts with a white cake mix. Simple and delicious!
How to Make Semi Homemade Quick Bread
INGREDIENTS (full printable recipe below)

WHITE CAKE MIX: Not only offers flavor but already has the ingredients needed to help with the rising of the bread.
LEMON PUDDING MIX: Adds flavor and makes the bread a little extra moist.
LEMON LIME SODA: Give your bread a light airy texture.
LEMON ZEST: Adds a pop of natural lemon flavor
VEGETABLE OIL: Offers a moist quick bread.
LARGE EGGS: Helps with the breads structure.
POPPY SEEDS: Adds flavor

DIRECTIONS

No special tools for this recipe.
Simply add everything to a mixing bowl, mix until combined and pour into a prepared pan.
Bake @ 350° for 47 minutes.
Top with the lemon glaze
How to Transform this Recipe from Bread into Muffins
How to Freeze Quick Bread
Lemon Poppy Seed Cake Mix Quick Bread Additions
FRESH OR DRIED BLUEBERRIES: Add a pop of sweetness with fruit.
NUTS: Add crunch and another layer of flavor with chopped nuts.
CREAM CHEESE DRIZZLE: Transform your lemon poppy seed quick bread into a lemon cheesecake quick bread (recipe below).
BASIC STREUSEL: Before baking…add streusel (recipe below). Add the lemon glaze over the baked streusel.
COOKIE STREUSEL: Perfect for adding crunch a lot of flavor to your bread.
How to Make Cream Cheese Drizzle
INGREDIENTS

2 ounces cream cheese
1 cup powdered sugar
1 tablespoon milk or water

DIRECTIONS

Place cream cheese in a medium microwave safe bowl.
Heat 30 seconds or until soft.
To the same bowl, add the powdered sugar and water or milk.
Stir until combined—drizzle should be loose and fall from the spoon.
In a back a forth motion add drizzle to cooled bread.
How to Make Basic Streusel
INGREDIENTS

3 tablespoons cold unsalted butter
½ cup all-purpose flour
3 tablespoons granulated sugar

DIRECTIONS

Mix it up to a crumby consistency (You can use your fingers for this) and sprinkle over the top of your bread.
How to Make Cookie Streusel
This technique can be used on any quick bread or muffins. Any flavor of cookie will work. For this recipe, I recommend using a shortbread or lemon flavored cookie.
INGREDIENTS

3 tablespoons unsalted butter, softened
½ cup cookie crumbs (fine like flour)
½ cup cookie pieces

DIRECTIONS

Add cookies to a blender or food processor and blend until the cookies reach a flour like texture. Mix together with the butter, fold in cookie pieces. Sprinkle over the top of the bread.
ANOTHER CAKE MIX QUICK BREAD RECIPE—SNICKERDOODLE
MORE QUICK BREAD RECIPES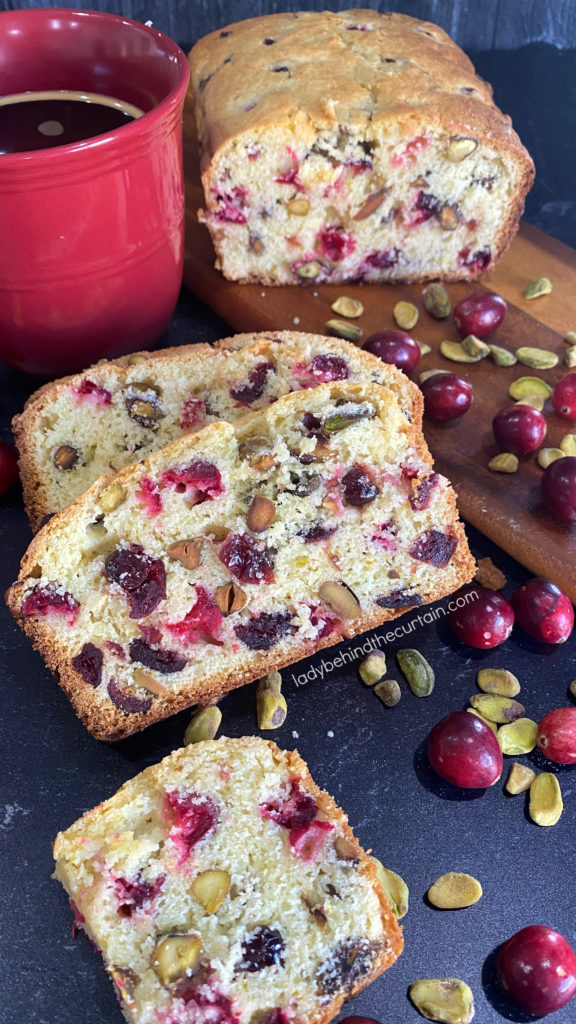 PISTACHIO CRANBERRY QUICK BREAD 2. CARROT CAKE QUICK BREAD 3. EGGNOG QUICK BREAD 4. BANANA BREAD
SIGN UP FOR THE LADY BEHIND THE CURTAIN NEWSLETTER AND FOLLOW THE LADY BEHIND THE PARTY ETSY SHOP
THANKS FOR VISITING♥