Pistachio Cranberry Quick Bread
Pistachio Cranberry Quick Bread: Stock up on fresh cranberries so you can make this amazing Christmas bread all year round. The pop of tart fresh cranberries with the orange zest and pistachio nuts makes for the perfect breakfast cranberry orange nut bread combo.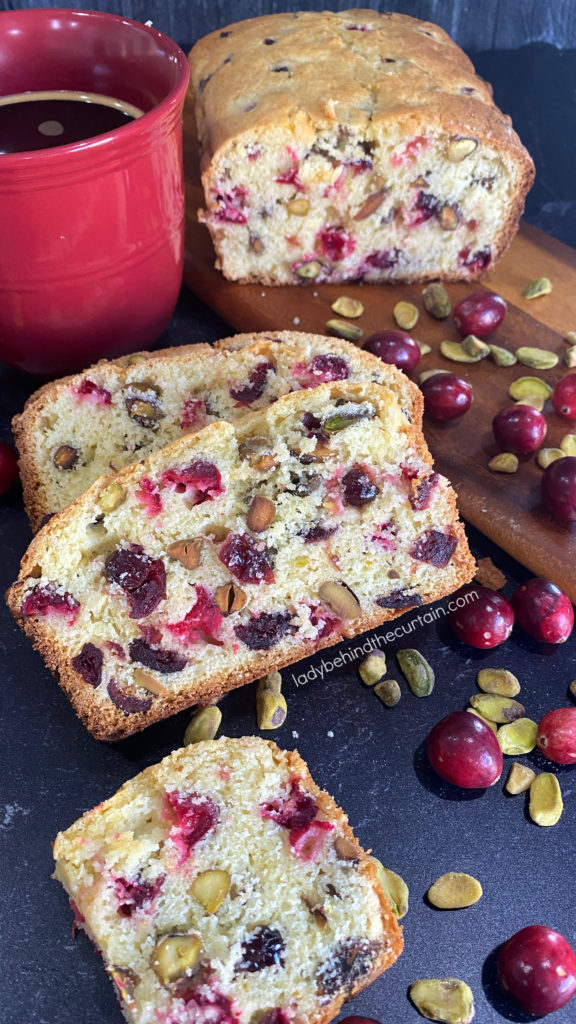 Pistachio Cranberry Orange Quick Bread Additions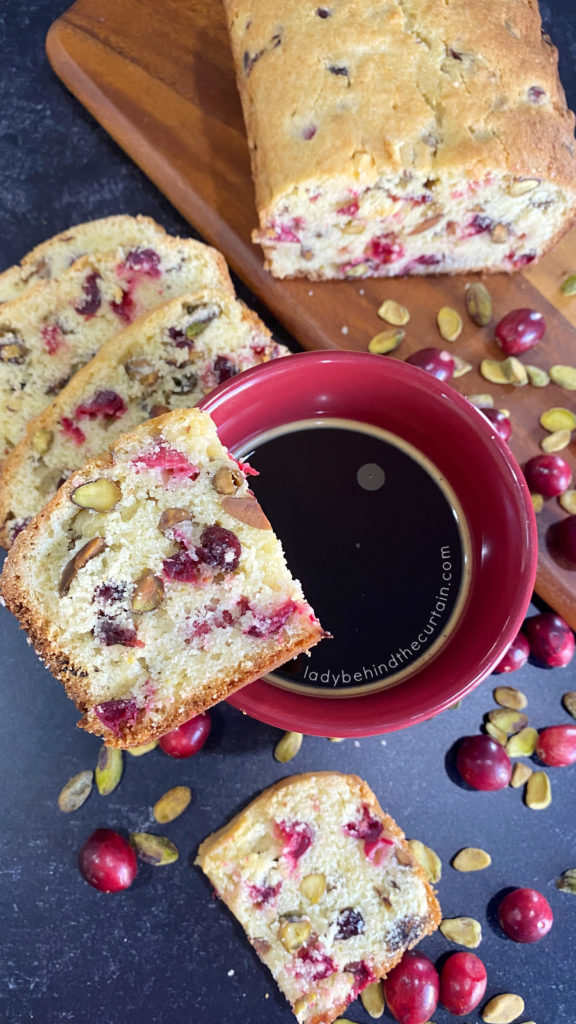 PISTACHIO CRANBERRY QUICK BREAD: This amazing breakfast bread is super moist with pops of tart cranberries, crunchy pistachio nuts and a hint of orange zest.
STRUSEL: Before baking, add a sprinkle of homemade streusel crumb topping. The simple streusel topping offers great texture and another flavor option. (printable recipe below)
ORANGE GLAZE: A drizzle of orange glaze on top heightens the bright orange flavor of this Pistachio Cranberry Quick Bread. (printable recipe below)
BOTH STREUSEL AND GLAZE: For the forth option, I thought combining all the flavorful toppings would make an incredible bread.
HOW TO FREEZE PISTACHIO CRANBERRY ORANGE BREAD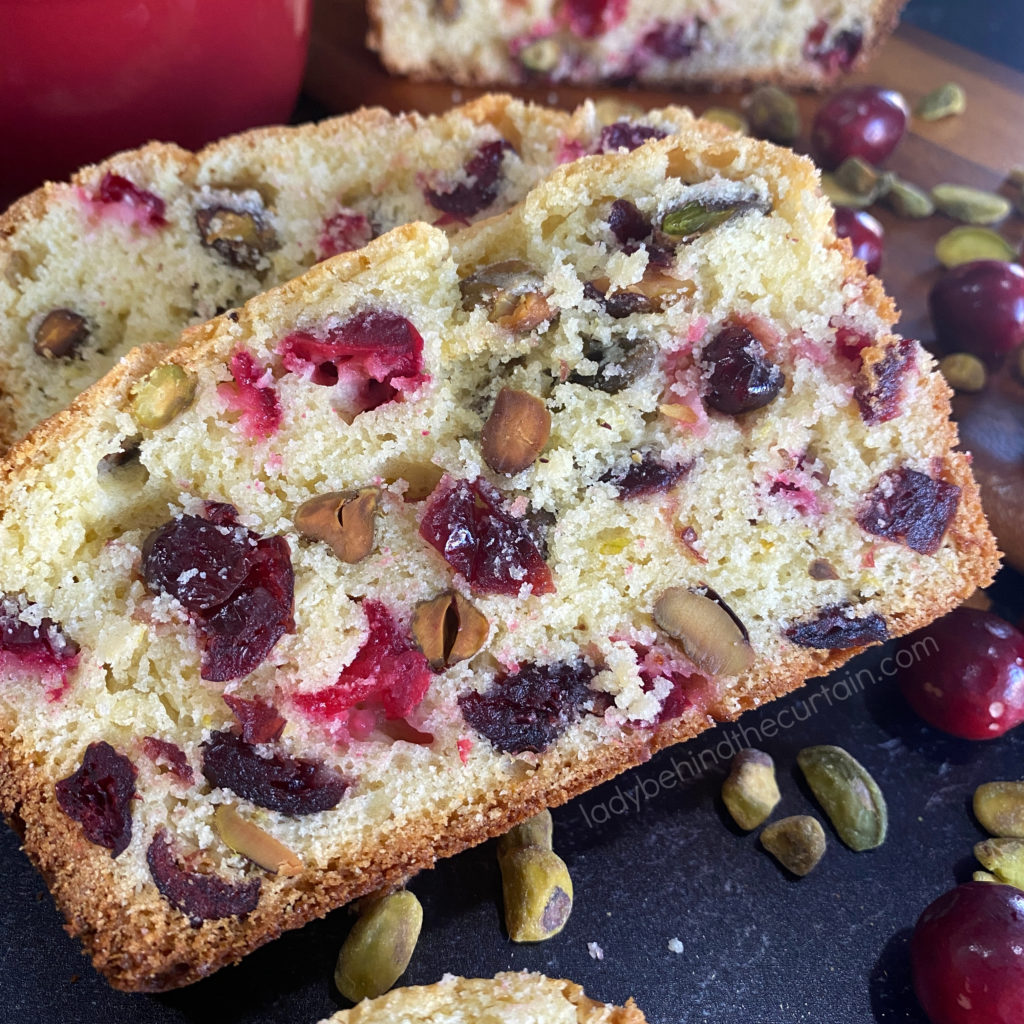 More Cranberry Orange Recipes
How to Make Pistachio Cranberry Quick Bread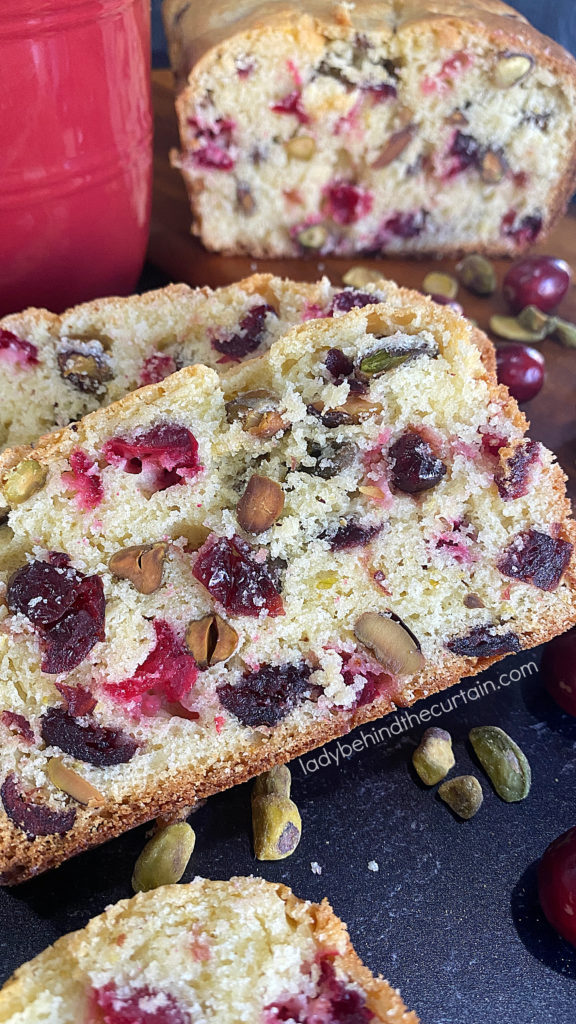 INGREDIENTS (full printable recipe below)

all-purpose flour
sugar
baking powder
salt
finely shredded orange peel
eggs
milk
unsalted butter
fresh cranberries
pistachio nuts
dried cranberries

INSTRUCTIONS

Preheat oven to 350°. Spray a 9 inch loaf pan with non stick cooking spray.
In a large mixing bowl, whisk together the flour, sugar, baking powder, salt, orange peel and dried cranberries.
In a medium mixing bowl, add the eggs, milk and butter.
Add egg mixture to flour mixture; stir until combined.
Fold in fresh cranberries and nuts.
Spoon into prepared pan; bake 50 – 57 minutes or until wooden toothpick inserted into the center comes out clean.
Cool in pan 10 minutes, remove from pan and cool completely on wire rack.
Streusel Topping Recipe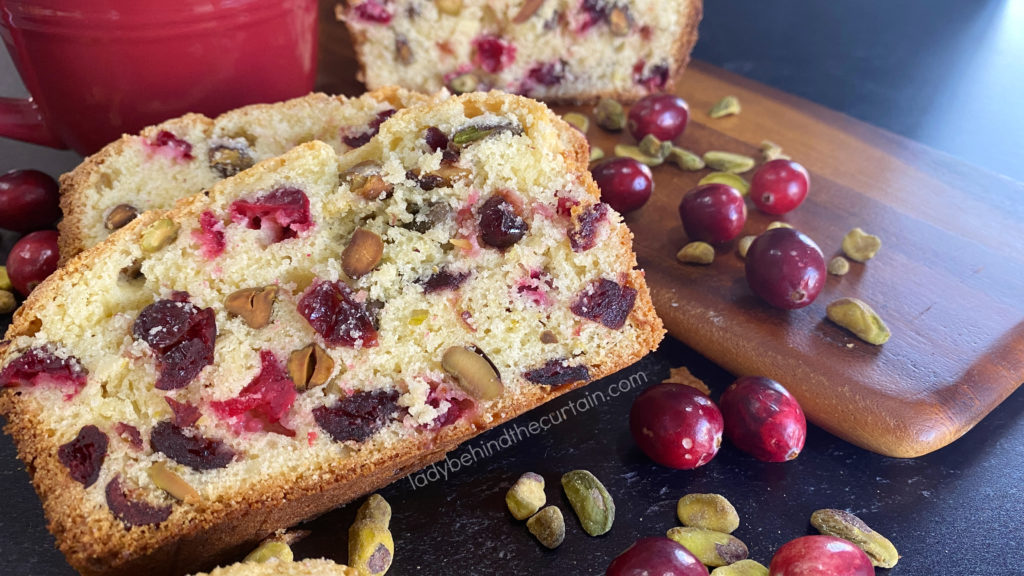 INGREDIENTS (printable recipe below)

¼ cup all-purpose flour
2 tablespoons granulated sugar
½ teaspoon ground cinnamon
3 tablespoons unsalted butter, cold and cubed

INSTRUCTIONS

Whisk the flour, sugar and cinnamon together in a medium bowl. Cut in the cold butter with a pastry cutter, your hands or two forks. Place in the refrigerator until ready to use.
TO USE: Once the batter is in the pan, top evenly with streusel, pressing the streusel down gently into the top to the bread so it sticks.
Orange Drizzle Glaze Topping Recipe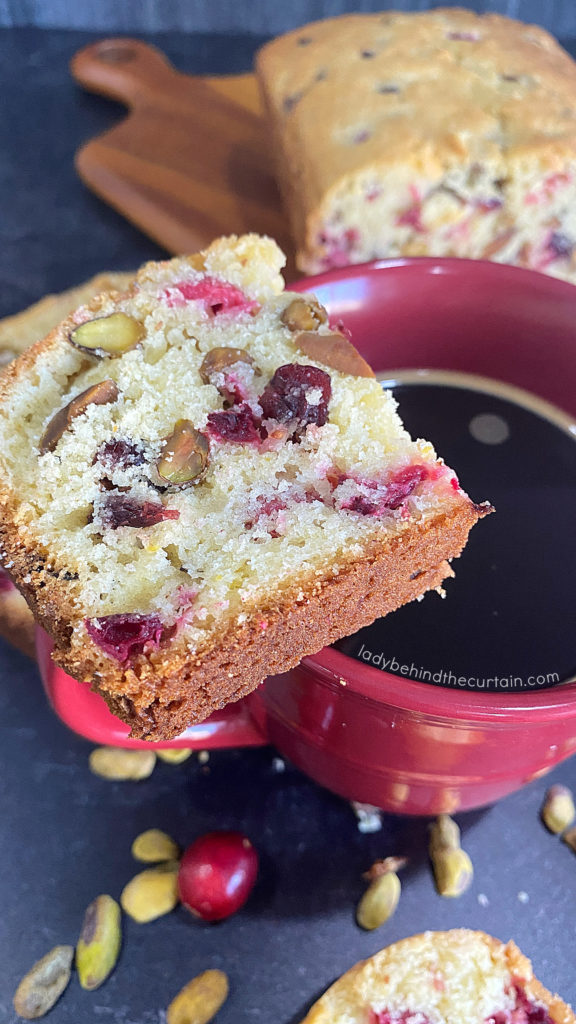 INGREDIENTS (printable recipe below)

1 cup powdered sugar
2 tablespoons fresh orange juice
½ teaspoon orange zest

DIRECTIONS

To a medium bowl, add the sugar, orange juice and zest.
Whisk until combine and smooth.
In a back and forth motion add drizzle to the cooled bread.
How to Transform this Recipe from Bread into Muffins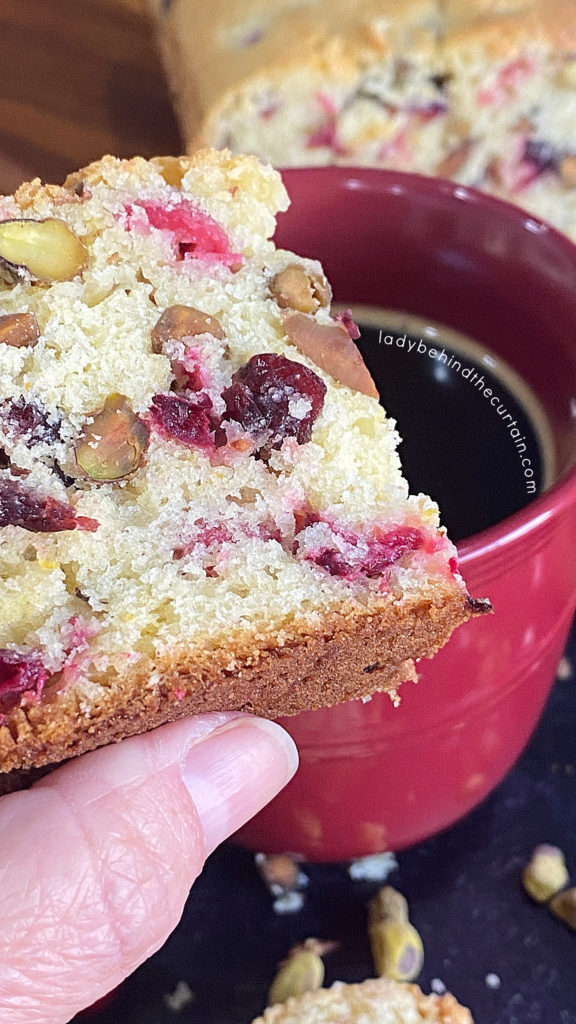 Double the Cranberries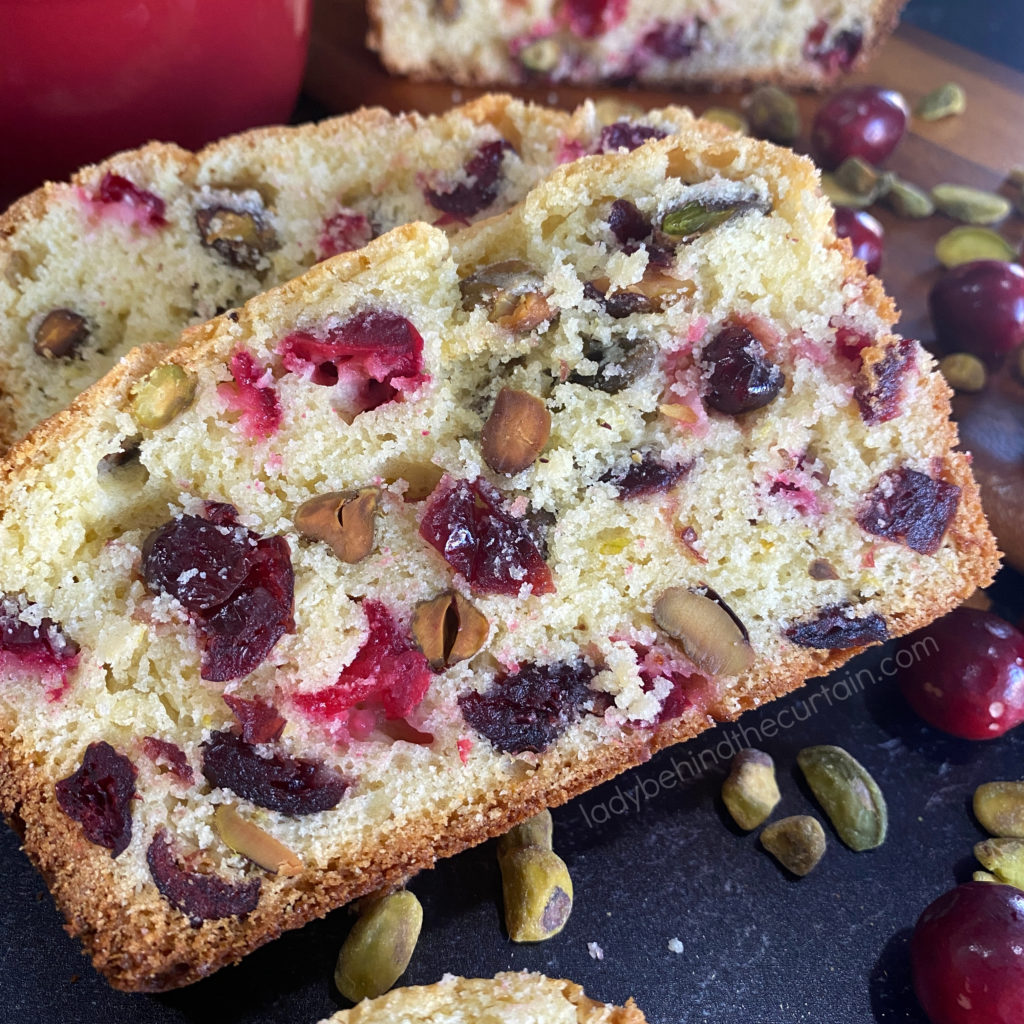 MORE QUICK BREAD RECIPES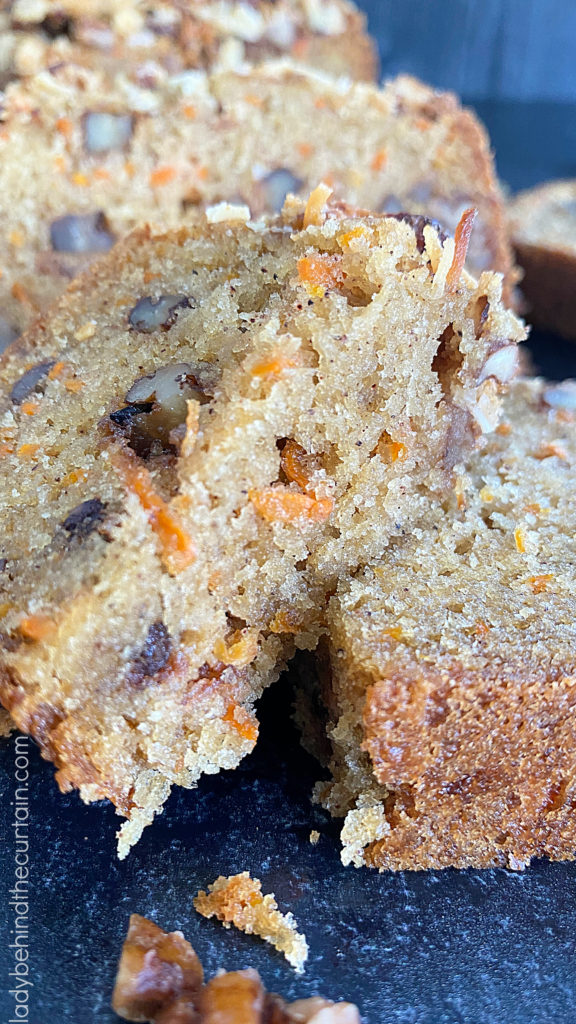 NEVER MISS A POST