Marsala Risotto with Herbed Shrimp
It's a NEW year and you know what that means!  HEALTHY EATING!!!  That why I love this Marsala Risotto with Herbed Shrimp.   I love the creamy texture of the risotto and all the flavor the herbs gave the shrimp.  This lightened up Italian dish is healthy and delicious!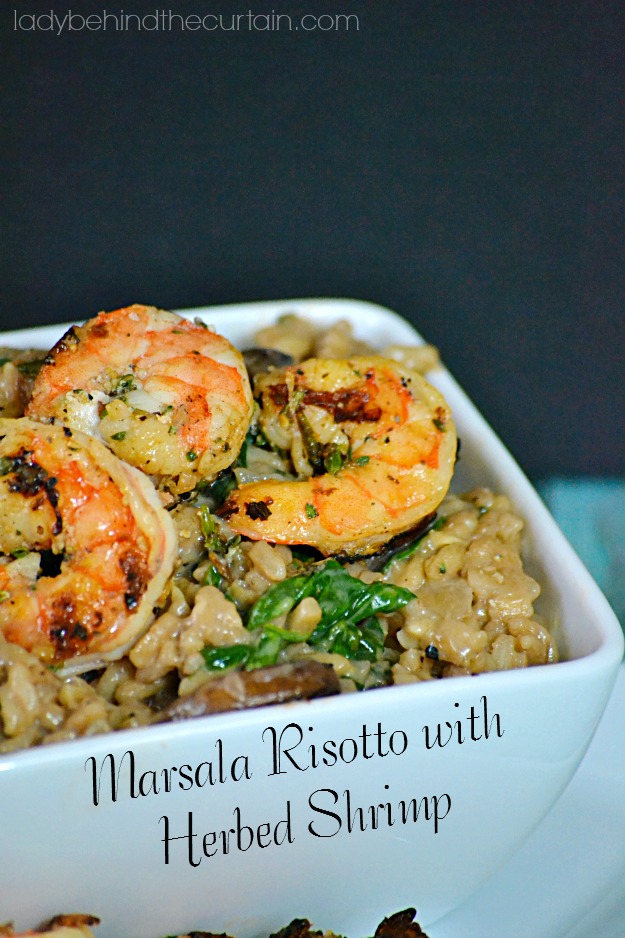 Risotto is made with Arborio rice.  Arborio rice is a Italian short grain rice.  The high starch content makes this rice perfect for risotto.
This was my first attempt at making risotto and I must say it was a lot easier than I thought it would be.  The way to make risotto creamy is by only adding a half a cup of broth at a time, stirring until all the liquid is absorbed, adding another half cup and repeating until the rice is cooked through and creamy.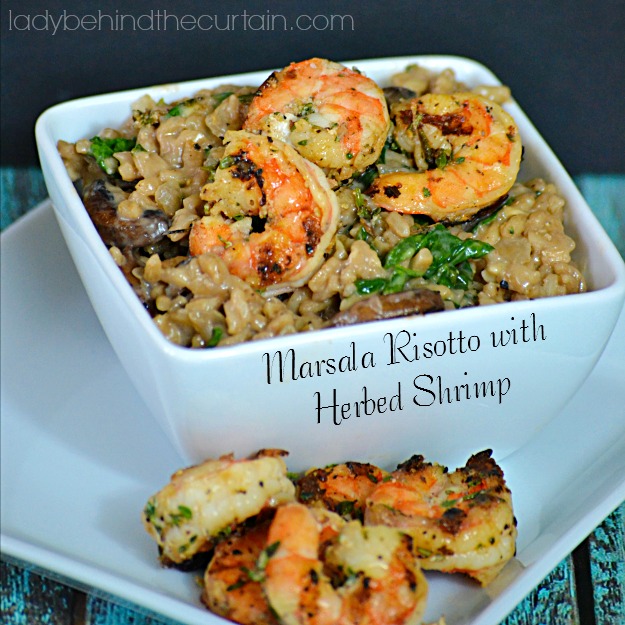 Do you love shrimp as much as I do?  Try these other recipes using shrimp.  SHRIMP ETOUFEE, EASY SHRIMP SCAMPI AND SHRIMP TACOS WITH ROASTED CORN SLAW.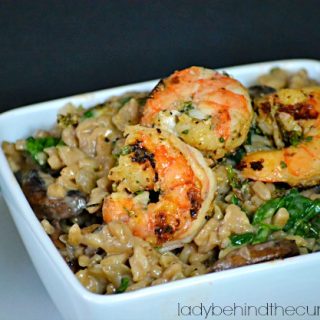 Marsala Risotto with Herbed Shrimp
Ingredients
1 tablespoon olive oil
2 cups cremini mushrooms, sliced
1/2 large sweet onion, chopped
3/4 cup uncooked Arborio rice
3 garlic cloves, minced
1/3 cup dry Marsala
1 1/2 cups chicken stock
1 1/2 cups beef stock
1 tablespoon fresh thyme, chopped
2 teaspoons fresh rosemary, chopped
1/4 teaspoon black pepper
1/2 teaspoon salt
1 pound raw shrimp, shelled and deveined
1/2 cup Gruyere, shredded
2 cups fresh spinach leaves
Instructions
In a large saucepan heat oil, cook mushrooms and onion until tender and lightly browned.
Add rice and 1 clove of garlic.
Cook and stir for 2 to 3 minutes or until rice begins to brown.
Add Marsala, cook and stir until Marsala is absorbed.
Meanwhile, in a medium saucepan bring broth to boiling and keep at a simmer.
Add 1/2 cup of broth to the rice mixture, stirring constantly.
Continue to cook and stir over medium heat until broth is absorbed.
Add the remaining broth 1/2 cup at a time, stirring constantly until broth is absorbed (this should take 20 to 25 minutes).
In a bowl combine the thyme, rosemary, pepper, salt and the remaining 2 cloves of garlic.
Rub on prepared shrimp.
Lightly coat a grill pan with non stick cooking spray.
Heat grill.
Cook shrimp until no longer pink (about 5 minutes per side).
Add cheese to rice mixture until cheese is melted.
Stir in spinach.
Spoon risotto on plates and top with shrimp.