Semi Homemade Mini Caramel Apple Pies
Semi Homemade Mini Caramel Apple Pies | Quick and easy pies perfect for parties or game day.  Adding the caramel to the inside makes these pies mess free and perfect for entertaining.  For this recipe I used my Perfect Every Time 10 Minute Pie Crust recipe.  You can also use any store bought dough, making these Mini Caramel Apple Pies the perfect semi homemade dessert.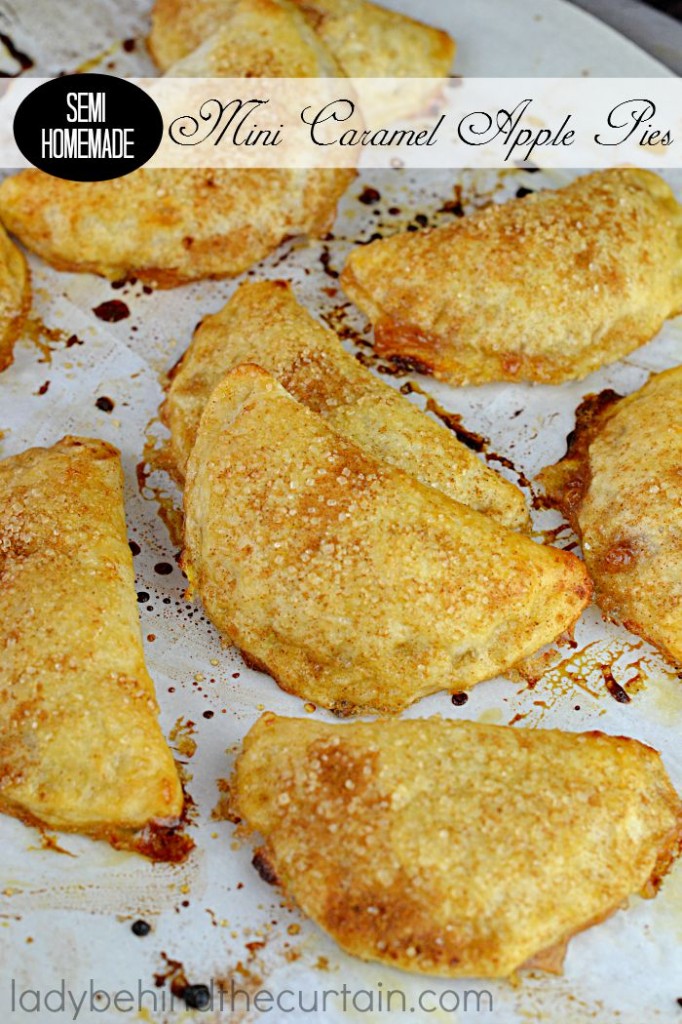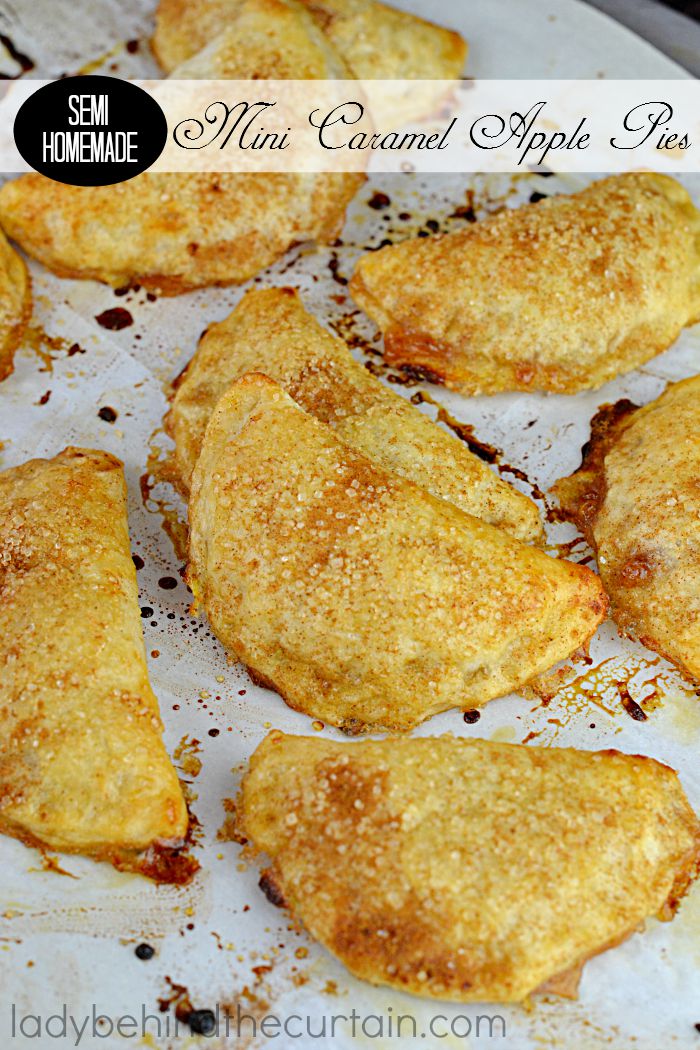 TIP:  I used my pastry blender to chop up the apple pie filling.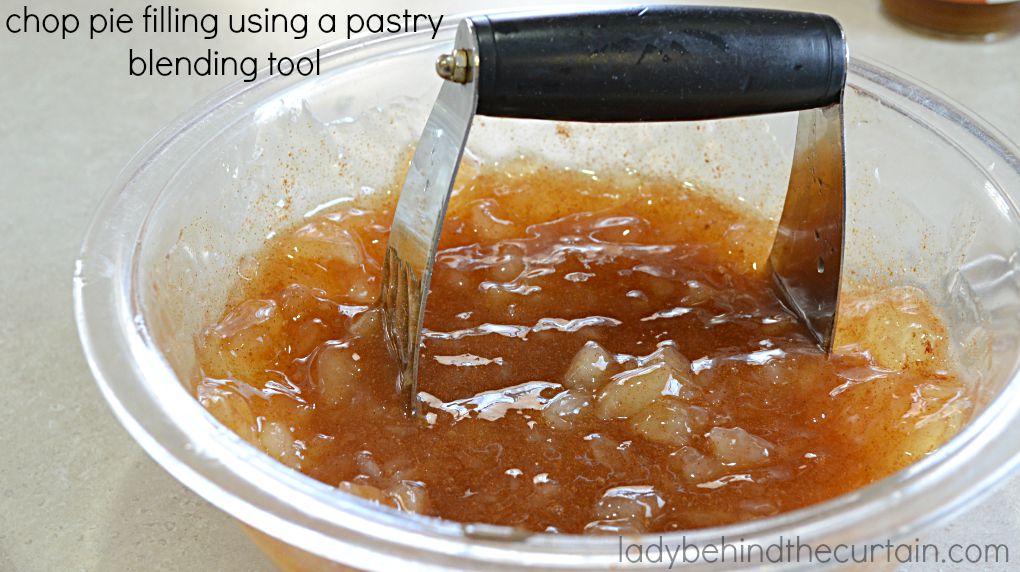 Cut the pie dough into 3½-inch circles and use shy of 1 tablespoon of filling.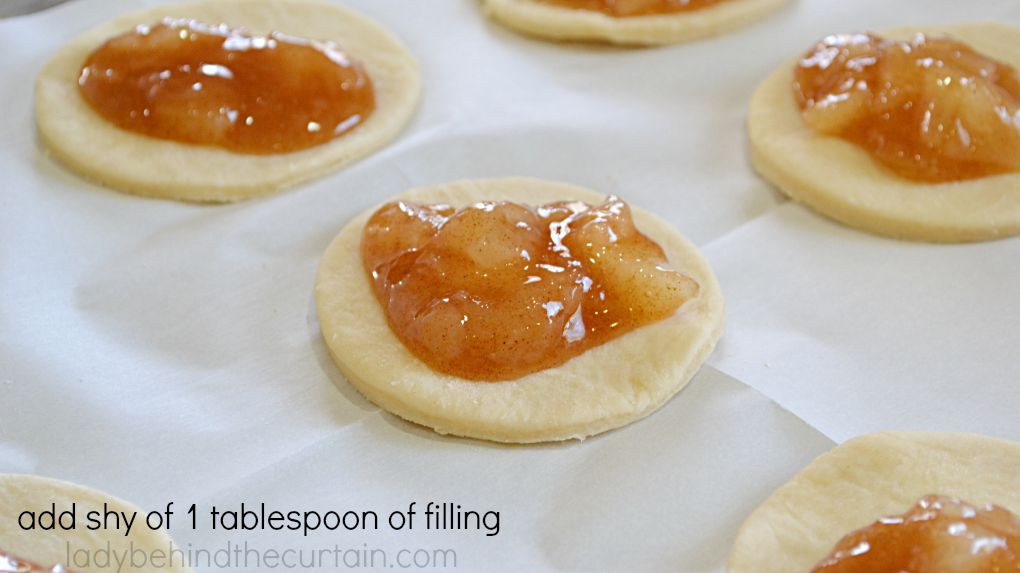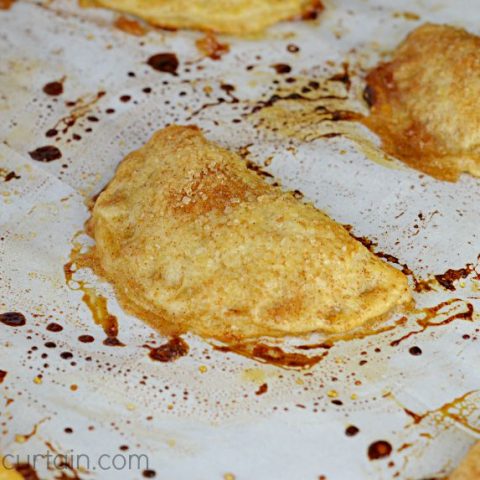 Semi Homemade Mini Caramel Apple Pies
Ingredients
For the Pie Filling:
1 (21 ounce) can apple pie filling
1/4 cup light brown sugar
3/4 teaspoon ground cinnamon
1/4 teaspoon salt
3 tablespoons caramel ice cream topping
For the Pie Dough:
For the Topping:
1 egg
1 tablespoon water
ground cinnamon
Turbino (raw) sugar or coarse sugar
Instructions
For the Pie Filling:
In a medium bowl add the pie filling, brown sugar, cinnamon salt and caramel.
Stir to combine.
Chop apple mixture (I used a pastry blending tool) and set aside.
For the Mini Pies:
Preheat oven to 450 degrees.
Cover two cookie sheets with parchment paper.
Make the Perfect Every Time 10 Minute Pie Crust.
Separate dough into four portions; roll each portion into 1/4-inch thickness one at a time.
Use a 3 1/2-inch cookie cutter to cut out pies.
Fill each pie with shy of one tablespoon of filling.
Place on prepared cookie sheets.
In a small bowl mix together the egg and water.
Brush egg wash around the top edge of the pie; fold the dough in half making sure non of the filling is smashing out.
Use the tines of a fork to press the dough down.
Brush the entire top surface of pie with the egg wash; sprinkle with cinnamon and sugar.
Bake 10 to 12 minutes or until pastry is cooked through and golden.
Notes
The filling recipe will fill 38 pies.
The pie crust will make 20 pies.
MORE MINI PIES
1. MINI CHERRY PIES  2. COOKIES AND CREAM MOUSSE MINI PIES  3. MINI BLUEBERRY PIES