Movie Night Candy Coated Licorice with Popcorn
Movie Night Candy Coated Licorice with Popcorn Treats| It's movie night! What is your favorite treat to eat while you watch a movie. Mine is red licorice (Red Vine not Twizzler) and popcorn. So…I thought….Hmmm…..why not combine the two? I love the sweet and salty combo. When eaten together the popcorn tastes like candy popcorn and is a special treat.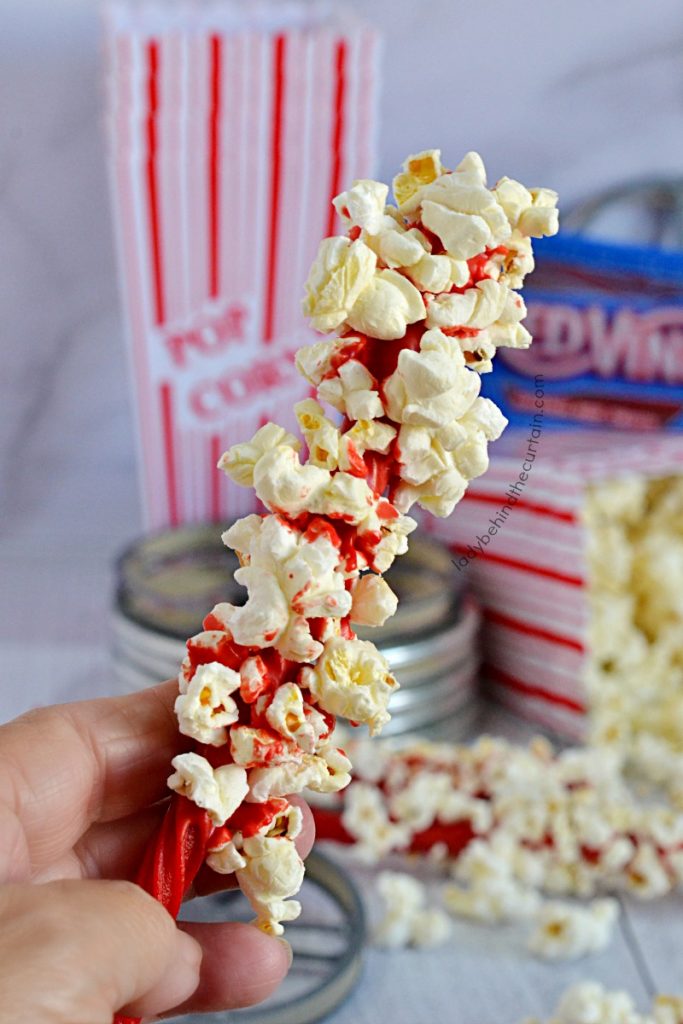 Get comfortable and enjoy a delicious treat while you watch a movie! Add these Movie Night Candy Coated Licorice with Popcorn Treats to your movie night party concession stand and watch them disappear!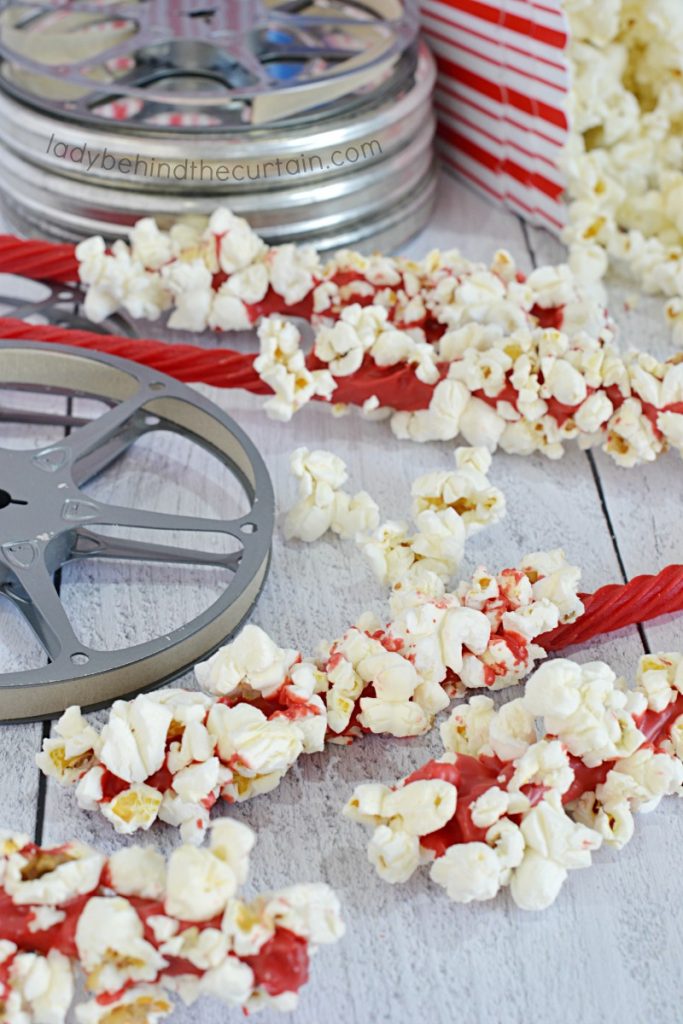 They also fit perfectly in a 4th of July Treat Box (pictured below) and add a lot of fun to a 4th of July Dessert Party Table.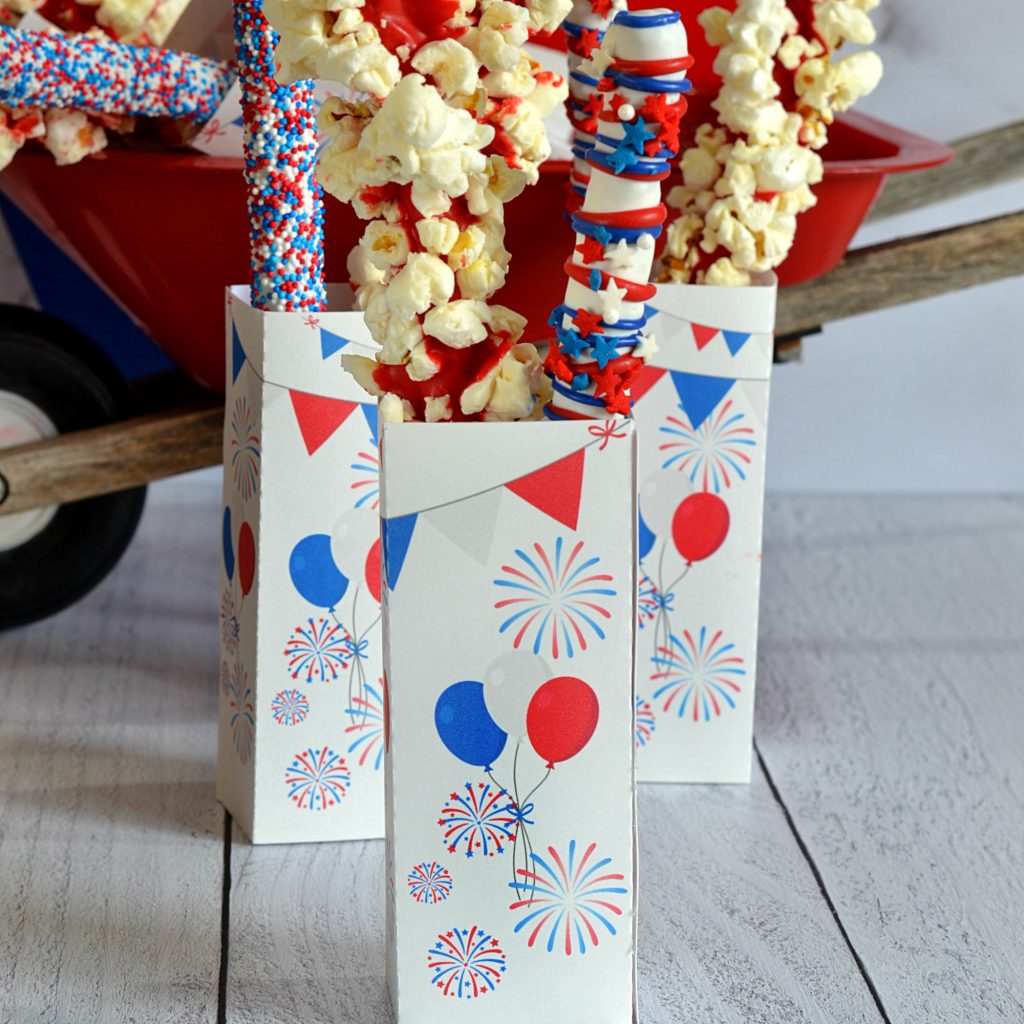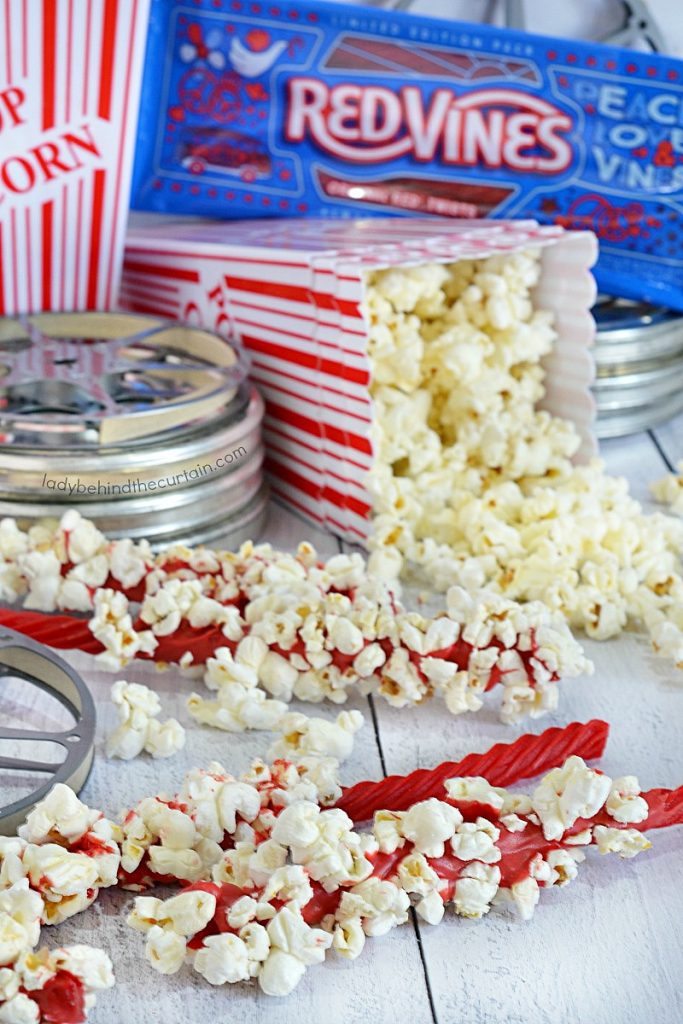 LET'S MAKE MOVIE NIGHT CANDY COATED LICORICE WITH POPCORN TREATS
You only need THREE ingredients to make these delicious movie treats! Red candy melts, red licorice and popcorn. First, pop the popcorn (I used microwave popcorn) and melt the candy. Dip the licorice into the melted candy (or spoon it over the candy), then dip the melted candy into the popcorn and set aside to harden. See the recipe card for the full details.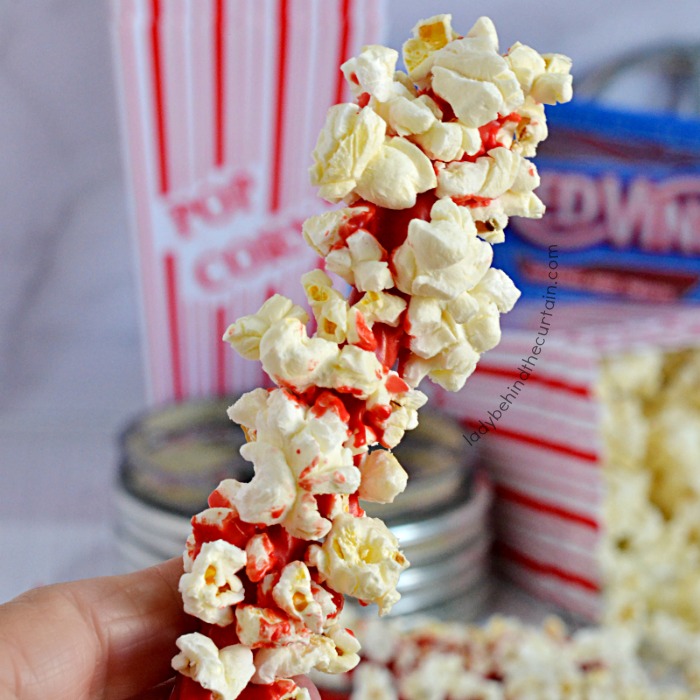 ANOTHER MOVIE NIGHT TREAT IDEA
This is kind along the same lines as the licorice and popcorn. Have you ever had candy corn and popcorn? When eaten together it tastes just like caramel corn! SO GOOD! Sooo….HOW ABOUT A POPCORN TREAT BAR? You know how much I like a bar. If you have a popcorn machine then this is even better….if you don't….no big deal. Pour the popped popcorn into a large bin with a scoop. Have either lunch bags, pop corn bags or popcorn bowls. Add an assortment of add ins (treats) for your guests to sprinkle over their popcorn. Like, mini M&M's, candy corn, sprinkles, red licorice (Red Vine not Twizzler) cut into 1-inch pieces, peanuts…you get the idea. You're guests will LOVE this idea.

Yield: 14 Treats
Movie Night Candy Coated Licorice with Popcorn Treat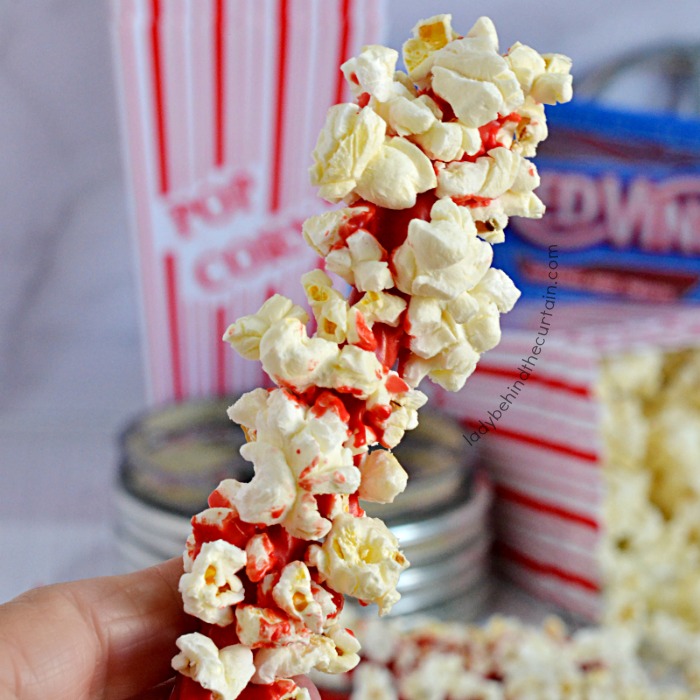 Ingredients
1 (.5 ounce) container (about 14 licorice) Red Vine licorice
1 (3,2 ounce) microwave bag of popcorn, popped
1 (12 ounce) bag red candy melts
Instructions
Place a piece of parchment or wax paper on a cookie sheet; set aside. Pour microwaved popcorn into a large bowl. In a microwave safe bowl melt candy one minute on high, stir. Heat another 30 seconds at 60%. Stir until melted and creamy. If the candy is not thin enough, you may add a tablespoon of shortening. Stir together until melted and combined. Dip licorice into melted candy, tap off any extra candy, then press the licorice into the popcorn. Once the licorice is coated with the popcorn to your satisfaction place finished licorice on the prepared cookie sheet to harden. You may leave it on the counter to harden (depending on your locations temperature). Once the candy has hardened there's no need for the refrigerator. Store at room temperature covered.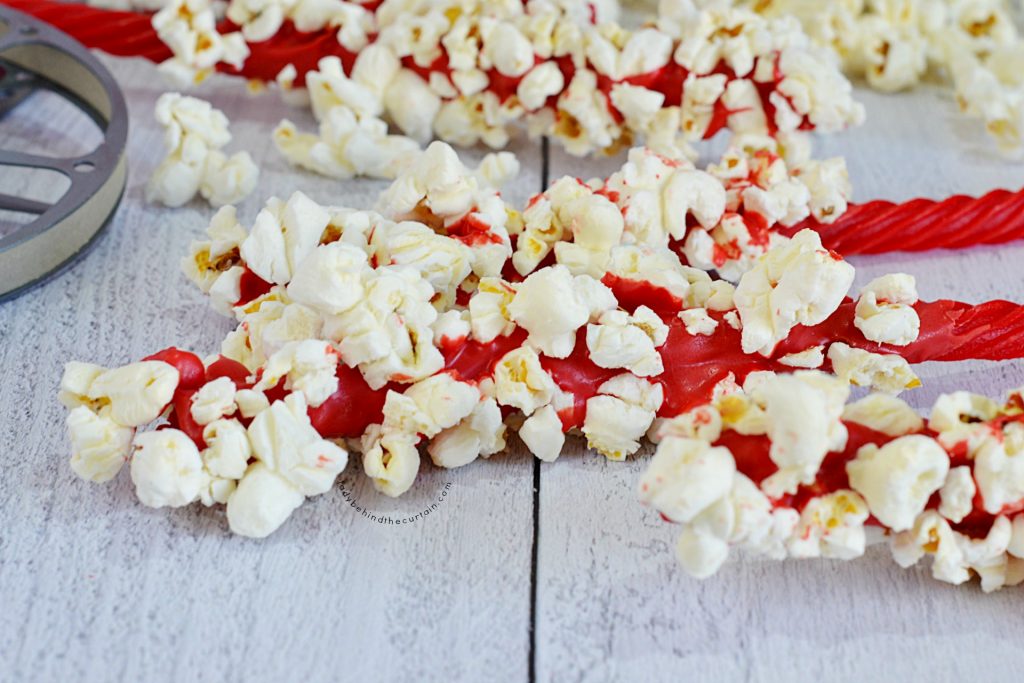 MORE MOVIE NIGHT RECIPE IDEAS
MOVIE NIGHT BLONDIES 2. MOVIE TIME CUPCAKES 3. EASY CARAMEL CORN
NEVER MISS A POST!
Sign up for my newsletter and receive my recipes and Etsy store updates in your inbox. Easy to see anytime and saved for safe keeping. Click here and sign up today—->>>>CURTAIN CALL NEWSLETTER
More Movie Night Recipes you might like. EASY NACHOS and EASY CHOCOLATE ICE CREAM.