This Easy Razzleberry Pie is chalked full of berries. The level of sweetness combined with flaky crust is perfection! The Razzleberry Pie is traditionally filled with raspberries and blackberries. I decided to also add blueberries. The combination of the sweet blueberries and blackberries with the sour taste of raspberries made for a tasty combo.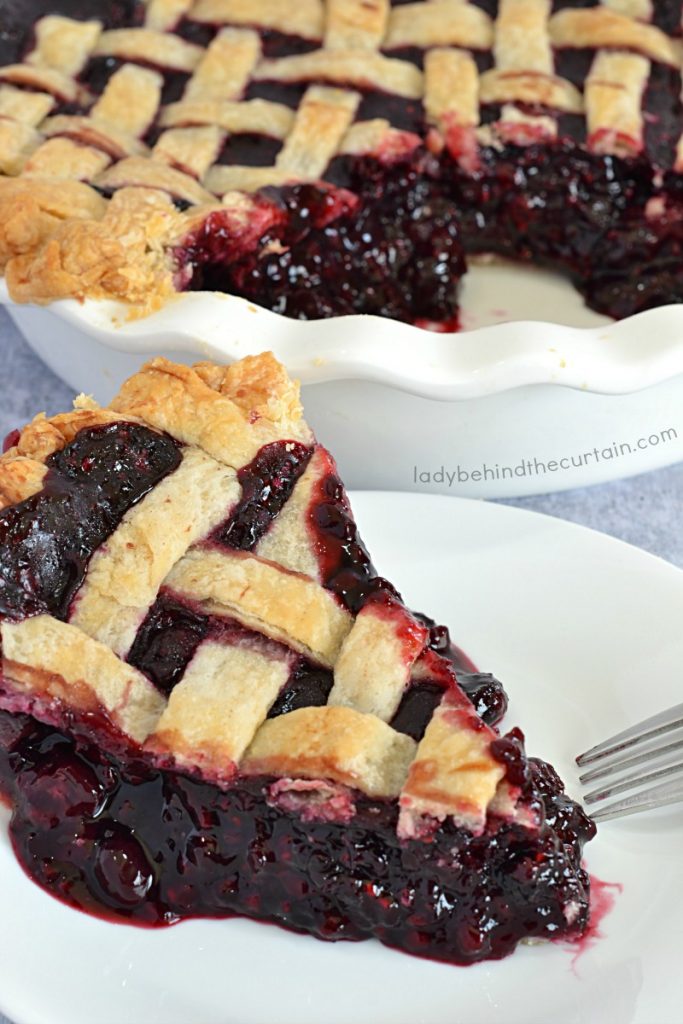 I only just heard of razzleberry a week ago. I thought it was made up like snozzberry from Willy Wonka and the Chocolate Factory. But…no. It's a real pie! A delicious pie too. I made this pie for Memorial Day along with homemade Vanilla Ice Cream. It was fantastic!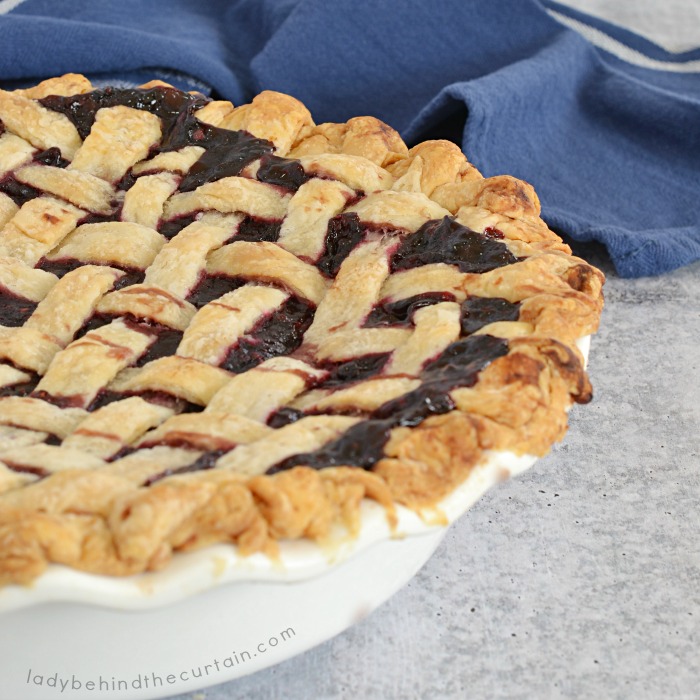 Since the pie is made with frozen berries it can be made year round and is the perfect pie to take on picnics, to a family barbecue or potluck. What do you usually take to a picnic? Look below for a list of my staple recipes that I take to a picnic or barbecue.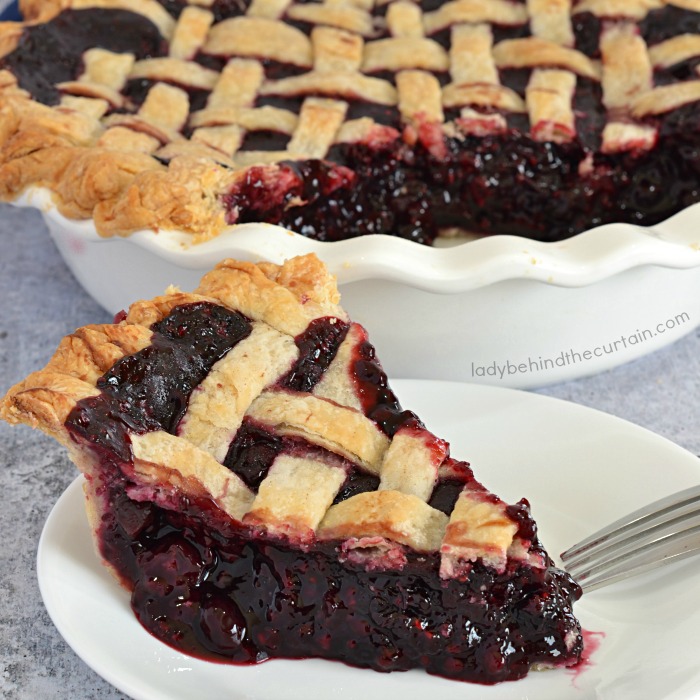 When I think of going to a picnic, the first thing that comes to mind (other then pie) is fried chicken. I have yet to master fried chicken. Confession…..I usually pick up KFC. Since I love KFC chicken (only the chicken) so much I think I might start with this copycat recipe I found from Sabrina at Dinner then Dessert. Click here for the recipe—->>>>KFC ORIGINAL RECIPE CHICKEN (COPYCAT).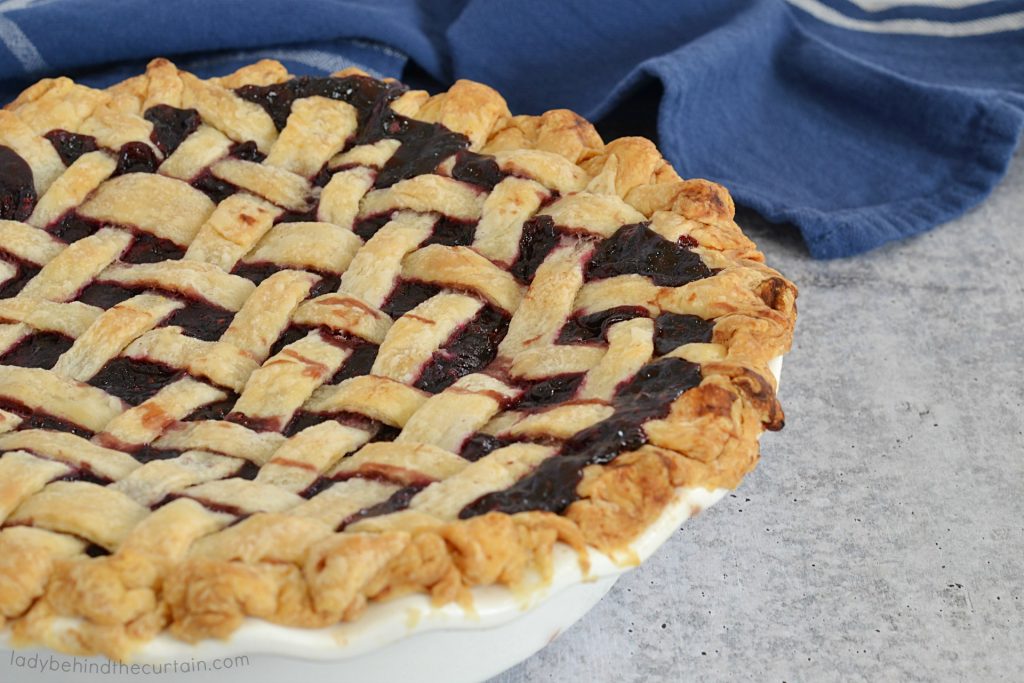 FAVORITE POTLUCK RECIPES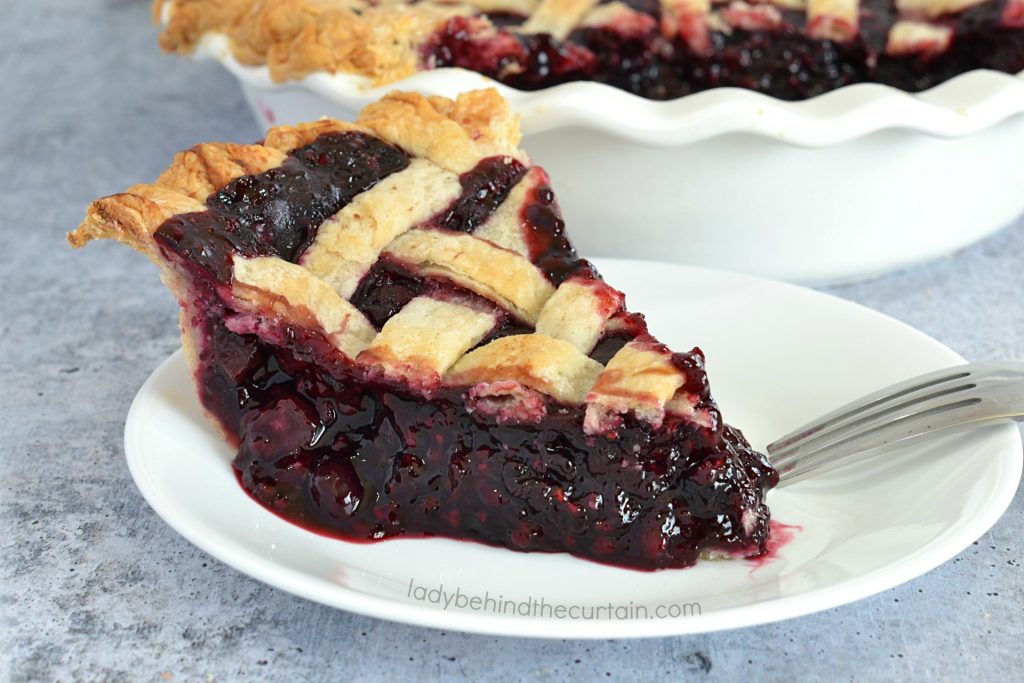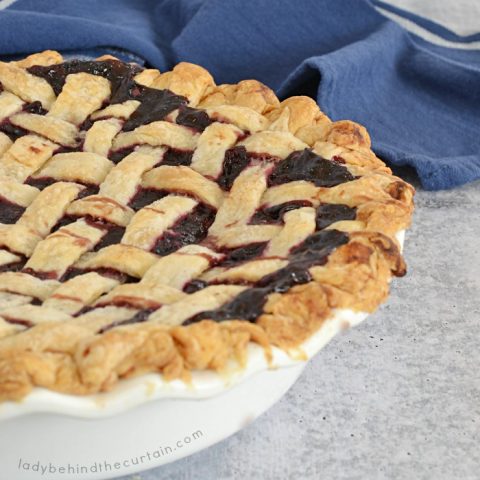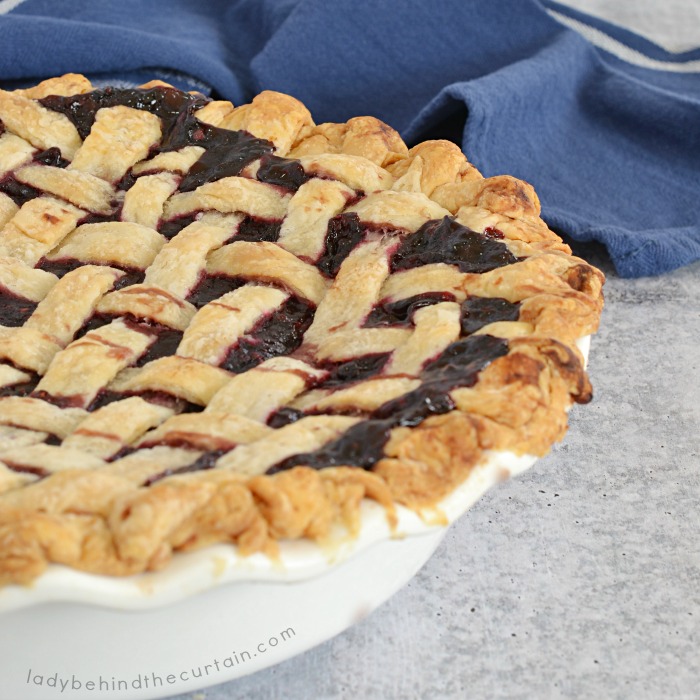 Easy Razzleberry Pie
Ingredients
1 PERFECT EVERY TIME 10 MINUTE PIE CRUST(https://www.ladybehindthecurtain.com/perfect-every-time-10-minute-pie-crust/)recipe
3 cups blackberries (frozen)
3 cups raspberries (frozen)
3 cups blueberries (frozen)
1½ cups granulated sugar
5 tablespoons cornstarch
1/4 cup water
3/4 teaspoon salt
3 tablespoons unsalted butter, melted
3 tablespoons granulated sugar
Instructions
Preheat oven to 375°. Line a baking pan with parchment paper and set aside.
In a large pot stir to combine the berries. Add the sugar, cornstarch, water and salt, gently stir together. Bring to a boil; turn down heat and simmer 7 to 10 minutes, occasionally stir.
Meanwhile make the pie crust dough. Click here for the recipe---->>>>PERFECT EVERY TIME 10 MINUTE PIE CRUST, divide dough into two equal portions. Roll out the bottom portion making sure the round is large enough to hang over the edge of the pie pan. Add hot filling on top of the bottom layer of crust. Roll out the remaining dough. The top is up to you. I chose to make a lattice design, all designs will work. Crimp edges (top and bottom dough) together. Brush on the melted butter, sprinkle with sugar and place pie pan on the prepared baking pan. Bake 1 hour or until the filling is bubbly and the pie crust is crispy brown.
MORE PIE RECIPES
GRANDMA'S COCONUT CREAM PIE 2. POTLUCK PEACH SLAB PIE 3. MASON JAR LID APPLE PIES
NEVER MISS A POST!
Sign up for my newsletter and receive my recipes and Etsy store updates in your inbox. Easy to see anytime and saved for safe keeping. Click here and sign up today—->>>>CURTAIN CALL NEWSLETTER