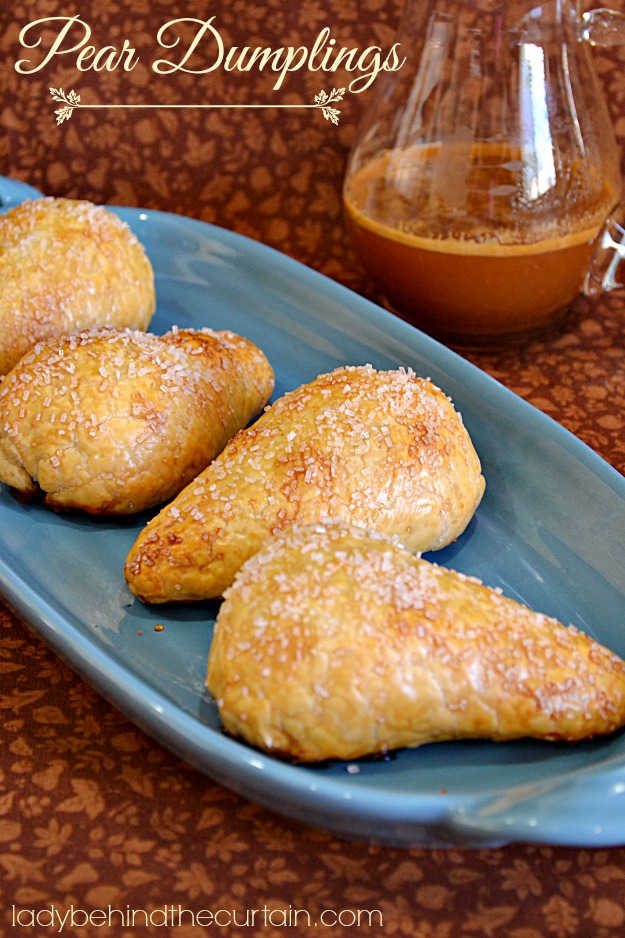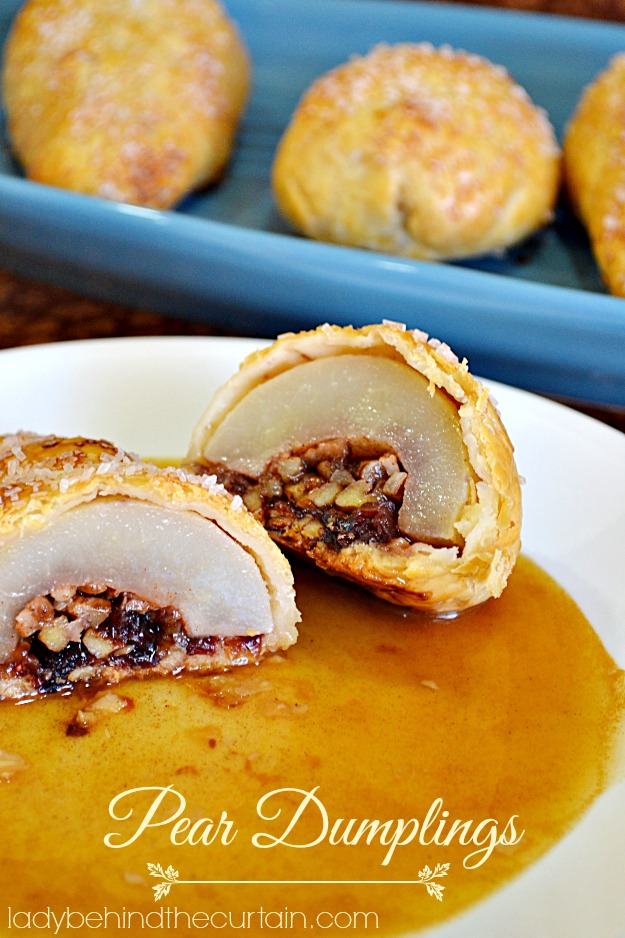 For a quick and easy dessert make these impressive fall inspired pear dumplings!
A juicy pear, filled with nuts, dried fruit, brown sugar and then wrapped in a sugary golden pastry.  Serve next to ice cream drizzled with maple orange sauce.
Create your own Recipe Box and save your favorite Lady Behind The Curtain recipes.  Make a Meal Plan with your favorite recipes and ZipList will automatically add the ingredients to a Shopping List.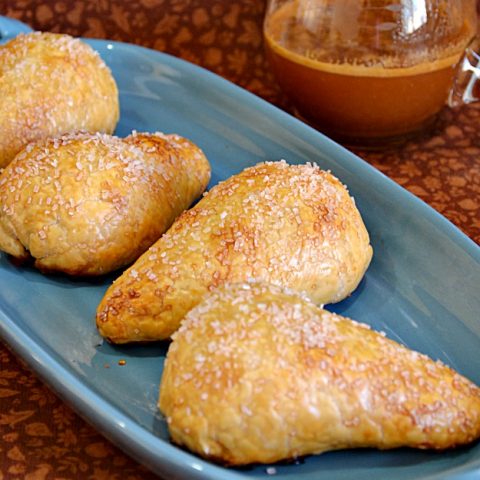 Pear Dumplings ~ Behind The Curtain Dessert Challenge
Ingredients
For the Dumplings:
1 Pillsbury pie crust
2 tablespoons pecans chopped
2 tablespoons dried cranberries, chopped
1 teaspoon light brown sugar, packed
1/4 teaspoon all-purpose flour
1/4 teaspoon ground cinnamon
dash salt
1/2 teaspoon butter, softened
2 medium Bosc pears
1 egg yolk
1 tablespoon water
large crystal sugar or raw sugar
For the Maple Orange Sauce:
1/3 cup orange juice
1/4 cup pure maple syrup
1/8 teaspoon ground cinnamon
dash of allspice
1 tablespoon cold butter
Instructions
For the Dumplings:
Preheat oven to 400 degrees.
Lin a baking sheet with parchment paper and set aside.
Follow directions on the pie crust box for coming to room temperature.
In a small bowl combine pecans, cranberries, brown sugar, flour, cinnamon and salt.
Using your finger blend in the butter until combined.
Peel pears.
Cut each pear in half lengthwise.
Remove stems.
Using a spoon or melon baller remove cores, scooping out a tablespoon size piece.
Spoon filling into scooped out area and lightly pack.
Unroll crust, cut into 4 wedges.
Place each pear half filled side up with the top of the pear at the longest point of the pie crust.
Bring the sides up pressing into place.
Then the bottom and the top. Using your fingers press and push the dough where you need it.
Place filled side down on the prepared baking sheet.
In a small bowl combine the egg yolk and water.
Brush egg yolk mixture over dumplings; sprinkle with coarse sugar or raw sugar.
Bake 30 to 33 minutes or until golden brown.
For the Maple Orange Sauce:
In a small saucepan add the orange juice, maple syrup, cinnamon and allspice.
Bring to a boil, reduce heat and simmer uncovered about 6 minutes or until reduced to 1/3 cup.
Remove from heat, cut butter ; whisk into sauce until completely incorporated.
Notes
This recipe was adapted from the BHG Fall Baking 2013 magazine.