Overnight Carrot Cake Oatmeal
Overnight Carrot Cake Oatmeal |  This oatmeal will be the answer to your busy mornings.  Most of us don't have time to eat breakfast.  But with this recipe you can!  All you have to do is make the oatmeal the night before and like magic it's ready for you to grab and go in the morning.   I told you it was perfect.  🙂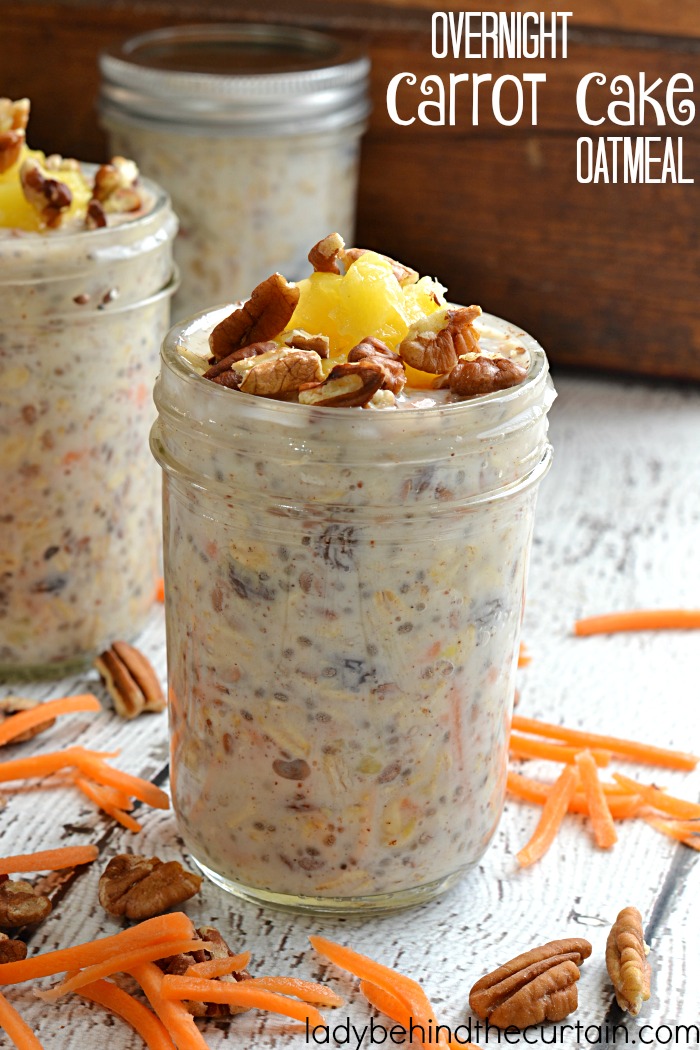 This is an amazing meal!  With freshly shredded carrots, pineapple, walnuts and raisins.  It will keep you going for hours.  You can also take it along for a mid afternoon boost.  Instead of reaching for that bag of chips or stale donut in the break room grab a carrot cake oatmeal.  It's more then just oatmeal it's dessert too!
Overnight Carrot Cake Oatmeal
Ingredients
1 (6ounce) vanilla yogurt
2/3 cup regular rolled oats
2/3 cup milk
1/3 cup shredded carrots
2 tablespoon raisins
2 tablespoons crushed pineapple
2 tablespoons maple syrup
1 tablespoon chia seeds
1 tablespoons flax seeds
1/4 teaspoon ground cinnamon
Instructions
In a medium bowl, stir to combine the yogurt, oats, milk, carrot, raisins, pineapple, syrup, chia seeds, flax seeds and cinnamon.
Transfer to two half-pint jars with lids.
Cover and chill overnight or up to 3 days.
Serve with walnuts and pineapple sprinkled on top.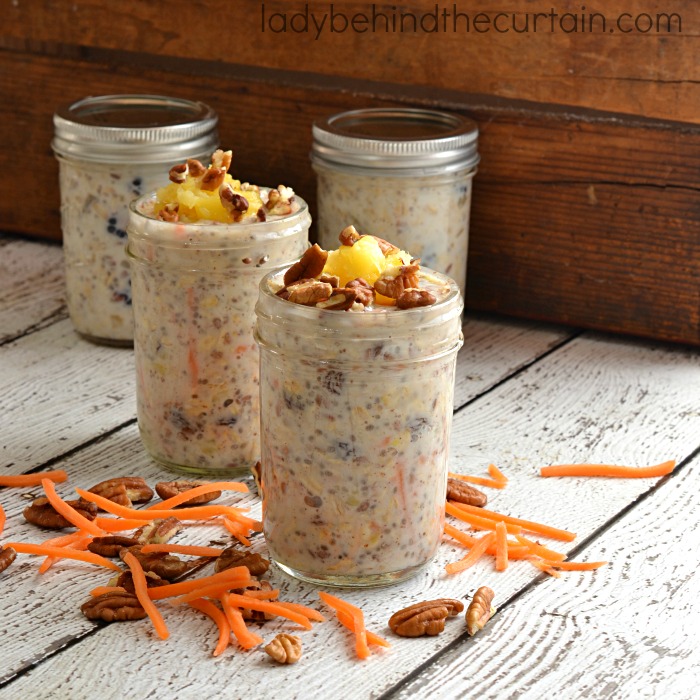 MORE GRAB AND GO BREAKFAST RECIPES

PEANUT BUTTER BANANA BREAKFAST COOKIES 2. ORANGE BANANA OAT SMOOTHIE  3. CARAMEL APPLE OVERNIGHT OATMEAL