These Pecan Shortbread Cookies are buttery and flaky.  The perfect cookie for a Ladies Tea or Luncheon.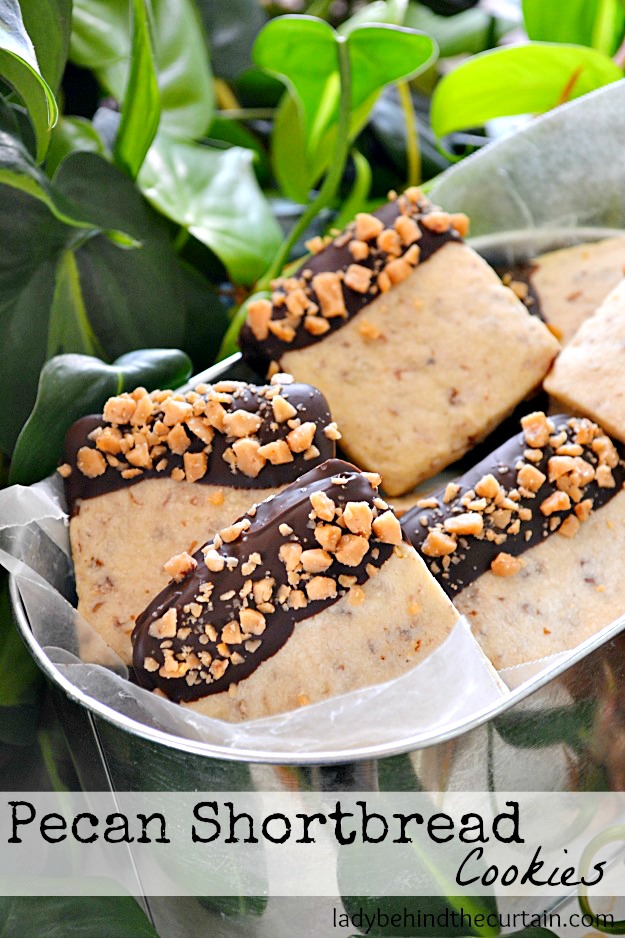 Take these pecan shortbread cookies home for the holidays or to a tailgating event.  These buttery and delicious pecan shortbread cookies are dipped in dark chocolate and sprinkled with toffee bits.  Add this recipe to your list for your Holiday Cookie Tray.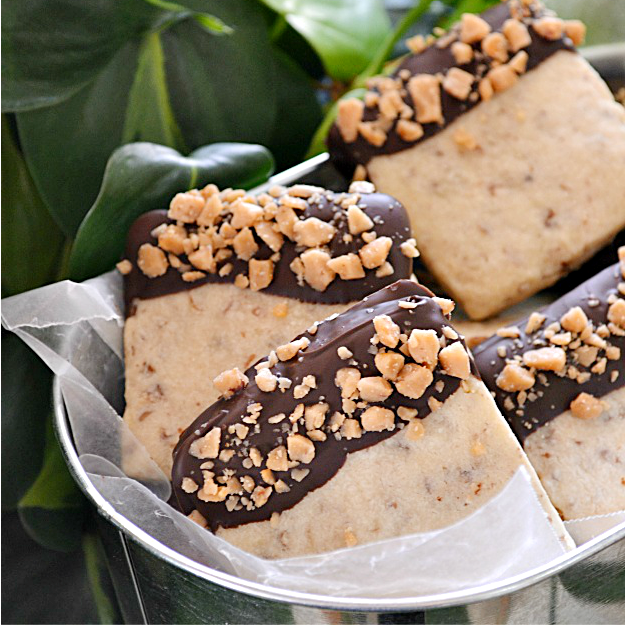 Create your own Recipe Box and save your favorite Lady Behind The Curtain recipes.  Make a Meal Plan with your favorite recipes and ZipList will automatically add the ingredients to a Shopping List.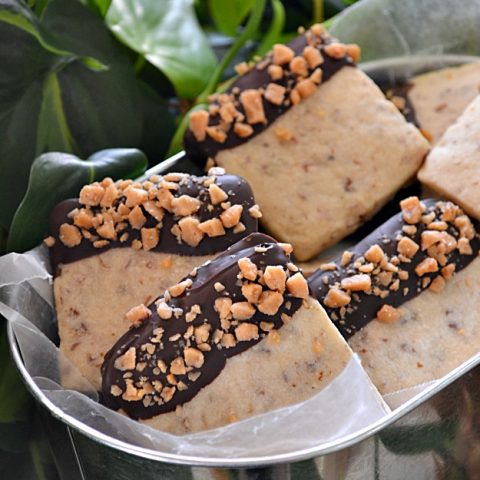 Pecan Shortbread Cookies
Yield:
Makes 3 Dozen Cookies
Prep Time:
1 hour
20 minutes
Total Time:
1 hour
36 minutes
Ingredients
1 cup butter, softened
2 cups all-purpose flour
1/2 cup confectioners' sugar
1/4 cup cornstarch
2 tablespoons heavy whipping cream
1 teaspoon vanilla extract
1 cup pecans, finely chopped
1-1/2 cups dark chocolate chips, melted
1/2 cup toffee bits
Instructions
In a large mixing bowl, beat butter until creamy.
In a medium bowl combine the flour, sugar and cornstarch.
Add flour mixture, cream and vanilla to the butter.
Beat until well combined.
Wrap dough in plastic wrap and refrigerated for 2 hours.
Preheat oven to 350 degrees.
Line baking sheets with parchment paper; set aside.
On a lightly floured surface, roll dough to 1/4-inch thickness.
Using a 2-inch square cookie cutter, cut dough, rerolling scraps until all the dough is used.
Place cookies in the freezer for 20 minutes. TIP: Freezing will help your cookies to keep their shape.
Bake 14 to 16 minutes or until lightly browned.
Let cool on pans 2 minutes.
Remove from pan to cool completely on wire racks.
Dip half of the cookie in the melted chocolate, and place on baking sheets lined with parchment paper.
Sprinkle toffee bits on top of the chocolate.
Let stand until chocolate is set about 1 hour.
Store in an airtight container.
MORE GREAT COOKIE RECIPES
1.  PINEAPPLE FILLED MACAROONS  2.  PEANUT BRITTLE COOKIES  3.  TOASTED COCONUT AND CHOCOLATE CHIP OATMEAL COOKIES  4.  PISTACHIO SALAD COOKIES