Perfect Every Time Instant Pot Creamy Steel Cut Oatmeal
Perfect Every Time Instant Pot Creamy Steel Cut Oatmeal | I love the texture of steel cut oats, but I hate hoovering over the pot, stirring for 30 minutes and hoping the oats don't boil over onto my stove top!  NO MORE!  Here is a sure way of making your steel cut oats perfect EVERY TIME!  If you haven't made the plunge into instant pot heaven, but you're an avid fan of steel cut oats then this is the time my friend!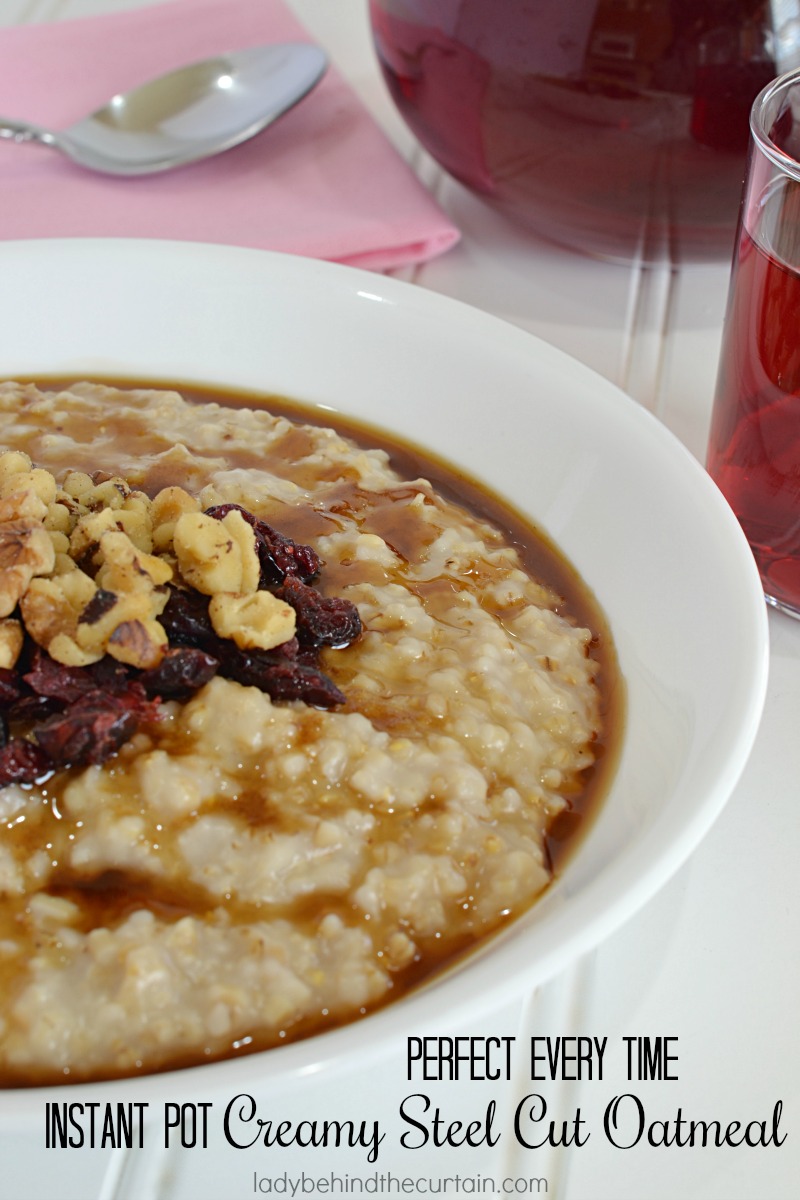 Now that you have the perfect creamy steel cut oatmeal recipe, it's time to make it your own!  The great thing about oatmeal is all the delicious things that can be added!  For me it's brown sugar, dried cranberries and walnuts. I also love adding vanilla yogurt, smashed bananas and pecans!  Like I said the options are endless.  I would love to hear what you like to add to your oatmeal.  Please leave a comment below!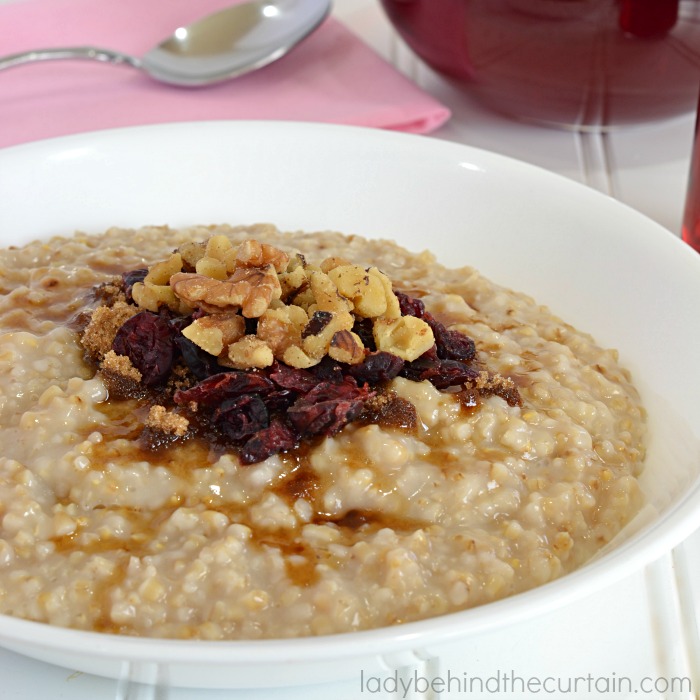 Make enough for the week and you're set.  Do you feel like you've ran a race all morning only to realize you forgot to eat breakfast?  Serve up single servings of this oatmeal (in a mason jar of course) with toppings on the side.  As long as there's a microwave you're set.  TIP:  When the oatmeal is cold it will thicken, to loosen it up add, milk, water or yogurt and heat.
IMPORTANT*****THIS RECIPE IS FOR LONG COOKING STEEL CUT OATS NOT QUICK COOKING!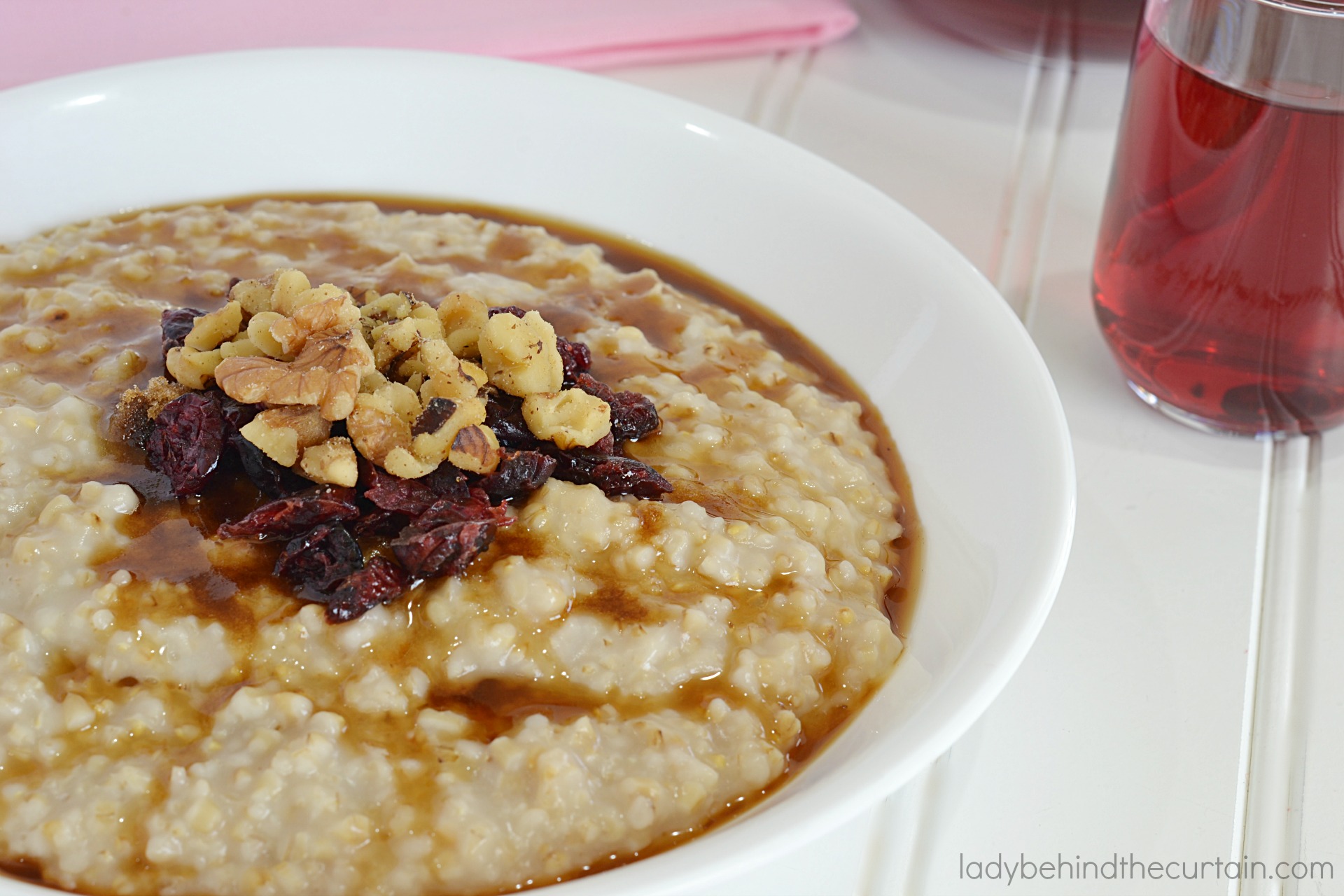 MORE ON THE GO BREAKFAST RECIPES

BUSY WEEKDAY MAPLE SAUSAGE PANCAKE IN A JAR  2. OVERNIGHT PINEAPPLE UPSIDE DOWN CAKE OATMEAL  3. BAKED OATMEAL FILLED APPLES
NEVER MISS A POST!
Sign up for my newsletter and receive my recipes in your inbox. Easy to see anytime and saved for safe keeping. Click Here and sign up today! —->>>>CURTAIN CALL NEWSLETTER