Overnight Pineapple Upside Down Cake Oatmeal
Overnight Pineapple Upside Down Cake Oatmeal | When it comes to mornings I love treating myself to something creamy and delicious.  This Overnight Pineapple Upside Down Cake Oatmeal supplies me with just the right amount of fuel to keep me going through the morning until lunch.  With the addition of big chunks of pineapple along with a couple token cherries you not only have a filling nutritious meal but a delicious one too!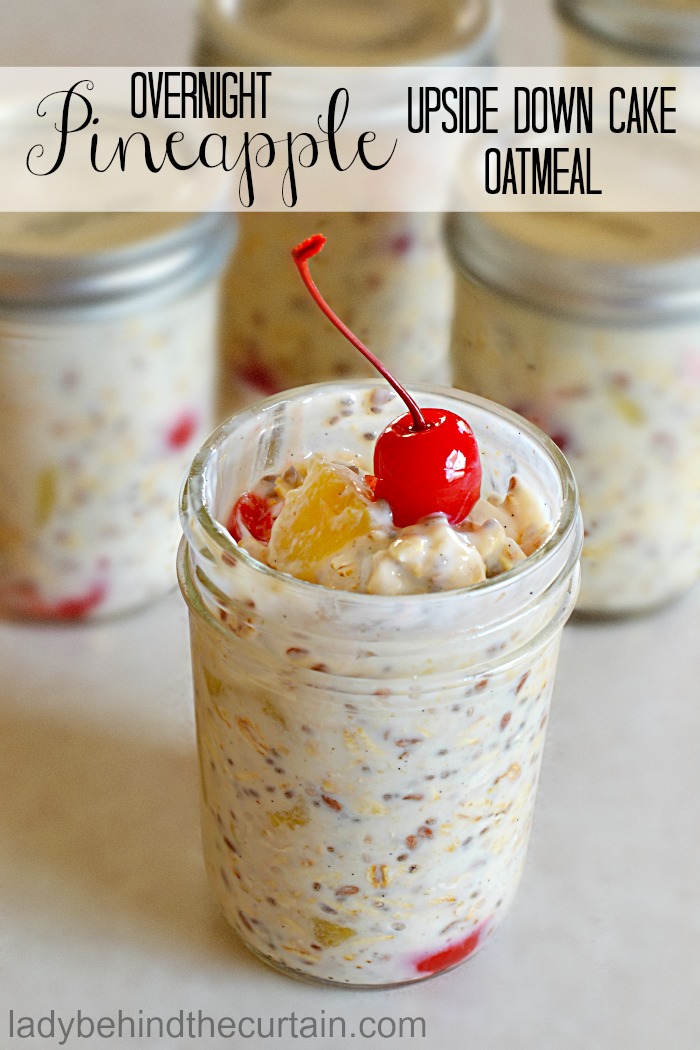 Mornings are hectic enough and skipping breakfast is not an option.  That's why I love….love…..love have overnight oatmeal.  I can make it the night before and have enough for the whole week!  If pineapple upside down cake isn't your thing try these other great flavors.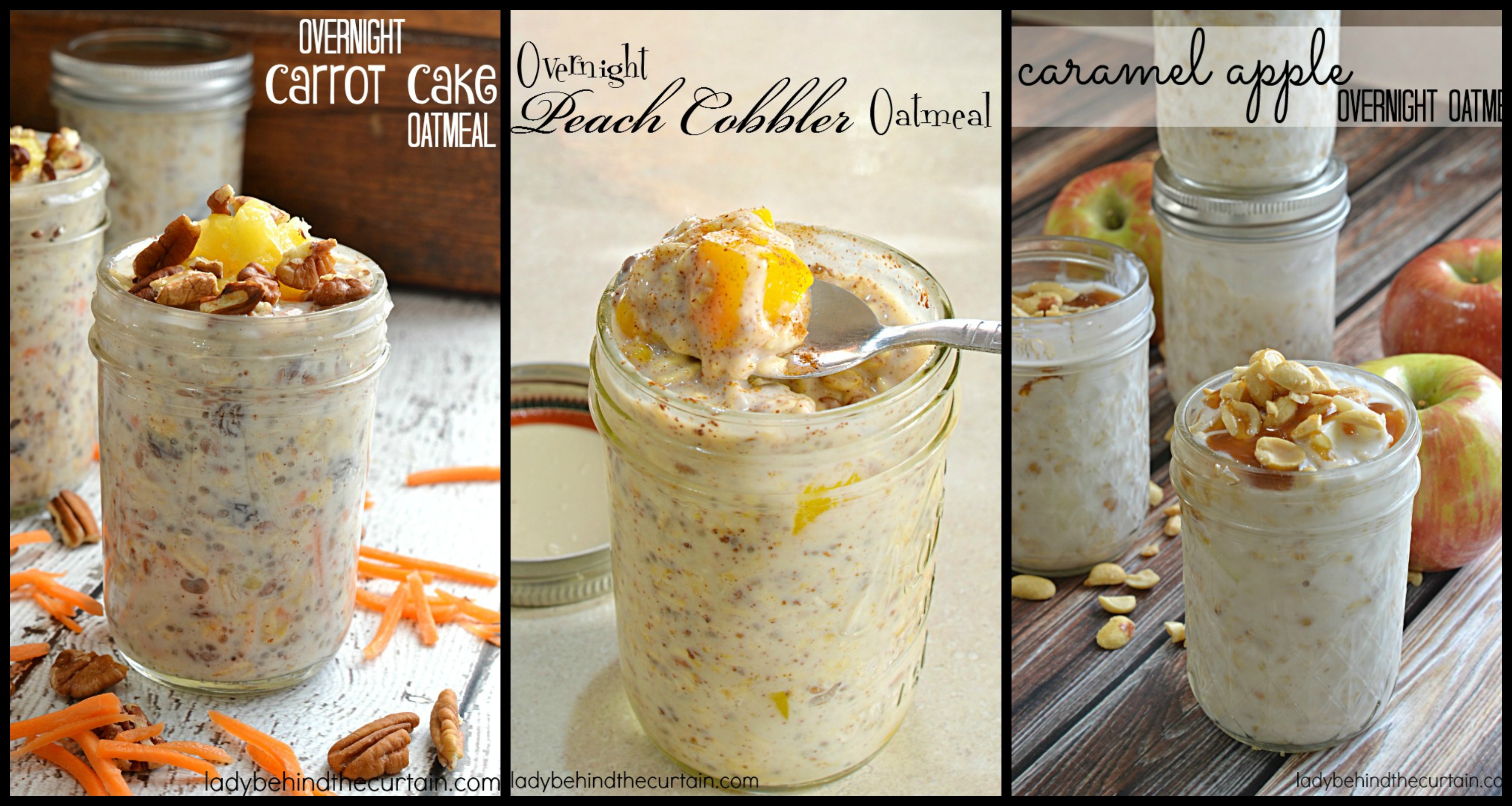 OVERNIGHT CARROT CAKE OATMEAL  2. OVERNIGHT PEACH COBBLER OATMEAL  3. OVERNIGHT CARAMEL APPLE OATMEAL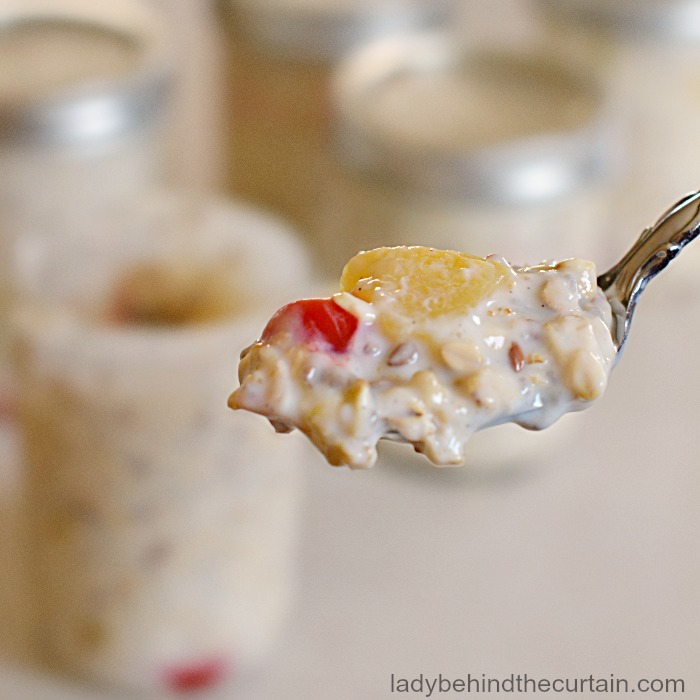 This portable breakfast also makes a great mid morning or afternoon snack.  It's a lot better for you to grab a jar of overnight oatmeal then a bag of chips or cookies.

Why oats you may ask? Well according to Authority Nutrition, Eating whole grains can lower your risk for several diseases, including high blood pressure and type 2 diabetes.  In addition, whole grains such as oats are a great source for iron, magnesium and vitamin B.  Oats are among the healthiest grains on earth.  They're gluten-free whole grain and a great source for important vitamins, minerals, fiber and antioxidants.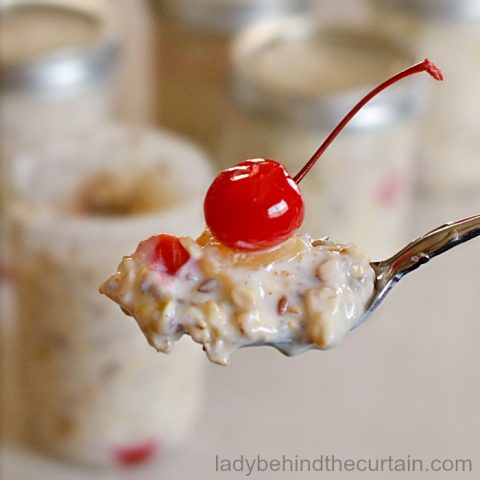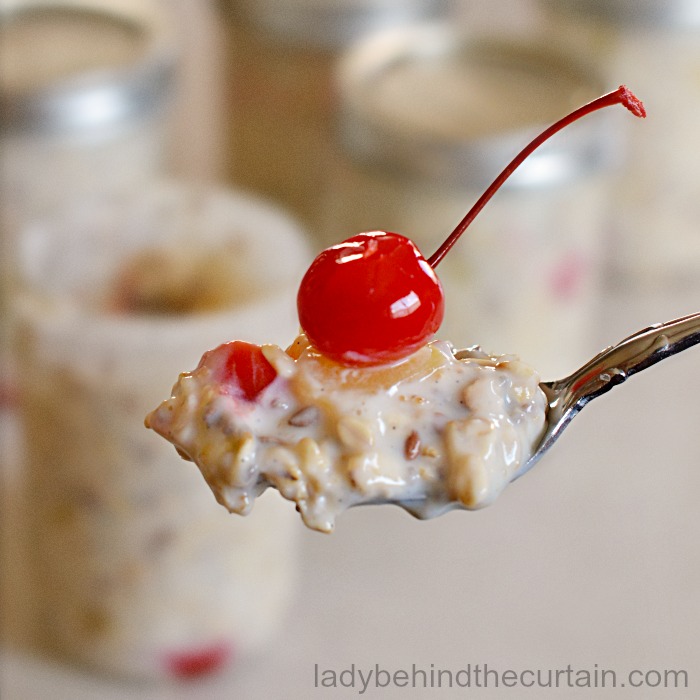 Overnight Pineapple Upside Down Cake Oatmeal
Yield:
Fills 5 half pint jars
Ingredients
1 (20 ounce) can pineapple chunks, drained
3 tablespoons light brown sugar, packed
12 ounces vanilla yogurt
1 1/3 cups old fashioned oats
1 1/4 cup milk
1 teaspoon vanilla extract
1/2 teaspoon salt
1 tablespoon chia seeds
1 tablespoon flaxseeds
10 maraschino cherries, sliced in half
Instructions
In a medium microwave safe bowl heat the pineapple and brown sugar one minute or until the sugar is dissolved.
In a large bowl add the yogurt, oats, milk, vanilla, salt, seeds and pineapple mixture; stir to combine.
Spoon half of the mixture into 5 half pint jars; drop 2 cherry halves on top.
Add the remaining oatmeal mixture to each jar and top with another 2 cherry halves.
Cover with lid and store in the refrigerator up to a week.