Pickled Refrigerator Cauliflower
Pickled Refrigerator Cauliflower |  This Pickled Refrigerator Cauliflower is a great way to work your vegetables into your diet.  The cauliflower is crisp and very tasty .  Not too sweet with just the right amount of sour from the vinegar.  Create the BEST relish tray and let your pickled cauliflower be the star of the tray!  Need to add a little zip to your salad?  Yep, you guessed it….add Pickled Refrigerator Cauliflower!  How about dressing up that juicy burger with a few pieces of pickled cauliflower?  Truth is that just about any burger is better with pickled vegetables!
This year we planted cauliflower (below is a pic from my garden)!  I love roasted cauliflower but after awhile I needed to create something different and so that's when I got to work creating this delicious versatile recipe.
I made this recipe in a large 2 quart jar but you can divide the cauliflower into smaller jars and give them away as gifts.  Another great recipe and gift idea is my Pickled Refrigerator Spicy Carrots.  I love handing out jars of pickled veggies after a barbecue.  I know weird but the guests seem to love it.  It's something homemade and they just had the same veggies with dinner so they know they're tasty too!
I'm not sure if this is too far fetched but If you're planning a country wedding (like in a barn), adding a jar of homemade pickled veggies to your party favor container would be amazing!  Besides like I always say "EVERYTHING IS BETTER IN A MASON JAR"!
PARTY FAVORS IN A JAR
RUSTIC PARTY FAVOR BANANA BREAD IN A JAR  2.  PICNIC BERRY COBBLER  3. BUTTER COOKIE PINEAPPLE UPSIDE DOWN CAKE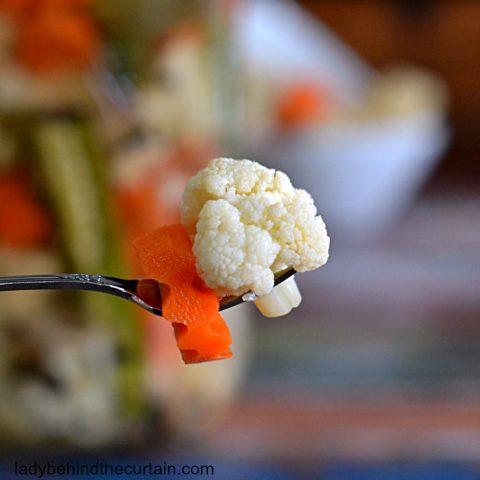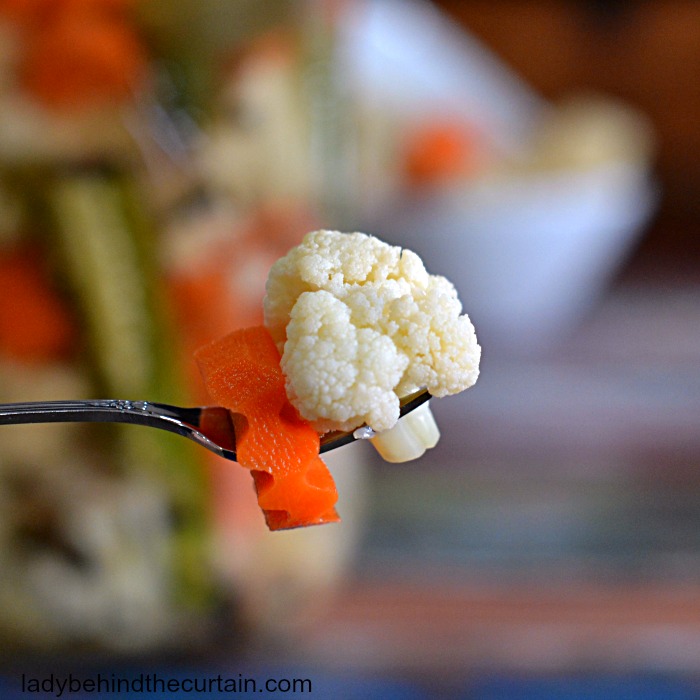 Pickled Refrigerator Cauliflower
Ingredients
1 pound cauliflower pieces
2 cups sliced carrots (about 4 medium)
2 large jalapeno peppers, 1 seeded, both quartered
3 cups white vinegar
1 ½ cups water
½ cup granulated sugar
1 tablespoon pepper corns
1 bay leaf
1 tablespoon minced dry onions
1 teaspoon garlic powder
1 tablespoon coriander seeds
Instructions
Place vegetables in a 2 quart glass container with a tight fitting lid.
Add the vinegar, water, sugar, pepper corns, bay leaf, onion, garlic and coriander to a medium saucepan.
Bring to a boil; reduce heat and simmer 10 minutes.
Pour in jar with vegetables; screw on the lid and refrigerate.
Will be ready to eat after about an hour but is a lot tastier if left overnight.
To….add this recipe to your wedding idea Pinterest board.  Don't have a wedding board?  Le me help you build one.  I have a wedding board full of great ideas to help with your planning.
WEDDING  IDEAS (link)