Rustic Party Favor: Banana Bread In a Jar


A RUSTIC PARTY FAVOR!
This rustic party favor: banana bread in a jar would fit perfectly for a barn wedding reception, a backyard barbecue or a western themed party.  When entertaining with a "rustic" theme I always like using bird seed.  It's great as a filler for mason jars with candles or use to fill containers to hold things like these jars of banana nut bread.
Supplies
1/2 pint mason jars
tags (Michael's)
twine
thank you stamp (Michael's)
stamp pad
mini clothes pins (Walmart)
container to hold jars
bird seed (filler)
banana nut bread recipe (below)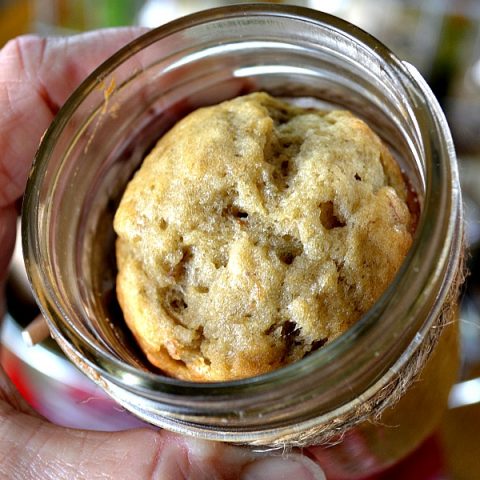 Rustic Party Favor: Banana Bread In a Jar
Yield:
Makes 7 half pint mason jars
Give this to your guests at a barn wedding reception.
Ingredients
1 cup mashed bananas (2 -3 bananas)
1/3 cup shortening
2/3 cup granulated sugar
2 eggs
2 tablespoon milk
1-3/4 cups all-purpose flour
1-1/4 teaspoon baking powder
3/4 teaspoon salt
1/2 teaspoon baking soda
1/4 cup walnuts, chopped
Instructions
Preheat oven to 350 degrees
Cream together the bananas, shortening and sugar.
Add eggs and milk.
Mix until well combined.
Add the flour, baking powder, salt, baking soda, and nuts.
Mix until well blended.
Fill mason jars half full.
Using a butter knife or off set spatula push down the sides to full any air pockets.
Place filled jars on a cookie sheet and bake 28 minutes or until a toothpick inserted into the center comes out clean.
Cool completely on a wire rack.
Once jars are cooled.  Stamp the tags, wrap twine around the jar and tie in a knot
TIP
:  Don't tie it too tight you still have to fit the cloths pin behind it.  Clip on cloths pin and then the stamped tag.