Potato Salad Deviled Eggs
Potato Salad Deviled Eggs are the perfect finger food at any celebration.  I don't know about you but to me it's not a party without deviled eggs!  I was asked to bring potato salad to a ladies function and decided to change it up a bit with these Potato Salad Deviled Eggs.  Everyone was surprised when I showed up with deviled eggs instead of a bowl of potato salad.  But once they tasted these they completely understood.  😉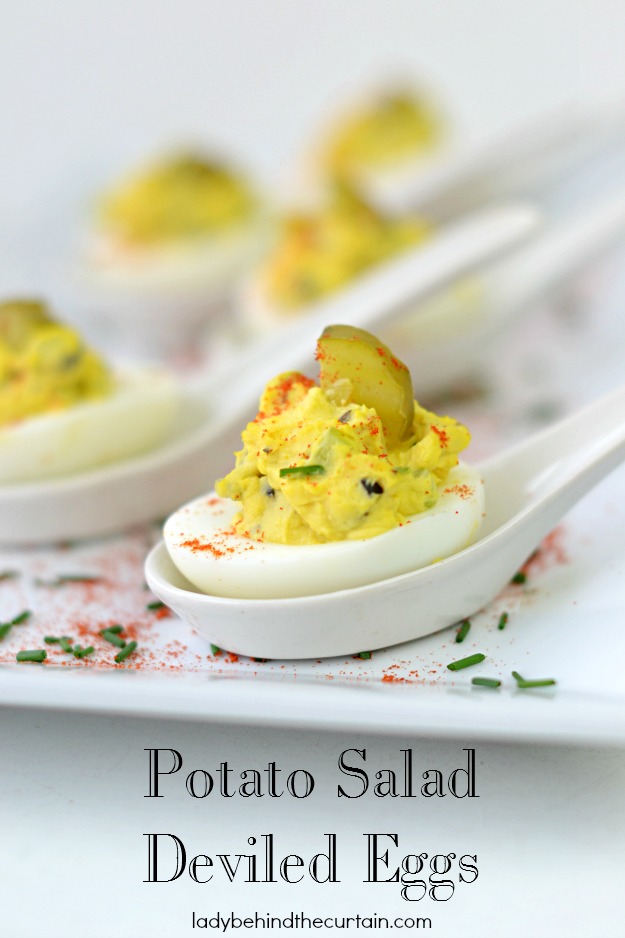 When you think about it everything in deviled eggs is in potato salad.  At least the base ingredients are.  To make these fun deviled eggs I added chopped baked potato, celery, black olives and chives with a dill pickle wedge on top and an sprinkle of paprika.  I don't know why but I remember growing up there was always a sprinkle of paprika on the potato salad.  I guess they thought it made it pretty?  Now a days I add something fresh like chopped chives or parsley.  Make this appetizer your own.  Add or take away whatever you like.  This is my version of potato salad…what's yours?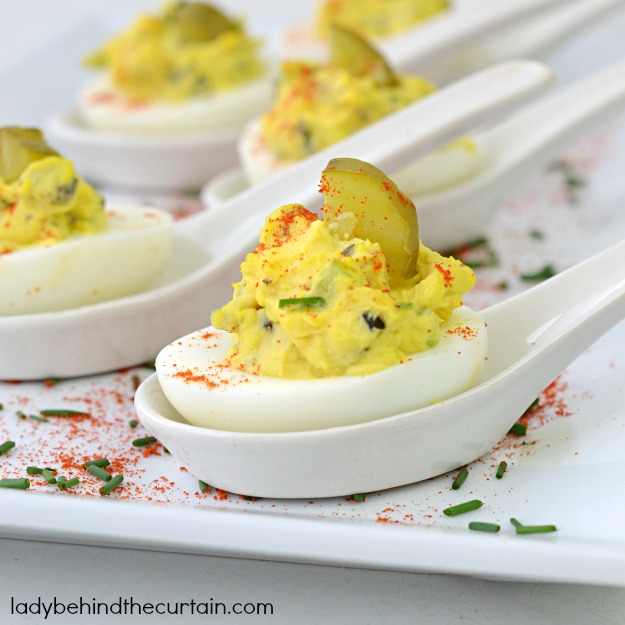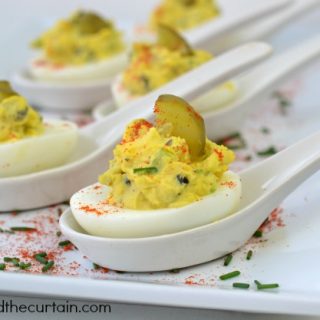 Potato Salad Deviled Eggs
Yield:
Makes 12 Appetizers
Ingredients
6 large eggs, boiled and peeled
1/4 cup mayonnaise
1 tablespoon yellow mustard
2 tablespoons celery, finely diced
2 tablespoons black olives, finely chopped
1 teaspoon chives, finely chopped
1/4 teaspoon salt
1/8 teaspoon black pepper
1/4 cup baked potato, dice
Instructions
Cut all the eggs in half.
Place the white portions on a platter and the yolks in a small bowl.
Mash up the yolks with a fork.
Add the mayonnaise, mustard, celery, olives, chives, salt and pepper.
Stir to combine.
Fold in the diced potatoes.
Spoon the yolk mixture into the center of the egg whites where the yolks once were.
Garnish with dill pickle wedge and sprinkle with paprika.
Store in the refrigerator until ready to serve.
MORE APPETIZER RECIPES

1. FRUIT AND CHEESE PUFFS  2. TOFFEE DIP  3. CREAM CHEESE AND OLIVE PECAN BITES