Rocky Road Pie |  Chocolate cake, chocolate chips, chocolate whip cream, marshmallows and nuts.  What's not to LOVE?  Keep these ingredients in your pantry for an easy last minute dessert!  If you love the rocky road candy bar then you will quickly fall in love with this pie!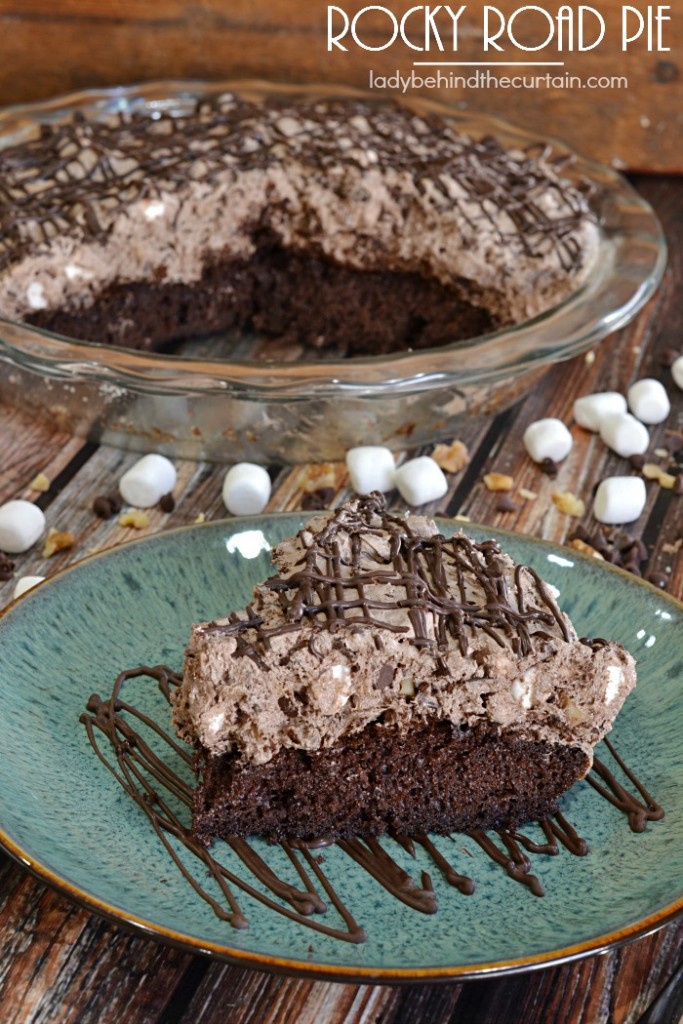 This is one of my husband's favorite desserts.  I make it for him every year for Father's Day.  So…as you might of guessed this really isn't a pie other then the fact that it's made in a pie pan.
I love how easy it is to make with simple ingredients like a cake mix and frozen whipped topping you'd be surprised at how delicious this pie is.  To add to the decadence I added a drizzle of melted chocolate to the top.
Rocky Road Pie
Total Time:
1 hour
5 minutes
Ingredients
For the Bottom Chocolate Cake Layer:
1 package chocolate fudge cake mix, divided
2/3 cup water
3 tablespoons vegetable oil
2 eggs
For the Top Layer:
1 - 8 ounce cool whip
1 cup miniature marshmallows
2/3 cup coarsely chopped walnuts
2/3 cup semisweet mini chocolate chips
Instructions
For the Bottom Chocolate Cake Layer:
Heat oven to 350 degrees.
Grease and dust a 9-in pie plate with sugar.
Reserve 1 2/3 cups lightly packed cake mix (dry).
Beat remaining cake mix, the water, oil and eggs.
Beat until smooth.
Spread in pie plate.
Bake until cake springs back when touched lightly in center, 30 to 35 minutes.
Cool completely.
For the Top Layer:
Mix cool whip and reserved cake mix (dry) until combined.
Fold in marshmallows, walnuts and chocolate chips.
Spread over cooled cake.
Refrigerate at least 2 hours before serving.
Refrigerate any remaining dessert.
MORE SEMI HOMEMADE RECIPES

CHERRY CUPCAKE PIE  2. MASON JAR LID BLACK FOREST CAKES 3.  CHEWY BANANA PECAN COOKIES