Onion Dip Burgers | It's backyard party time!  That means firing up the grill and serving chips and dip.  So…..instead of serving chips and dip separately how about piling it all on top of your burger?  Make life easier and skip the grilled onions!  The onion dip adds just as much flavor as the grilled onions. Plus, you gain more time to enjoy family and friends at your barbecue!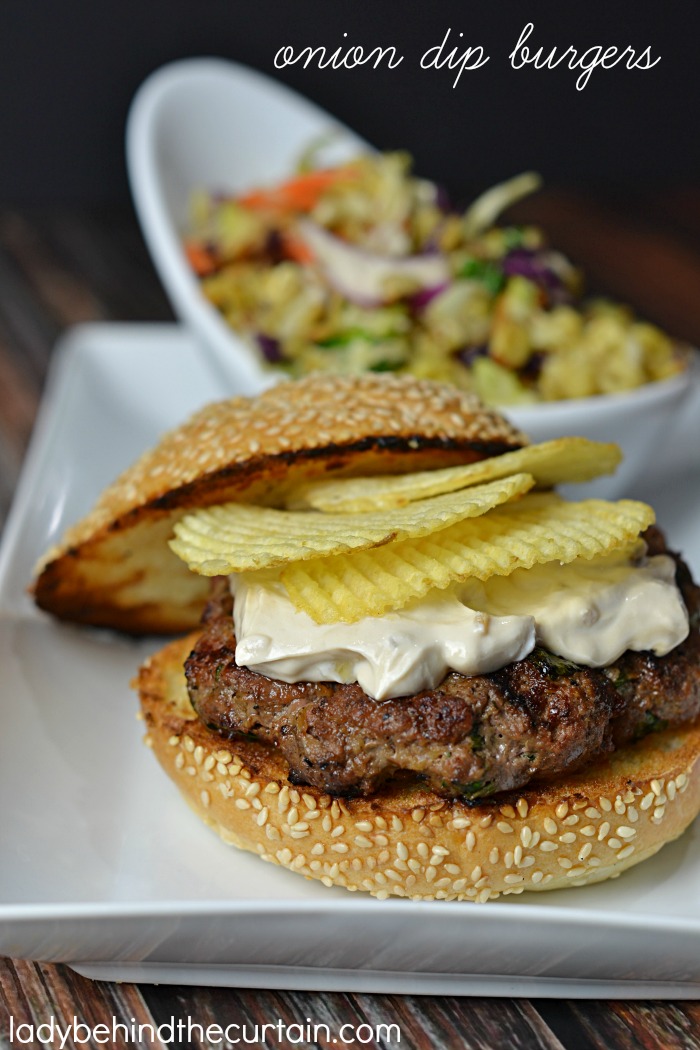 I love the idea of adding my chips and dip on top of my burger!  It adds so much flavor you don't even have to bother with other condiments.  To complete the menu add my Brad's Ranch Beans and Southwestern Salad!  HAPPY GRILLING!
Onion Dip Burgers
Ingredients
For the Onion Dip:
1 (16 ounce) container sour cream
1 (1 ounce) envelope dry onion soup mix
For the Burgers:
2 pounds ground beef
1/4 cup Worcestershire sauce
1 1/2 teaspoons salt
1/2 teaspoon pepper
onion, peeled and grated
1/3 cup leaf parsley, chopped
6 large hamburger buns, toasted
36 ruffle potato chips
Instructions
For the Onion Dip:
In a medium container; stir together the sour cream and dry soup mix until combined.
Store in refrigerator until ready to use.
For the Burgers:
Season the beef with the Worcestershire sauce, salt and pepper.
Using a box grater, grate 3 to 4 tablespoons of the peeled onion over the meat.
Add the parsley.
Mix the meat and form 6 patties.
Cook on griddle, cast-iron skillet or barbecue grill.
Place hamburger patty on the bottom portion of the toasted bun, top with onion dip and chips.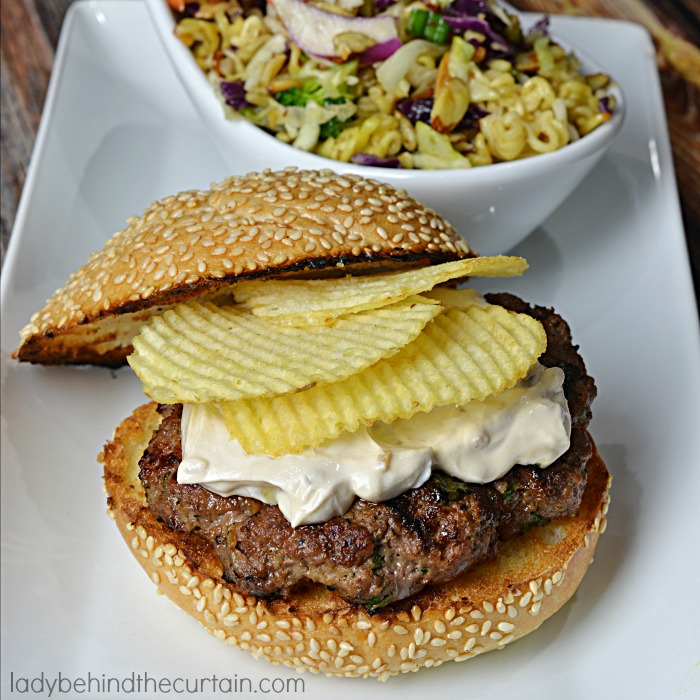 MORE BURGER RECIPES
FRIED GREEN TOMATO BURGERS  2. STEAKHOUSE BURGERS  3. TOUCHDOWN BREWSKY BURGERS