Oatmeal Cookie Ice Cream Sandwich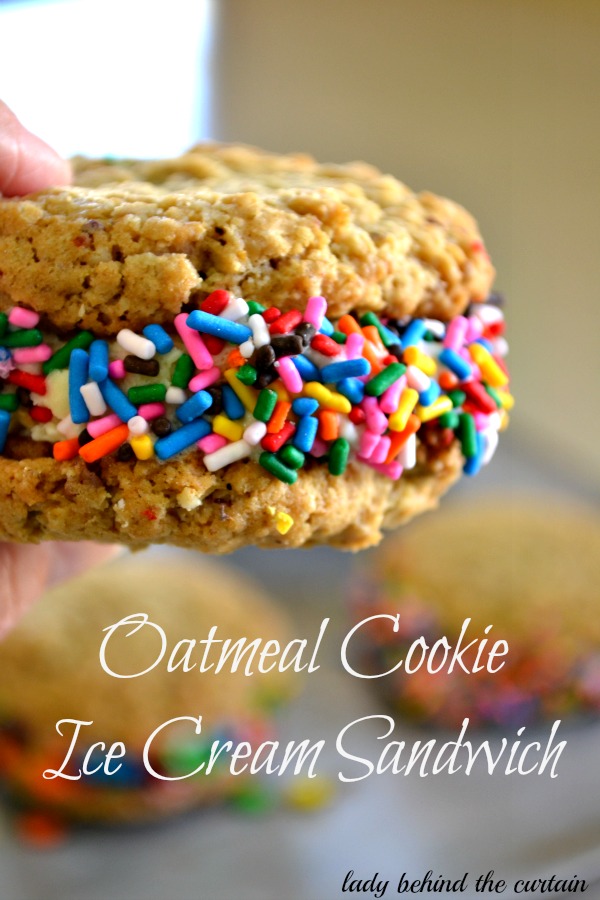 Seeing my Granddaughter's eyes light up when I took these delights out of the freezer was a thrill. I love taking something simple and making it into something new.
HOMEMADE ICE CREAM SANDWICHES!
The perfect treat for those jump in the pool hot summer days! No special ingredients. Just topping you have leftover from baking or Sundays. Of course it's all about the crispy on the outside and tender on the inside buttery cookie!
Oatmeal Cookie Ice Cream Sandwich Recipe (makes 10 sandwiches)
1-1/4 cups butter, softened
3/4 cup brown sugar, packed
1/2 cup sugar
1 egg
1 teaspoons vanilla
1-1/2 cups all-purpose flour
1 teaspoon baking soda
1 teaspoon salt
3 cups oats
1 cup nuts, chopped (optional)
1.5 quart vanilla ice cream
assorted sprinkles, mini m&ms, mini chocolate chips, nuts
Directions
Preheat oven to 375 degrees.
In a mixer combine the butter, brown sugar, sugar, egg and vanilla. Mix until fluffy. In another bowl combine the flour baking soda and salt. Add to the butter mixer, mix until well combined. Add oats and nuts. Using an ice cream scoop place a level scoop of cookie dough onto the cookie sheet. NOTE: Only 6 cookies per tray. Bake 14 minutes. Transfer finished cookies to a wire cooling rack. While cookies are cooling set up your work station. Sprinkles, candy and nuts. Set out ice cream 20 minutes before scooping.
Place a cookie on the palm of your hand and set a large scoop of ice cream in the center.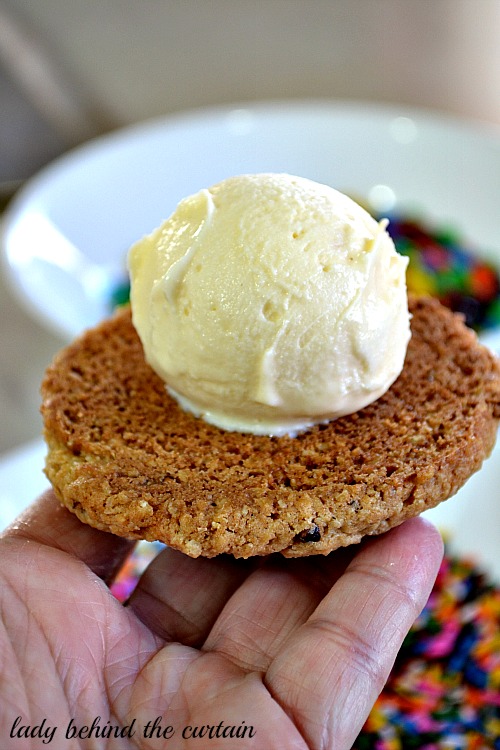 Making sure you give the bottom cookie plenty of stability with your palm, smash another cooking on top and make the ice cream ooze out. Roll in topping and place on a cookie sheet.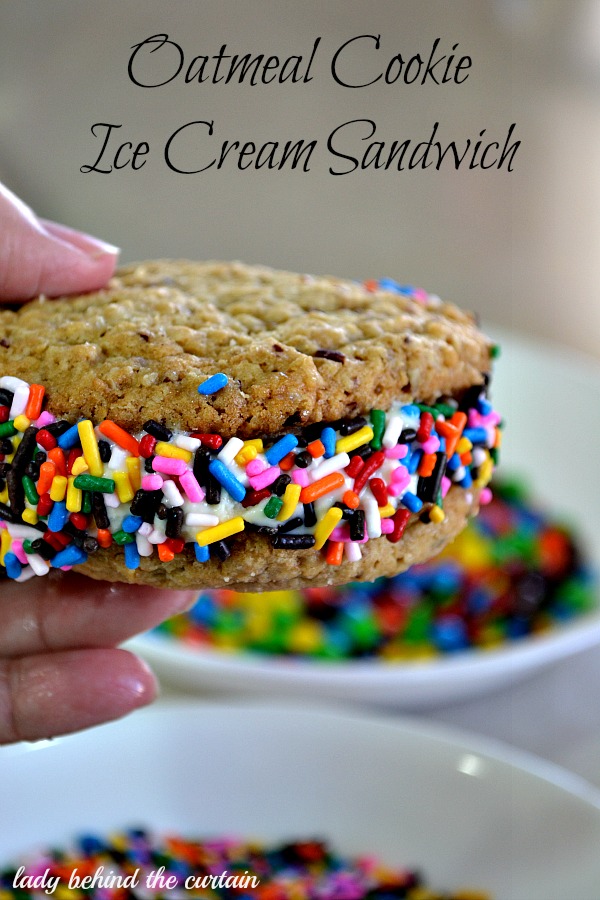 When cookie sheet is full place in freezer to freeze again. Once the cookie sandwiches are frozen place in a freezer safe airtight container.

I SHARED THIS IDEA/RECIPE AT THESE PARTIES