Sour Cherry Vanilla Ice Cream
While most people prefer sweet ice cream flavors my husband loves tart or sour.  That's why this year for Father's Day I made him this Sour Cherry Vanilla Ice Cream.  You still get the benefits of a sweet creamy vanilla bean ice cream until you bite into a frozen sour cherry.  Just the right balance for everyone.
I served my Sour Cherry Vanilla Ice Cream in some retro metal jello molds I found at the thrift store.  The metal keeps the ice cream nice and cold longer than most containers.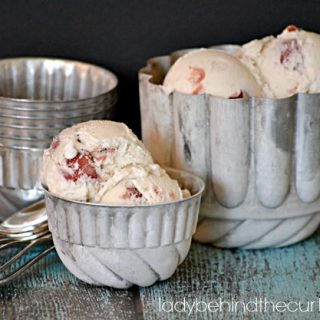 Sour Cherry Vanilla Ice Cream
Yield:
Serves 14 (2 quarts)
Ingredients
1 1/2 cups whole milk
1 1/8 cups granulated sugar
3 cups heavy cream
1 1/2 tablespoons vanilla paste or vanilla extract
1 (14.5 ounce) red tart cherries, drained, lightly chopped and divided
Instructions
In a medium mixing bowl, use a hand mixer and on low speed combine the milk and sugar until the sugar is dissolved.
Stir in the heavy cream and vanilla.
Turn the machine on; pour the mixture into the freezer bowl and add 1 cup of the tart cherries.
Let mix until thickened, about 20 to 25 minutes.
The last 5 minutes add the remaining tart cherries.
The ice cream will have a soft, creamy texture. If a firmer consistency is desired, transfer the ice cream to an airtight container and place in freezer for about 2 hours.

MORE ICE CREAM RECIPES
HONEY LAVENDER ICE CREAM 2. EARL GREY TEA VANILLA ICE CREAM 3. BUTTERBEER ICE CREAM
NEVER MISS A POST!
Sign up for my newsletter and receive my recipes in your inbox. Easy to see anytime and saved for safe keeping. Click Here and sign up today! —->>>>CURTAIN CALL NEWSLETTER