Sparkling Peach Slush Punch
Sparkling Peach Slush Punch |  A delicious refreshing punch that stays slushy for hours.  With ingredients like peach flavor jello, sliced peaches and peach juice.  This Sparkling Peach Slush Punch is sure to be a summer party favorite.  When it's time for a summer barbecue, bridal shower or baby shower this is my go to punch.  Scroll down for an adult version of this refreshing punch.  A party isn't a party without punch!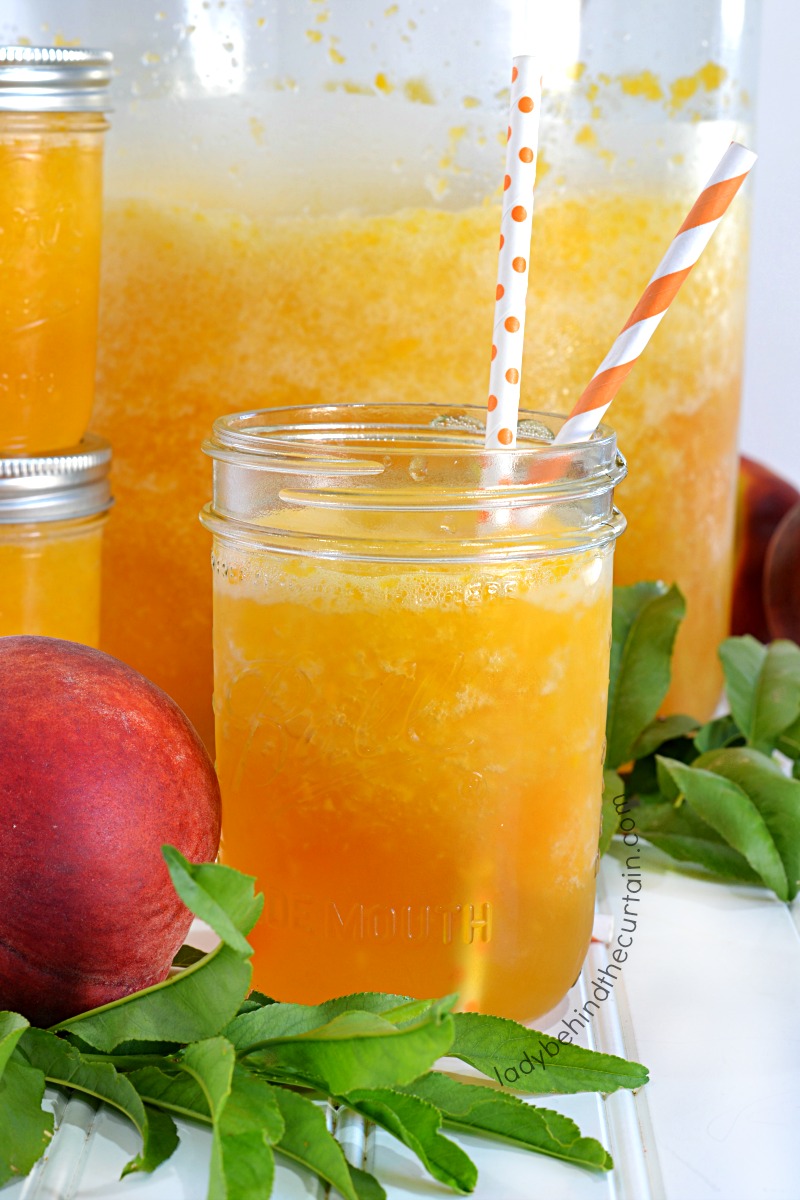 With the high heat of Tucson I was pleasantly surprised to see there was still slush in the punch after sitting out on the counter for 4 hours there was still slush in the punch! If peach isn't your thing or you would like to serve two versions of a slush punch click here for my pineapple version—->>>>SPARKLING PINEAPPLE SLUSH PUNCH.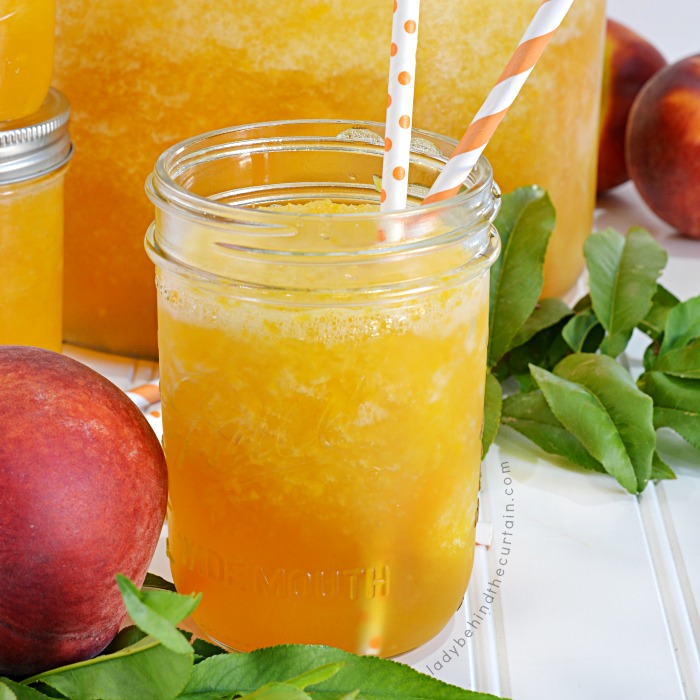 For last minute parties keep a batch of the slush in your freezer.  It stays fresh up to 6 months!  ADULT VERSION:  Add champagne for a peach mimosa.  Perfect for a brunch.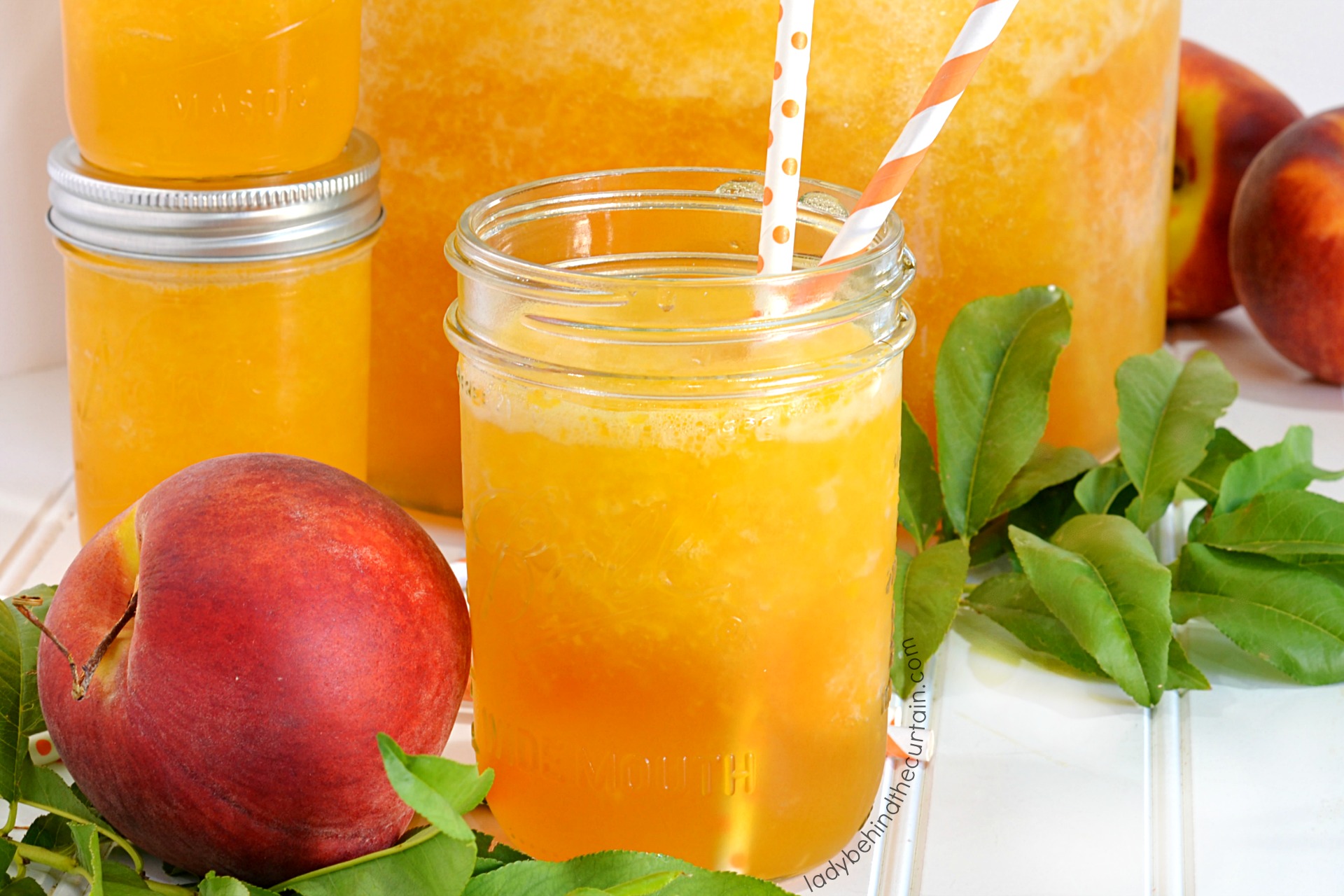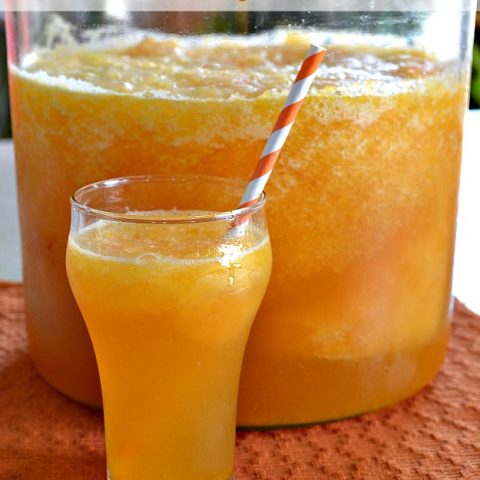 Sparkling Peach Slush Punch
Prep Time:
9 hours
15 minutes
Total Time:
9 hours
15 minutes
Can be frozen up to 6 months.
Ingredients
3 cups water
1-1/2 cups sugar
3 ounce box of peach flavor jello
29 ounces can peach slices in light syrup, undrained
5 cups peach juice blend
1/2 cup lemon juice
2 liters and 16 ounces of ginger ale, chilled
Instructions
In a large saucepan combine the water, sugar and gelatin.
Bring to boiling, stirring to dissolve sugar and gelatin.
Remove from heat.
Place peaches (with syrup) in a blender and blend until smooth.
In an extra large bowl combine gelatin mixture, purred peaches, peach juice blend and lemon juice.
Divide peach mixture among four 1-quart containers.
Cover and freeze for at least 8 hours or until firm.
To serve, let containers stand at room temperature for 1 hour.
Break peach mixture in a punch bowl or jug.
Gently pour in ginger ale; stir until slushy.
Serve at once.
MY SWEET GRANDDAUGHTER ENJOYING HER SLUSH!

Notes
This recipe is from [Lady Behind The Curtain|https://www.ladybehindthecurtain.com

MORE PUNCH RECIPES
NEVER MISS A POST!
Sign up for my newsletter and receive my recipes in your inbox. Easy to see anytime and saved for safe keeping. Click Here and sign up today! —->>>>CURTAIN CALL NEWSLETTER