State Fair Chocolate Strawberry Waffle Pops
State Fair Chocolate Strawberry Waffle Pops
|  These simple treats are perfect for any occasion.  Especially a fun Carnival or Fair themed Birthday Party!  Okay, I don't claim to be an expert or anything but I think since there's fruit and waffle batter in this recipe you can without any guilt have these delicious treats for breakfast!  You can put them on skewers or simply fry them up in strawberry shaped balls.  The choice is up to you.  But be warned these Chocolate Strawberry Waffle Pops are D-E-L-I-O-U-S and very…very addictive!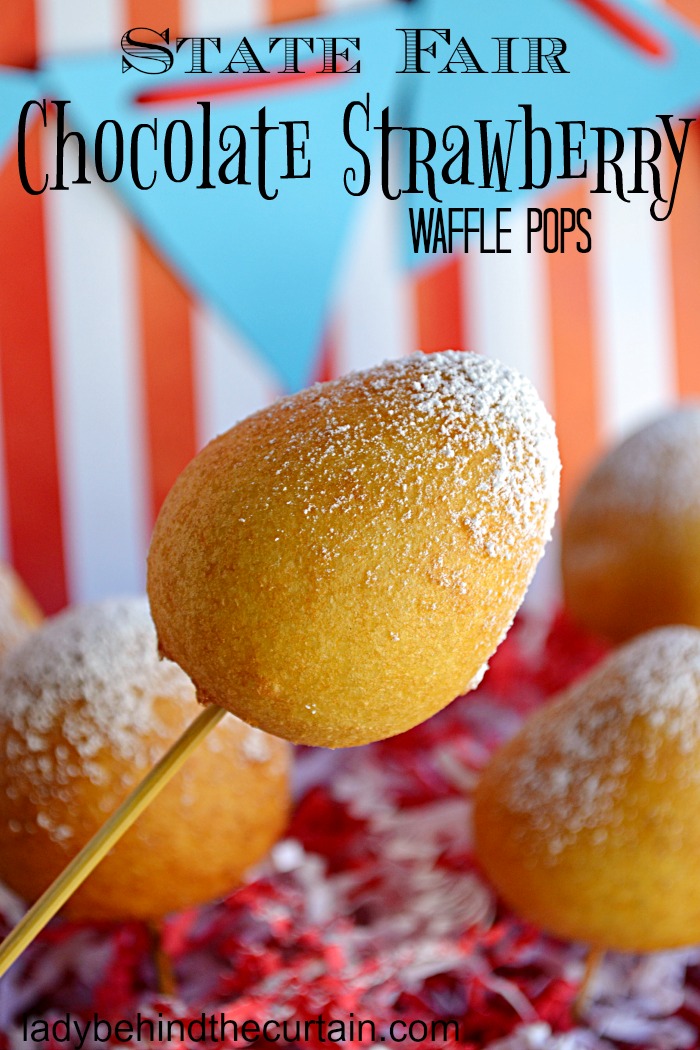 Warm and crispy on the outside with a decadent cover of chocolate and the taste of a fresh strawberry.  These State Fair Chocolate Strawberry Waffles Pops are unique!  Who doesn't love a chocolate dipped strawberry?  Bring it up a notch and wrap your favorite chocolate treat in waffle batter and fry until golden.  This isn't a run of the mill everyday chocolate dipped strawberry.  It's a unique treat that your guests will talk about for years!  While everything fried is best right out of the fryer these treats are still good the next day.  Store them in the refrigerator (not covered).  The chocolate will harden around the strawberry and crispy outer shell will become a little soft but the flavor is most definitely still there.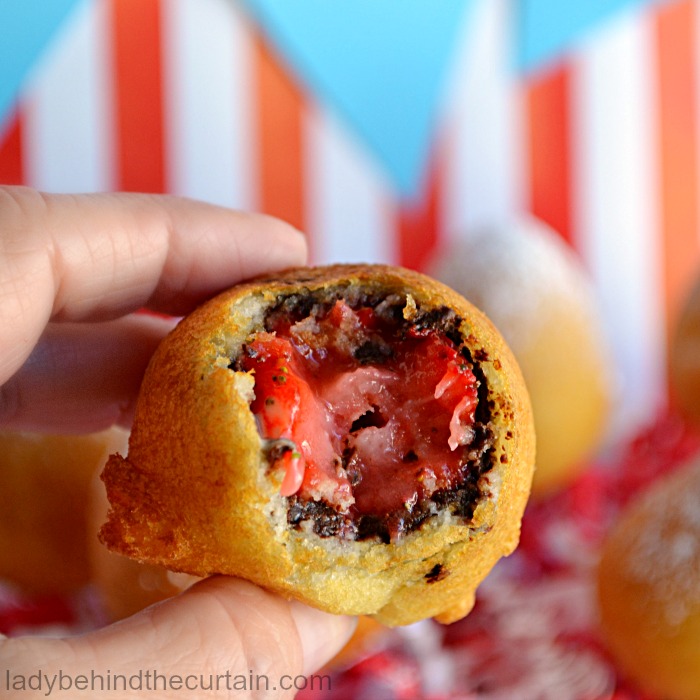 Yes, I went there.  I took a nice healthy strawberry and deep fried it.  Bahahahaha!  You know that the definition of fair food is deep fried….right? So….Take a strawberry, dip it in dark chocolate, then in waffle batter and then fry it up for the perfect carnival theme party or a backyard barbecue treat!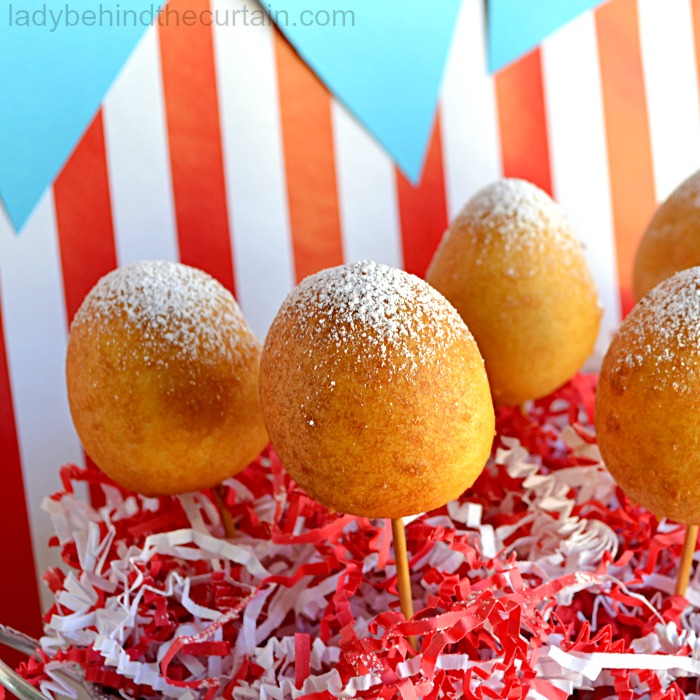 Planning a Circus, Carnival or state fair party?  Here are a few more fun ideas to help you!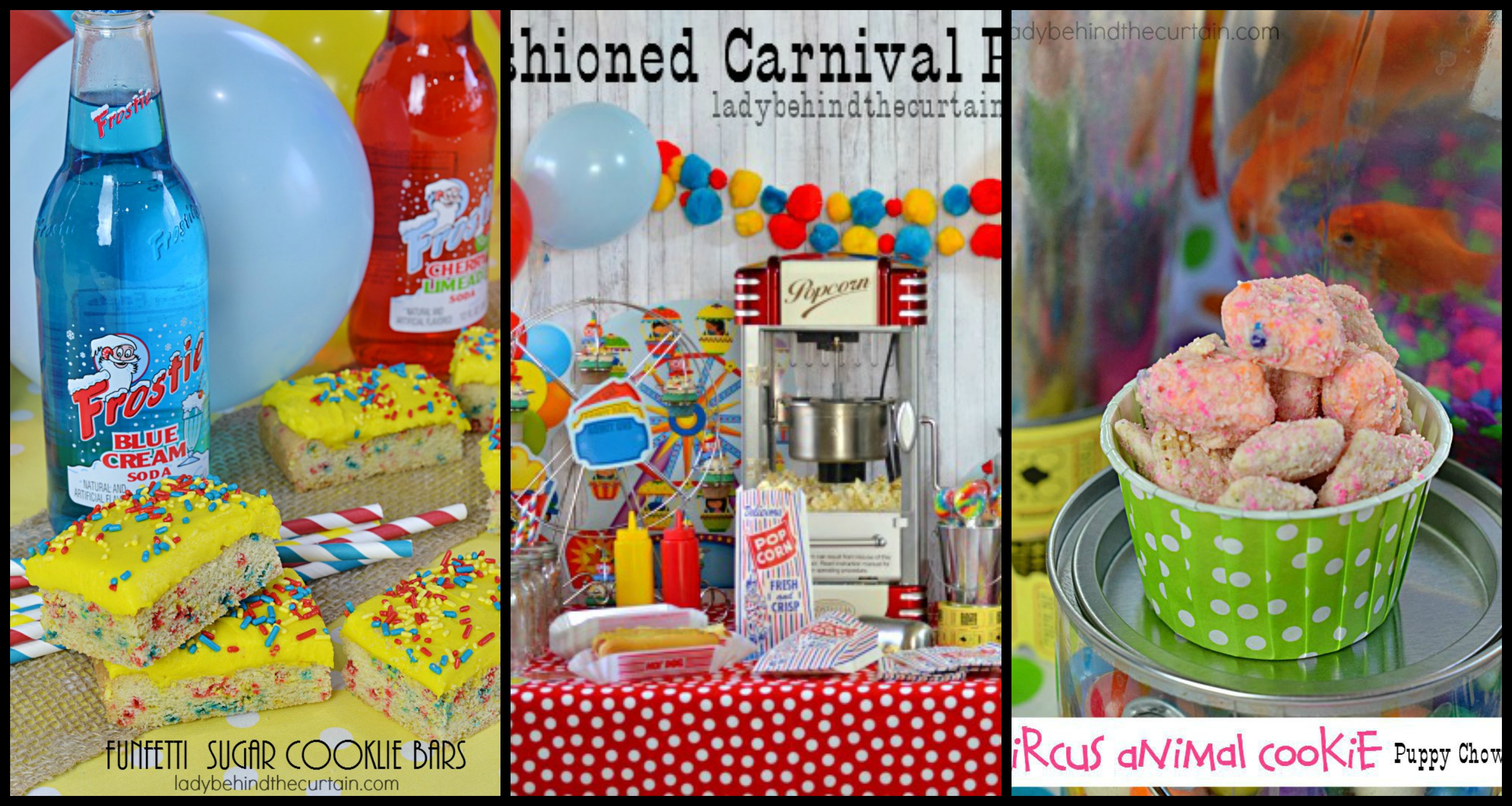 FUNFETTI SUGAR COOKIE BARS  2. OLD FASHIONED CARNIVAL PARTY  3. CIRCUS ANIMAL COOKIE PUPPY CHOW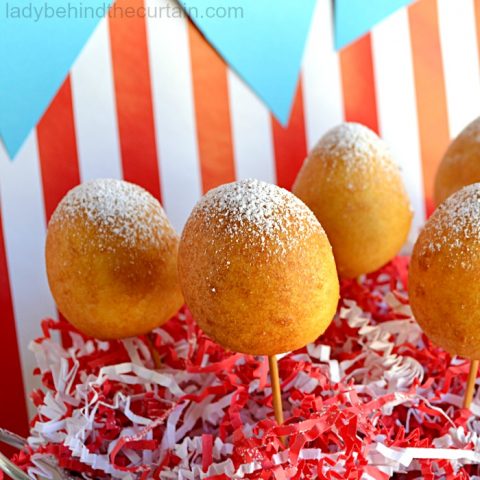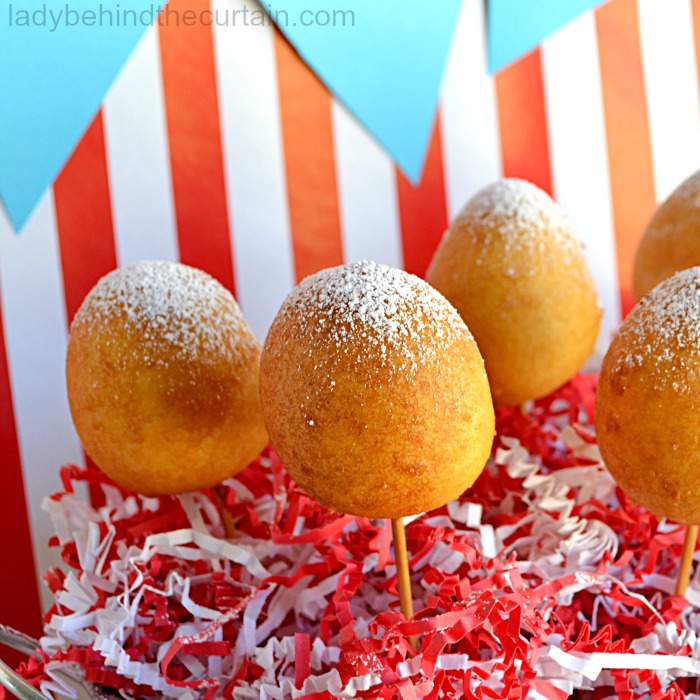 State Fair Chocolate Strawberry Waffle Pops
Ingredients
20 to 25 medium to large strawberries, tops removed
18 ounces dark cocoa candy melts
Optional: shortening (about 1 tablespoon)
2 quarts vegetable oil, for deep frying
2 cups dry waffle mix
1½ cups milk
2 large eggs
confectioners' sugar for dusting
skewers
Instructions
Pull tops off the strawberries
Thread each strawberry onto a wooden skewer; place on a baking sheet lined with parchment paper.
Put the chocolate in a deep microwave safe bowl.
Melt in 1 minute intervals, stirring after each.
NOTE: It took (2) 1 minute intervals for my chocolate chips to melt, if chocolate appears to be too thick, add the shortening; stir until melted.
Dip the strawberries in the melted chocolate, making sure to completely submerge the strawberry up to and around the entry area of the skewer.
Place on the prepared baking sheet and freeze until the chocolate hardens (about 15 minutes).
Heat vegetable oil in a deep pot until a deep-fry thermometer registers 360°.
While the oil heats, add waffle mix, milk and eggs to a medium bowl; whisk all ingredients together until no lumps appear.
Dip the chocolate covered strawberries in the batter, turning to coat and completely submerging the strawberry so that the batter encases the chocolate.
TIP: What worked best for me was taking only one chocolate covered strawberry out of the freezer at a time, dipping it into the batter and the hot oil to fry.
Fry, turning as needed, until batter is golden and just cooked through.
Remove from hot oil and place on a baking sheet lined with parchment paper.
Dust with confectioners' sugar.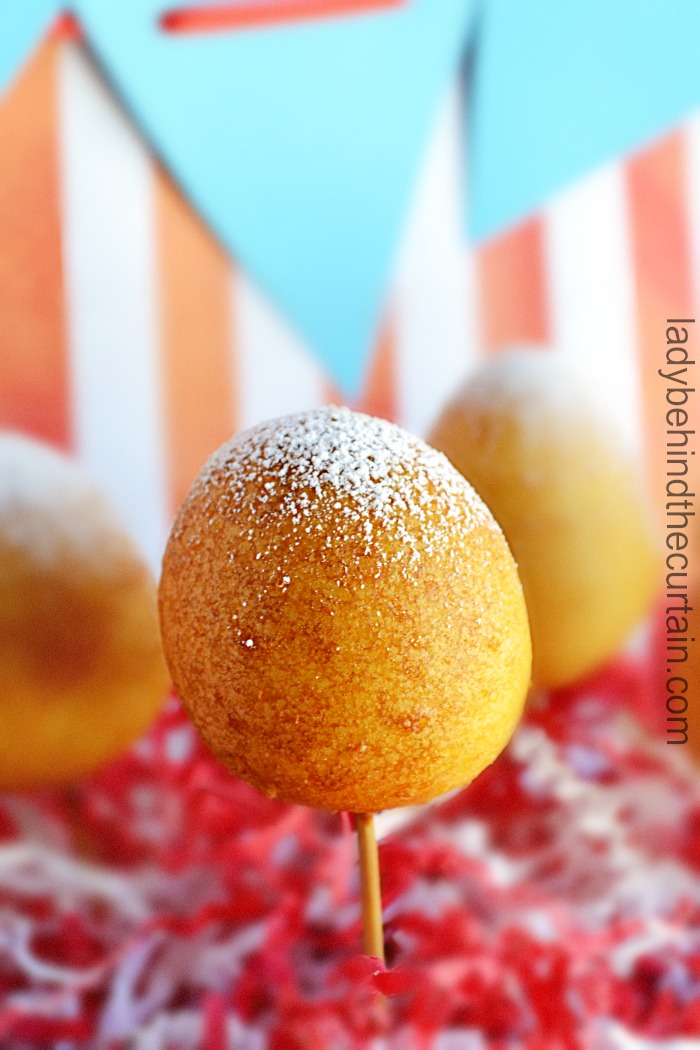 WANT MORE FUN IDEAS? CHECK OUT MY CARNIVAL PARTY (link) CATEGORY with lots of fun ideas!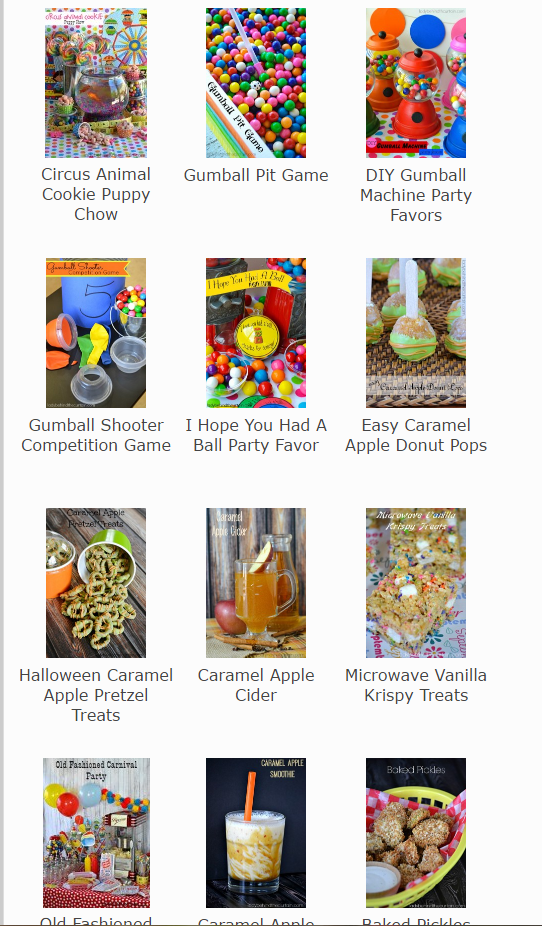 NEVER MISS A POST!
Sign up for my newsletter (two per month) and receive my recipes in your inbox. Easy to see anytime and saved for safe keeping. Click Here and sign up today! —->>>>CURTAIN CALL NEWSLETTER