Just like your favorite candy bar this Almond joy Cheesecake is full of chocolate, almonds and coconut.  I replaced one of the cream cheese blocks with a block of Almond Paste, filled the cheesecake with coconut and baked it on top of a fudge chocolate pastry crust.  YUM!!!  NOTE: Because the almond paste does not cream up like cream cheese you will get nice pieces of almond paste through out the cheesecake.  BONUS!!!  🙂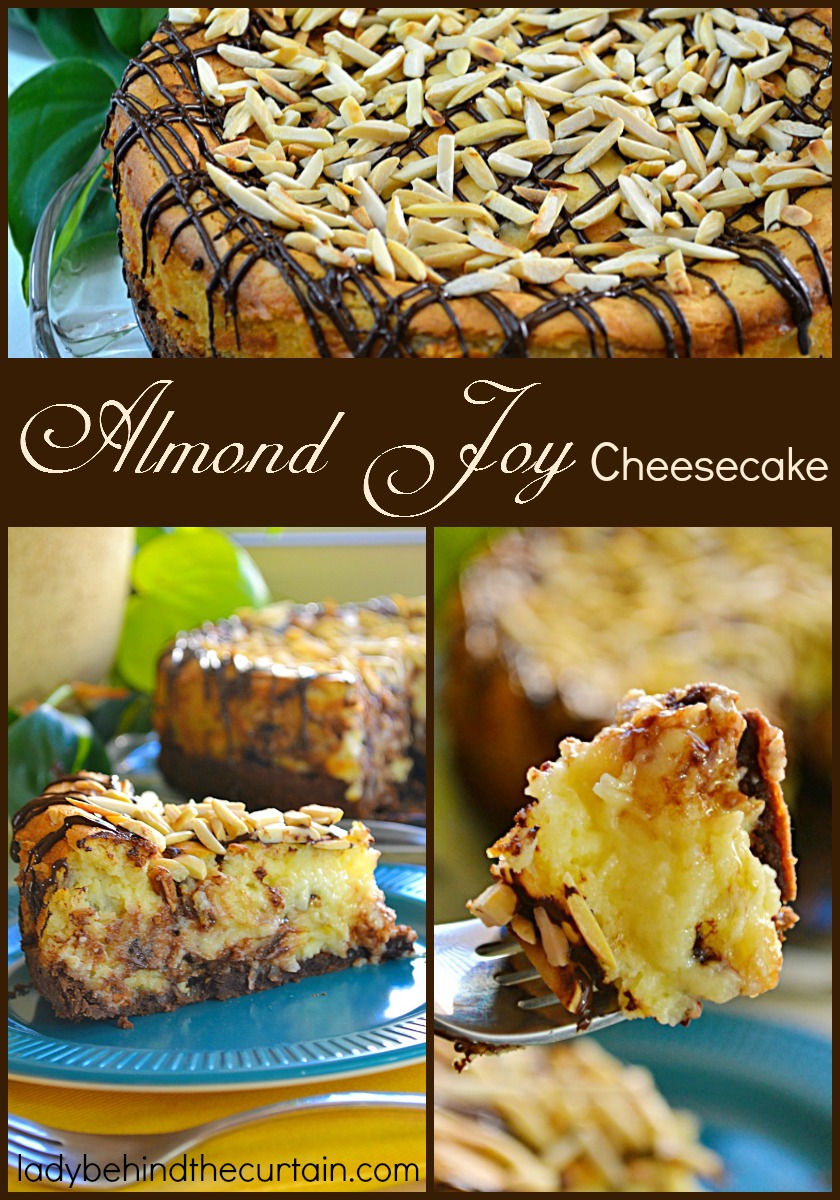 Prick the bottom with a fork and bake 8 minutes.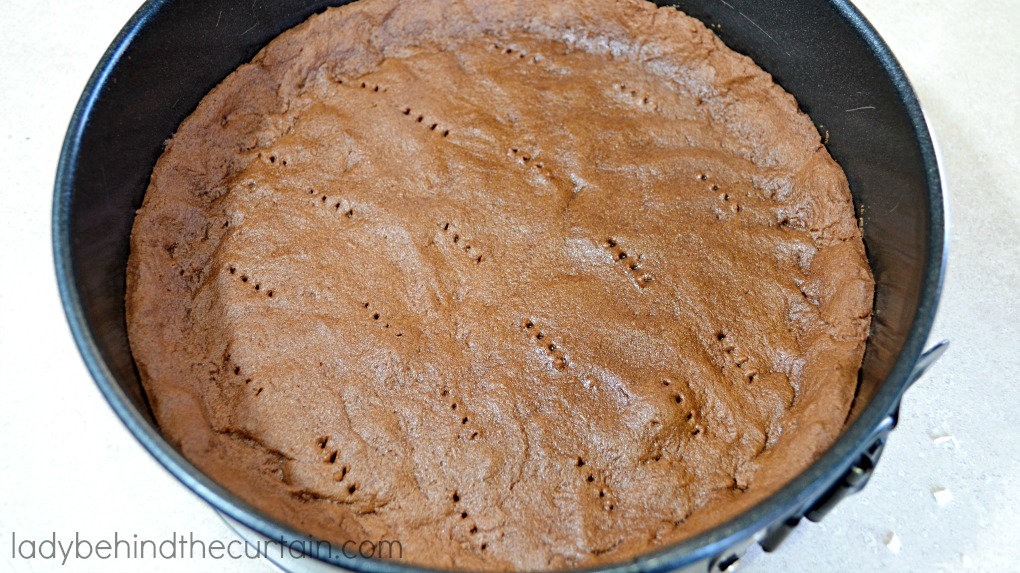 While the crust is baking make the filling.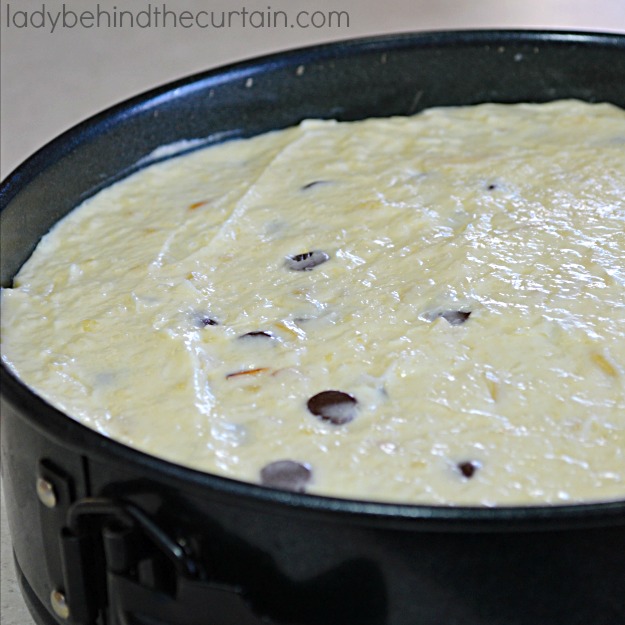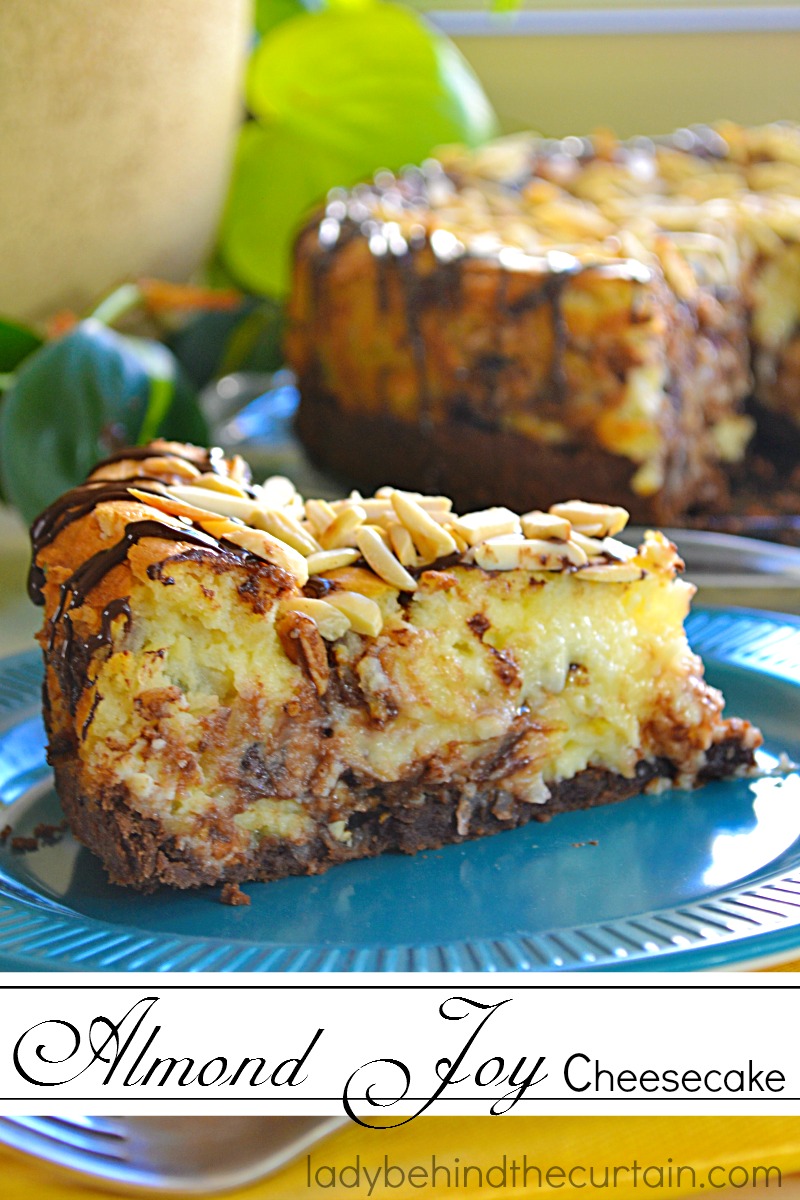 Yield: Serves 8 to 10
Almod Joy Cheesecake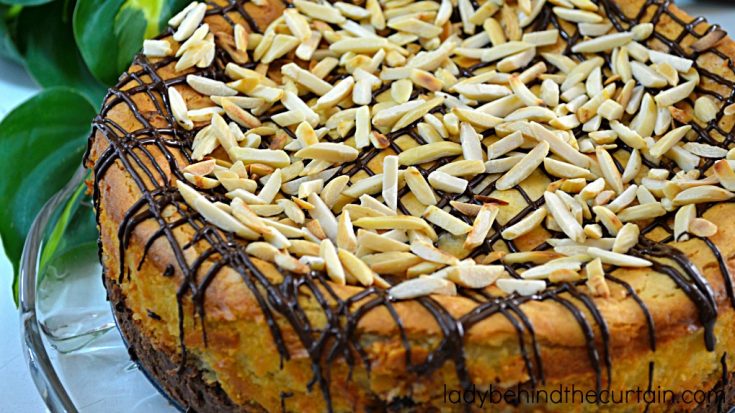 Cook Time
1 hour
8 minutes
Total Time
1 hour
48 minutes
Ingredients
For the Crust:
3/4 cup unsalted butter, softened
1-1/4 cups all-purpose flour
1/4 cup Dutch chocolate powder
1/3 cup confectioners' sugar
2 large egg yolks
For the Filing:
3 (8 ounce) cream cheese blocks, softened
1 (7 ounce) almond paste roll
3 large eggs
1 teaspoon vanilla extract
1 cup granulated sugar
7 ounces sweetened flaked coconut
6 ounces milk chocolate chips
1/2 cup slivered almonds, toasted
For the Topping:
1/2 cup semi sweet chocolate chip
3/4 cup almonds, toasted and chopped
Instructions
For the Crust:
Preheat oven to 350 degrees.
Blend all ingredients in a food processor until the ingredients form a ball.
Place in a spring form pan.
Using your fingers press dough evenly on the bottom and up the sides 1-inch.
Prick the bottom with a fork and bake 8 minutes.
For the Filling:
Cream together the cream cheese and the almond paste.
NOTE: The almond paste will not become creamy but will break up and leave delicious almond chunks
Add the eggs, vanilla and sugar; beat until fluffy.
Stir in coconut, milk chocolate chips and 1/2 cup toasted almonds.
Pour into pan with pre cooked crust.
Bake 1 hour; cool on a wire rack for 1 hour.
Place in the refrigerator to cool completely.
Add topping once cheese cake is cooled.
For the Topping:
Place chocolate chips in a microwave save bowl and melt.
Fit a small zip top plastic bag over a cup, pour the melted chocolate into the bag, and snip one corner off.
Drizzle chocolate over cheesecake and garnish with toasted almonds.
MORE CHEESECAKE RECIPES

1. PEPPERMINT PATTY MINI CHEESECAKES  2. COCONUT CHEESECAKE POPS  3. LEMON GLAZED CHEESECAKE