Berry Cheesecake Muffins are light and fluffy with a burst of berry and a creamy cheesecake center.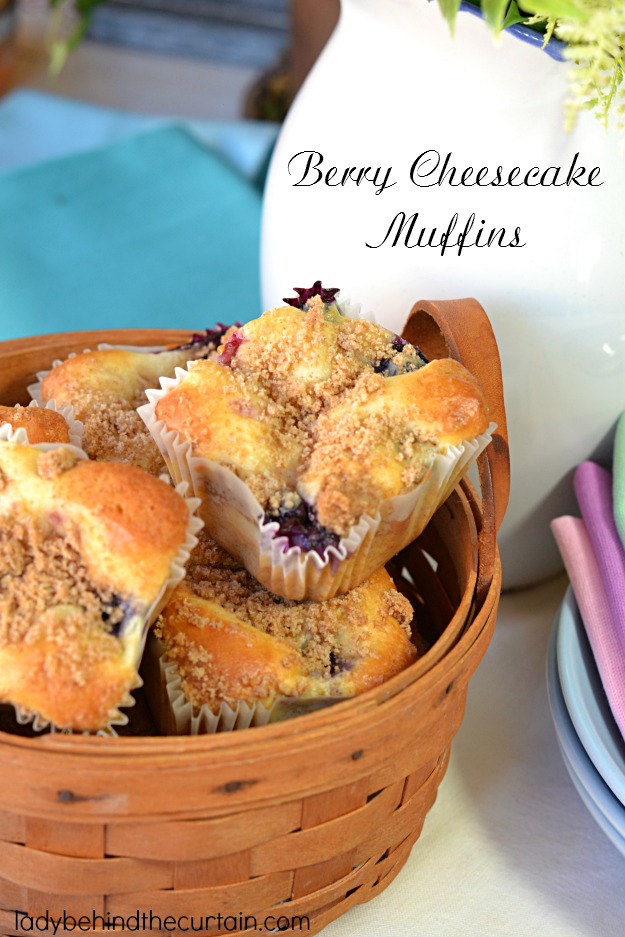 The perfect way to celebrate the weekend.  These Berry Cheesecake Muffins freeze beautifully too!  Tuck some away in the freezer for out of town guests.  I made these for a brunch.  I love the little added sweetness from the berries paired with the cinnamon.  They reminded me of berry cobbler.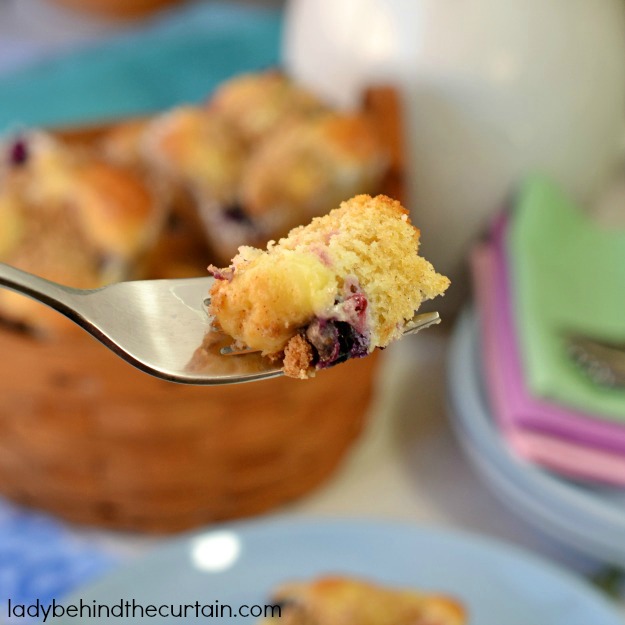 These muffins are also perfect for Memorial Day or 4th of July.  You know….red, white and blue?  😉
Yield: Makes 16 Muffins
Berry Cheesecake Muffins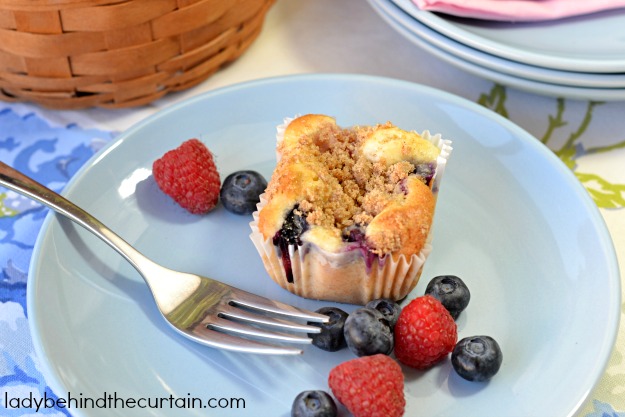 Ingredients
For the Muffins:
1/3 cup butter, softened
3/4 cup granulated sugar
2 eggs
1 1/2 cups all-purpose flour
1 1/2 teaspoons baking powder
1/2 teaspoon salt
1 teaspoon ground cinnamon
1/3 cup milk
For the Cream Cheese Filling:
2 packages (3 ounces each) cream cheese, softened
1/3 cup granulated sugar
1 egg
3/4 cup fresh raspberries
3/4 cup fresh blueberries
For the Topping:
1/4 cup all-purpose flour
2 tablespoons light brown sugar
1/2 teaspoon ground cinnamon
1 tablespoon cold butter
Instructions
For the Muffins:
Preheat oven to 375.
Line a muffin tin with 15 cupcake liners.
In a large mixing bowl, cream butter and sugar.
Add eggs; beat well.
Combine the flour, baking powder, salt and cinnamon; add to creamed mixture alternately with milk. Fill paper lined muffin cups half full.
Drop a rounded tablespoonful of cream cheese mixture into the center of each muffin.
Sprinkle topping over batter.
Bake for 25 - 30 minutes or until a toothpick comes out clean.
Cool for 5 minutes before removing from pans to wire racks.
Refrigerate leftovers.
For the Cream Cheese Filling:
In a small mixing bowl, beat cream cheese, sugar and egg until smooth.
Fold in the berries.
For the Topping:
Combine the flour, brown sugar and cinnamon in a small bowl; cut in butter until crumbly.
MORE MUFFIN RECIPES
1. CRANBERRY OATMEAL ORANGE AND SPICE TEA MUFFINS   2. LIGHT BLACKBERRY CHOCOLATE CHIP MUFFINS  3. CINNAMON BLUEBERRY CRUMBLE MUFFINS