Chicken Enchiladas |  Simply the best chicken enchiladas you'll ever have!  Once your family tastes these enchiladas they may never ask to go to a Mexican Restaurant again!  Why?….because they're topped with a homemade rich dark enchilada sauce.  The perfect addition to a potluck, family dinner or even a dinner party!  Get your Fiesta on!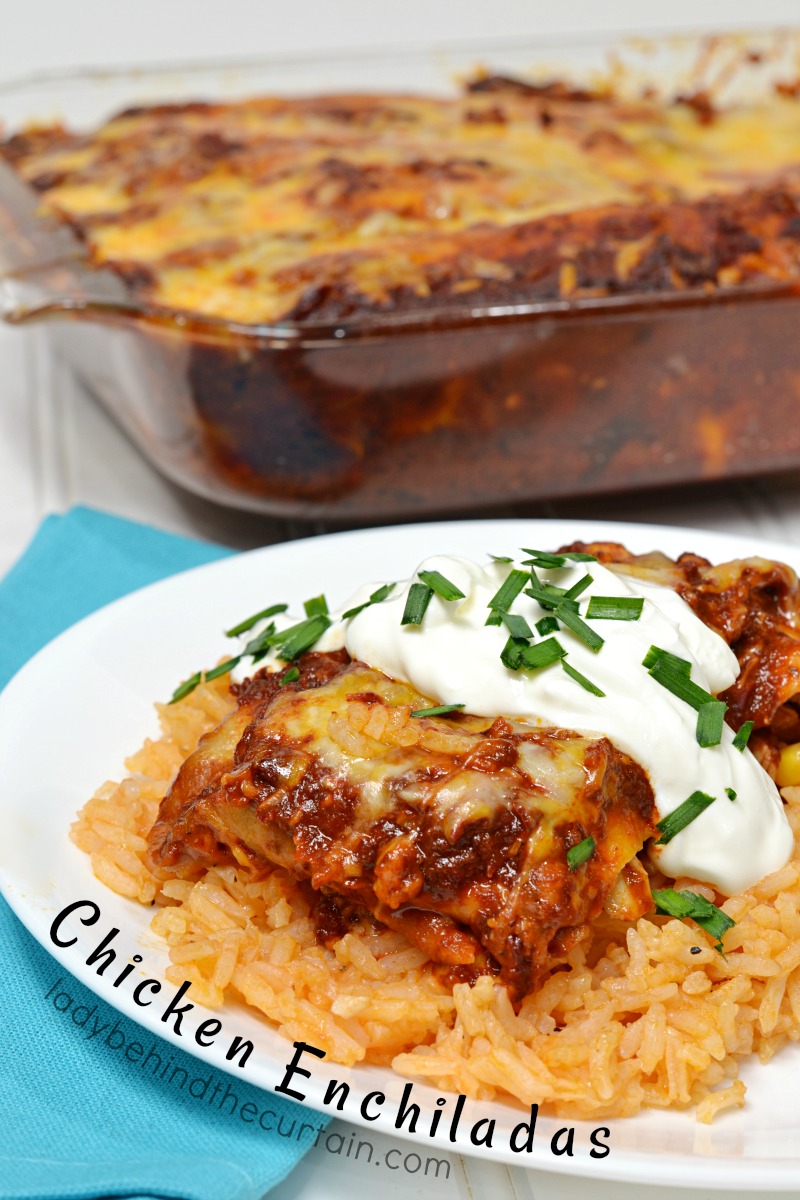 Make the sauce ahead of time and freeze.  These enchiladas can be made early in the day, stored in the refrigerator until ready to bake.  Or better yet make TWO casserole dishes of enchiladas and freeze one!  Planning a FIESTA?  Click here for tons of recipes—->>>>FIESTA RECIPES and here for party ideas—->>>>FIESTA PARTY IDEAS.
HERE'S HOW TO ASSEMBLE THESE DELICIOUS CHICKEN ENCHILADAS!
Add one cup of the red enchilada sauce to the bottom of a 9×13-inch baking dish.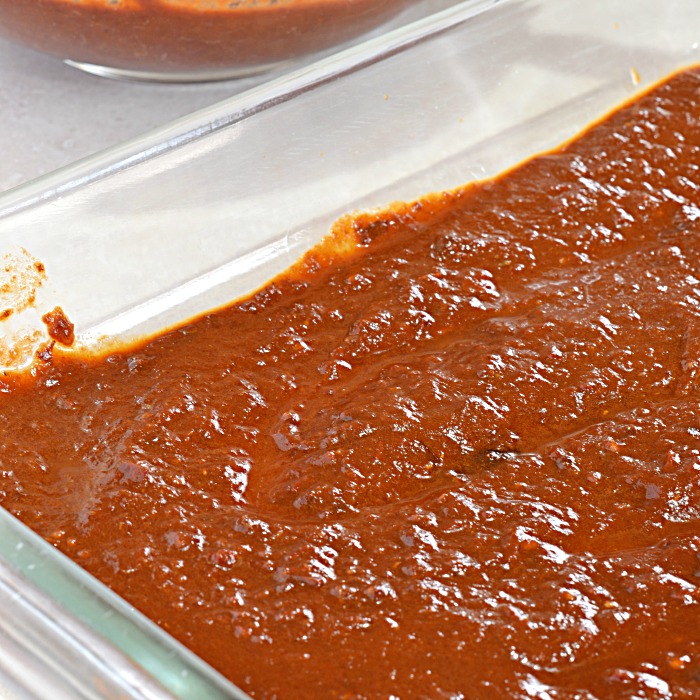 Place a tortilla on the sauce and add some chicken,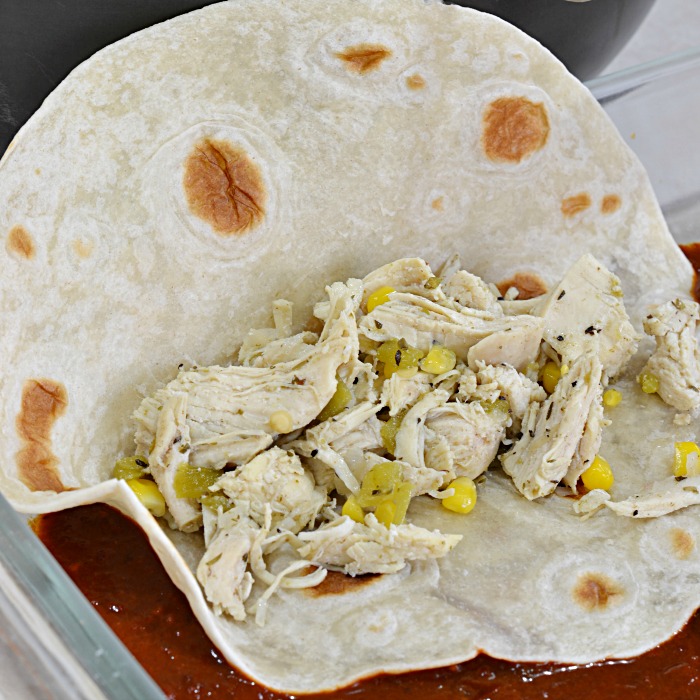 then some more of the sauce,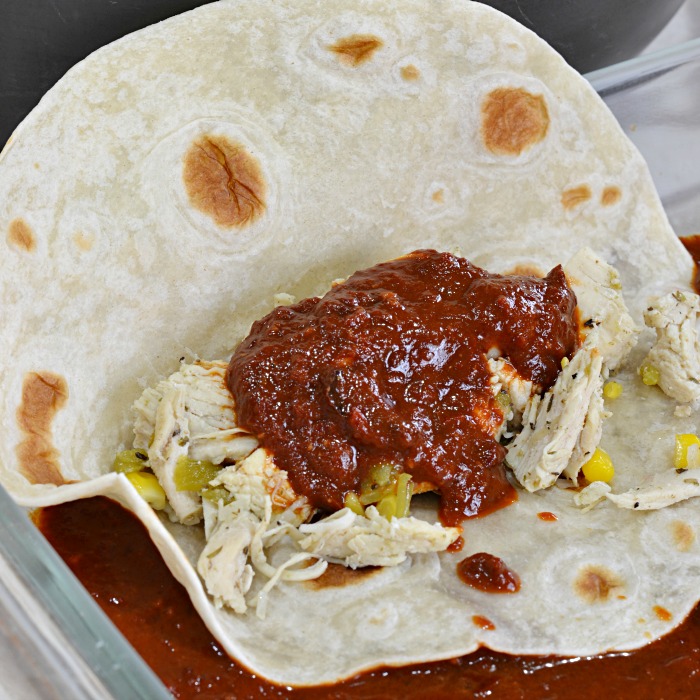 lastly add some of the cheese.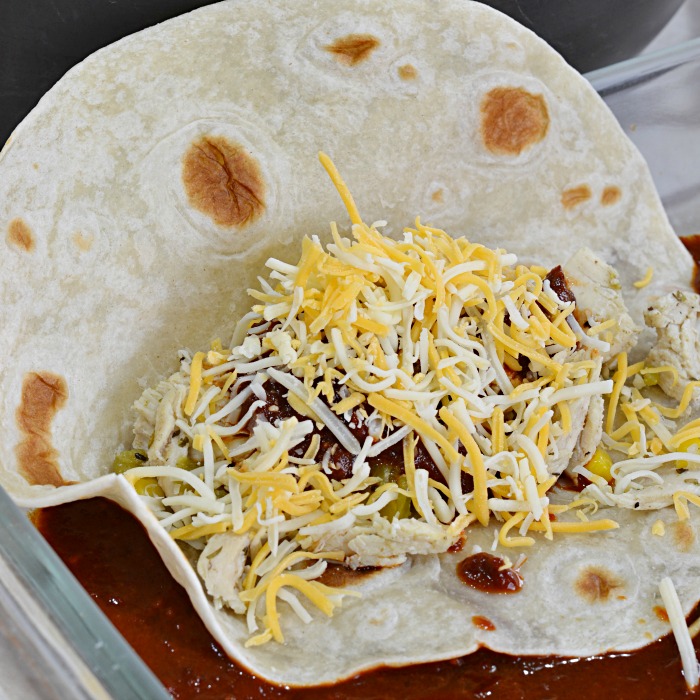 Once all the enchiladas have been rolled, top with remaining sauce and cheese.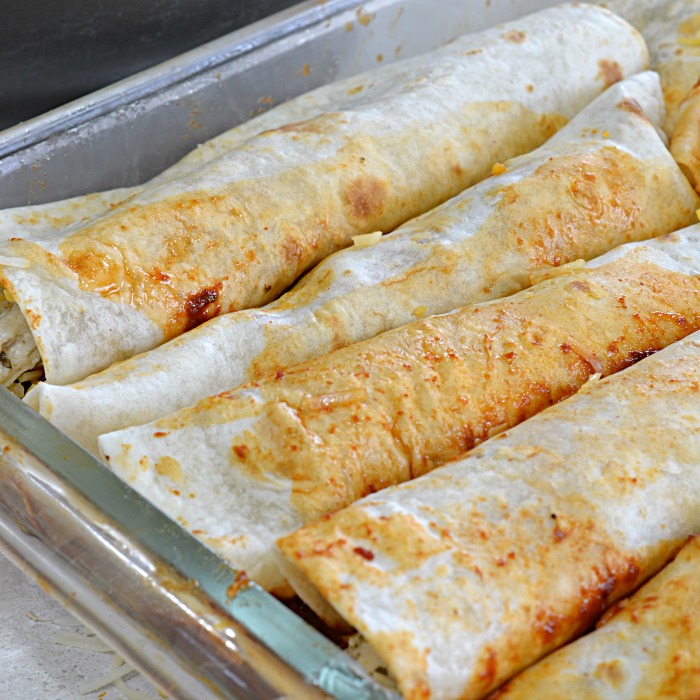 LOTS OF CHEESE!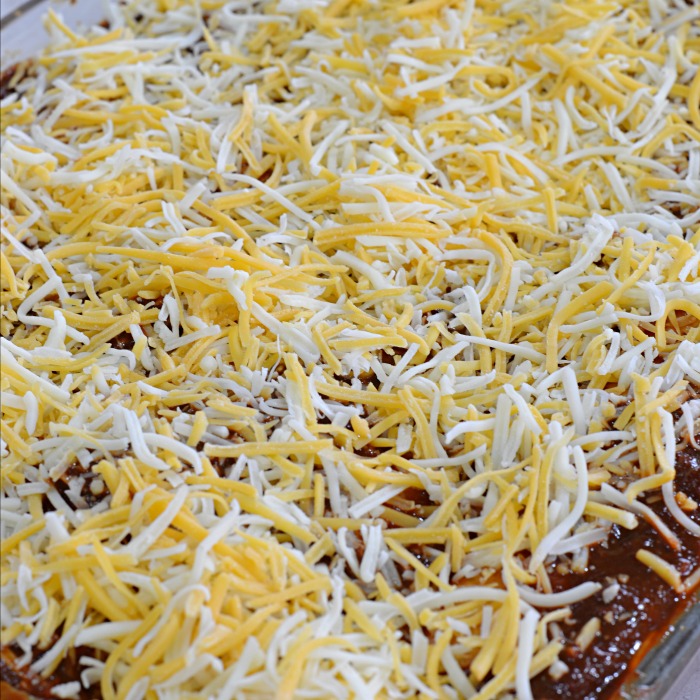 Chicken Enchiladas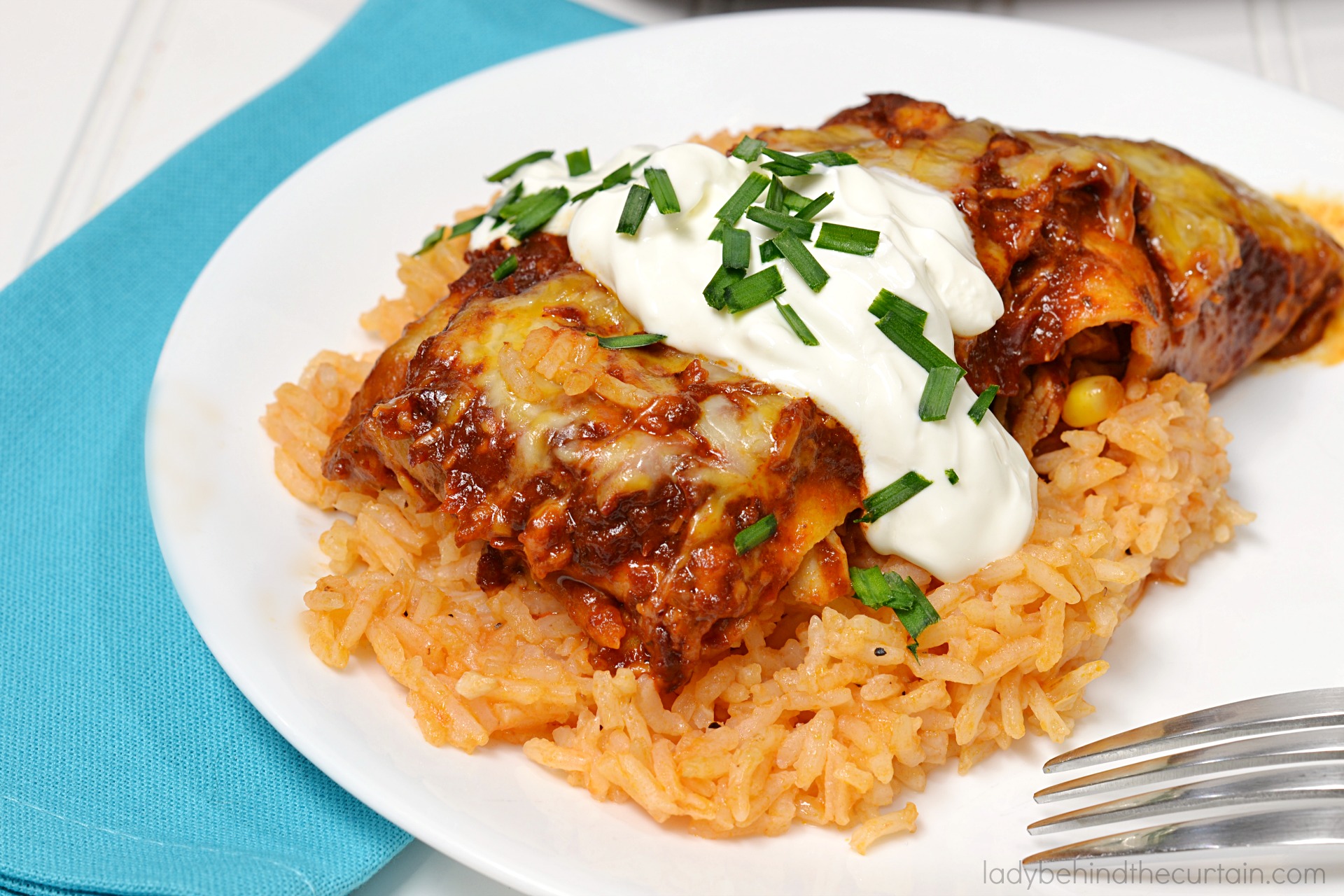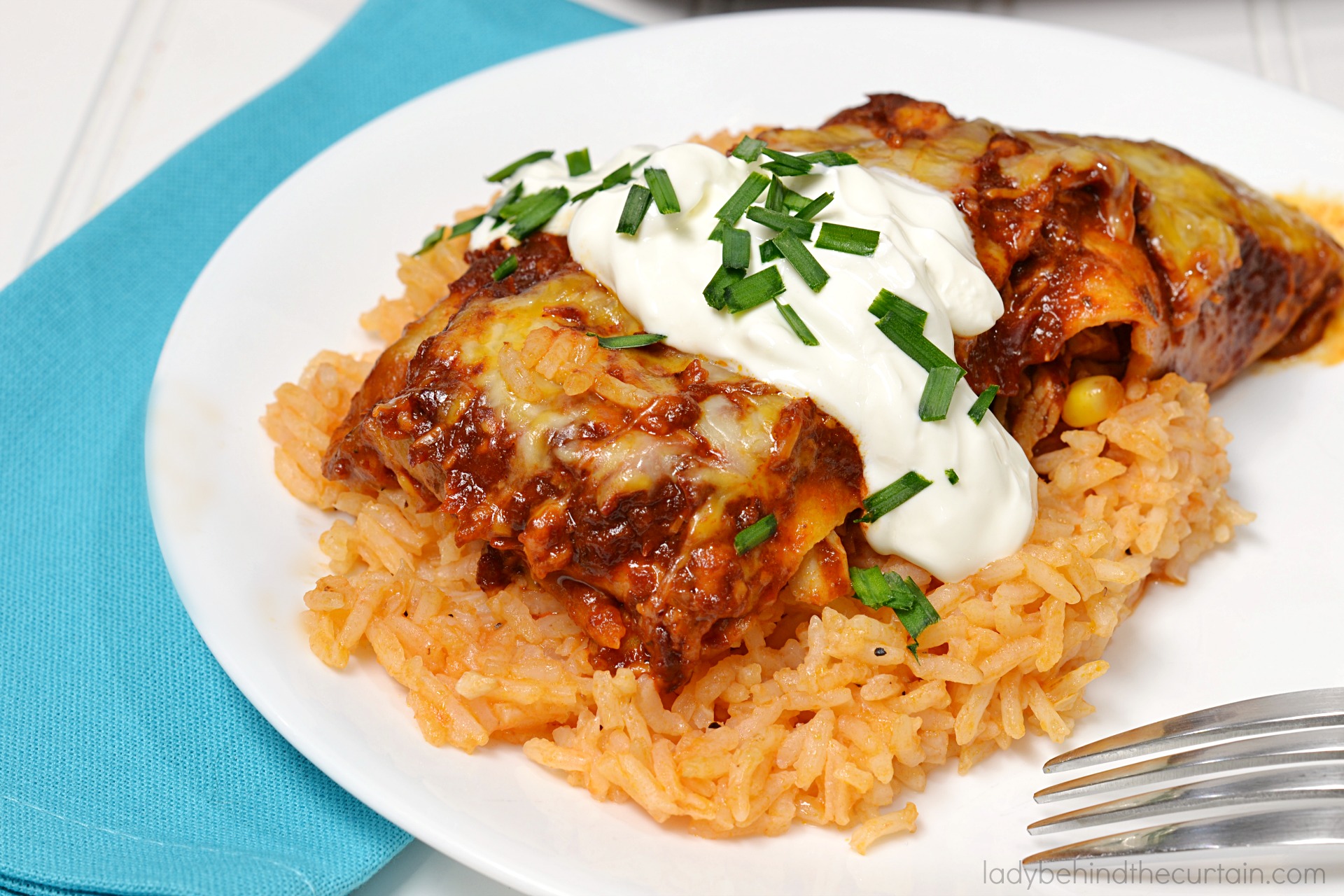 Ingredients
For the Chicken
2 1/2

pound boneless skinless chicken breasts

6

cups chicken broth

1

teaspoon cumin

1

teaspoon oregano

1

teaspoon salt

1/4

teaspoon black pepper

1/2

tablespoon dried minced onion

4

tablespons diced green chiles

1

cup frozen corn

10

(8-inch) flour tortillas

3

cups cheddar and jack cheese mixture, shredded
For the Red Enchilada Sauce
1

recipe red enchilada sauce (link below)
Instructions
For the Chicken:
Add chicken to a large saucepan with the chicken broth. Bring to a boil and simmer until chicken is no longer pink and cooked through (about 25 minutes). Take the chicken out of the cooking liquid to cool. RESERVE 1 CUP OF THE COOKING LIQUID. When chicken is cool enough to handle shred.
In a large skillet, add the reserved broth, shredded chicken, cumin, oregano, salt, pepper, onion and chiles. Cover and simmer on medium low 5 minutes. Take off the lid, add the corn and simmer an additional 4 minutes or until liquid is gone.
For the Red Enchilada Sauce:
Click here for the recipe---->>>>RED ENCHILADA SAUCE

How to Assemble the Enchiladas:
Preheat oven to 350°.
Add 1 cup of the enchilada sauce to the bottom of a 9x13-inch baking dish. lay a tortilla on the sauce, fill with chicken mixture, spoon more sauce on top of chicken. Place shredded cheese on top of sauce. Continue with the remaining tortillas. Pour remaining sauce over enchiladas and sprinkle on remaining cheese. Cover with foil.
For freshly made enchiladas; bake 30 minutes, remove foil and bake another 10 minutes or until hot and bubbling.
For refrigerated enchiladas (cold); bake 40 minutes covered, remove foil and bake another 10 minutes or until hot and bubbling.

MORE GREAT RECIPES
CHILI MAC CASSEROLE  2. SEMI HOMEMADE MEXICAN CORN CHOWDER  3. SLOW COOKER PORK TACOS
NEVER MISS A POST!
Sign up for my newsletter and receive my recipes in your inbox. Easy to see anytime and saved for safe keeping. Click Here and sign up today! —->>>>CURTAIN CALL NEWSLETTER