Chicken Gravy Without The Drippings
Chicken Gravy Without The Drippings: This buttery gravy is the perfect solution for when you want gravy, but don't want to fry chicken. Great on store bought fried chicken from the deli, mashed potatoes and rolls.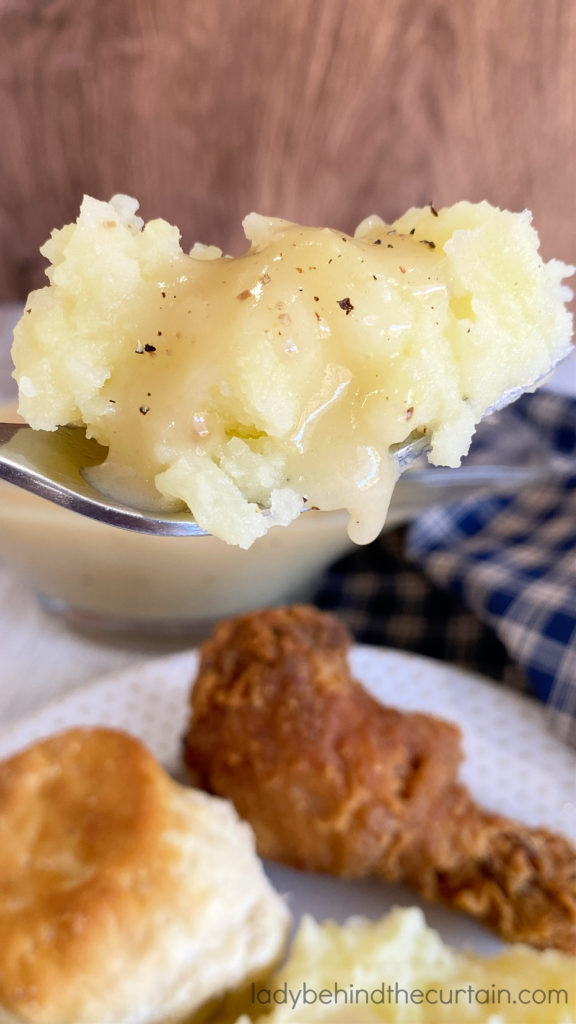 Make Ahead Chicken Gravy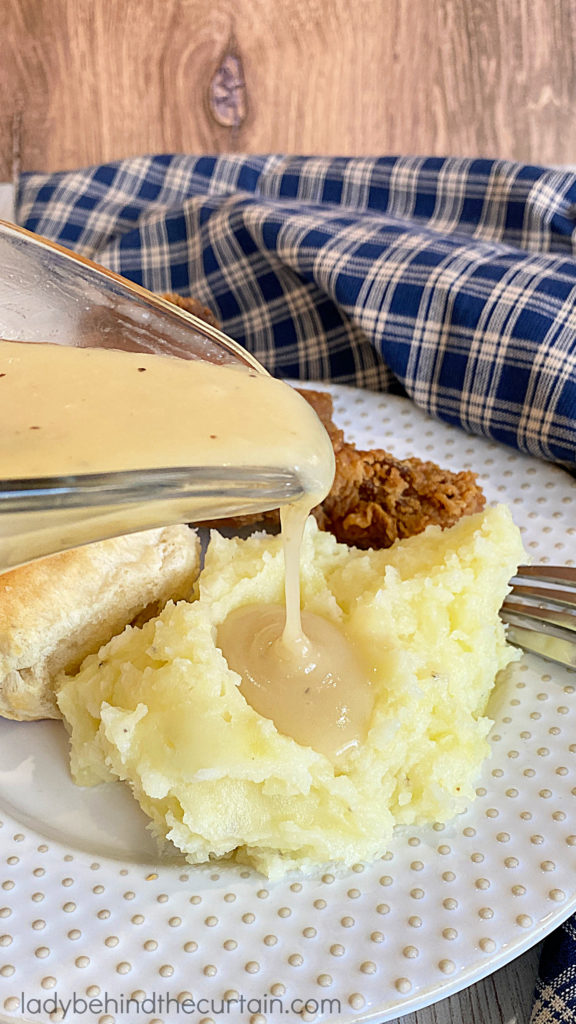 This incredible gravy can be made the day before. TIP: Have some extra chicken stock on hand. Once the gravy gets cold it will tend to get thick. Just in case it's a little thicker then you want, you'll have some chicken stock on hand to thin it out. Have you ever made mashed potatoes the day before a big meal (like Thanksgiving or Christmas)? This is something I do every year. Find out all the details here→THE BEST HOLIDAY MASHED POTATOES
The BEST Semi Homemade Gravy EVER!
No drippings necessary
Easy to make
Can be made the day before
Phenomenal flavor
How to Make Chicken Gravy Without the Drippings
The secret to a rich gravy is patiently whisking the flour until it turns slightly brown. This step not only cooks off the flour taste but also allows the butter to brown and become nutty.
DIRECTIONS (full printable recipe below)
Start with the best chicken stock/broth. I only use Kitchen Basics Beef Stock
Heat stock
Add butter to a large skillet and melt
Sprinkle flour over melted butter, whisk together
Continue whisking until the flour has become brown
Whisk in warm stock
How to Store Gravy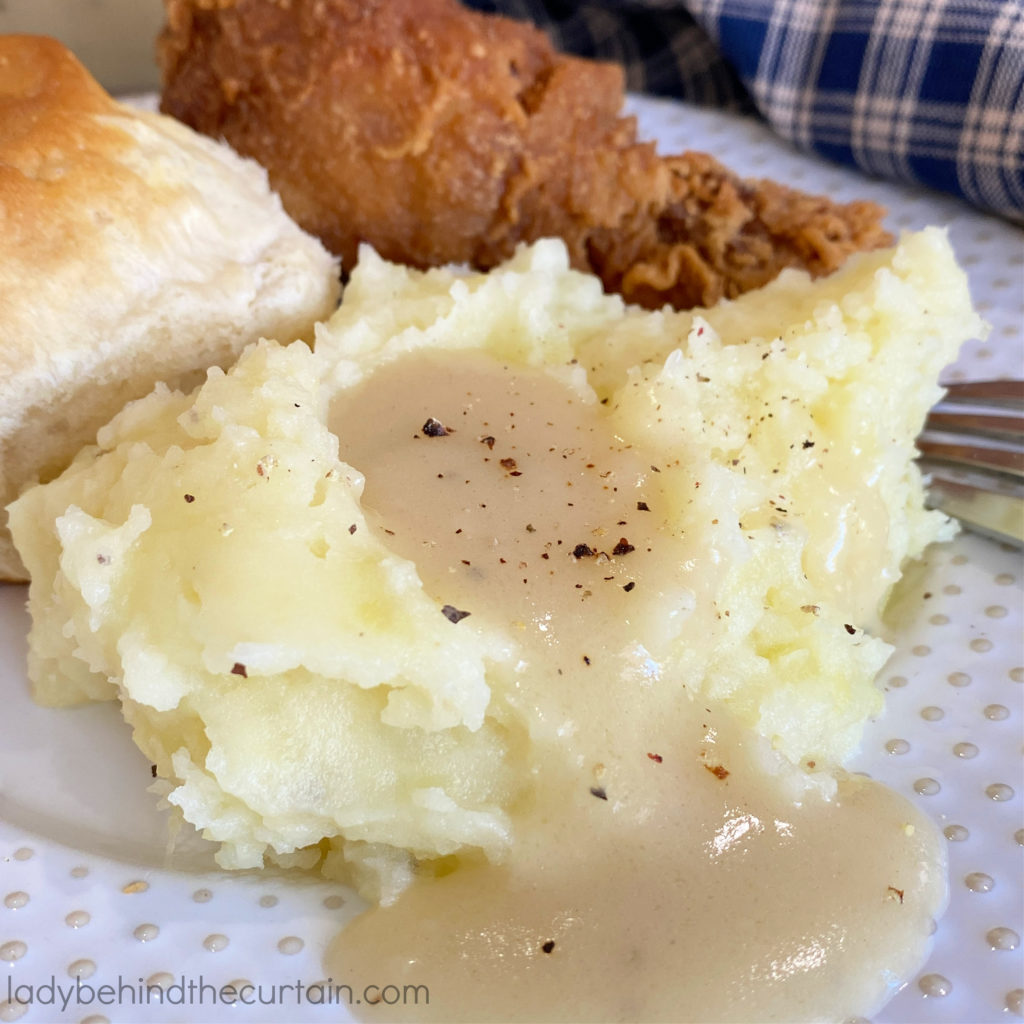 Your gravy can be made up to 3 days ahead of time and stored in the refrigerator.
You can also freeze gravy for up to three months. I like to store my gravy in glass mason jars.
When freezing any liquid, be sure to leave at least an inch of space at the top. Liquids will expand in the freezer, so you'll want to give it a little extra space when filling your container.
If frozen, transfer your gravy from the freezer to the refrigerator the night before serving to thaw.
More Gravy Recipes Without the Drippings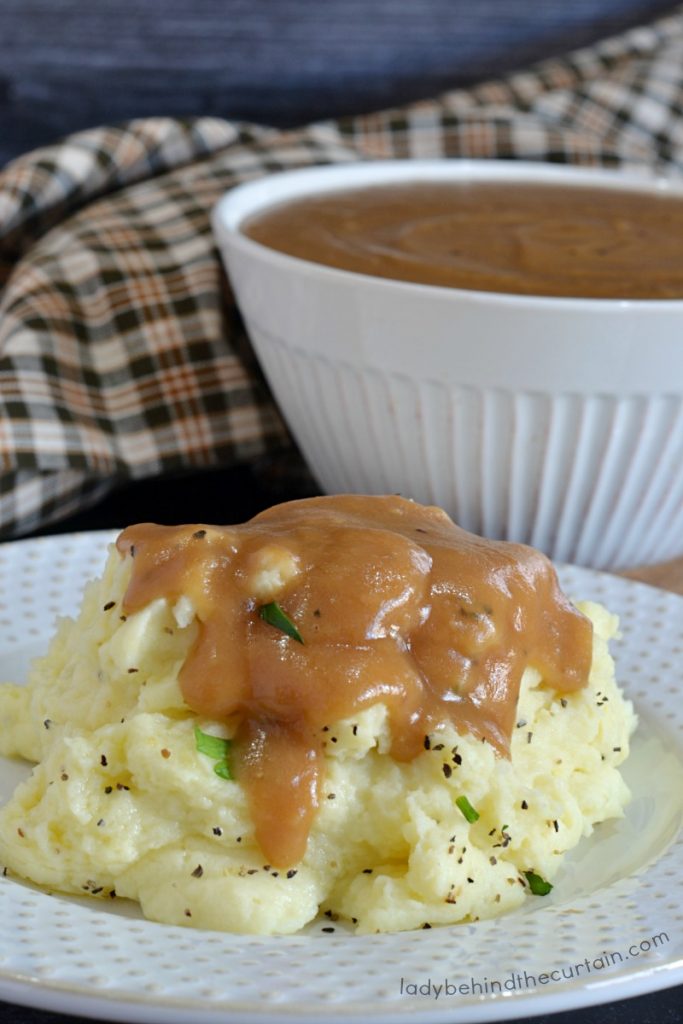 BEEF GRAVY WITHOUT THE DRIPPINGS 2. TURKEY GRAVY WITHOUT THE DRIPPINGS
What are Drippings?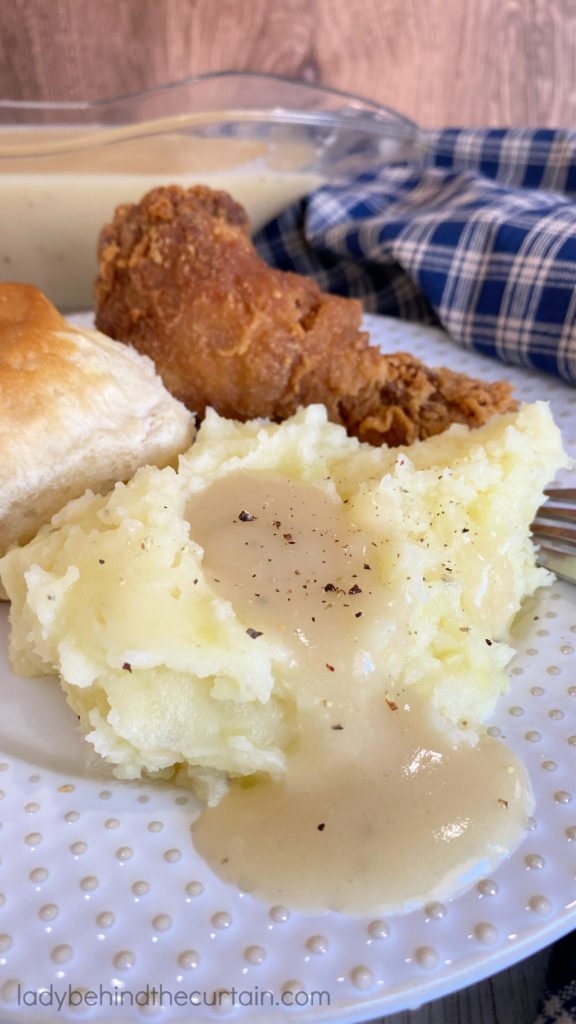 Drippings are the fat that has dripped off of your meat while cooking.
If you're making gravy for your Thanksgiving turkey, for example, you'd reserve the fat and juices that collect in the bottom of the turkey pan.
After allowing the fat and juices to separate, you'd then use a portion of the fat (instead of butter that we use in this recipe), and the juices (instead of, or in addition to, a stock or broth), to make your gravy.
Using drippings and juices from meat is an easy way to add tons of flavor to your gravy. The drippings will include any flavor you've seasoned your meat with, as well as flavorful juices from the meat itself.
Additional Seasonings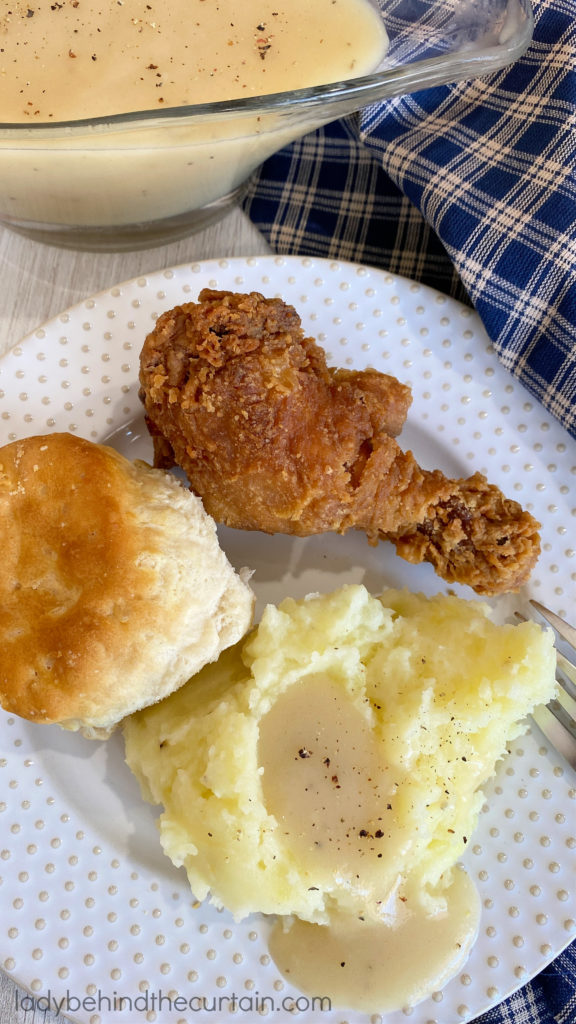 A basic gravy is seasoned with salt and pepper. Additional seasoning that works well in gravy: dried thyme, dried sage, Italian seasoning, or poultry seasoning. Try adding a pinch at a time and taste testing to find the perfect flavor for you.
WHISKING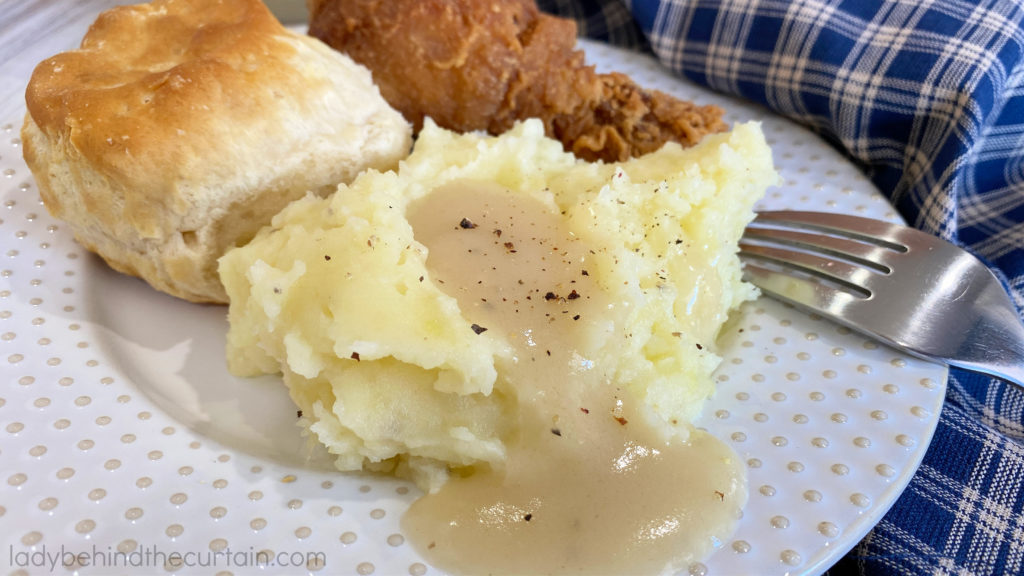 MAKING A ROUX
In a saute pan over medium heat, melt your butter. Add your flour and whisk until combined and no lumps remain. This step is just as important as whisking. It allows the flour to burn off its flour taste and at the same time allows the butter to brown and take on a nutty flavor.
What you've just made is called a roux. A roux is equal parts of butter and flour mixed together. A roux is used to thicken sauces, gravies, and soups.
MORE TRADITIONAL GRAVY RECIPES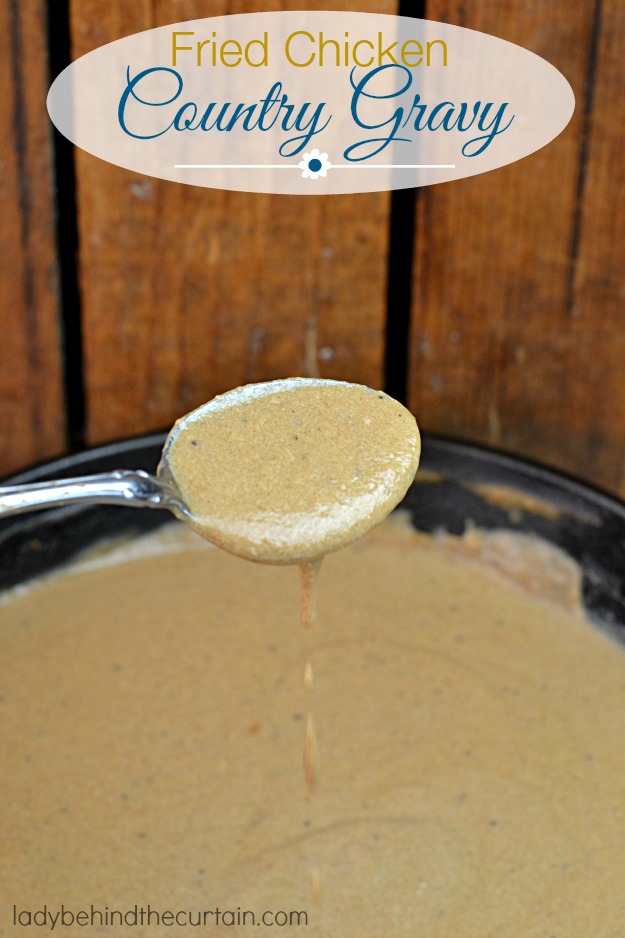 FRIED CHICKEN COUNTRY GRAVY 2. OLD FASHIONED COUNTRY BACON GRAVY
SIGN UP FOR THE LADY BEHIND THE CURTAIN NEWSLETTER AND FOLLOW THE LADY BEHIND THE PARTY ETSY SHOP
THANKS FOR VISITING♥