Dark Chocolate Chip Cake Mix Quick Bread
Dark Chocolate Chip Cake Mix Quick Bread: This easy to make breakfast bread starts with a dark chocolate fudge cake mix and is transformed into a dark chocolate chip quick bread. Serve at a brunch or as a dessert! With only 6 ingredients you can create a delicious treat or hostess gift.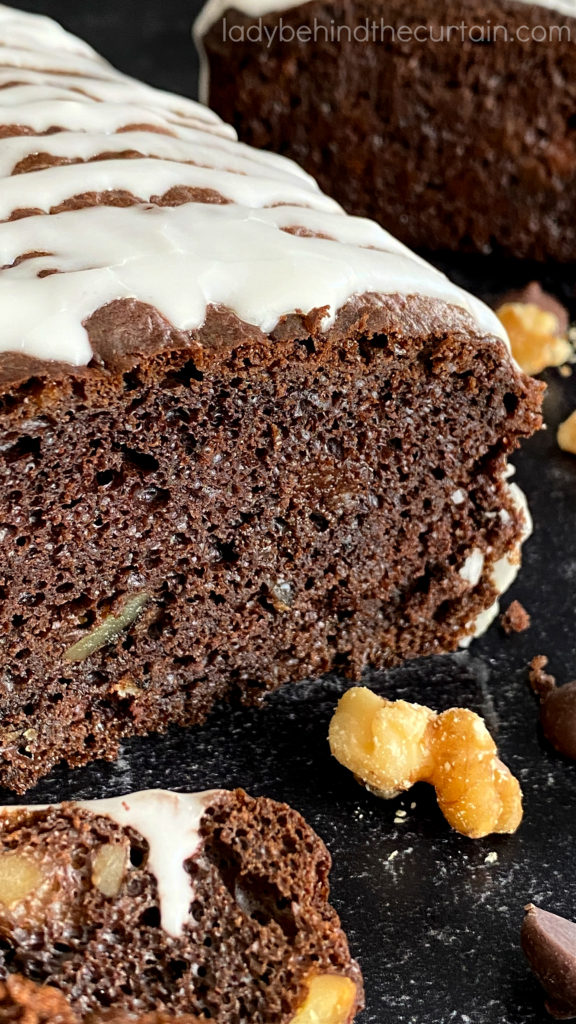 In a pinch for time or don't like to bake? Don't worry I've got you covered. I can't wait for you to see this gorgeous breakfast bread. Scroll down for all my best tips and tricks for gorgeous semi homemade quick bread.
How to Make Dark Chocolate Chip Cake Mix Quick Bread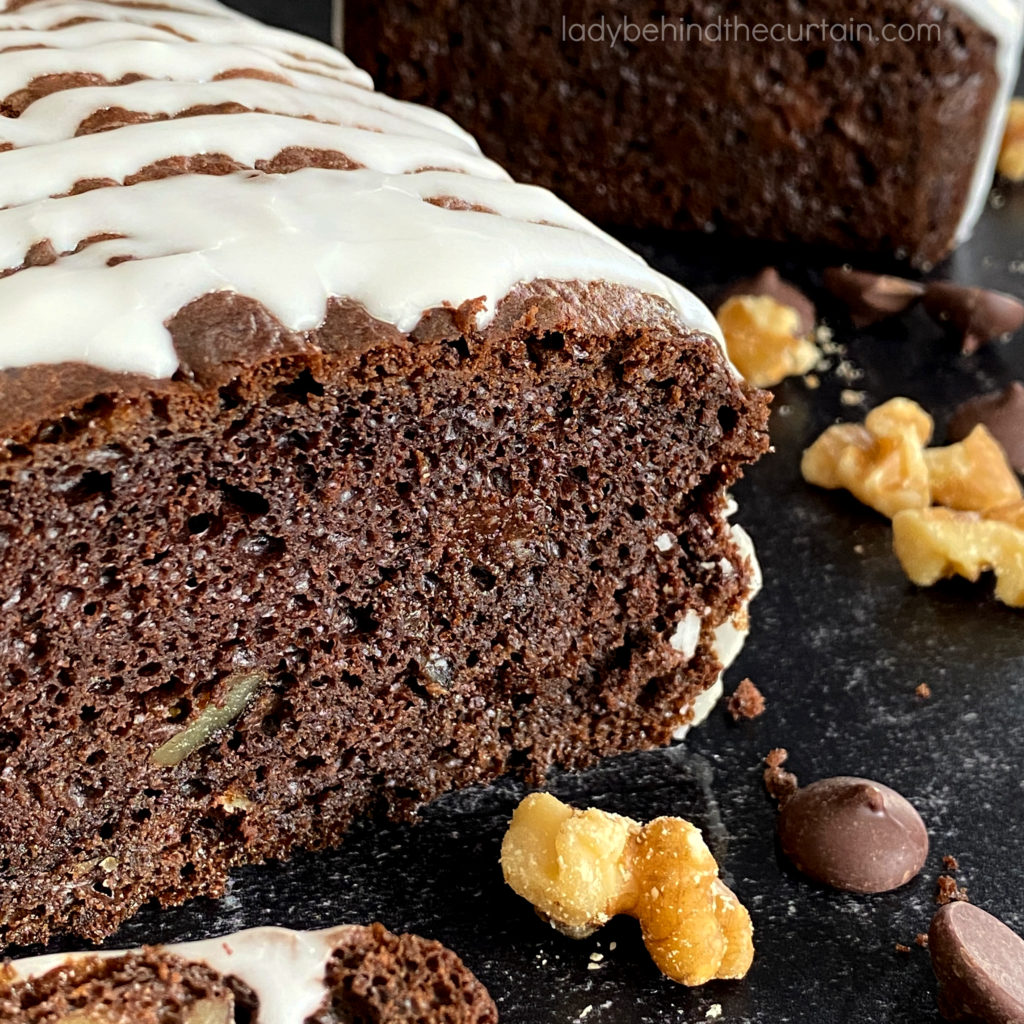 INGREDIENTS—QUICK BREAD (full printable recipe below)

1 (15.25 ounce) box dark chocolate fudge cake mix (I used Duncan Hines)
1 cup dark chocolate chips (Nestle)
½ cup chopped walnuts
1 cup sour cream
½ cup vegetable oil
4 large eggs

INGREDIENTS—DRIZZLE

1 cup powdered sugar
2 tablespoons milk or water

DIRECTIONS

No special tools for this recipe.
Simply add everything to a mixing bowl, mix until combined and pour into prepared pans.
Bake @350° for 40 minutes.
Top with Drizzle.
How to Transform this recipe into Dark Chocolate Chip Cake Mix Muffins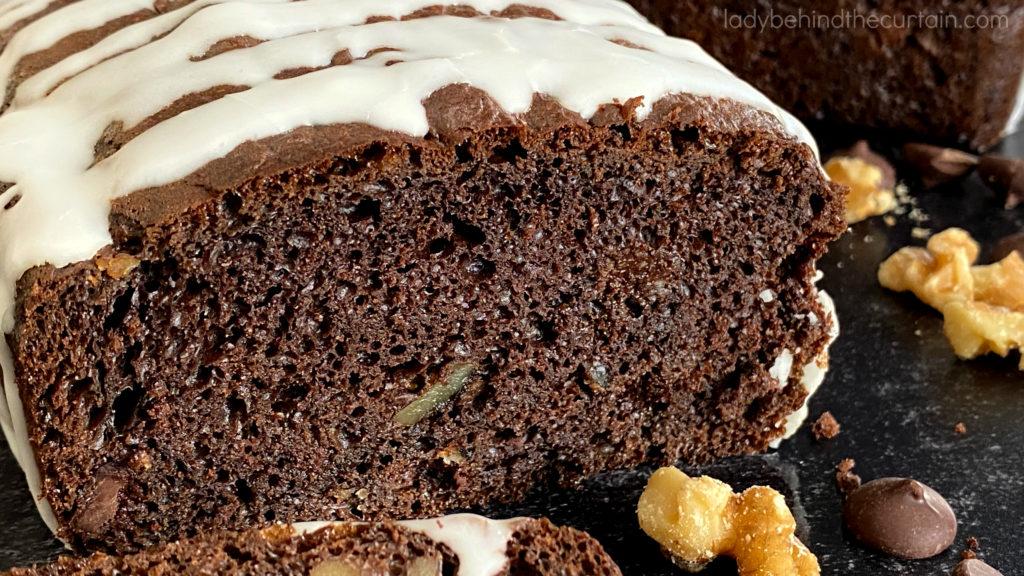 Line a (2)12 count muffin pans with about 18 cupcake liners. Spoon batter evenly (about ¾ full) into each liner. Bake at 350° for 15-17 minutes or until a wooden toothpick inserted into the center comes out clean. Cool muffins for 5 minutes in the muffin pan, then transfer to a wire cooling rack. Add drizzle.
How to Freeze Quick Bread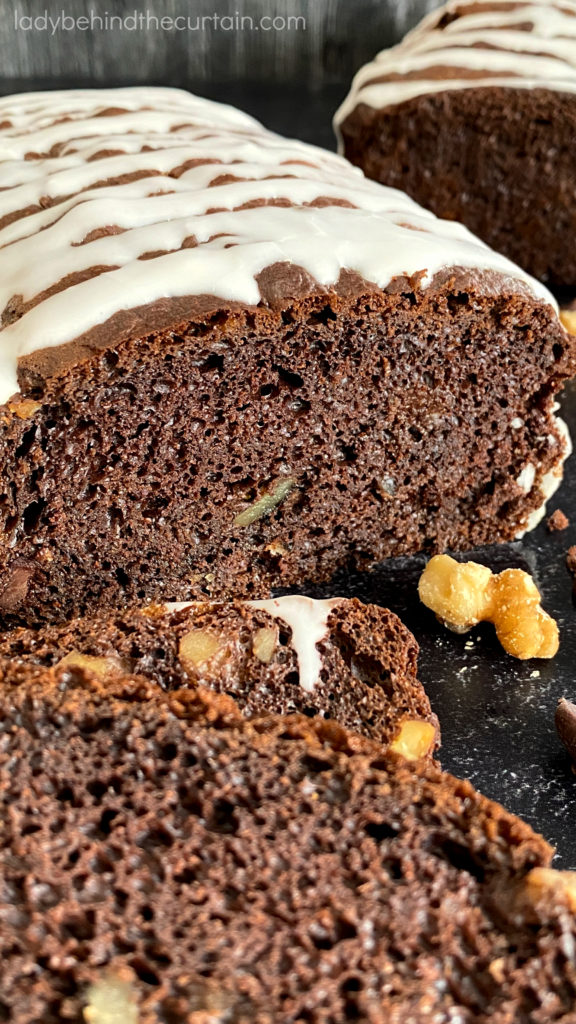 FREEZE: Once the bread has completely cooled, tightly wrap in plastic wrap and foil (WITHOUT THE DRIZZLE). Label and freeze. DEFROST: Place the bread on the counter to thaw, add drizzle.
DARK CHOCOLATE CHIP CAKE MIX QUICK BREAD ADDITIONS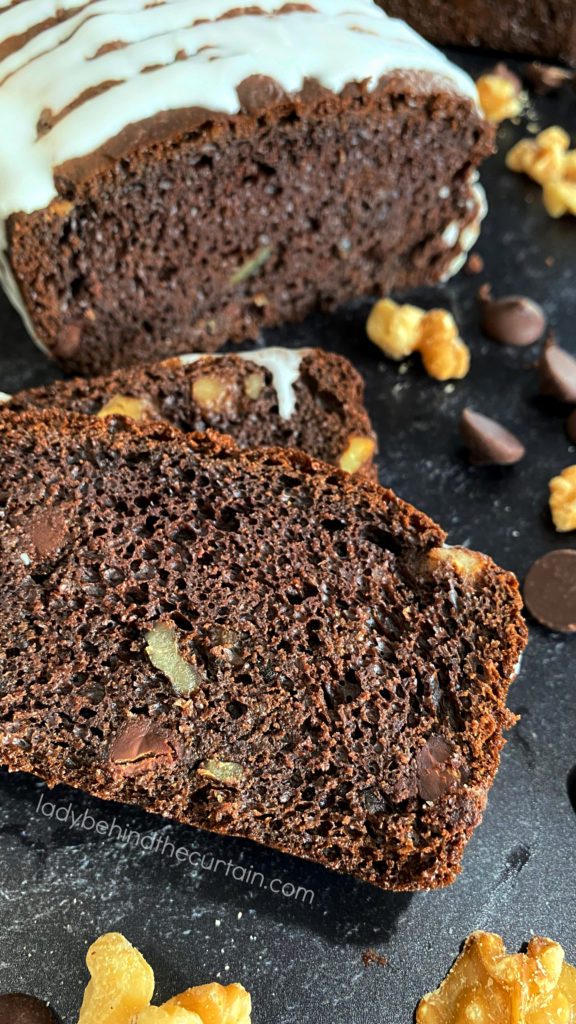 Use the same base recipe to create several different versions. Don't get me wrong this bread is incredible all on it's own and (in my opinion) doesn't need anything else. BUT…here is a list of options. OR….MAKE SIX DIFFERENT BREADS WITH ONE RECIPE!
NUTS: Switch out the nuts for almonds, peanuts or pecans
CREAM CHEESE DRIZZLE: Transform your chocolate quick bread into chocolate cheesecake quick bread. (recipe below)
WHITE CHOCOLATE CHIPS: Mix it up and add white chocolate chips with the dark chocolate chips! TIP: Make sure to stay within the original measurement of 1 cup.
DRIED FRUIT: Add a chewy texture with dried fruit Sour cherries would be incredible. TIP: If adding dried fruit reduce the amount of chocolate chips making sure the measurement is still 1 cup. EXAMPLE: ½ cup chocolate chips PLUS ½ cup dried fruit.
COOKIE STREUSEL: Perfect for adding crunch and a lot of flavor to your bread. (recipe below)
COCONUT: Swap out the walnuts for almonds, add ½ cup chocolate chips and ½ cup sweetened shredded coconut. ALMOND JOY QUICK BREAD FOR THE WIN!
MORE CAKE MIX QUICK BREAD RECIPES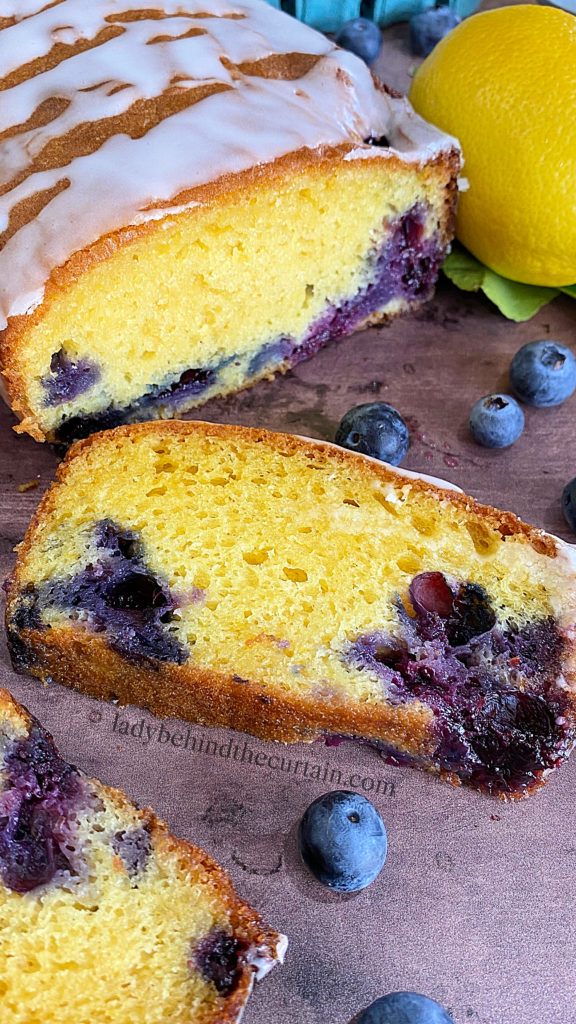 HOW TO MAKE CREAM CHEESE DRIZZLE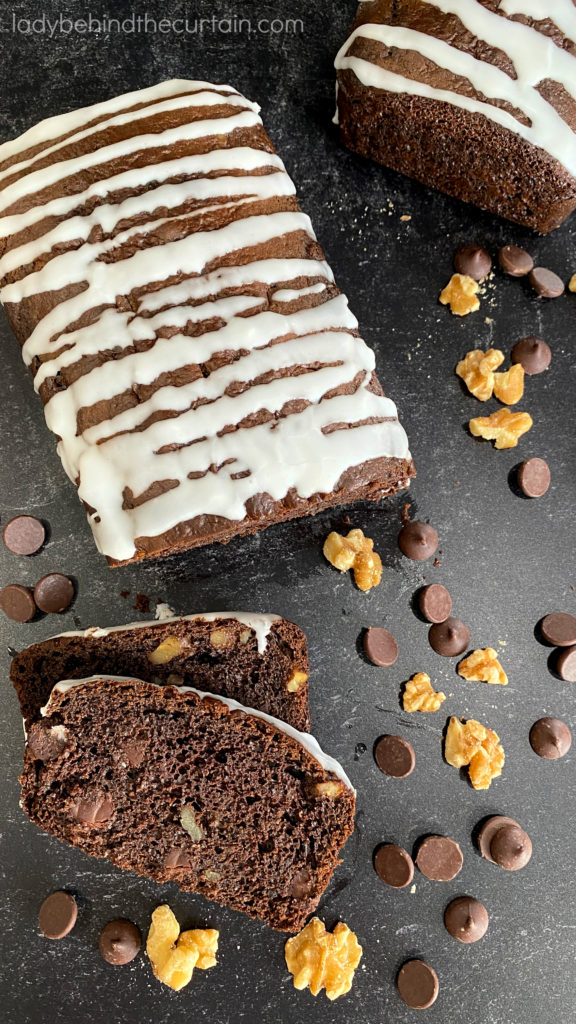 Add the flavor of cheesecake to your Dark Chocolate Chip Cake Mix Quick Bread.
INGREDIENTS

2 ounces cream cheese
1 cup powdered sugar
1 tablespoon milk or water

DIRECTIONS

Place cream cheese in a medium microwave safe bowl.
Heat 30 seconds or until soft.
To the same bowl, add the powdered sugar and water or milk.
Stir until combined—drizzle should be loose and fall from the spoon.
How to Make Basic Streusel
INGREDIENTS

3 tablespoons cold unsalted butter
½ cup all-purpose flour
3 tablespoons granulated sugar

DIRECTIONS

Mix it up to a crumby consistency (You can use your fingers for this) and sprinkle over the top of your bread.
How to Make Cookie Streusel
This technique can be used on any quick bread or muffins. Any flavor of cookie will work. For this recipe, I recommend using a chocolate cookie.
INGREDIENTS

3 tablespoons unsalted butter, softened
½ cup cookie crumbs (fine like flour)
½ cup cookie pieces

DIRECTIONS

Add cookies to a blender or food processor and blend until the cookies reach a flour like texture. Mix together with the butter, fold in cookie pieces. Sprinkle over the top of the bread.
MORE QUICK BREAD RECIPES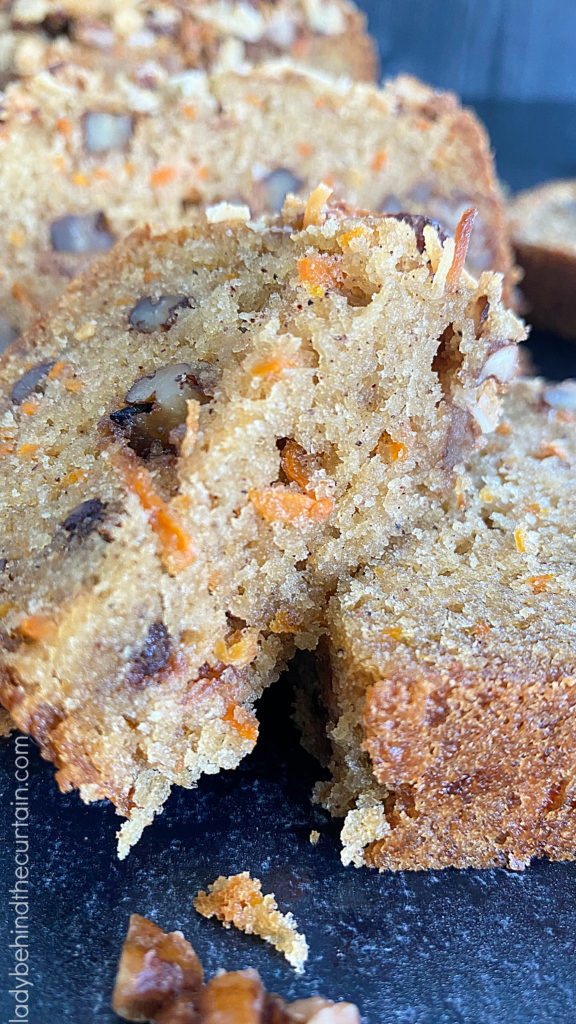 CARROT CAKE QUICK BREAD 2. DILL CHEESE AND BEER QUICK BREAD 3.PISTACHIO CRANBERRY QUICK BREAD 4. MANY MORE→QUICK BREAD RECIPES
SIGN UP FOR THE LADY BEHIND THE CURTAIN NEWSLETTER AND FOLLOW THE LADY BEHIND THE PARTY ETSY SHOP
THANKS FOR VISITING♥