Classic Smoked Ribs | Slow cooked to perfection with a brown sugar based barbecue rub that is quick and easy to make.  Are you tired of dried out ribs?  If you use my tips (in the recipe) you will have juicy tender ribs every time.  I used baby back ribs but the technique can also be applied to spare ribs. Whether you're having a family barbecue or a summer party serving smoked ribs is perfect.  They start 4 hours before serving time which frees you and your grill master to enjoy the party.  For a change you can also try my Cinnamon Smoked Ribs.  I didn't use any wood chips just cinnamon sticks!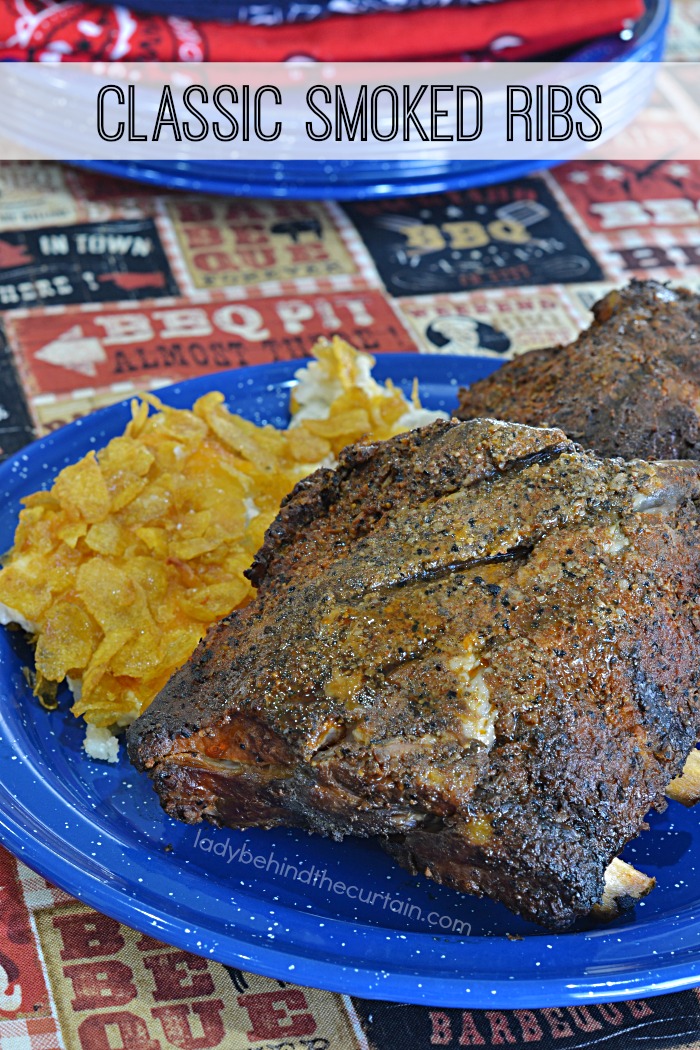 Classic Smoked Ribs
Total Time:
4 hours
30 minutes
Ingredients
For the Dry Rub:
1/2 cup light brown sugar
1/4 cup paprika
4 tablespoons kosher salt
3 tablespoons coarse black pepper
3 tablespoons dry minced onion
2 teaspoons garlic powder
2 teaspoons celery seed
1 teaspoon cayenne pepper
For the Ribs:
1 rack of baby back ribs or spare ribs
wood chips of your choice
heavy duty foil
Instructions
For the Rub:
In a medium bowl stir to combine the light brown sugar, paprika, salt, black pepper, minced onion, garlic powder, celery seed and cayenne pepper.
For the Ribs:
The night before; If needed cut ribs to fit your smoker.
Pour the rub onto the ribs, massage into the ribs, cover with plastic wrap and place in refrigerator until ready to smoke the next day.
20 minutes before heating the smoker; soak wood chips (following the suggested amount of chips from the smoker manual).
When ready add chips and heat smoker to 225°.
Take plastic wrap off the ribs and place in smoker.
Smoke at 225° for 2 hours.
Take ribs out of the smoker and wrap in heavy duty foil.
Place ribs back in smoker and continue smoking at 225° for 2 more hours.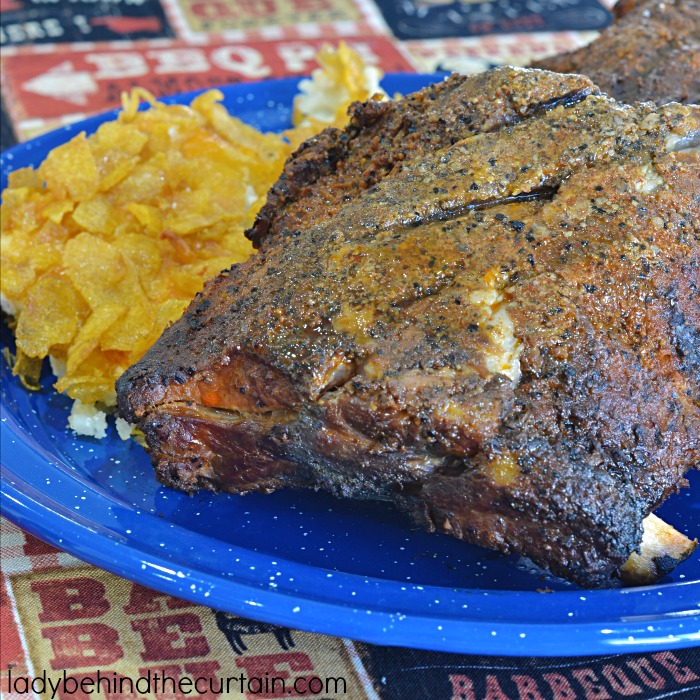 MORE BARBECUE RECIPES
STEAKHOUSE BURGERS  2.  GRILLED CHILI GARLIC TRI TIP  3. MANGO BARBECUED JERK CHICKEN