Easter Cereal Bars: These incredible Easter treats are inspired by every bodies favorite campfire treat…s'mores. With easy to find ingredients and fun colors these Easter Basket Treats will be the hit of the Easter Egg Hunt!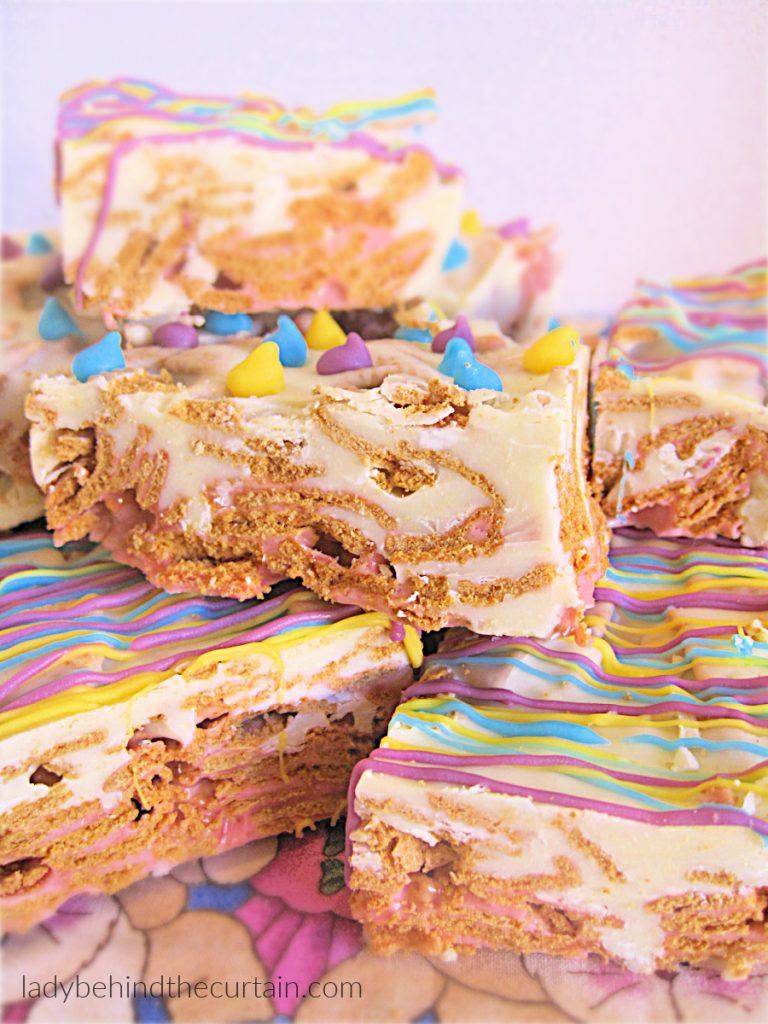 How to make Easter Cereal Bars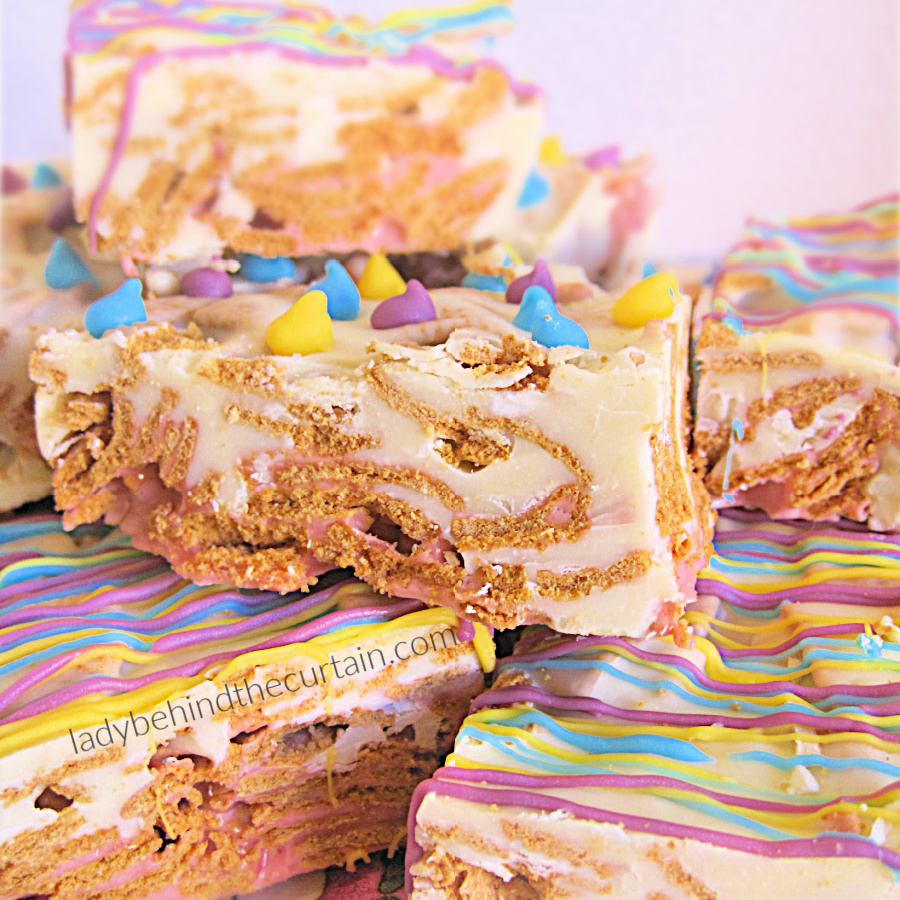 Line a 13×9-inch baking pan with aluminum foil.
Spray with non stick cooking spray.
In a large heavy saucepan, melt butter over medium heat.
Add marshmallows, and cook over medium heat, stirring constantly, until marshmallows are melted and mixture is smooth.
Stir in vanilla; remove from heat.
Add 6 CUPS cereal, stirring to combine.
Using buttered hands, press mixture into prepared baking pan.
Top evenly with remaining 2 CUPS cereal.
Combine white chocolate and shortening in a double boiler, and cook, whisking often, until melted and smooth.
Pour mixture over cereal, coating completely.
Use a spatula to smooth chocolate, and tap pan on counter to settle mixture.
Refrigerate for 4 hours or until firm.
Remove from pan, and place on a cutting board.
Cut into 12 bars.
Decorate as desired with assorted melted candy melts.
Versatile Treats
Even though the original recipe is delicious, several changes can be made to create an assortment of flavors.
Swap out the white chocolate for milk or dark chocolate
Swap out the strawberry marshmallows for regular
Use a different extract in place of the vanilla (if you also swap out the strawberry marshmallows)
Use peeps instead of marshmallows
Change the colors of the candy melts to suit your color theme
What are Candy Melts?
HOW TO DECORATE THESE CEREAL BARS WITH CANDY MELTS
Decide on the colors.
Pour ONE cup of each color into small microwave safe bowls.
Heat 1 minute on high, stir. If the candy does not become creamy, continue to heat 30 seconds at 60% heat.
Pour creamy candy melts into small squeeze bottles (usually found in the store with the candy melts) or piping bags.
In a back and forth motion add the lines. As the candy hardens, add dollops of each color the size of a small chocolate chip.
Not Just for The Dessert Table
PARTY FAVORS: Why hand out party favors? 1. It's a great way of saying "Thank You" for coming to my party. 2. A party favor serves as a reminder to your guest of the great time they had.
EASTER BASKET: Replace some of the store bought goodies with homemade goodies.
BAKE SALE: As mentioned above these treats are very versatile and can be made in several different ways….perfect for a bake sale.
MORE HOMEMADE EASTER BASKET TREAT IDEAS
NEVER MISS A POST