Easy Polenta Appetizer | This gluten free vegetarian appetizer is a great solution if you are having guests with allergies or food preferences.  Topped with a mixture of mushrooms, fresh tomatoes and herbs.  This dish is not only easy to make but delicious too!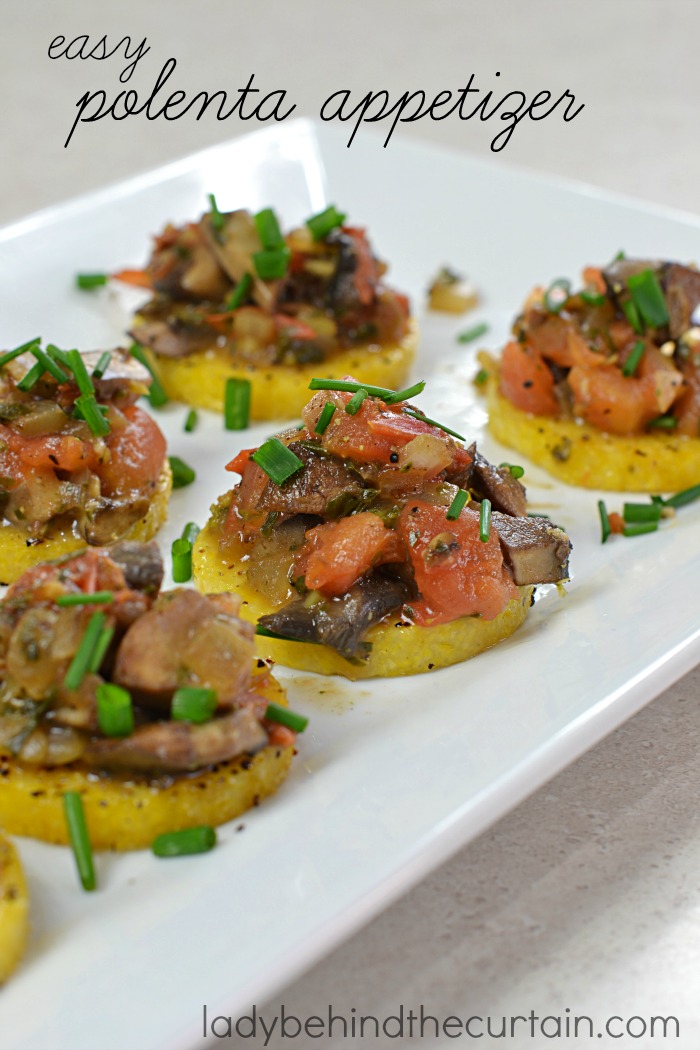 A great way to begin your Italian meal these Polenta Appetizers are packed with Italian flavors and make the perfect beginning to an excellent evening.  Serve Pesto Stuffed Pork Chops, Chicken Firenze or Bolognese as a main dish.  OR…. add something different to your game day menu.
Watch the short video below from FACEBOOK on how to make this easy appetizer!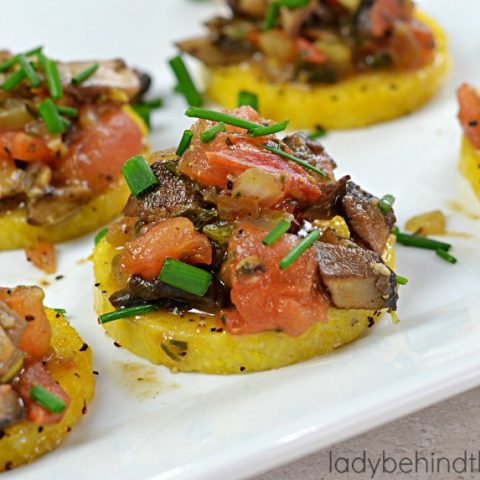 Easy Polenta Appetizer
Yield:
Makes 15 Appetizers
Ingredients
store bought already made polenta
black pepper
salt
Olive oil
1 (8 ounce) container mushrooms, sliced
1/2 small onion, chopped
2 cloves garlic, minced
3 large Roma tomatoes, seeded and chopped
2 tablespoons fresh, chopped or fresh in a tube basil
salt and pepper to taste
Instructions
Slice polenta into 15 - 1/2 inch rounds.
Place polenta slices on a cookie sheet lined with parchment paper.
Brush or drizzle with olive oil and sprinkle salt and pepper onto polenta.
Place cookie sheet under a broiler and cook until golden on both sides (about 5 to 10 minutes per side depending on oven).
In a nonstick skillet over medium heat, warm oil.
Add mushrooms and onion and cook, stirring frequently until soft.
Add garlic and tomatoes and cook until tomatoes are soft; stir in basil.
Season with salt and pepper.
Sprinkle optional parmesan on top of mushroom mixture.
Serve immediately.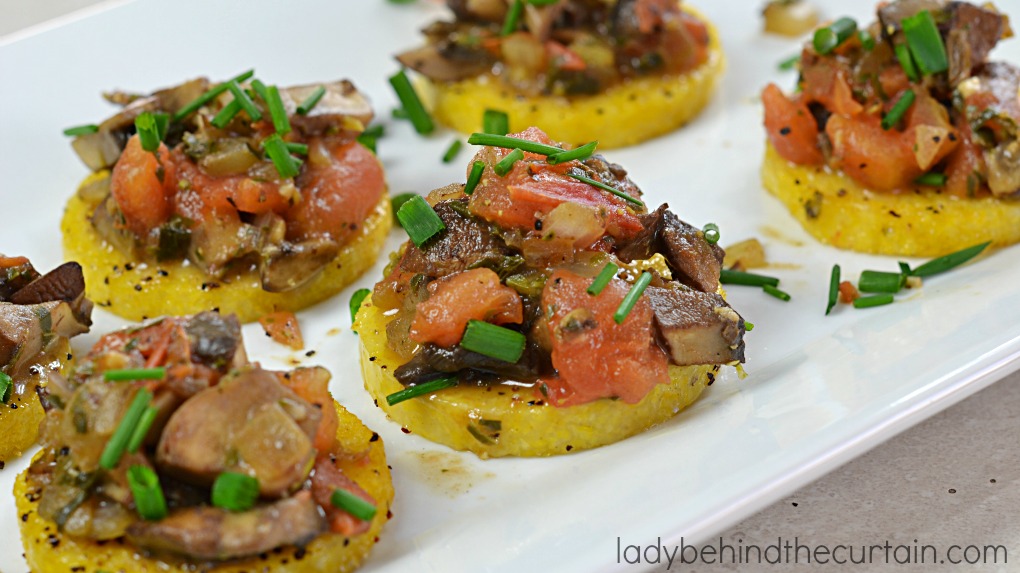 MORE APPETIZER RECIPES
PICNIC SHRIMP  2. BACON AND AVOCADO DEVILED EGGS  3. CRANBERRY PEAR ENVELOPE APPETIZERS