Bacon & Avocado Deviled Eggs
Bacon & Avocado Deviled Eggs the perfect party food.  Easy to hold and scrumptious to eat.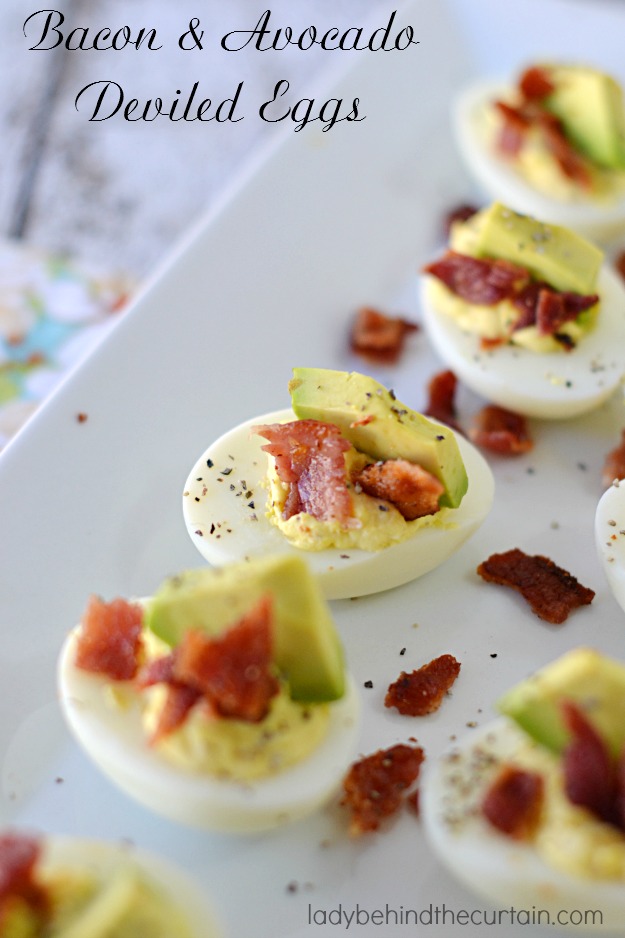 With the addition of a few ingredients like smoky bacon, creamy avocado and salty caper juice these deviled eggs are NOT like Mom used to make!  Serve these at your next Holiday party,  on New Year's Eve or at a Ladies Luncheon.  Don't forget….TO BRING THE RECIPE of course. 😉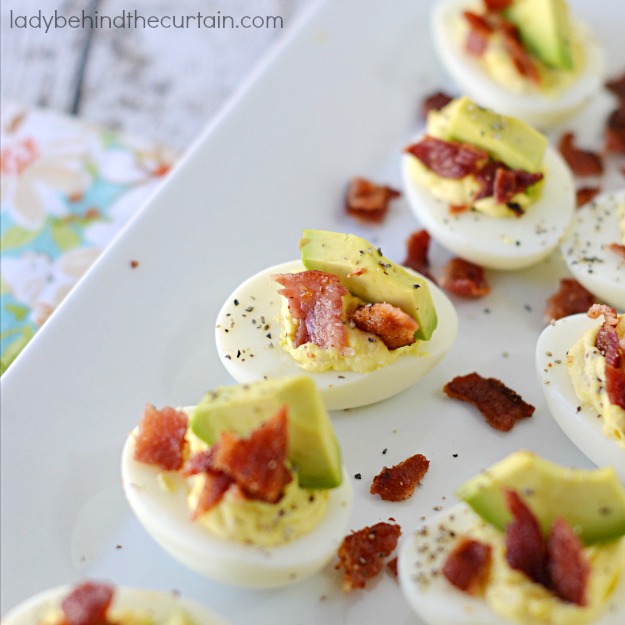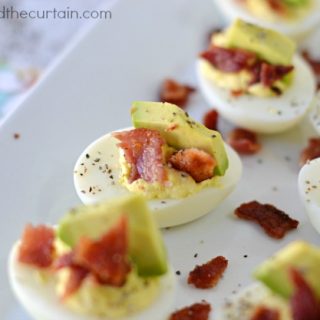 Bacon & Avocado Deviled Eggs
Ingredients
12 eggs
5 slices thick sliced bacon, chopped
1/2 cup mayonnaise
1 tablespoon Dijon-style mustard
2 teaspoons caper juice or sweet or dill pickle juice
1/4 teaspoon black pepper
1 ripe but firm avocado, halved, pitted and peeled
2 teaspoons lemon juice
black pepper
Instructions
Place eggs in a single layer in a 4-quart saucepan or stockpot.
Add enough cold water to cover the eggs by at least 1 inch.
Bring to a rapid boil over high heat. Remove from heat, cover, and let stand for 15 minutes; drain. Run cold water over the eggs until cool enough to handle.
Peel eggs and slice in half lengthwise.
Remove yolks and place in a medium bowl; set whites aside.
Meanwhile, in a medium skillet, cook bacon over medium heat until crisp.
Drain bacon; set aside.
In a bowl, using a fork, mash egg yolks.
Add mayonnaise, mustard, caper juice (or pickle) and pepper; stir to mix.
Cut avocado into 24 equal pieces; toss with lemon juice.
Pipe or spoon egg yolk mixture into egg white halves.
Top with an avocado piece, sprinkle with bacon pieces and sprinkle with additional pepper.
Cover and chill up to 4 hours.
MORE APPETIZERS
1. MINI EGG SALAD SLIDERS  2. BACON CHEDDAR PINWHEELS  3. CRANBERRY CHICKEN SALAD