Grandmas Pecan Pie Filling
Grandmas Pecan Pie Filling: There's nothing like having a jar of pecan filling handy for last minute desserts. Just like Grandma used to make but without the crust. I've gotten so many amazing recipes from my grandma and this one is at the top of the list! The options are endless for this gooey sweet holiday dessert. Make a jar and hand it out to family and friends. This incredible Holiday favorite makes the perfect Christmas or Hostess gift. Scroll down for a FREE gift tag!↓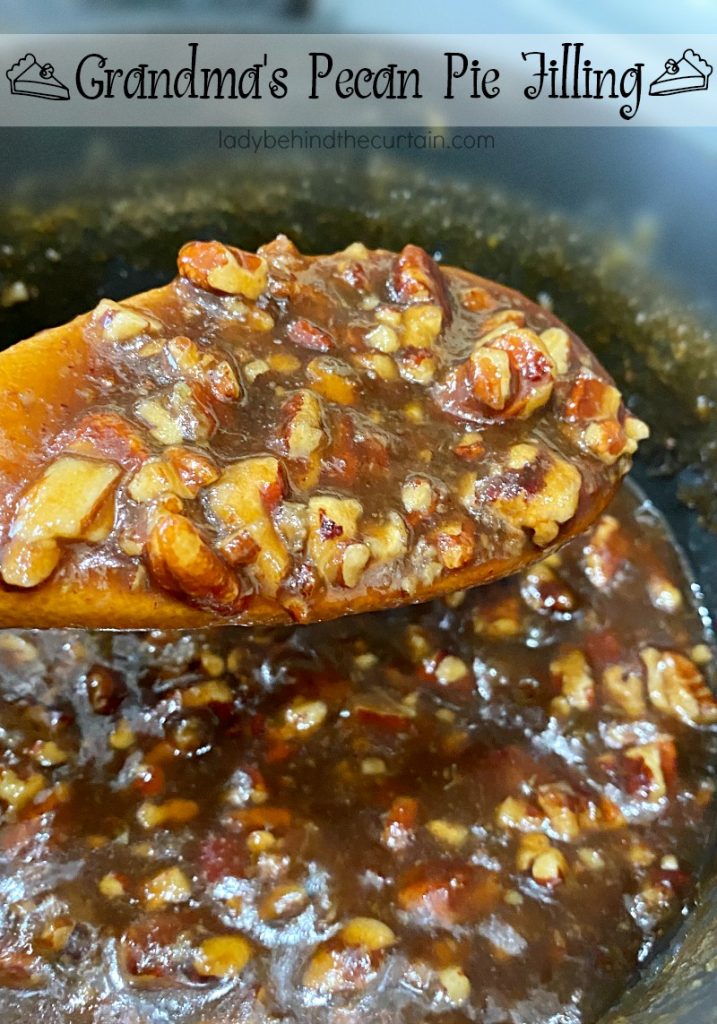 FREE GIFT TAG
The filling has already been cooked and is NOT meant for baking in pies.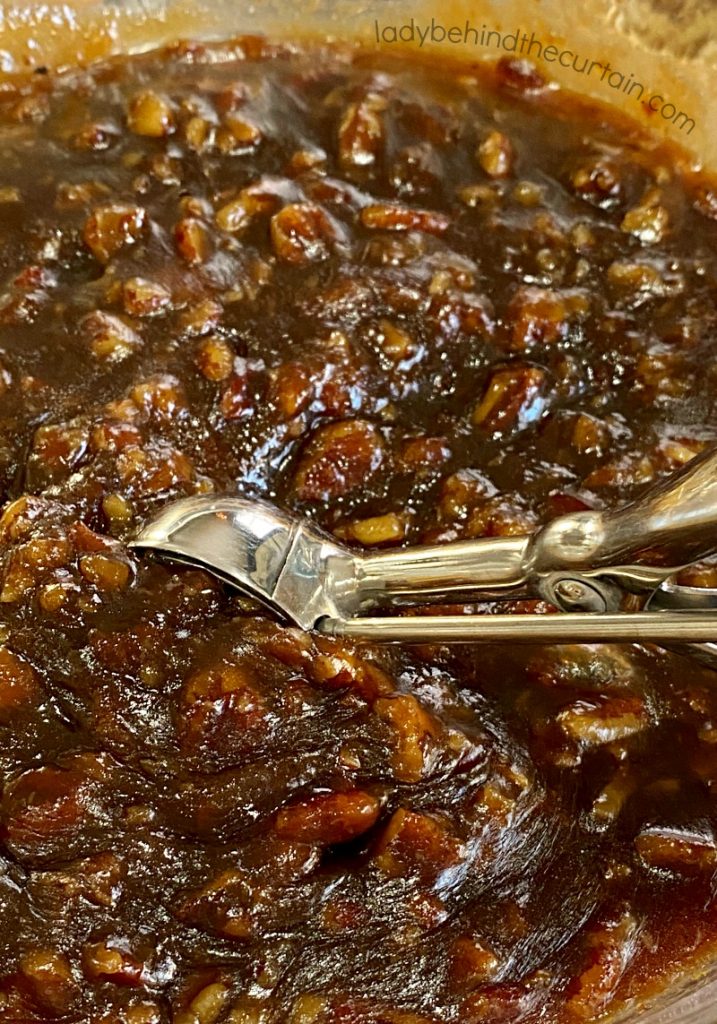 Where Can I use Grandmas Pecan Pie Filling?
On top of pancakes or waffles
Parfaits
Oatmeal
Cake Roll
Fruit Dip
Ice Cream
Cupcake Filling
Fudge
Bread Pudding
HOW TO MAKE GRANDMAS PECAN PIE FILLING
INGREDIENTS

chopped pecans
dark brown sugar
light corn syrup
butter
granulated sugar
eggs
vanilla extract
salt

DIRECTIONS

In a medium saucepan, stir together all the ingredients. Bring to a boil over medium high heat, stirring frequently. Reduce heat to medium low, simmer, stirring constantly until thickened (about 6- 8 minutes). Let cool to room temperature before using. YES….IT'S THAT EASY♥
HOW TO STORE PECAN PIE FILLING
What is "blind" baking?
Blind baking is a process of baking a pie crust without filling. The "pie weights" help keep the pie dough flat. Click here for my favorite pie crust recipe→PERFECT EVERY TIME 10 MINUTE PIE CRUST
MORE RECIPES WITH PECANS
Grandmas Pecan Pie Filling
Yield:
MAKES ABOUT 2-2½ CUPS
There's nothing like having a jar of pecan filling handy for last minute desserts. Just like Grandma used to make but without the crust.
Ingredients
1½ cups pecans, chopped
2/3 cup dark brown sugar, firmly packed
2/3 cup light corn syrup
1/3 cup unsalted butter, cubed
¼ cup granulated sugar
2 large eggs
1 teaspoon vanilla extract
¼ teaspoon kosher salt
Instructions
In a medium saucepan, stir together the pecans, brown sugar, corn syrup, butter, granulated sugar, eggs, vanilla and salt.
Bring to a boil over medium high heat, stiffing frequently.
Reduce heat to medium low; simmer, stirring constantly, until thickened (about 6-8 minutes).
Let cool to room temperature.
Pour into a container with a tight fitting lid and store in the refrigerator until ready to use.
Can be stored up to a couple weeks
NEVER MISS A POST