How to Make Homemade Crystalized Ginger
How to Make Homemade Crystalized Ginger: If you're like me and have a hard time finding crystalized ginger, here's the solution…make your own! With only THREE BASIC INGREDIENTS and a simple process, you can make candied ginger (stored in ginger syrup) or homemade crystalized ginger.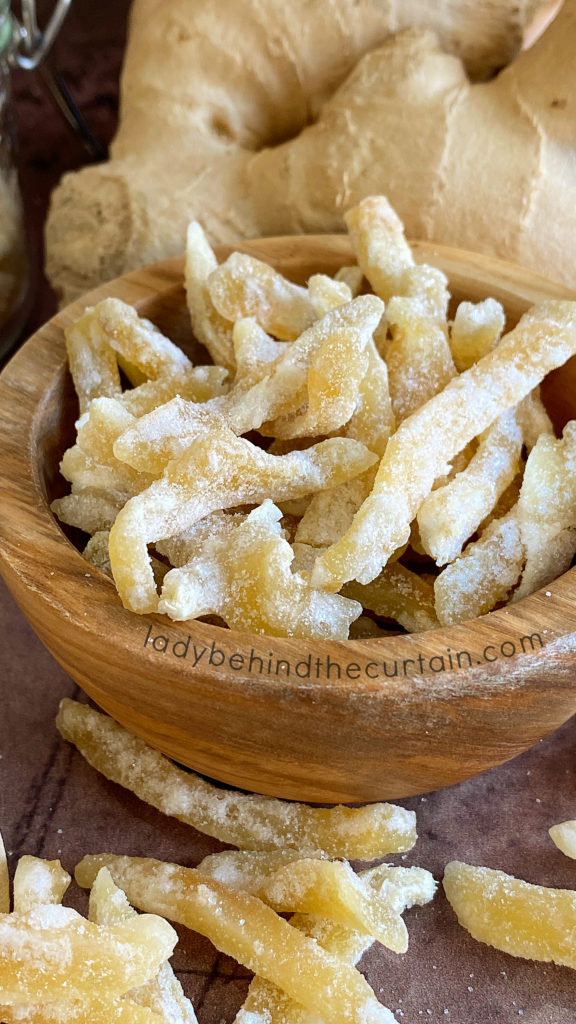 How to Make Homemade Crystalized Ginger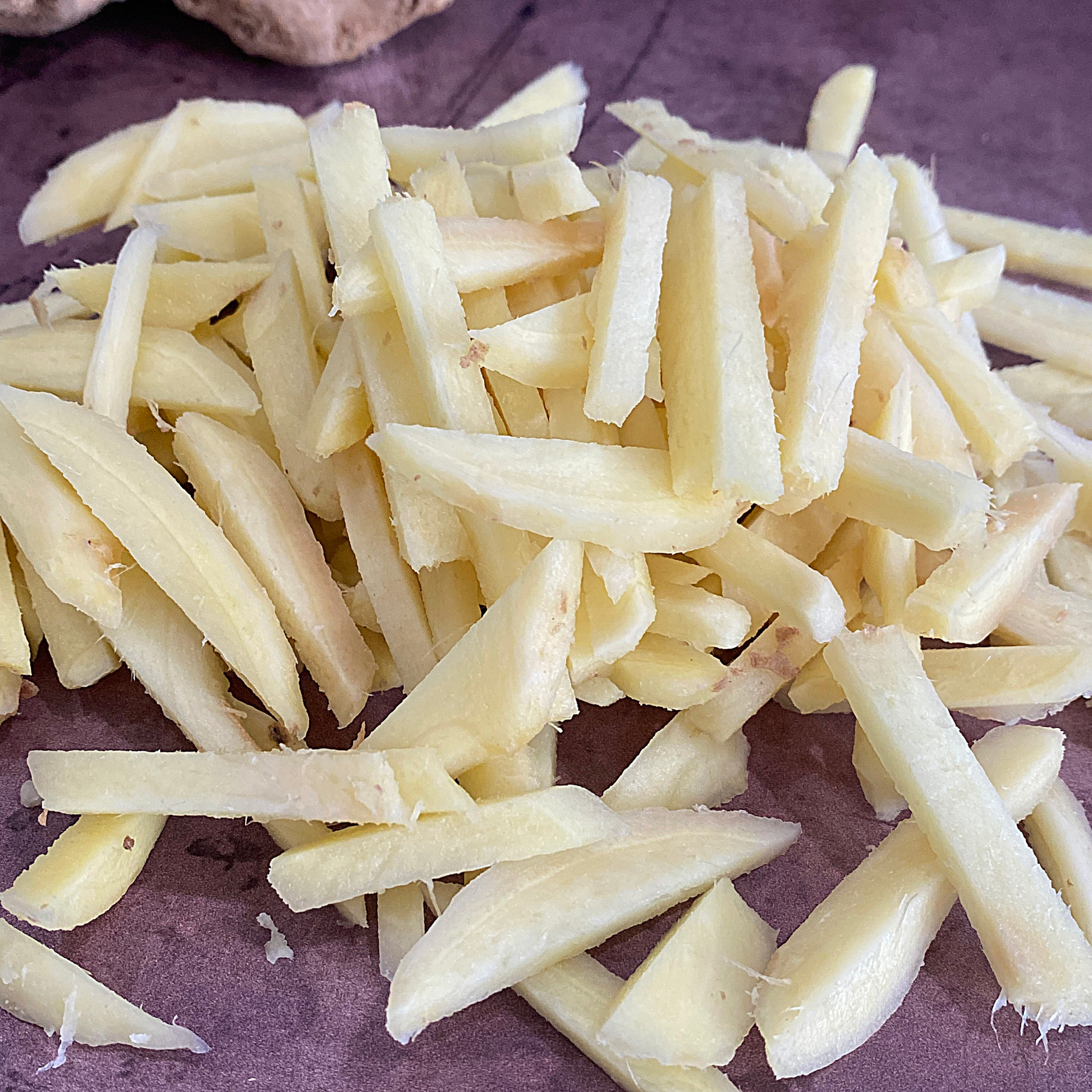 INGREDIENTS (full printable recipe below)

raw ginger, peeled, sliced
water
granulated sugar

DIRECTIONS

Cover ginger with water, bring to a boil, reduce heat to a simmer. Simmer, covered 30 minutes—strain
NOTE: Save the liquid for tea, lemonade or other drinks. Add a bit of honey or sugar.
INGREDIENTS

2 cups granulated sugar
1½ cups water

DIRECTIONS

Simmer, stirring occasionally, about 35-45 minutes or until all the water has evaporated and your are left with a syrupy mixture and soft, sweet and slightly chewy candied ginger.

FOR CANDIED GINGER: Store the ginger in the syrup.
FOR CRYSTALIZED GINGER: Remove ginger from syrup, place on a cooling rack and let them air dry unto they aren't wet just sticky (about 1-2 hours).
Toss the ginger in granulated sugar.
Place on a baking sheet lined with parchment paper in a single layer, to dry.
How to Peel Fresh Ginger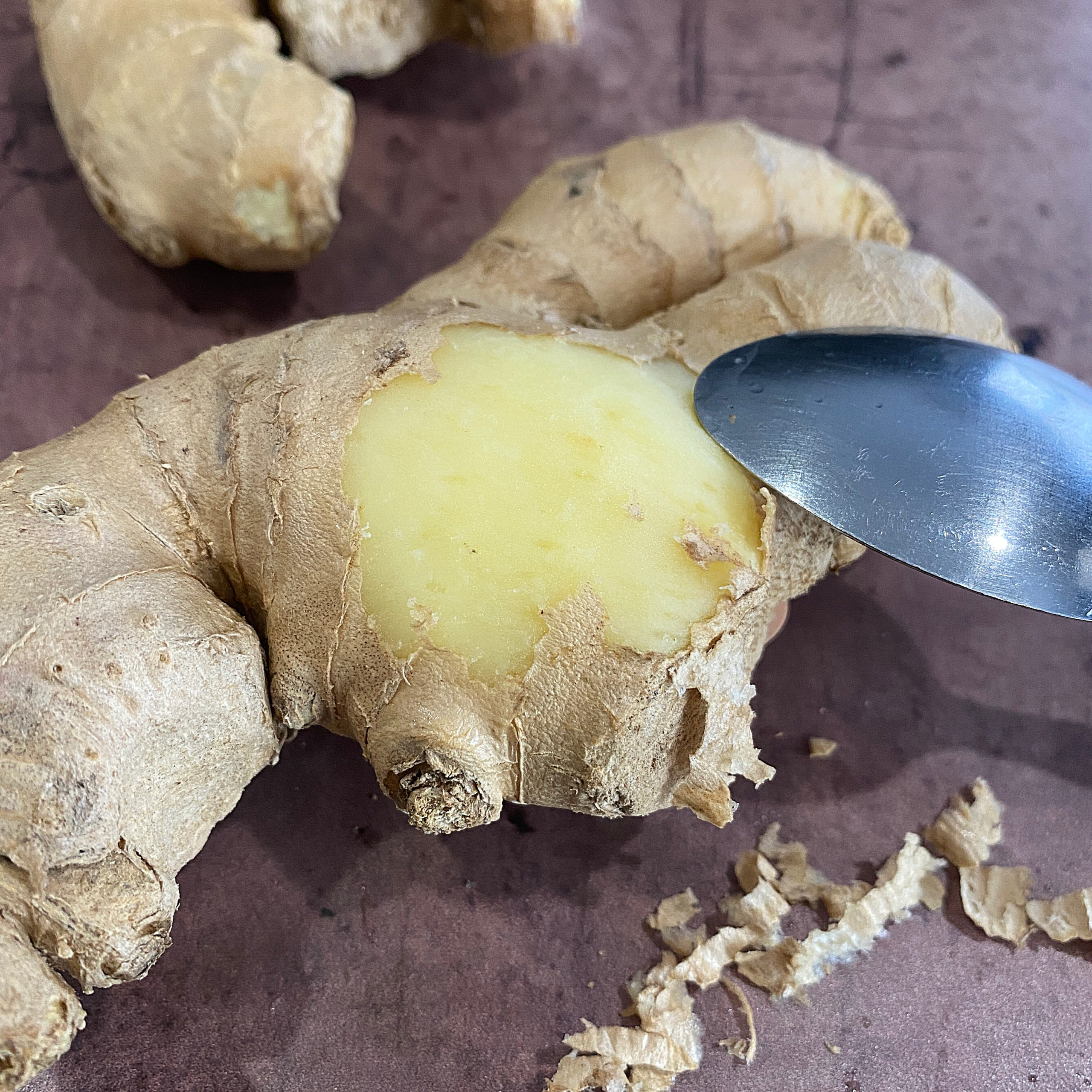 THE BEST TOOL FOR PEELING GINGER IS NOT A VEGETABLE PEELER OR A KNIFE….SURPRISINGLY IT IS A SPOON!
How to Store Candied/Crystalized Ginger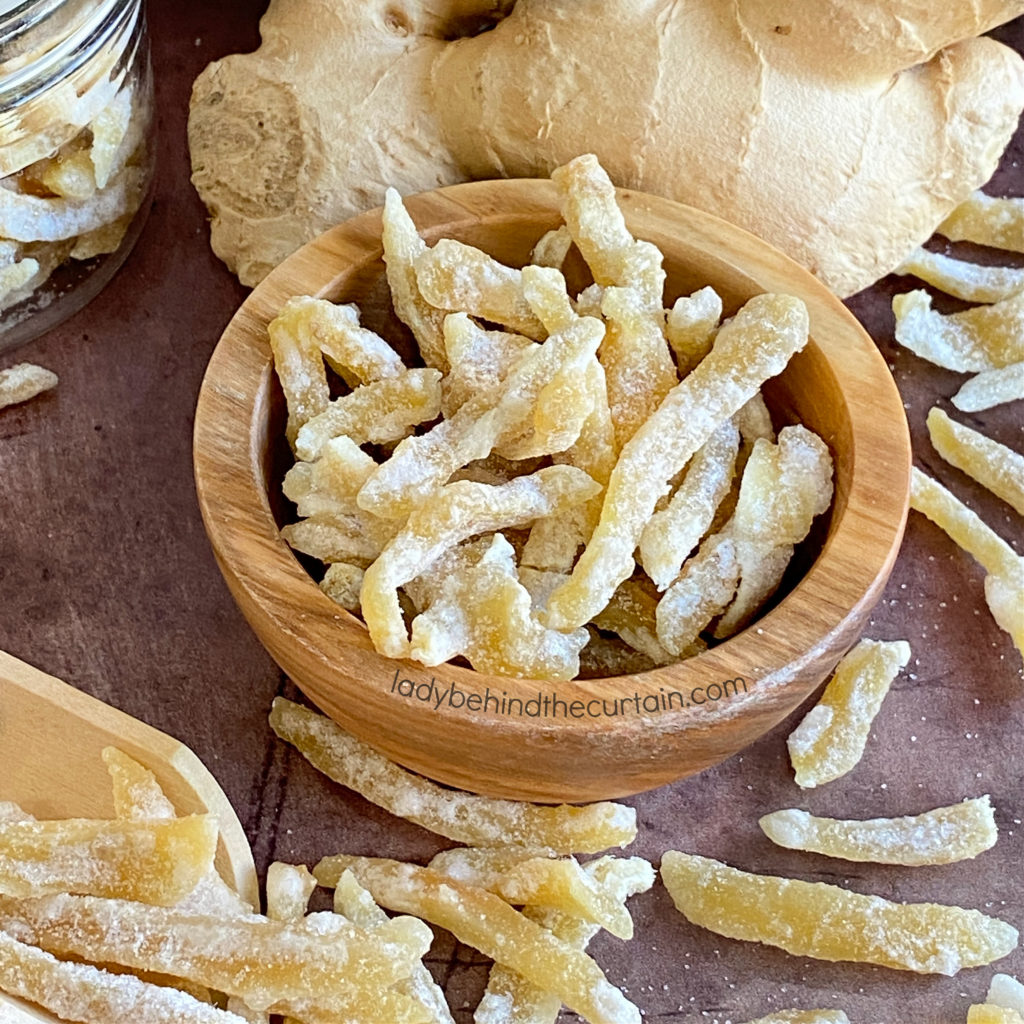 STORE: Coating the ginger with sugar will extend the shelf life (Crystalized Ginger). Store in an airtight container in a cool, dark location (like a pantry) The sugar coated ginger should stay as fresh as the day it was made up to 3 months. If you there is no sugar coating, the ginger is best stored in an airtight container in the refrigerator or freezer.
REFRIGERATOR: Candied Ginger is stored in its syrup and will stay fresh up to 6 months in the refrigerator (sometimes even up to a year). The time will vary based on how big the candied ginger pieces are and the humidity. The same goes for Crystalized Ginger (with or without the sugar coating, though sugared will last longer).
Add Extra Flavor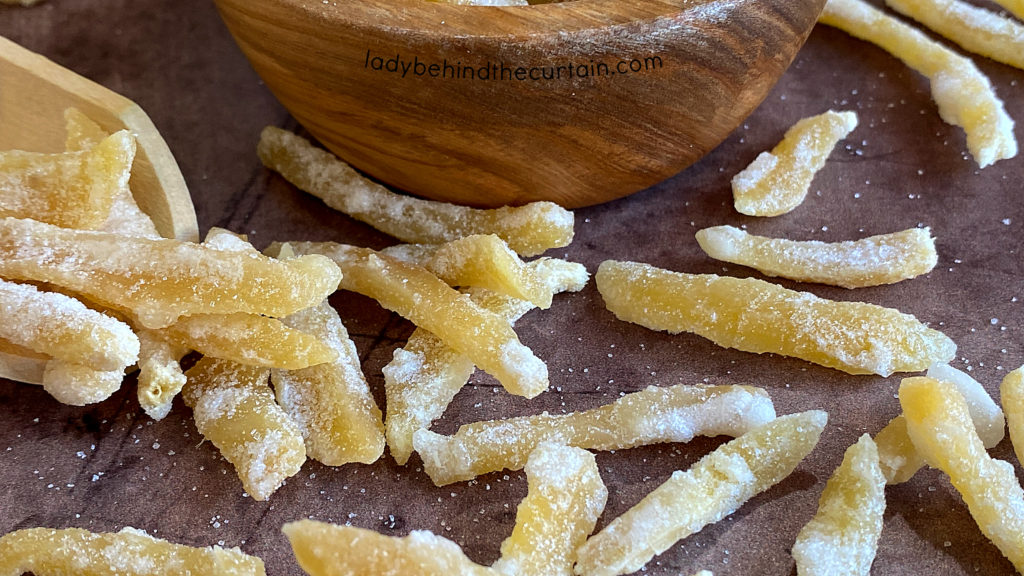 VANILLA BEAN
CINNAMON STICK
MINT LEAVES
LEMON ZEST
What Happens to the Ginger When It's Frozen?
The freezing/thawing process softens the ginger, making it even more 'delicate' and chewy.
Using a Candy Thermometer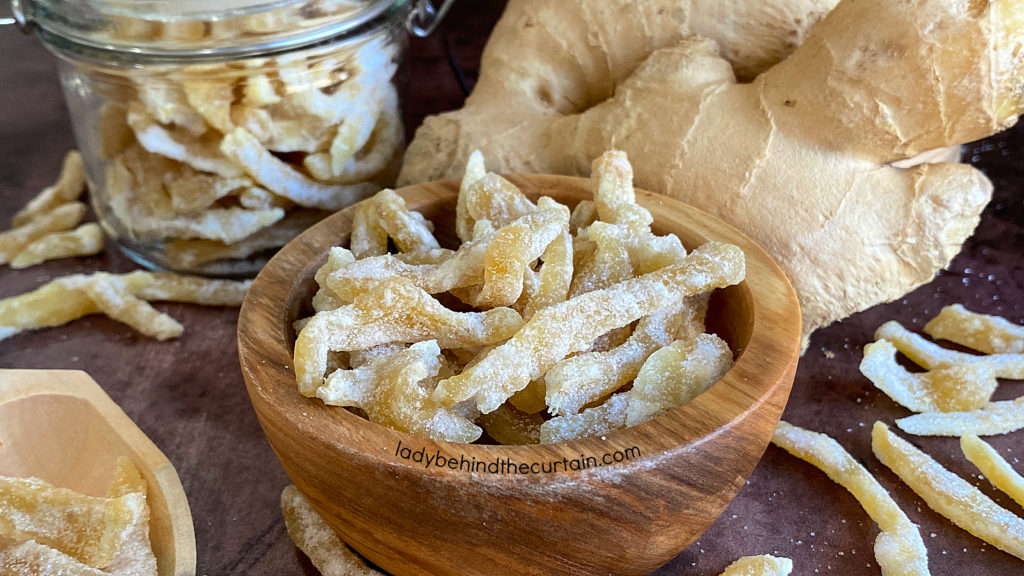 Why Boil the Ginger Twice?
The first boil helps to remove some of the potent flavor, so the final crystallized ginger isn't overwhelmingly strong/spicy. It also helps to tenderize the ginger, which is initially quite tough.
HOW TO USE AN OVEN/DEHYDRATOR: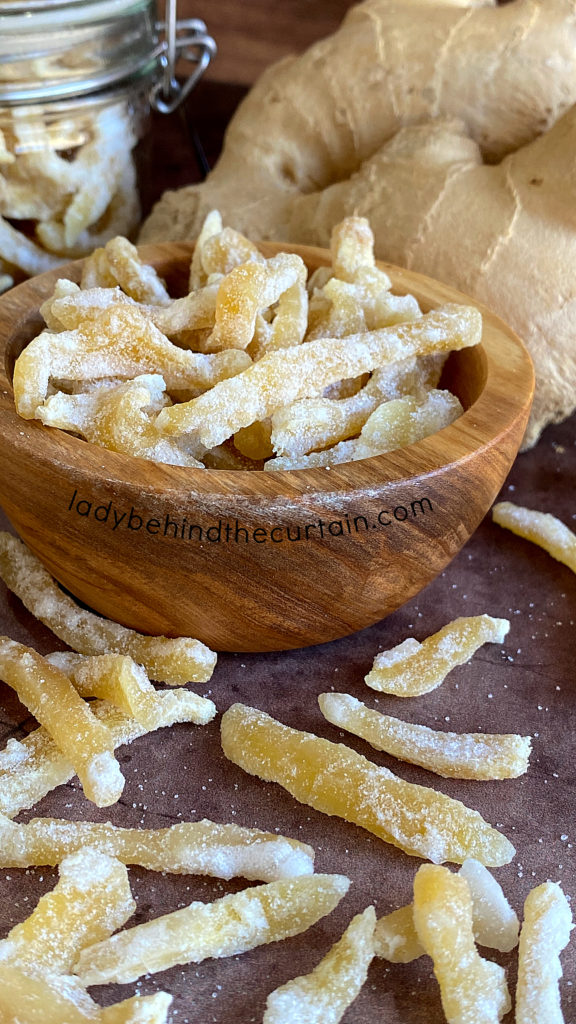 YOUR COULD ALSO MAKE
RECIPES USING CRYSTALIZED GINGER
SIGN UP FOR THE LADY BEHIND THE CURTAIN NEWSLETTER AND FOLLOW THE LADY BEHIND THE PARTY ETSY SHOP
THANKS FOR VISITING♥