Pumpkin Spice Whoopie Pies
Pumpkin Spice Whoopie Pies: The ultimate Fall dessert. An incredibly soft cake like cookie, filled with a delicious maple and cream cheese filling. The perfect balance between a cake and a cookie. Update the Classic Chocolate Whoopie Pies with pumpkin, spices, and maple! This recipe makes enough for a crowd…..26!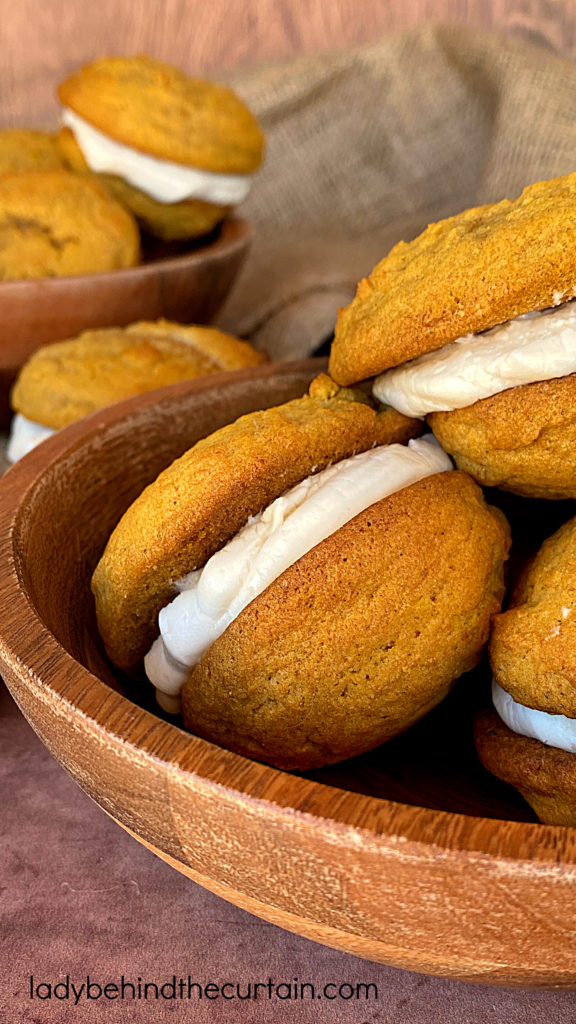 What is a Whoopie Pie?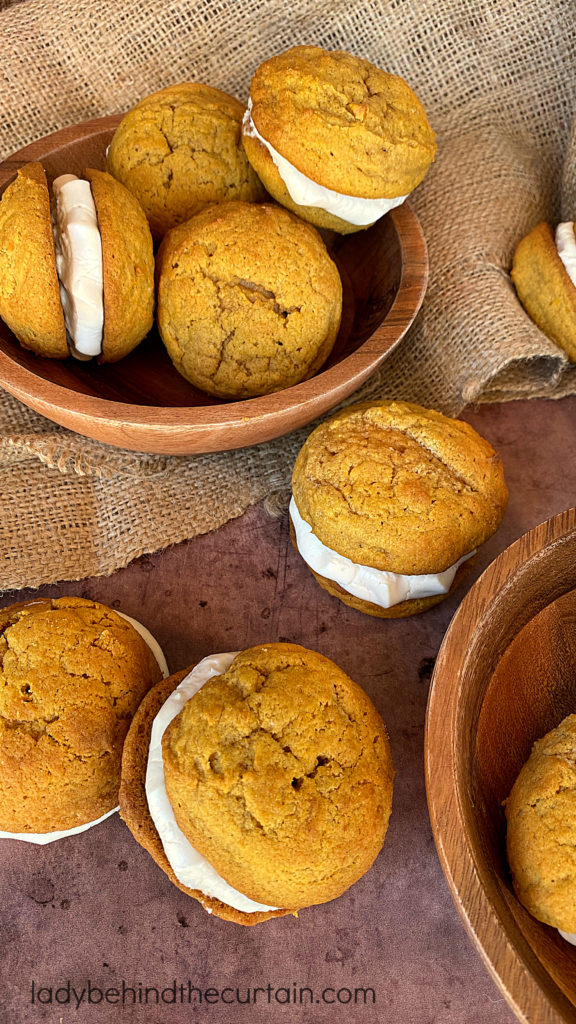 A whoopie is a classic dessert that consists of two soft cake like cookies sandwiched with fluffy filling. Based on Pennsylvania history, Amish women invented the whoopie pie. Holding up with their custom of avoiding wasting ingredients, the women would drop excess cake batter into mounds and bake them. Then they would take two of the mounds and sandwich them together with a creamy frosting. The name originated from the Amish men who, when they found these treats in their lunch boxes, would exclaim, "Whoopie!" —According to Farmers Almanac—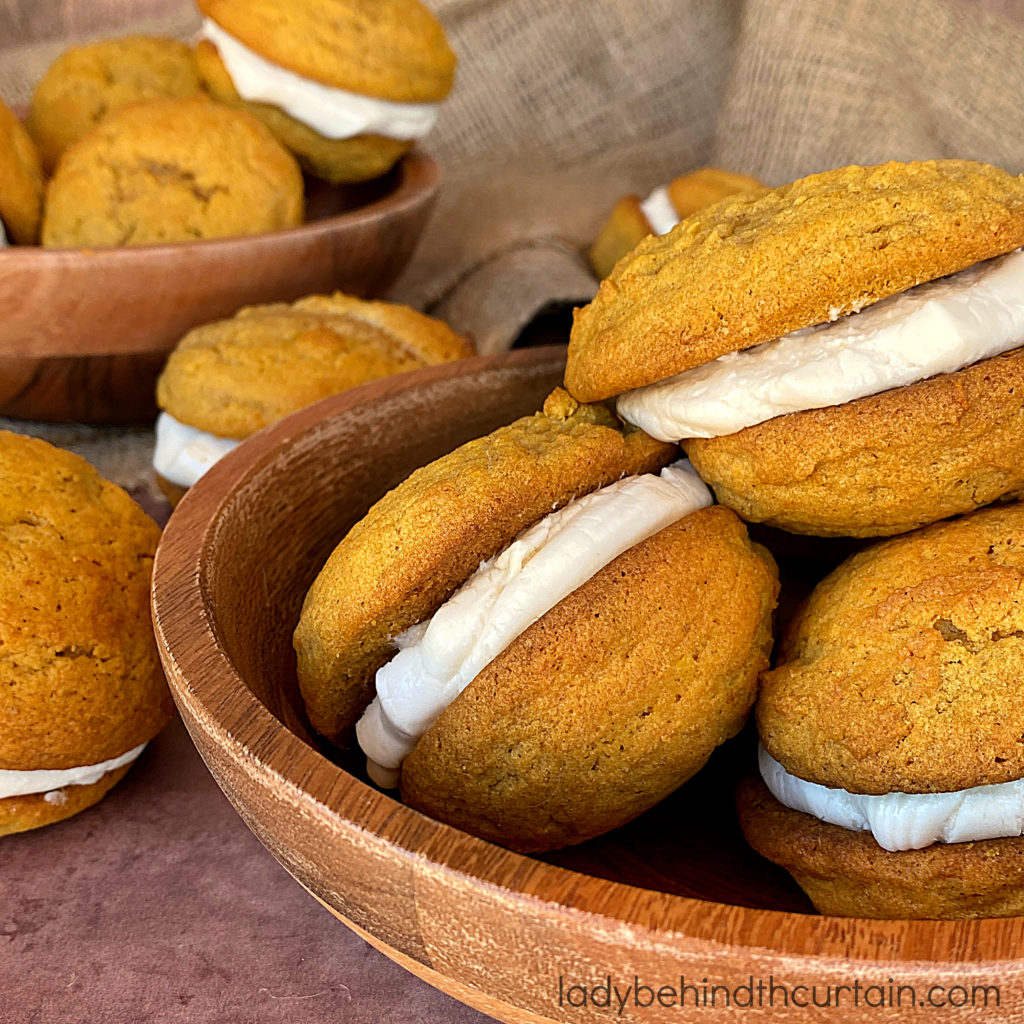 HOW TO MAKE A PERFECTLY ROUND WHOOPIE PIES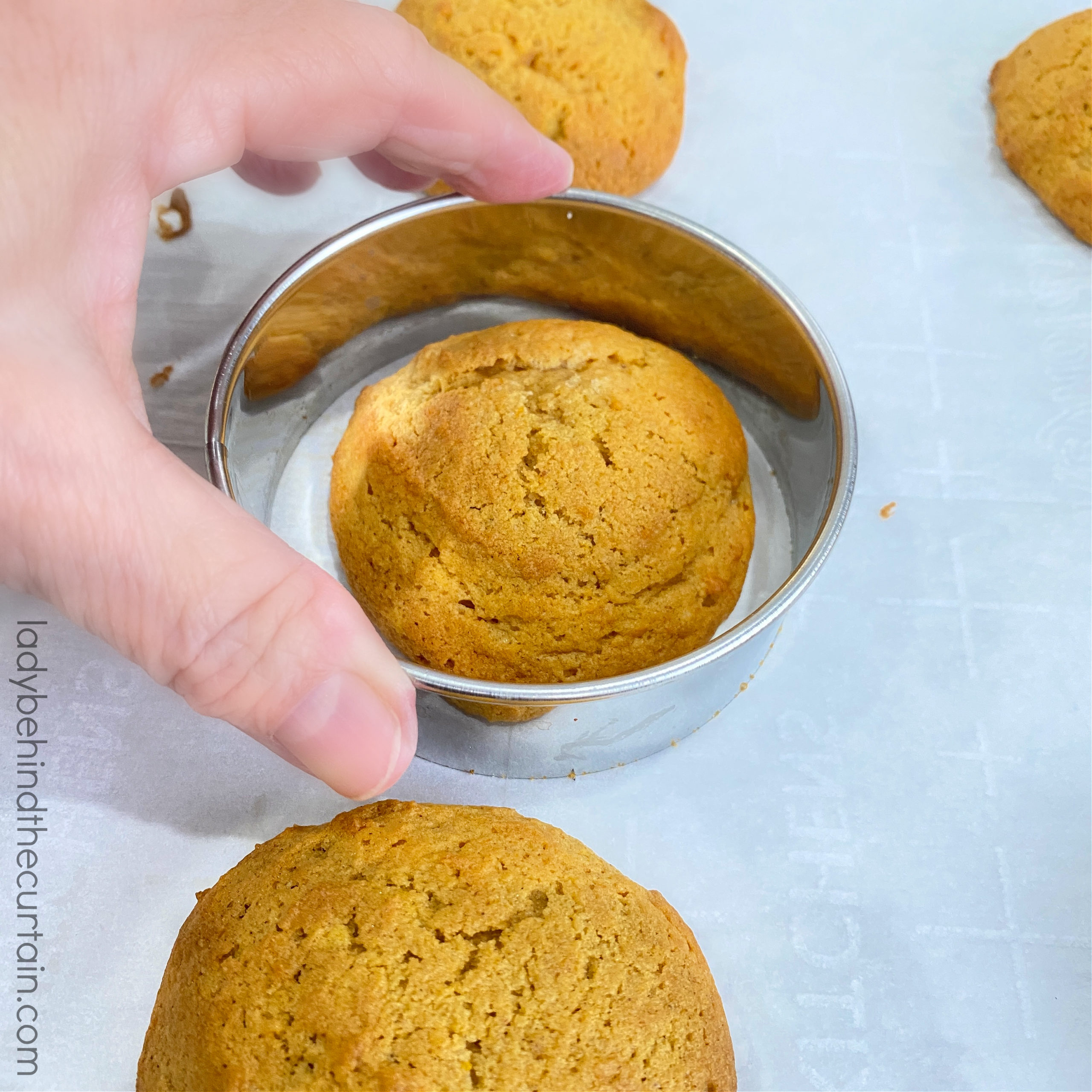 Use a round cookie cutter large enough to fit over the cookie. While the cookie is still hot, place the the cookie cutter over the cookie and in a circular motion mold the cookie back into a circle.
How to Freeze Whoopie Pies
These delicious soft pumpkin sandwich cookies freeze beautifully. WHAT WORKS BEST: Wrap each whoopie pie in plastic wrap, place in a freezer safe container with a tight fitting lid. Stays fresh in the freezer up to 4 months. Serve frozen or defrost in the refrigerator overnight.
How to Make Pumpkin Spice Whoopie Pies—Ingredients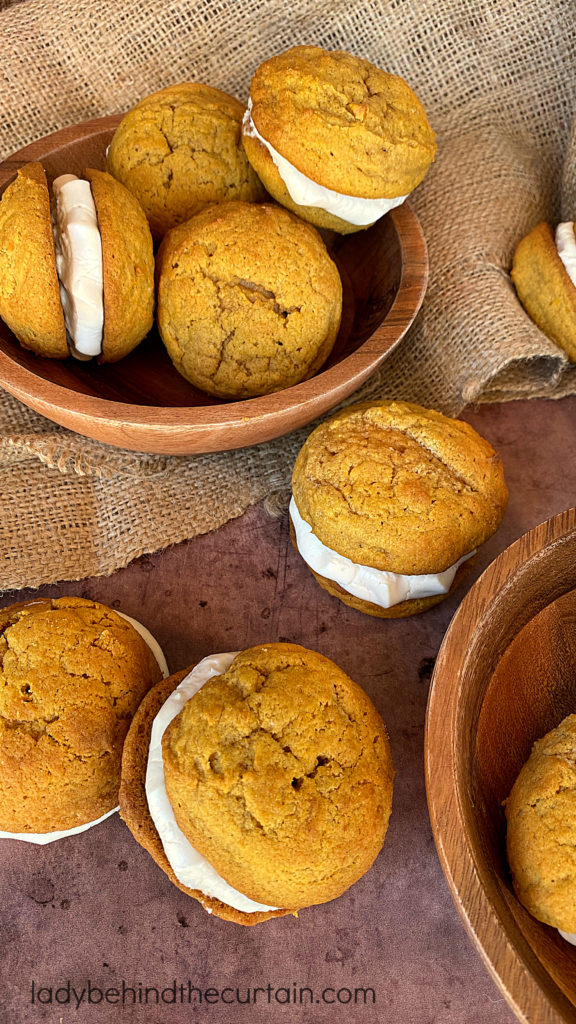 For the Pumpkin Spice Whoopie Pies:
2 teaspoons pumpkin pie spice
4 cups all-purpose flour
2 teaspoons baking powder
2 teaspoons ground cinnamon
¼ teaspoon salt
2 cups vegetable shortening, room temperature
2 cups granulated sugar
2 large eggs, room temperature
1 (15 ounce) can pumpkin puree
2 teaspoons vanilla extract
! For the Maple Cream Cheese Filling:
1 (8 ounce) block cream cheese, room temperature
4 tablespoons unsalted butter, room temperature
2 teaspoons vanilla extract
½ cup maple syrup
3 cups powdered sugar
Tips and Tricks for the BEST Whoopie Pies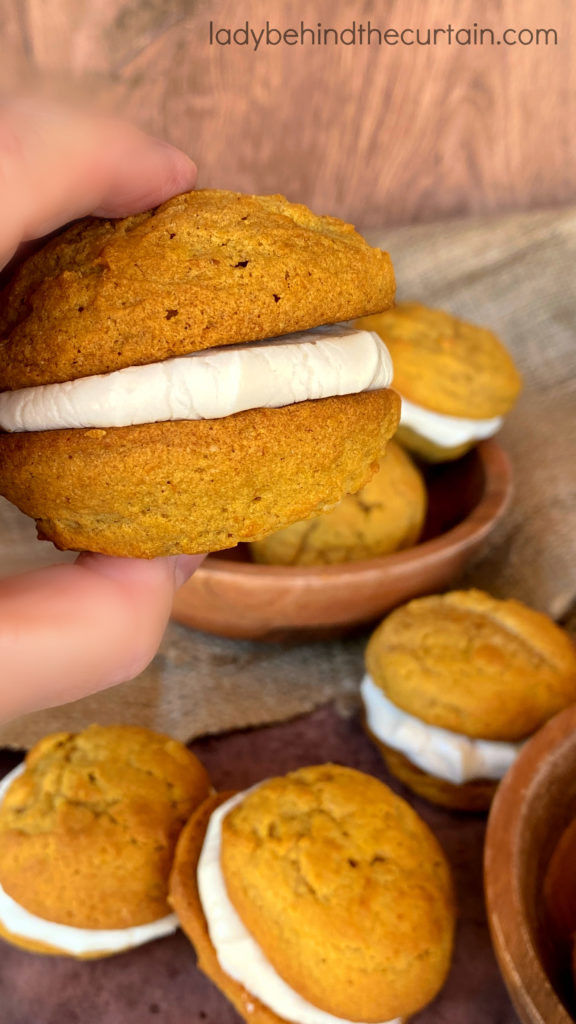 DON'T EAT WHEN HOT: While it might be tempting to eat the whoopie pies slightly cooled.. wait until they have cooled completely. They taste so much better when cooled. Preferably chilled overnight in the refrigerator. They're even good fresh out of the freezer.
USING AN ICE CREAM SCOOP: You can use a spoon to scoop the batter. Using an ice cream scoop keeps your cookies uniform sized.
Make Whoopie Pies from a Cake Mix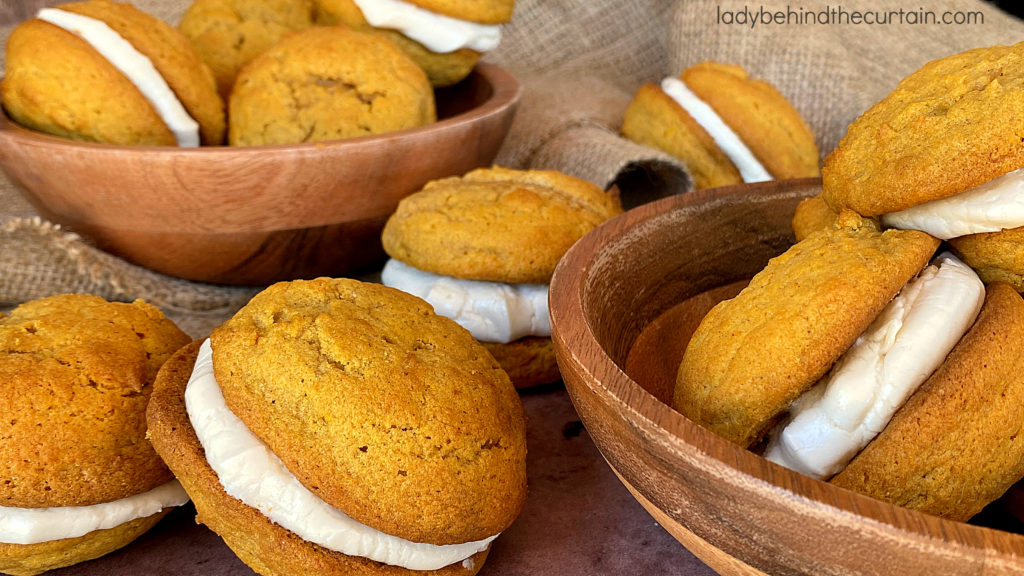 If you've never made cookies using a cake mix you are in for a treat! Using a cake mix creates a soft delicious cookie and is super easy to do. CLICK HERE→ 10 LUNCH BOX CAKE MIX COOKIE RECIPES
Change up the Flavor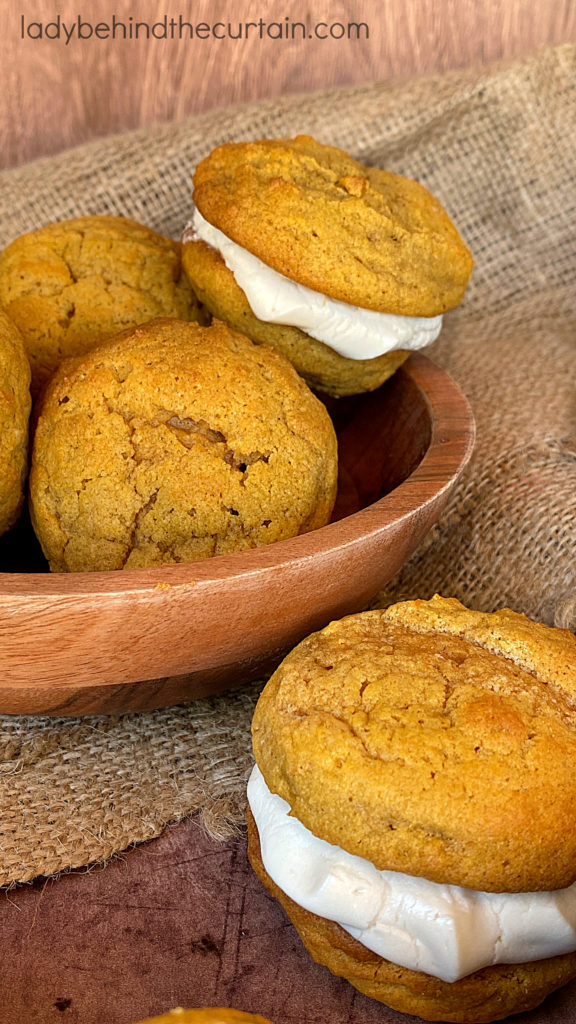 Substitute chopped crystalized ginger for the maple in the cream cheese filling.
Instead of adding a maple cream cheese filling, add a chocolate cream cheese filling. Pumpkin and chocolate go really well together.
Roll the edges in chopped nuts. I don't know if that will change the flavor but it will add a nice crunch.
Add mini chocolate chips to the pumpkin spice whoopie pies.
Take out the maple and use a plain cream cheese filling.
Recipe FAQ's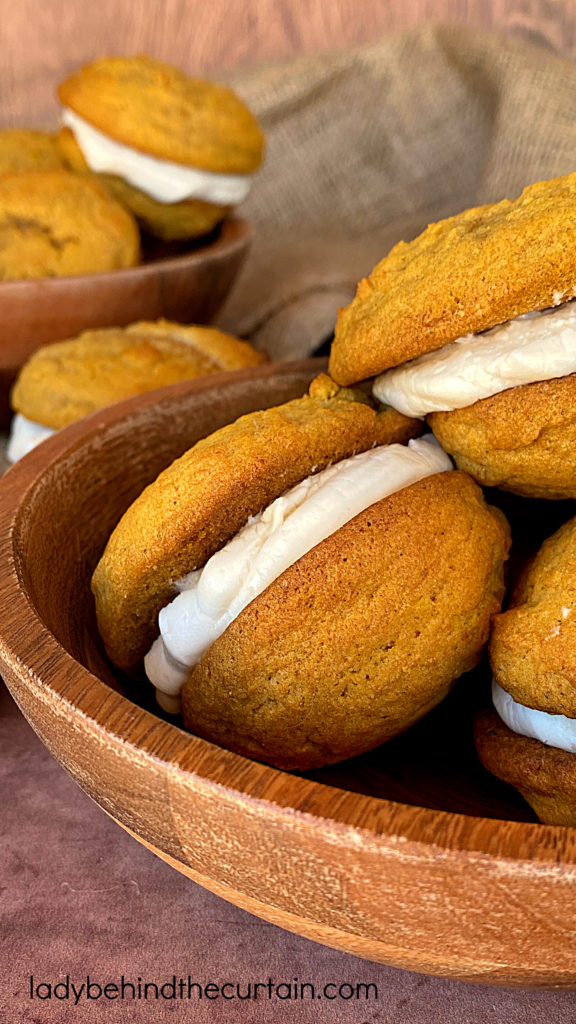 Why do whoopie pies get sticky?
Whoopie pies are two small cakes sandwiched together with buttercream. The cakes don't form a crust on them as cookies do. Consequently, while you eat a whoopie pie, the cake gets a little sticky in your hands.
Why do my whoopie pie come out flat?
The most likely cause of the whoopie pies coming out flat is due to the batter being too thin. When the batter is too thin, it does not hold up well in the oven. A thicker batter will hold its shape and puff up as it should during the baking process.
MORE PUMPKIN DESSERT RECIPES
SIGN UP FOR THE LADY BEHIND THE CURTAIN NEWSLETTER AND FOLLOW THE LADY BEHIND THE PARTY ETSY SHOP
THANKS FOR VISITING♥