DIY Halloween Party Snow Globes
DIY Halloween Party Snow Globes: Upcycle your jelly jars, pickle jars and baby food jars and make a fun and easy Halloween decoration or Halloween party favor!
Where to Shop
Dollar Tree is my go to for all DIY Holiday Decorations. If you don't have a dollar tree store near you, any store with a dollar section will do. Creating with low cost items allows you to make party favors and party decorations.
Halloween Party Decoration Idea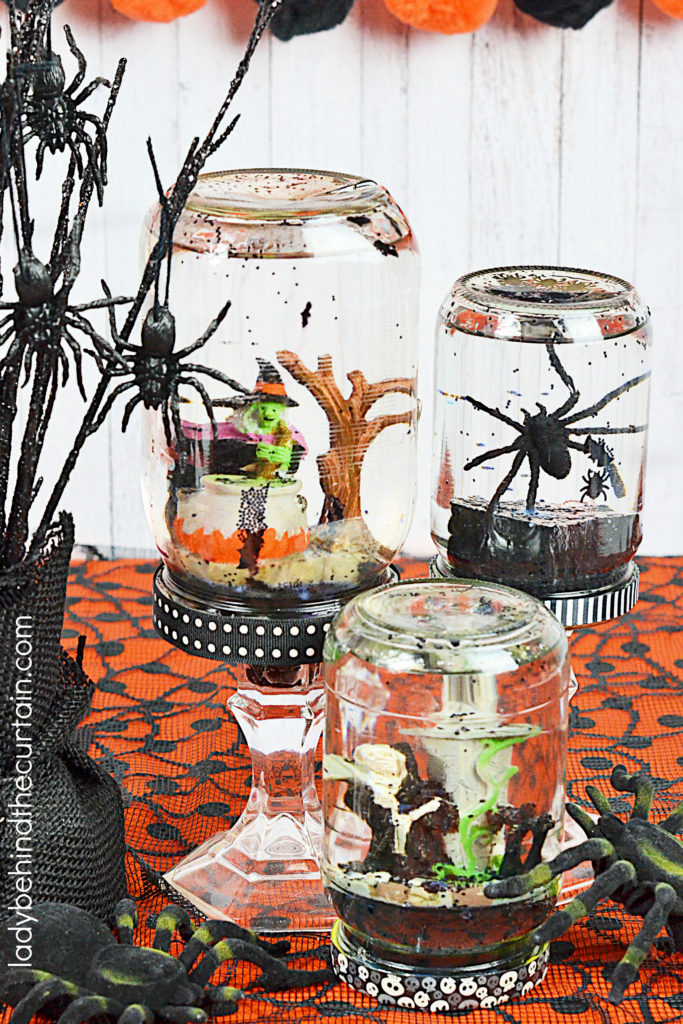 The Best Jar for the Job
How to Make DIY Halloween Party Snow Globes
SUPPLIES (printable version below↓)

assorted jars (preferably round)
styro foam
black paint
assorted figurines, spiders, skeleton heads
liquid fusion glue
black glitter
black permanent marker
baby oil
nail polish remover
assorted ribbon and tape
double sided tape
regular tape
black card stock paper
OPTIONAL: candlestick holders

DIRECTIONS

The first thing you'll need to do is clean the label off your jars. If you are having a problem getting the thick glue off pop the jar in the microwave for 30 seconds or until it is hot (I had to use an oven mitten). Use a razor blade to scrape off the glue then to get the sticky residue off spray on some window cleaner; continue using the razor blade with paper towels and the jar should come clean.
Once your jars are clean it's time to gather items you'd like to use in your globes. I found Halloween Village figurines at Dollar Tree along with spiders and skeleton heads.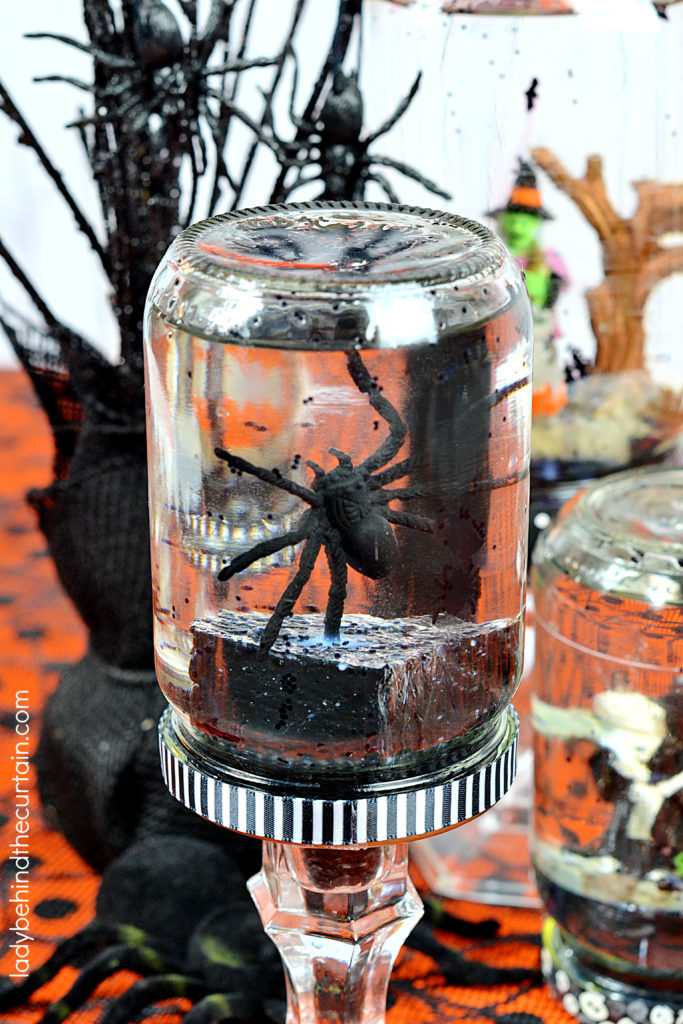 WATCH MY VIDEO BELOW FOR A LIVE DEMONSTRATION ON HOW TO MAKE THESE SPOOKY HALLOWEEN GLOBES↓
Planning a Halloween Party? Scroll down for Halloween Party Supplies designed by Lady Behind the Party (me)↓
MORE HALLOWEEN PARTY IDEAS