Overnight Refrigerator Rolls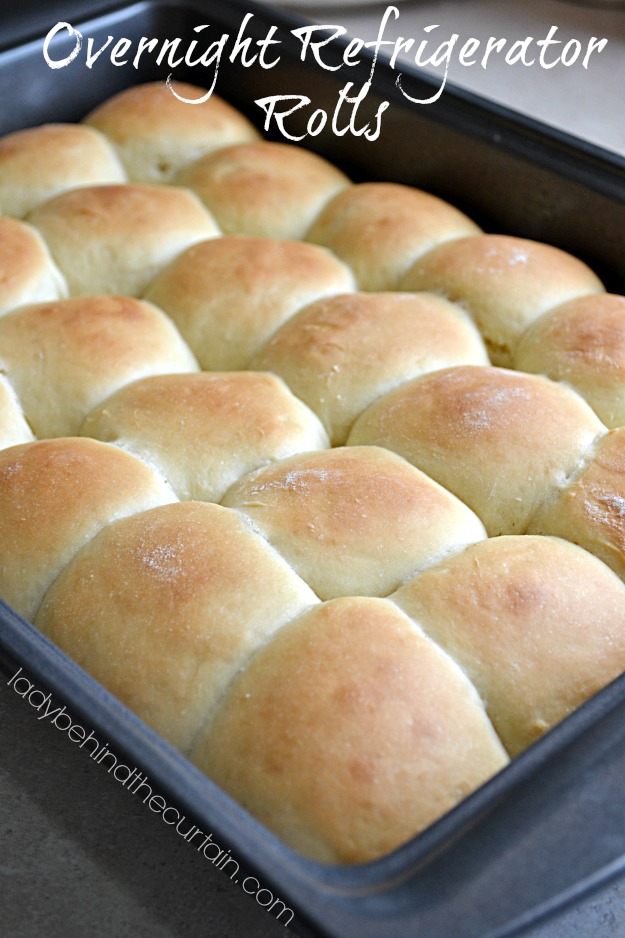 Overnight Refrigerator Rolls!  You can't get any easier than that!  With a giant list of yummy dishes for our holiday meal these small rolls are perfect.  Especially as sliders the next day with our leftover meat.
Yield: Makes 24 Rolls
Overnight Refrigerator Rolls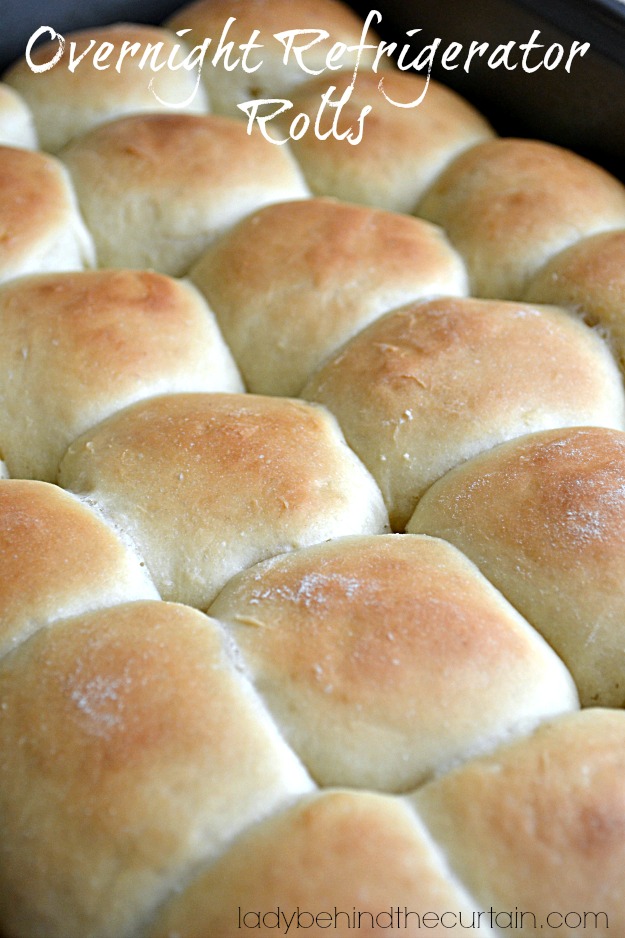 Ingredients
1 1/4 cups warm water (105 to 115 degrees)
1 package active dry yeast
4 to 4 1/2 cups all-purpose flour
1/3 cup granulated sugar
1/3 cup butter, melted
1 large egg
1 teaspoon salt
nonstick cooking spray
2 tablespoons butter, melted (optional)
Instructions
In a large mixing bowl combine the warm water and yeast; stir to dissolve yeast.
Add 1 1/2 cups flour, sugar, 1/3 cup melted butter, egg and salt.
Beat on low for 1 minute, scraping sides.
Mix in enough of the remaining flour to make a soft dough that just starts to pull away from sides of bowl (dough will still be sticky).
Spray a large bowl with non stick cooking spray.
Place dough in bowl, turn to grease surface of dough.
Cover and chill overnight.
Punch dough down.
Turn dough out onto a lightly floured surface.
Divided dough in half.
Cover and let rest for 10 minutes.
Spray a 9x13-inch baking pan with non stick cooking spray.
Shape dough into 24 balls and place in prepared baking pan.
Cover and let rise in a warm place until nearly double in size (about 45 minutes).
Preheat oven to 375 degrees.
Bake for 15 to 20 minutes or until golden.
Immediately remove rolls from pan.
If desired, brush tops of rolls with the 2 tablespoons melted butter.
Serve Warm.