How to Make Halloween Skeleton Head Rattles PLUS Video
How to Make Halloween Skeleton Head Rattles PLUS Video | Make your own spooky rattles that can be added to a costume or given away as party favors.  You'll be surprised at what I used to make these fun Halloween Party favors.  Psst……it only costs a dollar!  NEED HELP VISUALIZING THESE SKELETON HEAD RATTLES?  SCROLL DOWN TO WATCH MY "HOW TO" VIDEO!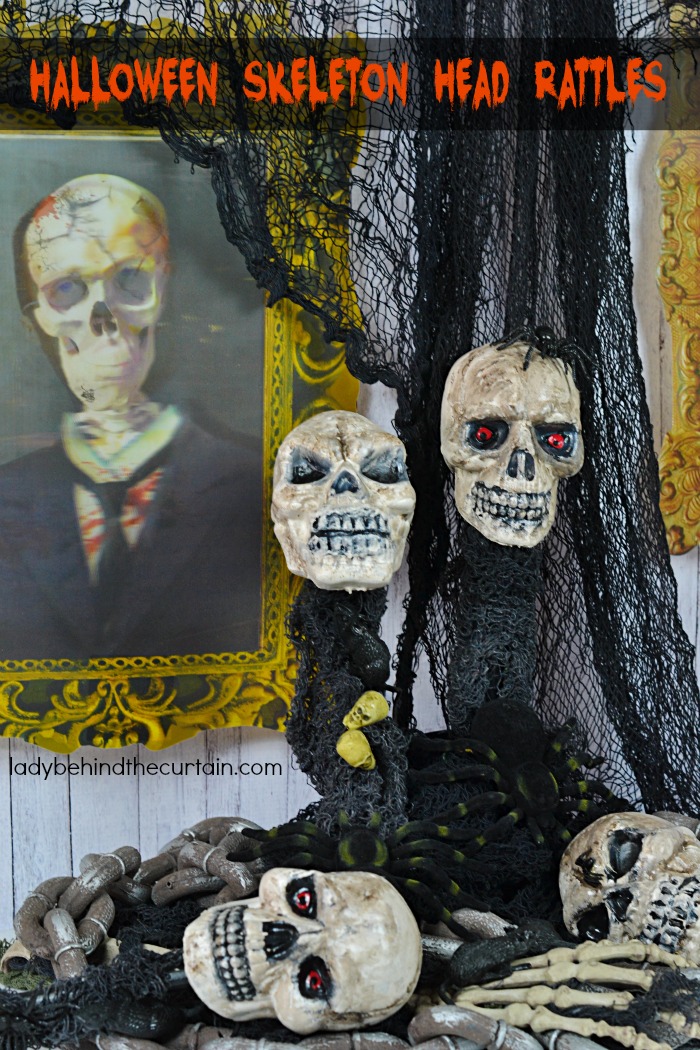 A little background as to why I created these monsters on a stick.  As I was walking around a popular Halloween store I was amazed at all the gruesome choices and the horrific prices that went with them.  Really?  That much for something to be in my yard for one night?  Uh…..No!  Unlucky for them (and great for me) there was a Dollar Tree right next door and that's where I got my decorations!  HA!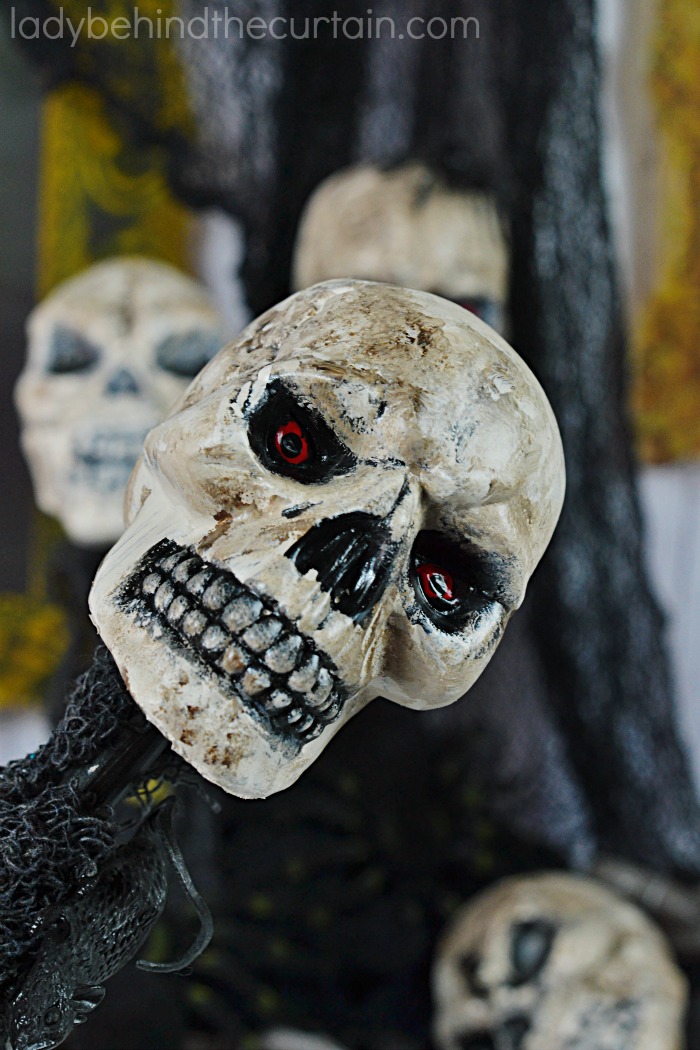 Have you guessed what I used to make these fun rattles?  Are you ready?  I used…..(drum roll please)………GLOW IN THE DARK YARD STAKES!  I know!  Super fun and you totally can't tell that's what they were.  Don't forget about my "HOW TO" video.  Scroll down to view.
HALLOWEEN SKELETON HEAD RATTLE SUPPLIES
glow in the dark yard stakes
1/2-inch dowels cut into 12-inch pieces
black, dark brown (I used bittersweet) and white multi surface paint ( I used Americana) depending on the skeleton head a small amount of red
sponge brushes
clear acrylic sealer (spray)
1/2-inch dowels cut into 12-inch pieces
rice
funnel
hot glue gun
assorted embellishments ( creepy gauze (from Dollar Tree) rubber spiders, rubber mice, mini skeleton heads (I took mine off a skeleton garland I found at Dollar Tree)
HALLOWEEN SKELETON HEAD RATTLES DIRECTIONS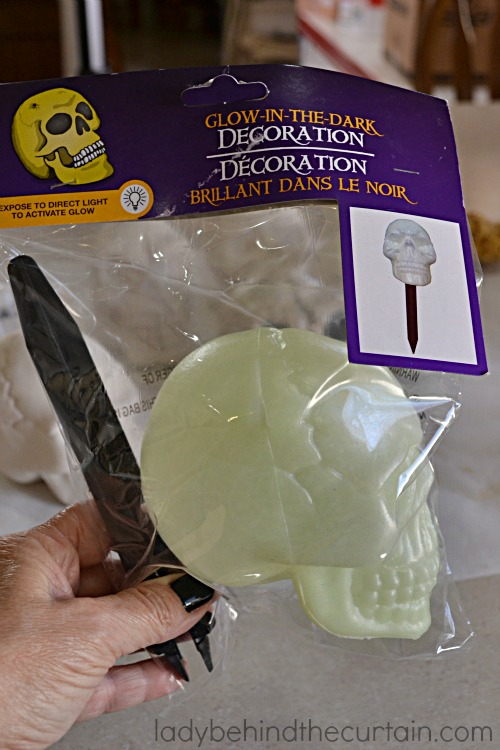 What I love about these stakes is that they already have a hole in the bottom.  This makes the process so much easier.  In fact that is probably the whole reason I chose to use them.
Paint cut dowels with black paint.  Once the paint is dry spray them with clear acrylic sealer.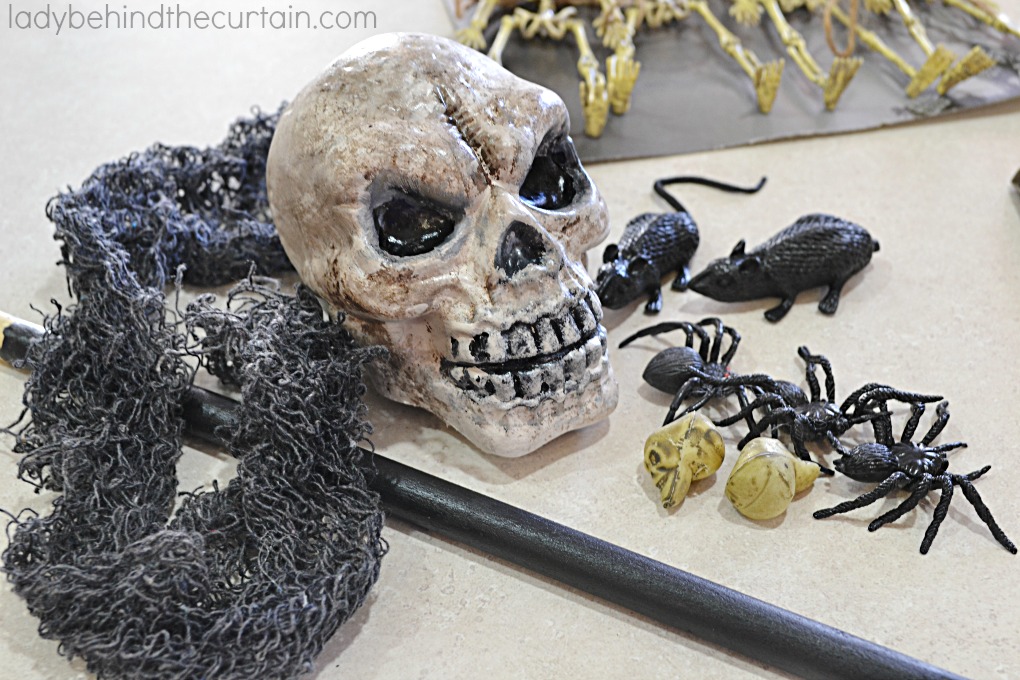 Mix together your white paint and dark brown to make a very light cream color.  All you want to do is mute the white so it's not so bright so only add a drop of the brown at a time (I used a popsicle stick to mix together).  Completely cover the entire head.  NOTE:  If some of it comes off don't worry this project is very forgiving.  Just touch it up with of your cream paint.  Once that is dry you can start adding depth with the darker colors.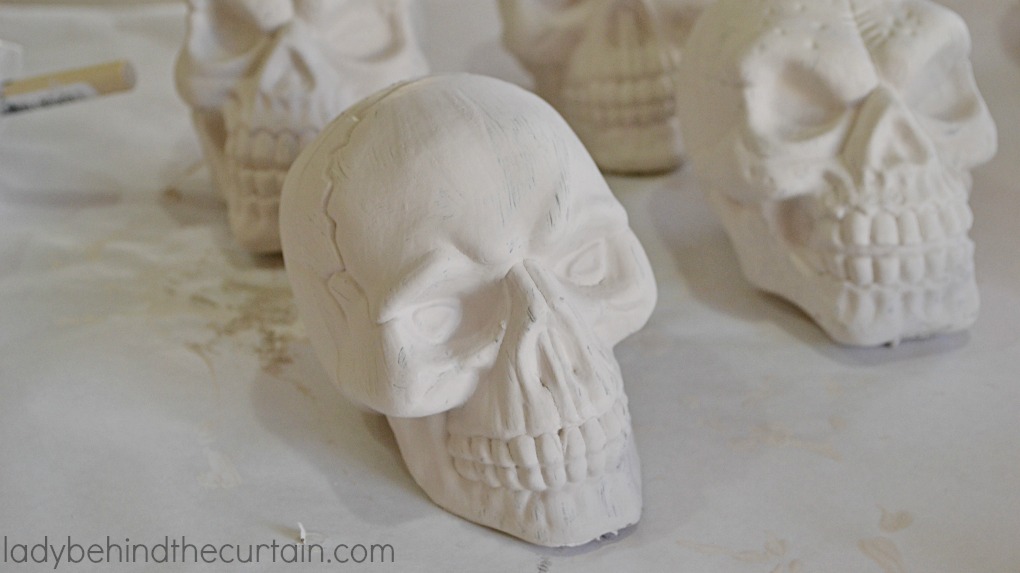 Use a sponge brush; fully load the brush with the cream color, dip the tip into the dark brown and dab it on in different spots of the head.  This makes it look old and dirty while it also adds depth.  Pull it back and examine it to make sure you have it the way you like it.  Do this step while it's still wet.  So if you don't like something you can simply cover it up with paint or add more.  Set aside to dry.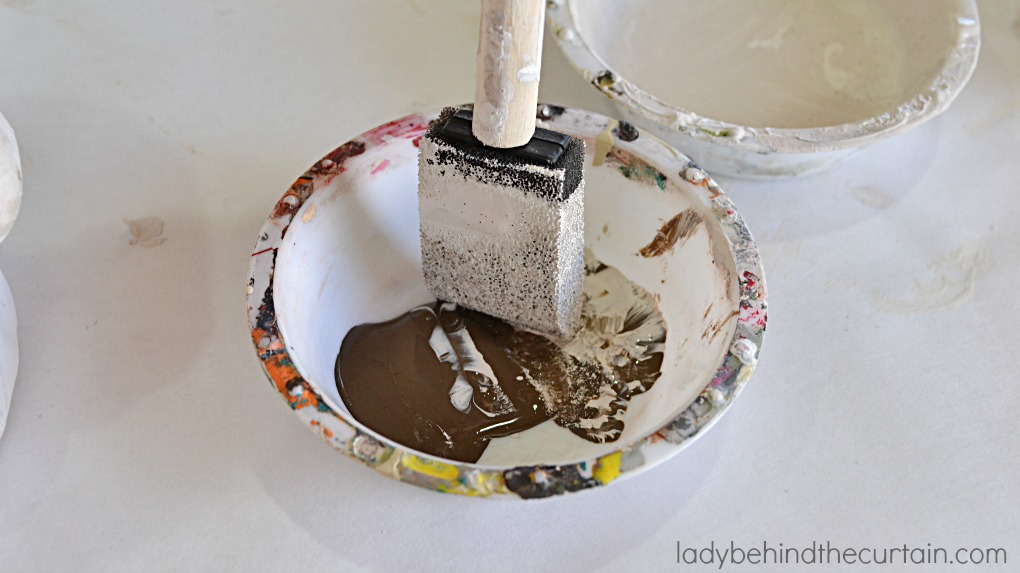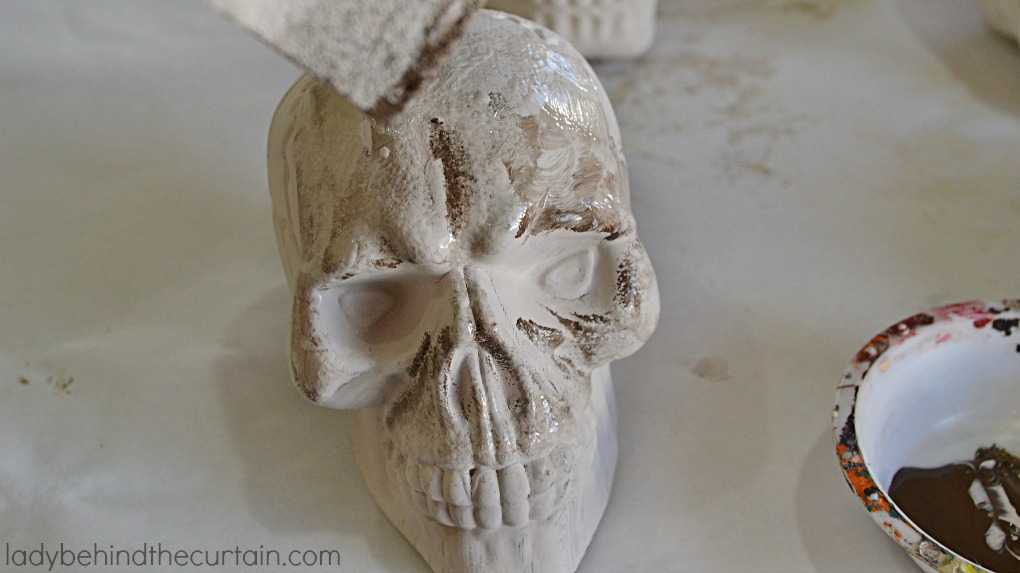 Once it is dry add the black; fill in the hollowed eyes and the teeth area.  Make sure to fill in between the teeth with black this step is very important for the end result. If you over filled the eye area you can take some of your cream color touched into the dark brown and correct it.  Let that dry.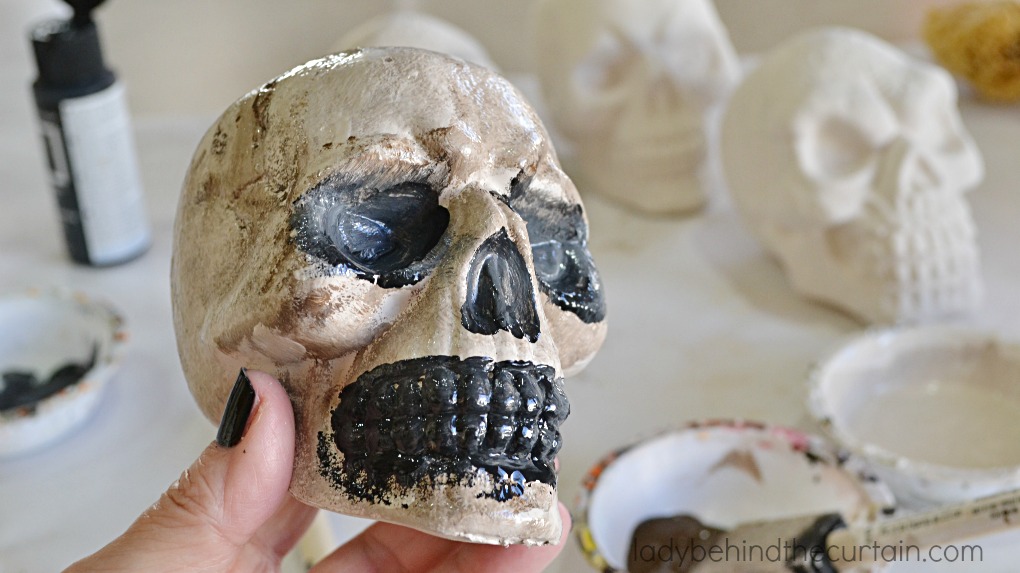 Fill your brush with the cream color and lightly pat it onto the top of the teeth making sure not to fill in between.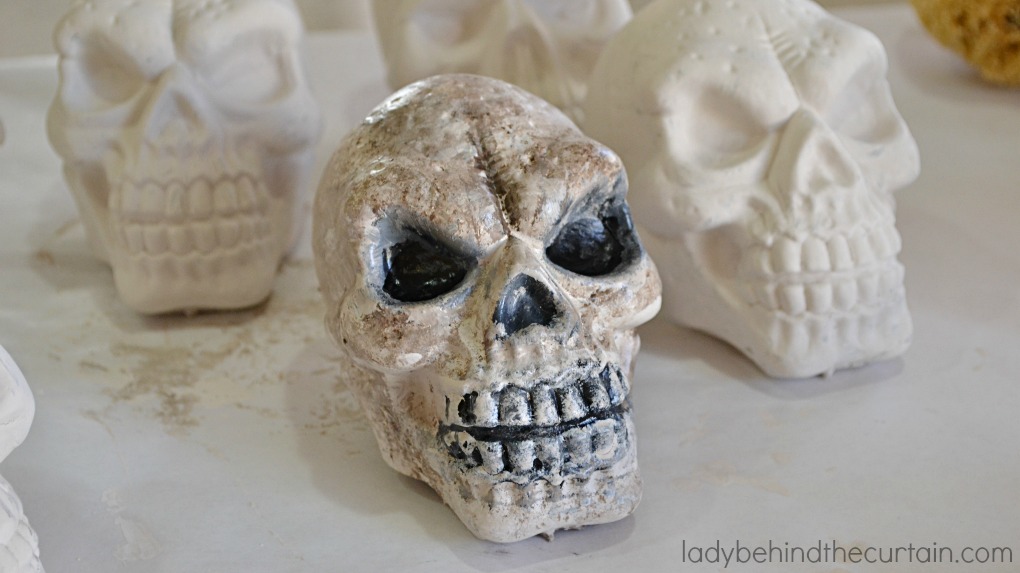 If you chose skeleton heads with eyes, dip the tip of a regular brush into some read paint and add a dot of red to the center.  Spray clear acrylic sealer all over the skeleton heads; let dry completely.
Use a funnel and add some rice into the head (about 1/4 cup).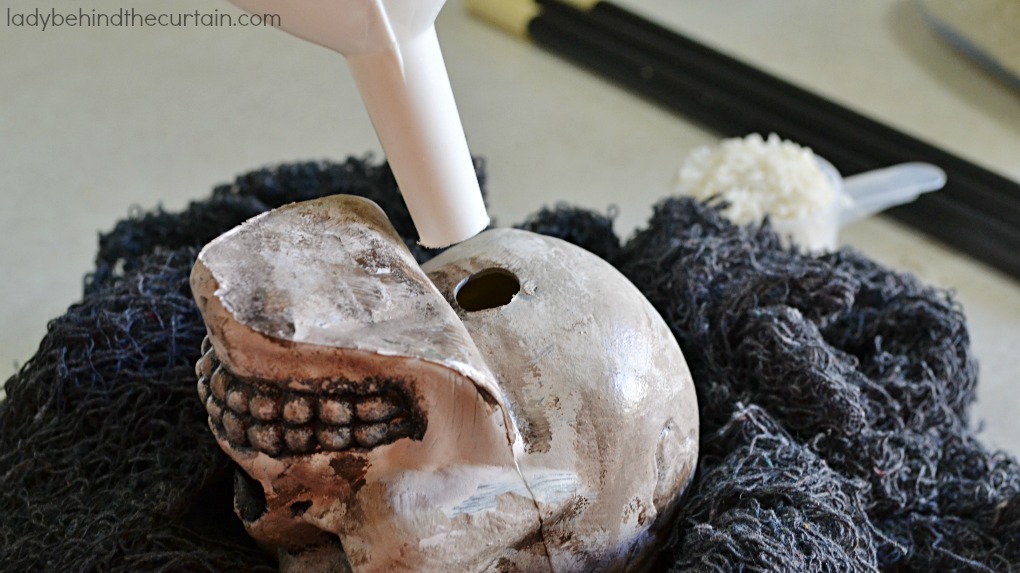 Stick the dowel into the hole at the bottom as far as it will go.  Use a hot glue gun to glue the dowel in place.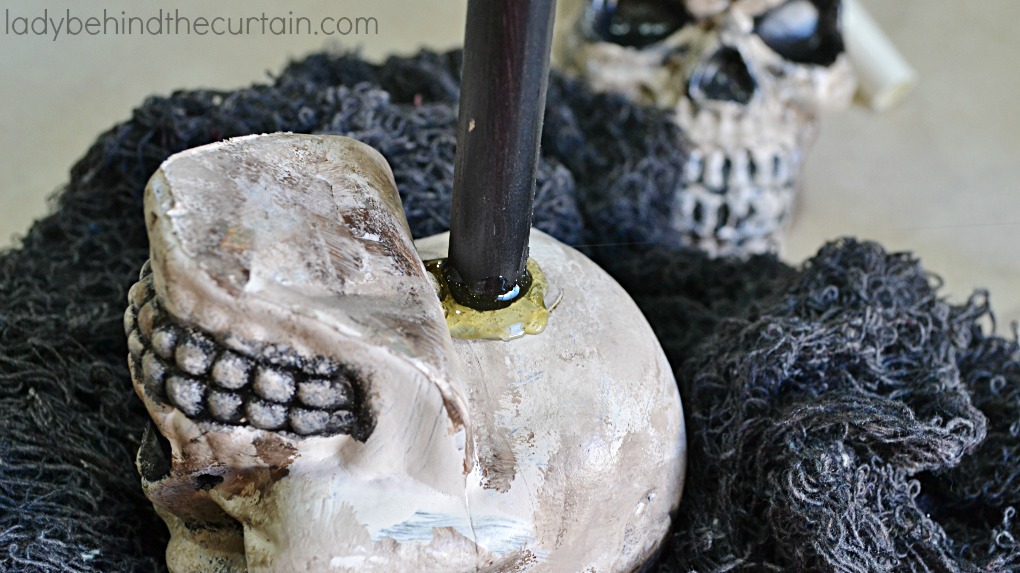 Decorate with different embellishments.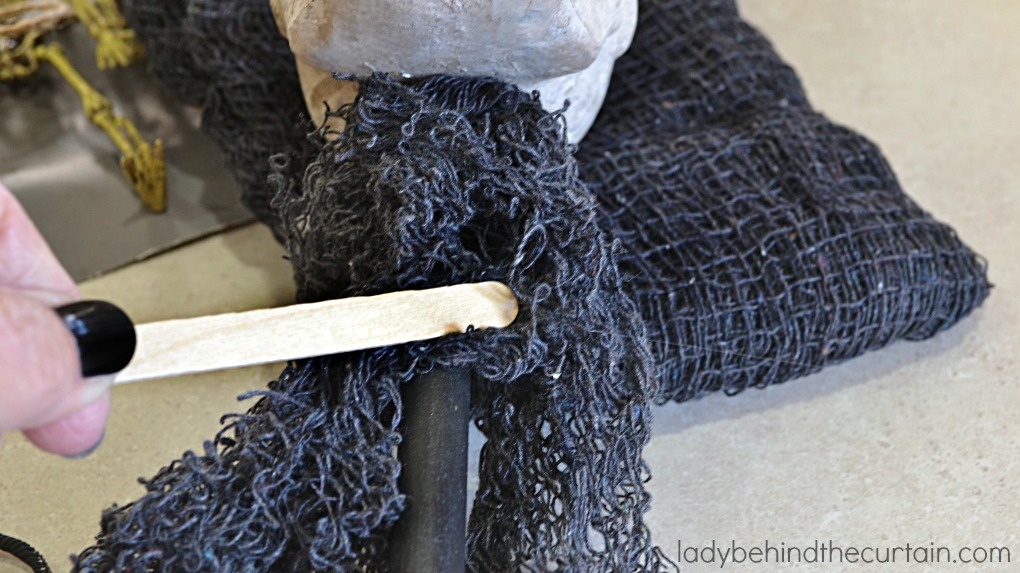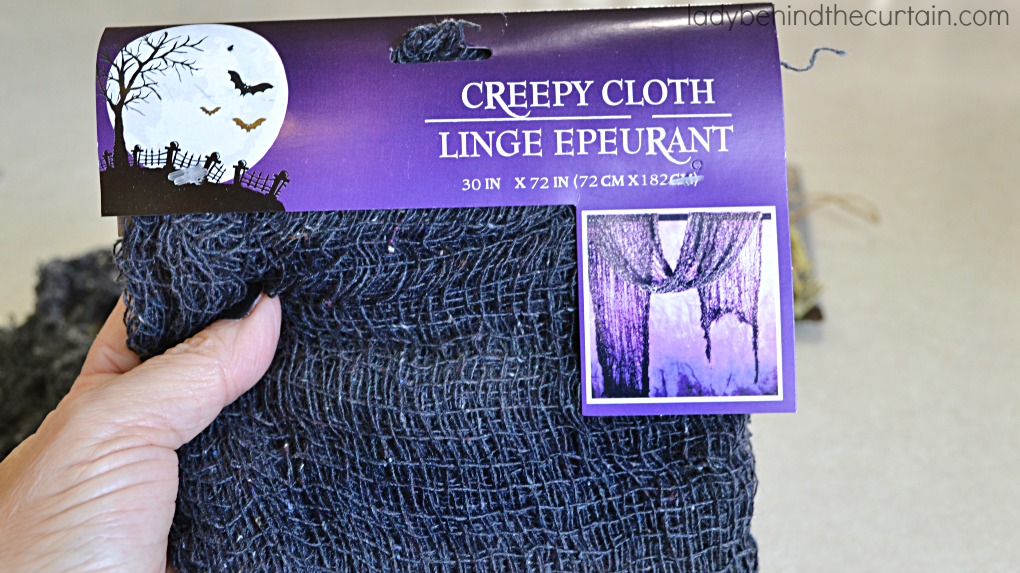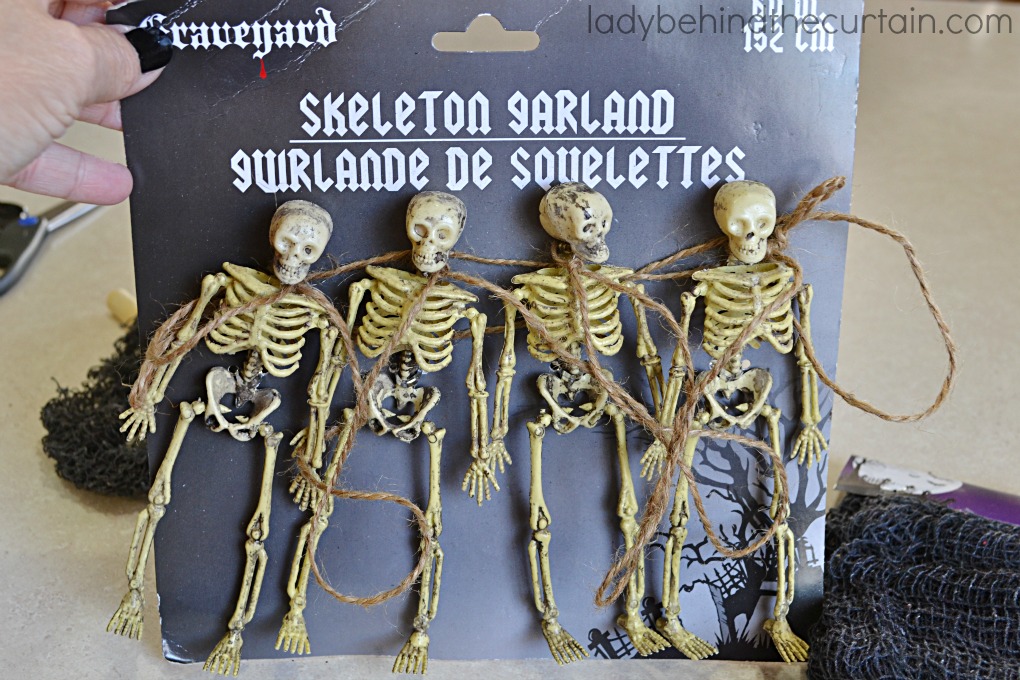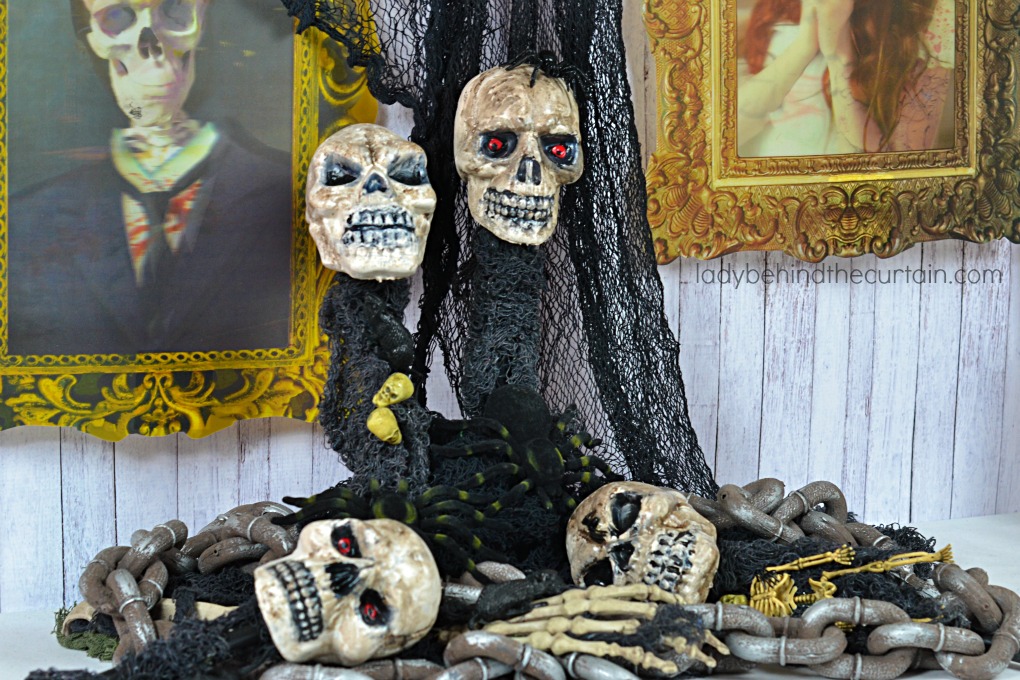 WATCH MY VIDEO BELOW FOR A LIVE DEMONSTRATION ON HOW TO MAKE THESE HALLOWEEN SKELETON HEAD RATTLES!