Crunchy Pumpkin Cinnamon Bundt Cake
Crunchy Pumpkin Cinnamon Bundt Cake | As if the swirls of cinnamon weren't enough the sweet brown butter glaze on top makes this cake a truly decadent pumpkin treat!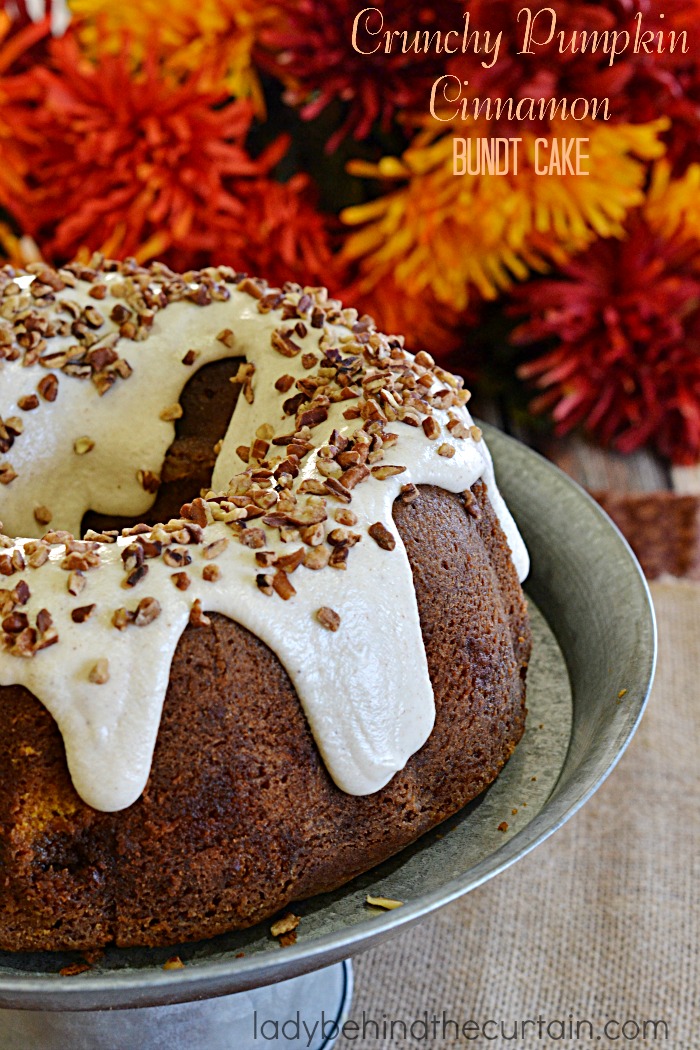 Take a simple squash and transform it into a deliciously satisfying dessert!  Perfect for all your holiday celebrations!  I think this might be one of my favorite bundt cakes.  I love the crunchy cinnamon swirl inside and the to die for brown butter glaze.  What is your favorite way to have pumpkin?  Is it pie, a latte, mousse or a cake?  I'd love to know!
NOTHING BUNDT PUMPKIN!
Crunchy Pumpkin Cinnamon Bundt Cake
Total Time:
1 hour
30 minutes
Ingredients
For the Crunchy Filling:
3/4 cup light brown sugar, packed
1 teaspoon ground cinnamon
1/2 teaspoon Pumpkin Pie Spice
4 tablespoons unsalted butter, softened
For the Cake:
3 cups all-purpose flour
1 tablespoon Pumpkin Pie Spice
2 teaspoons baking soda
1 teaspoon baking powder
1 teaspoon salt
2 cups granulated sugar
1 cup unsalted butter, softened
4 large eggs, room temperature
2 teaspoons vanilla extract
1 cup pumpkin pureé
1 cup sour cream, room temperature
For the Brown Butter Glaze:
4 tablespoons Brown Butter
5 tablespoons half and half or milk
1 1/2 cups confectioners' sugar
1/4 cup pecans, chopped
Instructions
Preheat oven to 350°.
Grease and flour a 12-inch bundt pan; set aside.
For the Crunchy Filling:
In a medium bowl add the brown sugar, cinnamon, pumpkin pie spice and butter.
Use your fingers to blend the ingredients until the butter is broken down into coarse crumbs; set aside.
For the Cake:
In a large bowl whisk together the flour, pumpkin pie spice, baking soda, baking powder and salt; set aside.
In a large mixing bowl cream together the butter and sugar until light and fluffy.
Add the eggs one at a time, mixing well after each addition.
Mix in the vanilla and pumpkin until evenly combined.
Add the dry ingredients alternating with the sour cream.
Pour half the batter into the prepared pan; top with filling and then add the remaining batter making sure to spread it evenly.
Bake 1 hour or until a toothpick inserted into the center comes out clean.
Place baked cake on a wire cooling rack 30 minutes in the pan.
Run a knife around the edges and middle; carefully invert onto a cake plate or stand.
Allow to cool completely.
For the Brown Butter Glaze:
In a medium mixing bowl whip the butter until creamy add the half and half or milk and confectioners' sugar.
Mix on low until sugar is dissolved and then on high until light and creamy.
Pour over the cooled cake and sprinkle with nuts.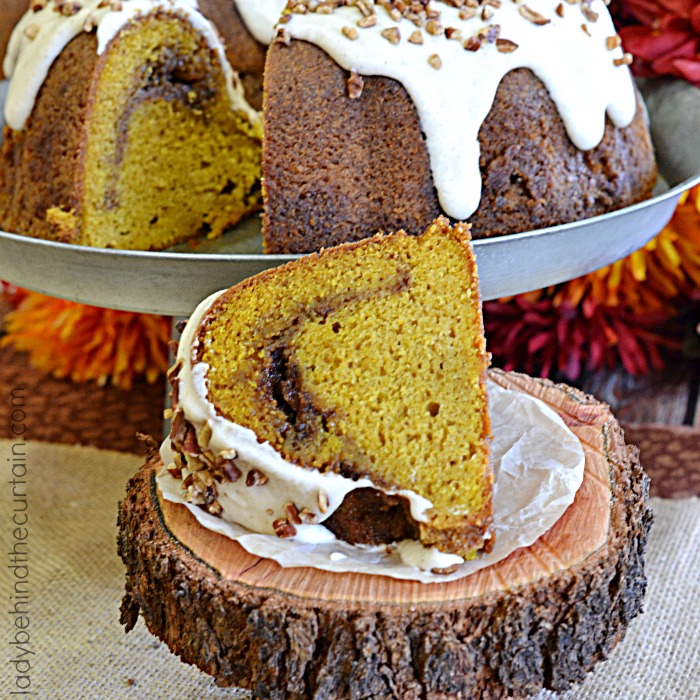 MORE PUMPKIN CAKE RECIPES
PUMPKIN LATTE COFFEE CAKE  2. PUMPKIN CALE ROLL  3. EASY PUMPKIN NUT DUMP CAKE