Strawberry Lemonade Cupcakes
Strawberry Lemonade Cupcakes| These wonderful semi homemade cupcakes are just what you need for your summer celebrations!  With a light and fluffy lemon cake, the perfect lemon glaze and an amazing homemade strawberry butter frosting.  These Strawberry Lemonade Cupcakes will be the hit of the party.  Plus….no one will know it all started with a cake mix!
Starting with a cake mix makes these cupcakes super easy but does not skimp on taste.  It's the extra touches that pushes these Strawberry Lemonade Cupcakes beyond most cupcakes.  Add sugar crystals over the top or add another punch of flavor by adding pink lemonade powder!  These amazing cupcakes are the best for baby or bridal showers.
Need a display idea for your cupcakes?  Click here to find out how I make my own cupcake stands—->>>>5 DIY CUPCAKE STANDS
Yield: Makes 24 Cupcakes
Strawberry Lemonade Cupcakes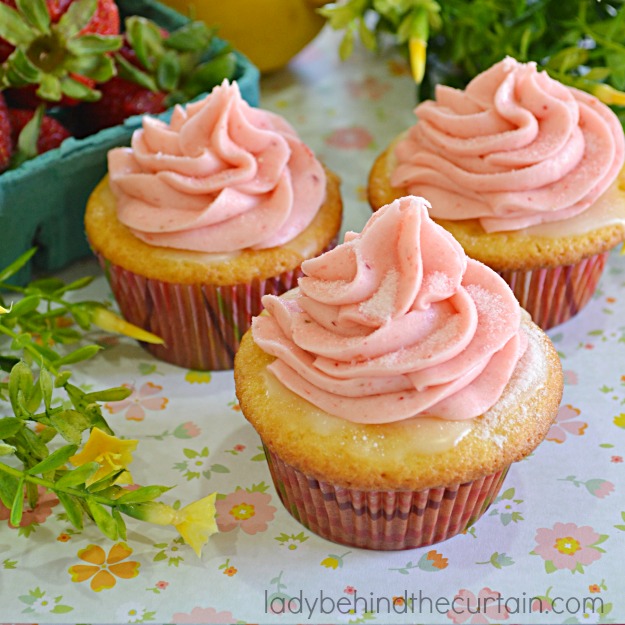 Ingredients
For the Lemon Cupcakes:
1 white cake mix
1 (3.4 ounce) instant lemon pudding mix
3/4 cup vegetable oil
3 large eggs
1 cup lemon-lime soda
For the Lemon Glaze:
1 cup confectioners' sugar
2 tablespoons lemon juice
For the Strawberry Butter Cream Frosting:
1 cup butter, at room temperature
1/2 cup chopped strawberries, room temperature
2 pounds confectioners' sugar
Instructions
For the Lemon Cupcakes:
Preheat oven to 350 degrees.
Line 24 cupcake wells with cupcake liners and set aside.
In a mixing bowl, combine the cake mix, pudding mix, oil, eggs and food coloring (if using); beat on medium speed for 1 minute.
Gradually beat in soda. Using an ice cream scoop, fill wells 2/3 full.
Bake 16 minutes or until golden and a toothpick inserted into the center comes out clean.
While cupcakes are baking combine confectioners sugar and lemon juice until smooth.
Let baked cupcakes rest in pan for 10 minutes, take out of pan and onto a wire cooling rack, with a spoon drizzle lemon glaze over each cupcake until all the glaze is gone.
Frost cupcakes and sprinkle with pink lemonade powder.
For the Glaze:
In a small bowl combine the sugar and lemon juice; stir until sugar is dissolved.
For the Strawberry Butter Cream Frosting:
Puree the 1/2 cup chopped strawberries in a food processor or blender; set aside.
In a mixer beat butter until soft and fluffy; add strawberries and combine well.
Mix in confectioners' sugar 1 cup at a time until fluffy .

MORE SEMI HOMEMADE CUPCAKE RECIPES
SEMI HOMEMADE TROPICAL PINEAPPLE COCONUT CUPCAKES  2. SEMI HOMEMADE PEANUT BUTTER AND JELLY CUPCAKES  3. SEMI HOMEMADE LEMON BLUEBERRY SWIRL CUPCAKES
NEVER MISS A POST!
Sign up for my newsletter and receive my recipes in your inbox. Easy to see anytime and saved for safe keeping. Click Here and sign up today! —->>>>CURTAIN CALL NEWSLETTER