Semi Homemade Orange Creamsicle Cupcakes
Semi Homemade Orange Creamsicle Cupcakes. It's a popsicle party in cupcake form! Transform your favorite ice cream truck popsicle into a delicious summertime cupcake! These cupcakes are fun, semi homemade, easy to make and delicious!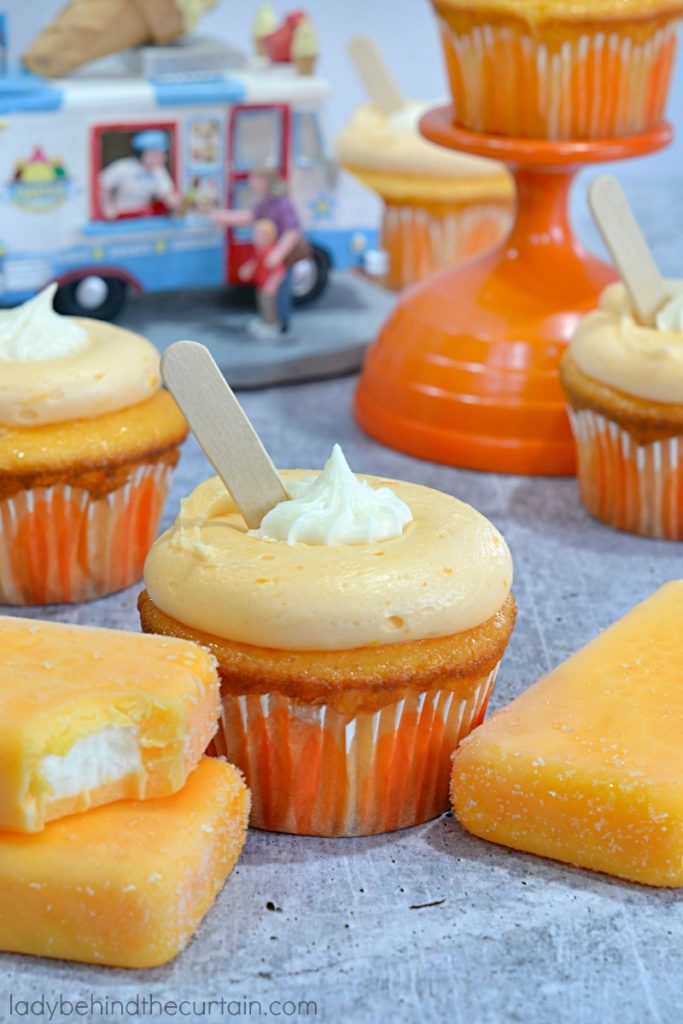 Orange Extract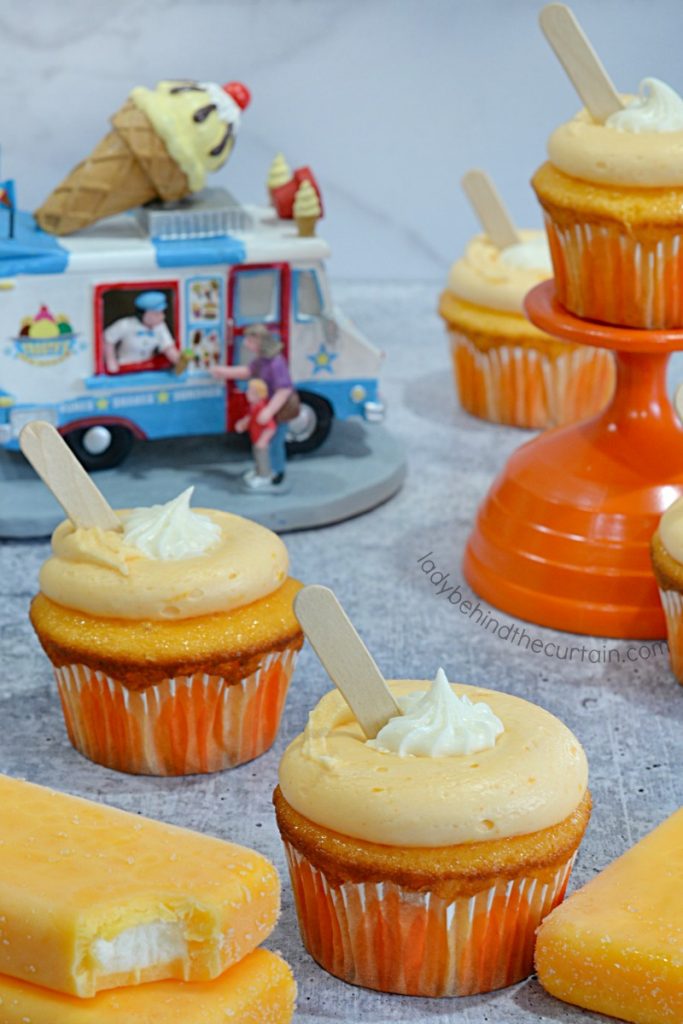 Craft Sticks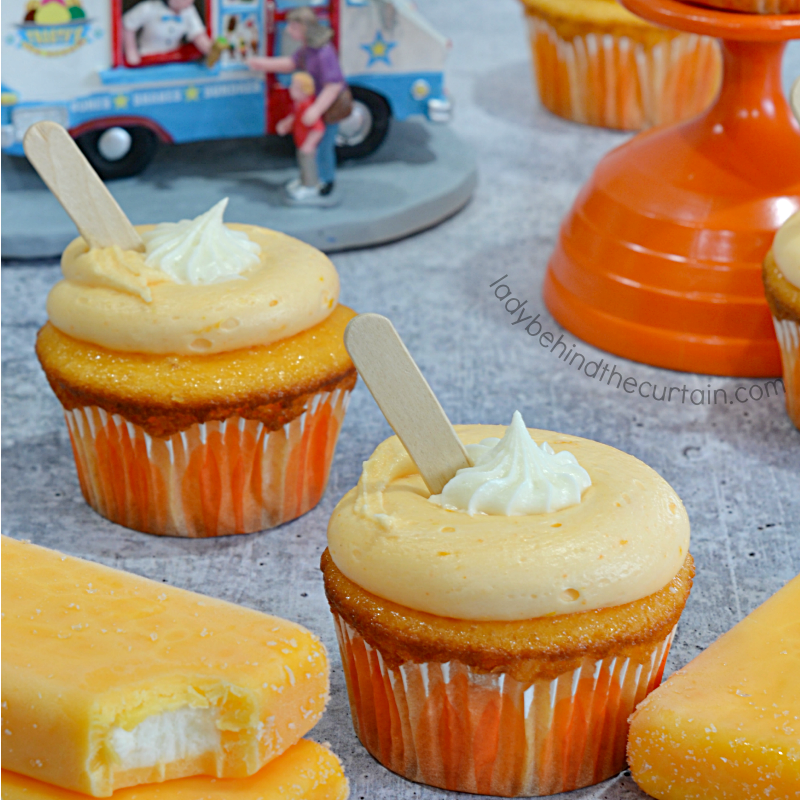 TIPS FOR MAKING A GOOD CUPCAKE BATTER
Good ingredients equals great taste. To send your guests straight to cupcake heaven use only the best ingredients. Like real butter, real vanilla and dark dutch cocoa.
Never over bake a cupcake. You can never save an over baked cupcake. You're doing it right when your cupcakes look slightly sunken, rather than peaked. Test them with a toothpick if you're unsure–if no batter clings to the pick, they're done.
Mix batter with a light hand. Baking fluffy, moist cupcakes is all about creating air bubbles in your batter that expand in the oven. If you over mix your batter, you collapse those bubbles. To avoid this mix on a low speed, stopping just as all ingredients blend.
Let all ingredients come to room temperature before baking. All ingredients incorporate into batter mush more easily if they're at similar temperatures.
Baking in advance? Freeze cupcakes. If you're baking to eat right away, we recommend storing cupcakes at room temperature. But if they're for tomorrow, freezing will retain their moisture much better than leaving them on a counter overnight.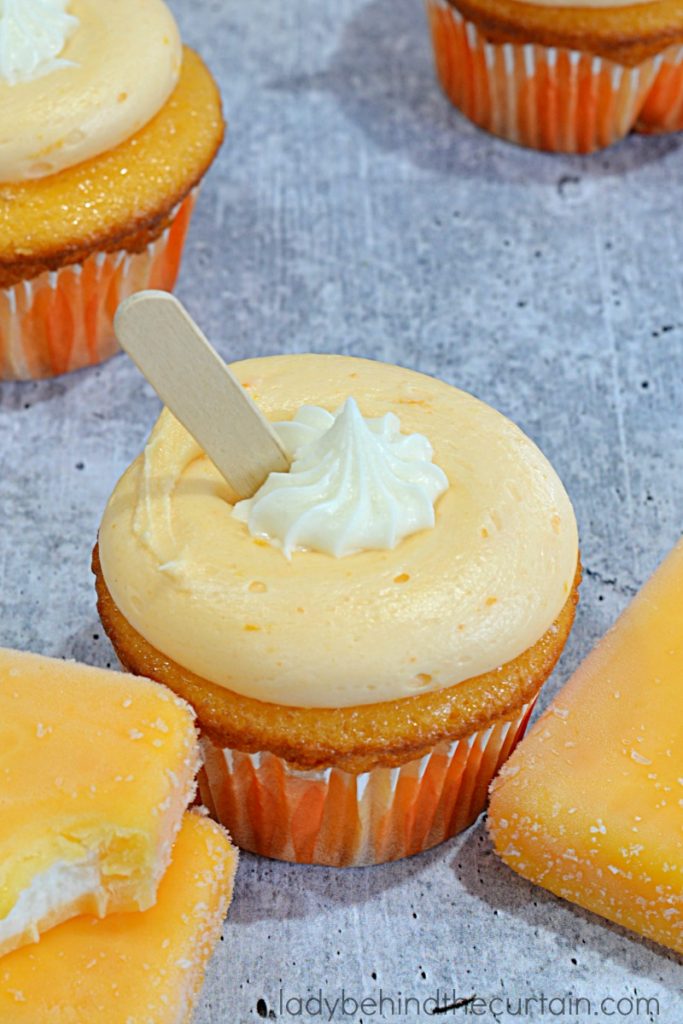 HOW TO MAKE SEMI HOMEMADE CREAMSICLE CUPCAKES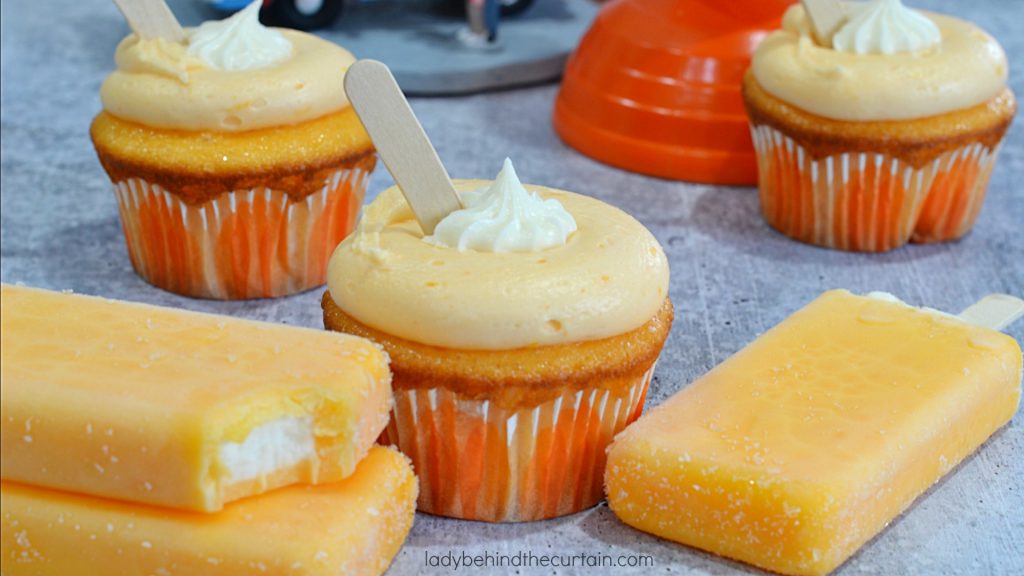 When it comes to making the perfect party cupcake these are at the top of the list! Scroll down for the free printable recipe↓
INGREDIENTS (Cupcake Batter)

1 (15.25 ounce) white cake mix
1 (3.4 ounce) box cream cheese pudding mix powder
1 (3 ounce) box orange jello powder,*divided
1/3 cup vegetable oil
1¼ cups orange juice
4 large eggs
2 teaspoons orange extract
INGREDIENTS (Cream Pop Frosting)

1 ( 8 ounce) cream cheese, softened
½ cup unsalted butter, softened
2¼ teaspoons vanilla extract, *divided
5-6 cups powdered sugar
1 teaspoon orange zest
optional: popsicle sticks

DIRECTIONS (Cupcakes)

Preheat oven to 350°.
Line cupcake pans with liners and set aside.
RESERVE *2 teaspoons* of the orange gelatin powder and set aside.
To a medium mixing bowl add the cake mix, pudding dry mix, remaining orange gelatin powder, oil, juice, eggs and orange extract.
Beat until light and fluffy (do not over mix)
Fill cupcake liners ¾ full ( to keep things uniform, I like using an ice cream scoop)
Bake 18-20 minutes or until a wooden toothpick inserted into the center comes out clean.
Cool completely.

DIRECTIONS (for the Cream Pop Frosting)

In a medium bowl, combine the cream cheese and butter.
Beat until light and fluffy (about 3 minutes).
Add *2 teaspoons* vanilla extract and powdered sugar.
Mix to combine until light and fluffy.
Place one fourth of the frosting into a smaller bowl, add the remaining *¼ teaspoon* of vanilla, mix to combine; set aside.
To the remaining frosting (still in the mixing bowl) add the *reserved gelatin powder and orange zest.
Mix to combine making sure to scrape the sides of the bowl.
Fill a small piping bag fitted with a Wilton 4B tip with the vanilla frosting.
Fill a large piping bag fitted with a Wilton 1A tip with the orange frosting.
Pipe a swirl of the orange frosting on each cupcake.
Add a small amount of the vanilla frosting to the center of each cupcake.
Insert popsicle (craft) stick.
MORE SEMI HOMEMADE CUPCAKE RECIPES
NEVER MISS A POST